In Philly, a celestial light shines down on a book.  A deep breath, and someone blows dust off the book so we can read its title, "The Game: Penetrating the Secret Society of Scoring In Philly."  A hand opens the book, turning to the first page, reading, "To all my loving fans, but mostly the females."  We pull back to reveal, reading is its author, Pat Burrell.  For reasons we can't explain, he wears a dead parrot on his shoulder.  The Mets could easily have written that book after yesterday's first game.  Putting up the reedonkeylicousness:  Amed Rosario went 6-for-11, 7 runs, 4 RBIs and a slam (6) and legs (14) across both games.  In the first game, Rhysus (3-for-7, 4 RBIs and his 24th and 25th homer) and Amed both homered.  Halleberrylujah!  Jose Bautista (3-for-7, 3 runs, 7 RBIs) hit his 10th homer as he continues to turn back the clock to 1987, when he was a 7-year-old and hit barely .200 with some occasional pop off garbage lefties who would put it on a tee for him.  Michael Conforto (6-for-12, 3 runs, 5 RBIs) hit his 17th homer, and now has three homers in the last week, and is finally showing signs why people are always saying, "The Mets are bad, but I like that Conforto guy."  The Mess had so much offense I don't even have time before my Carpal Tunnel kicks in to mention Kevin Plawecki (4-for-5, 4 runs, 3 RBIs).  A shame, because Plawecki deserves a mention outside of being mentioned for not being mentioned.  The big takeaway, on our 7-day Player Rater of hitters, Amed Rosario is in the top 30 and worth a look.  Amed to that.  Or Amen.  Or Apeople, if that's how you roll.  Anyway, here's what else I saw yesterday in fantasy baseball:
Brandon Nimmo – Went for x-rays after being hit on the hand.  Yesterday, I laid out my Brandon Nimmo fantasy and today it feels like I laid it on the davenport next to a bloody knife in a Stephen King novel.  *reports come back that Nimmo's x-rays were negative*  That's the blood of my enemy, Jacob Nix!
Zach Eflin – 6 2/3 IP, 4 ER, 10 baserunners, 5 Ks, ERA at 3.70.  Yes, he gave up two extra runs that were unnecessary because Kapler didn't go to the bullpen quick enough, but at least A) Kapler didn't call in Kingery to relief him. B) The 1927 Mets didn't score 48 runs on him.  C) There's no C.
Maikel Franco – 3-for-8, 2 RBIs and his 20th homer, hitting .279.  You're going to get to the end of the season and be like, "Why exactly did I drop a .275, 25-homer Maikel Franco?"  And that will echo around your mom's basement, haunting you.
Nick Williams – 3-for-9, 2 runs, 2 RBIs and a slam (17) and legs (3).  He won't appear in this afternoon's Buy column, because I think he's owned in too many leagues, and, brucely, I've mentioned him enough and we're artificially trying to keep Ty Wigginton's consecutive Buy column appearance record alive.
Tommy Pham – 2-for-3, 1 RBI, as he was activated from the DL.  A few people asked about rest of the season projections for Pham.  Just so you know, if you click any player's name, it takes you to their player page where their rest of the season projections are listed (and preseason, if you wanna laugh).  Earn me some .000000067ths of a penny and click on some player pages!
Blake Snell – 5 IP, 0 ER, 3 baserunners, 6 Ks, ERA at 2.10.  In the preseason, I wrote a Blake Snell sleeper, but, let's be honest, in the AL East, holy full-on floating dookie in the pool, look at his ERA!  When I convert an AL East ERA to an NL East ERA, not only is Snell's ERA better than deGrom's, but Snell has a negative ERA and no one in the history of baseball has ever had a negative ERA, so that seems impressive.
Mallex Smith – 2-for-5, 2 runs, and his 26th steal, hitting .299.  He won't be in this afternoon's Buy column — You, "Oh no!" — because he's owned in more than 50% of leagues — You, "Ah, sneaky.  You're lucky you're cute."
Masahiro Tanaka – 6 IP, 2 ER, 9 baserunners, 6 Ks, ERA at 4.03.  This guy is so frustrating to own.  I need lights-out right now, Tanaka, not, "Meh, I guess it's okay, but I can't watch because he kinda blows from inning to inning."
Joe Ross – Set for a rehab assignment.  He's ~13 months removed from Tommy John surgery and far from trustable this year.  Will be interesting name to look at for 2019, but guys returning from TJ are usually covered in donkey semen–*intern whispers in my ear*  Ah, being told that's a different TJ.  Either way, guys returning from TJ have some issues.
Stephen Strasburg – On track to start Tuesday.  Anyone wanna little side action that he throws less than 20 IP the rest of this year?  What's the matter, chicken?
Tanner Roark – 6 IP, 3 ER, 8 baserunners, 1 K, ERA at 4.13.  Since the 2nd half broke (what, past tense), Roark's ERA is barely 1.50.
Luke Weaver – 3 2/3 IP, 2 ER, ERA at 4.67.  Is he related to Jered Weaver?  Because he really is starting to seem like it.
Harrison Bader – 2-for-3 and his 9th homer, hitting .285.  Full-on cyclops'ing him for a possible sleeper next year.  Bader is on the short list.  Not like an Altuve short list either.
Miguel Sano – 2-for-4, 2 runs, 3 RBIs and his 10th homer, and, what, his 17th homer since I told you to buy him last Friday?  Okay, maybe not that many, but I can't believe his ownership is still under 50%.
Logan Forsythe – 5-for-5, 3 runs, 2 RBIs, hitting .449 since his trade to the Twins.  Let's guess if Grey put him in his Buy column today?  Hmm, wait a minute, I am Grey!  I can just ask me!
Jorge Polanco – 2-for-4, 2 runs, 4 RBIs and his 2nd homer, hitting .291.  PEDslanco has been hitting over-.300 in the last week, but with no power or speed.   By the way, how demoralizing is it that the Twins breakout for a huge offensive game when Eddie Rosario doesn't start?  Holy sit!
Nicholas Castellanos – 2-for-4, 2 runs, 2 RBIs and his 18th homer, hitting .292.  Also, in this game, Mikie Mahtook (1-for-4, 2 RBIs) hit his 1st homer; James McCann (1-for-4, 2 RBIs) hit his 7th homer and Niko Goodrum (2-for-4) hit his 13th homer.  Or to remember this for your test later, The Greek Mahtook McCann for Goodrum.  Drink up my alcoholic milkshake!
Sam Gaviglio – 4 1/3 IP, 5 ER, ERA at 5.13. The Stream-o-Nator loves his next start, and that start feels pretty safe.  Muahahahahaha, famous last words.  Like Rosebud.
Jacob Nix – 2/3 IP, 5 ER, ERA at 6.75.  Member earlier this week I said I benched John Gant and Austin Gomber's great starts for Adam Conley's 5 ER in relief?  Guess what, y'all!  I started Nix too.  Moving forward, I'm going to say ixnay on the ixNay, because it was a perfect night until a bunch of no good Nix hurt my pitching.
Clay Buchholz – 9 IP, 1 ER, 5 baserunners, 6 Ks, ERA at 2.47.  I'm over here diddling myself with Tanaka and schmohawks of his ilk and Buchholz is over here out-pitching Koufax.  Eff me.
David Peralta – 1-for-3, 3 RBIs and his 22nd homer, hitting .300.  I don't know why this is, but as long as he doesn't get to 30 homers on the year, Peralta will be undervalued next year.  Even if he gets to 29.
Nomar Mazara – 1-for-3, 2 runs, 2 RBIs and his 16th homer, as he was activated from the DL.  In a corresponding move, the Rangers optioned down Willie Calhoun.  Ha, Calhoun would be optioned to Triple-A even if the minor league season were over.
Jurickson Profar – 2-for-3, 2 runs and his 14th homer, hitting .253.  You know what Profar is?  A great waiver wire pickup, but if you drafted him, you wouldn't be thrilled.
Joey Gallo – 2-for-4, 2 runs, 2 RBIs and his 32nd homer, hitting .203.  I forgot to mention this a few weeks ago, because it's not that a huge deal, but I traded Gallo in one league for J.A. Happ.  Was a needs trade, and Happ had problems with his hands, feet and mouth, but his needs are fine.
Kole Calhoun – 3-for-4, 2 runs and his 17th homer.  Calhoun's having a better 2nd half than Trout.  Fantasy Baseball, you ulcer-inducing bastard!
Dereck Rodriguez – Hit the DL with a hamstring strain.  He suffered the injury during the bench-clearing brawl on Tuesday.  Damn you, Jose Urena!
Ronald Acuna Jr. – 1-for-4 and his 9th steal, hitting .287, as he returned to the lineup.  You laughed when, to pray for Acuña, I was dressed like an abuelita at a funeral and lit candles with Willem Dafoe's face on them, but who's laughing now?  Tildaddy says you can stay up late and watch TV!
David Dahl – 2-for-5, 3 RBIs and a slam (6) and legs (4), as he hits leadoff, hitting .270.  He has those stats in 122 ABs.  *door swings open*  "Hello, boys and five girls, it's Mr. Prorater.  Didja you know if I were to eat one ketchup packet every five minutes I'd be 100% ketchup after three days?"  Get to the point, Mr. Prorater!  "Right, right, okay, so Dahl is on a 150 game pace of 27 HRs and 15 SBs."
Jose Urena – Suspended six games for playing his revenge fantasy out IRL.
Ivan Nova – 6 2/3 IP, 1 ER, 7 baserunners, 3 Ks, ERA at 4.26.  I'm forgetting about the big offensive games from the Cubs, because, before I looked at their team hitting stats, I didn't think very highly of the Cubs.  They're putting up runs in a big way, though not so much yesterday.  I'd continue to use the Stream-o-Nator for Nova, which means rarely if ever start him.
Yu Darvish – Will make a rehab start on Sunday.  Darvish resolutely said, "I thought, maybe, I don't know, I was like, well, huh, I guess, I should, like, pitch again this year."
Jon Lester – 6 IP, 0 ER, 5 baserunners, 8 Ks, ERA at 3.72.  You before yesterday's game, "I think it's time I finally cut the cord on Jon Lester.  Hey, I'm a cord cutter like one of those millennials"  You after the game, "First, they killed mayo, now those millennials killed my will to live."  Obviously, Lester had a solid bounce back start, but his peripherals are still screaming to stay away.
Ian Happ – 1-for-4 and his 13th homer.  Don't let Happ get hot.  Seriously.  Don't let it *pinkie to mouth* Happen.  You might remember I traded Familia for Happ in Tout Wars, well, here's how daddy is doing: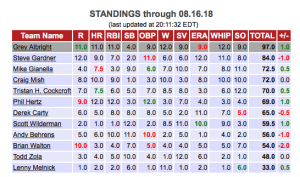 Yasiel Puig – Suspended two games for shoving Nick Hundley.  A thankful Hundley said, "I'm just glad he didn't lick me."