NL West | NL Central | NL East | AL West | AL Central | AL East
I don't pay much attention to Spring Training statistics.  You never know who the statistics are coming against.  Baseball-Reference did, however, have an amazing tool last year that attempted to quantify the quality of opposing pitchers or batters faced during spring training games on a scale from 1-10 with 10 being MLB talent and 1-3 being high A to low A level.  This tool is great, but it averages all the Plate Appearances or batters faced.  You would still need a deeper dive to see if your stud prospect smacked a donger off of Chris Sale or off of your kid's future pony league baseball coach.  So what should we watch for in March when we're starved for the crack of the bat?  Ignore "best shape of their life" stories and Spring Training statistical leaderboards.  Pay attention to injuries and lineup construction and position battles!
Also pay attention to where Bryce Harper and Manny Machado sign… Note that those two signings can instantly eliminate some of the position battles detailed herein…
Also note that most projected platoons are designated at www.rosterresource.com with a RED block for LHHs and a BLUE block for RHHs.  So I'll assume those platoons are platoons and we can all adjust our plate appearance projections from there.
I was curious how many innings should be expected out of a guy that wins the #4 or #5 starting job.  So I made a chart of every teams top 5 SPs in IP in 2018 (obviously the TBdR messed this up).  The results were kind of interesting.  SP4 averaged ~129 IP in the NL and ~123 IP in the AL in 2018. SP5 averaged ~102 IP in the NL and ~101.5 IP in the AL.  I expected larger numbers, but the game is trending towards lowering pitch counts and avoiding the 3rd time through the order.  Maybe it's time to avoid some of these SP5s and snag a long reliever with good ratios at a drastically reduced cost?  100 IP of mediocrity vs 80 IP of great ratios seems like a worthwhile reason to punt 1 IP a week?  See chart below.

So here is what I WILL be watching out for this spring.  Here. We. Begin!
The D-Backs (which will never not sound like D-Bags to me, sorry AZ fans) don't really have any position battles that I'm watching.  I think the newly acquired Luke Weaver and Merrill Kelly will both grab rotation spots until after the ASB when Taijuan Walker comes back from Tommy John.  I hope the real Luke Weaver is more like 2017 Luke Weaver than 2018 Luke Weaver, but time will tell.
Super Utility?: No one interesting fits the mold here.
Prospects?:   Their exciting prospects, Carson Kelly & Luke Weaver, figure to get as much playing time as they can handle.
2B: Garrett Hampson is a points league stud.  (#57 Ovr prospect)  A .315 hitter with .457 slg in the minors is nothing to snear at from the keystone.  He chips in 123 SBs in 1419 PAs (that's 50 steals every 575 PAs #lookemoji).  Ryan McMahon carried a .297 average with .512 slg through the minors before the Rox started muffing around with his playing time and turned him into a .225/.310/.360 hitter in the bigs.  If he could just get regular ABs, I think he could be a stud!!! I think the same of Hampson which is what concerns me.  Hampson bats RH, McMahon bats LH.  I could see a platoon that doesn't allow either player to get their eye dialed in with consistency cause that's what the Rox do for some reason.  Prediction:  I'm going to hope that the Rox hatred only applies to Ryan McMahon and Raimel Tapia and Tom Murphy and Jeff Hoffman and Rocco Baldelli.  Ergo, Garrett Hampson gets the job and runs with it #punintended, moving up to the top of the order by the end of the year.
Super Utility?: Honestly, the loser (& winner) of the second base battle could be used in super utility roles.  McMahon has MLB experience at 1/2/3B, Hampson has it at 2/SS/CF.  So if both make the team they could bump around between 2B and whoever needs blows.
Prospects?: Brendan Rodgers is ranked as the #12 Ovr prospect.  And he has a 2019 ETA, so this further complicates the logjam at the keystone.  He only has 72 PAs at AAA, so maybe they give him a full year and play service time games in the beginning of 2020.  (that's what I think happens)
SPs:  I think the Dodgers are pretty set, but they liked playing DL games of the 10-day variety last year.  Also, after Clayton Kershaw and Walker Buehler, all the pieces (other than the reinvented Rich Hill who's frequently in TRUE need of a 10-day break) are pretty interchangeable.  That being said, the chart above shows that Kershaw's time on the DL lowered their top IP and their 5th SP was one of the higher ones from around the league.  If Kershaw is back to health and Buehler can hold up, then Hill, Hyun-Jin Ryu, Kenta Maeda, Julio Urias, Ross Stripling, and the nearly ready Yadier Alvarez might all get equal shares.  So that's not a whole lot of innings for each person.  Remember when PSY came to Dodger stadium to performed for Tommy Lasorda.  Hyun-Jin Ryu remembers.  I might steer clear of this rotation (because Kershaw and Buehler will probably go sooner than I want) unless Julio Urias earns a spot.  I love Urias' stuff.  Prediction: 1. Kershaw, 2. Buehler, 3. Hill, 4. Ryu, 5. Maeda, 6. Urias, 7. Stripling
Super Utility?: No one fits this mold here.
Prospects?: Roster Resource doesn't project Alex Verdugo (#26 Ovr prospect) as even a part of a platoon, just a bench bat.  A.J. Pollock has had health concerns and Joc Pederson takes walks and smacks dingers, but nothing else.  So maybe Verdugo could carve out a role with a strong spring?  Watch and see.
OF:  Boy oh boy.  I think Wil Myers is definitely going to play in the OF (even though he played 324.1 innings at 3B last season and they're instead going to play some guy named Ty France at third.  BREAKING: Maybe they're gonna  play this other guy at third now.  Which 100% ensures Myers will be in the grass and not the dirt.).  Franchy Cordero is real real exciting (Franchy and Ty France could make a formidable duo).  Hunter Renfroe is one of the few guys in the whole league that could hit 40 dingers.  His 162-game average on baseball-reference.com is already 36 dingers and he has room to develop from there!  Bonus content: Hunter Renfroe is Scooby-Doo's favorite player.  Manuel Margot had such huge potential last year and he could bounce back to be what we wanted him to be last year. I'm not sure if Franmil Reyes is exciting or not.  He's Aaron Judge-sized, but I don't see above average power out of him yet.  Even Travis Jankowski provides some intrigue because of his speed.  Prediction:  Myers in LF, Renfroe in RF, I think Franchy and Margot platoon in CF
C:  Catchers already tend to get less ABs than every one else and this situation might be like the Braves 7:5 timeshare last year (Kurt Suzuki 347 AB, Tyler Flowers 251).  I'm off the Austin Hedges bandwagon.  He's a donger-only player (#thatswhatshesaid), except unlike your dating life, that's not a great thing here.  I'm still not sure if Francisco Mejia is a #goodhitter or a #goddhittingcatcher.  I'm willing to take this year off to figure it out.  I'll make a better informed decision next year.  Prediction:  Mejia 350 ABs, Hedges 250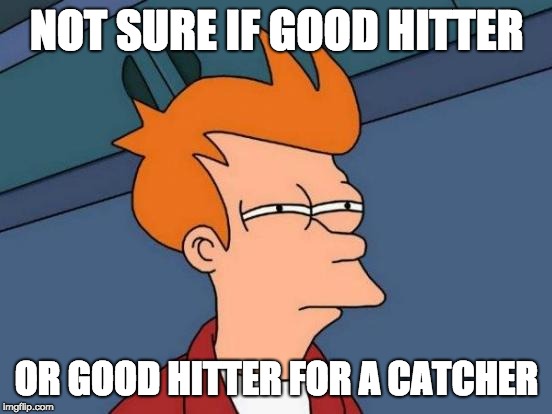 Super Utility?: No one interesting fits the mold here.
Prospects?: Luis Urias is keeping the seat warm for Fernando Tatis' kid.  Luis Urias is no slouch in his own right (#22 Ovr prospect), but he's no Fernando Tatis Jr.  Tatis Jr is our #2 Ovr prospect behind only the future emperor of baseball: Vladimir Guerrero Jr.  Do you think Arnold is proud of all these juniors primed for breakouts? Tatis got 394 PAs in 88 games at AA San Antonio last season.  So he has more hours to log before his big promotion.  Maybe Urias keeps the job all year if the Friars are not competitive this year?  Chris Paddack might be one of the sexiest pitching prospects in a bit, with a 15:1 K:BB ration last year in the minors with 8 walks in 90 IP.  If this dude does that again this year in AAA, I expect him to unseat one of the yawnstipating options in the Padres rotation, but not until after the ASB.  So our #52 Ovr prospect (one spot behind Sixto Sanchez, whom I also love) might be more of a late season or dynasty grab.
OF:  The Giants seem really high on Steven Duggar for some reason.  They know that not all 18 of his siblings can play at the same time, right?  I think he's a solid player #irl, but not that solid in my fantasies.  Is Mac Williamson the dude selling all the anti-microbial underwear on podcasts?  I thought Williamson had some promise for a second, but then I realized that the columns I thought were his BA and OBP were actually his OBP and SLG.  No thanks.  Gerardo Parra is only 31?  (32 on 5/6/2019)  It feels like he's been around forever, doesn't it?  …just me? or nah?  He's a perfectly cromulent player, but I prefer my fantasies to have some excitement.  Cameron Maybin just got signed to a minor league deal, but he couldn't return value in MIA last season so I'm gonna pass.  Prediction: I think these jobs are pretty well settled and there no one exciting in the running, so I'm just going to ignore them until they sign Bryce.
Super Utility?: Alen Hanson fits this role best.  His elite speed and previous life as a SS prospect make him a fit anywhere on the diamond.  Hanson experienced a minor resurgence last year.  Wait… no not the band with the quirky chick singer, I meant the ballplayer!  Hanson used to run as a prospect in Pittsburgh.  I'm not sure why he turned it off, but that decision turns me off like long press on fingernails.  Seriously, who wants to be touched by those razorblades?  Yangervis Solarte always has plenty of position eligibility, but not quite enough fantasy goodness to move my needle.
Prospects?: Joey Bart is our #42 Ovr prospect.  Lazy parallel, but… could he be the next Buster Posey?  Joey won't be up this year, but he could move enough to push Busta-Bust sometime in 2020.  Keep an eye on his promotions for die nasty leagues, dude can handle his stick (#nolinkprovided).