NL West | NL Central | NL East || AL West | AL Central | AL East
I don't pay much attention to Spring Training Statistics.  You never know who the statistics are coming against.  Baseball-Reference did, however, have an amazing tool last year that attempted to quantify the quality of opposing pitchers or batters faced during spring training games on a scale from 1-10 with 10 being MLB talent and 1-3 being high A to low A level.  This tool is great, but it averages all the Plate Appearances or batters faced.  You would still need a deeper dive to see if your stud prospect smacked a donger off of Chris Sale or off of your kid's future pony league baseball coach.  So what should we watch for in March when we're starved for the crack of the bat?  Ignore "best shape of their life" stories and Spring Training statistical leaderboards.  Pay attention to injuries and lineup construction and position battles!  Also pay attention to where Bryce Harper and Manny Machado sign… Note that those two signings can instantly eliminate some of the position battles detailed herein.
Also note that most projected platoons are designated at www.rosterresource.com with a RED block for LHHs and a BLUE block for RHHs.  So I'll assume those platoons are platoons and we can all adjust our plate appearance projections from there.
Check out our other team previews here!
I was curious how many innings should be expected out of a guy that wins the #4 or #5 starting job.  So I made a chart of every teams top 5 SPs in IP in 2018 (obviously the TBdR messed this up).  The results were kind of interesting.  SP4 averaged ~129 IP in the NL and ~123 IP in the AL in 2018. SP5 averaged ~102 IP in the NL and ~101.5 IP in the AL.  I expected larger numbers, but the game is trending towards lowering pitch counts and avoiding the 3rd time through the order.  Maybe it's time to avoid some of these SP5s and snag a long reliever with good ratios at a drastically reduced cost?  100 IP of mediocrity vs 80 IP of great ratios seems like a worthwhile reason to punt 1 IP a week?  See chart below.

So here is what I WILL be watching out for this spring.  Here. We. Begin! (For prospect rankings, I used MLB.com's 2019 list.)
5th SP: Touki Toussaint, Mike Soroka, Kolby Allard, Kyle Wright, or Luiz Gohara.  Touki Toussaint figures to be the favorite here since he is the only one of these four to make the Braves postseason roster last year.  Touki is rated as the #50 Overall prospect at MLB Pipeline, so he's no slouch!  However, Mike Soroka might be a better dynasty grab (#24 Overall & #6 RHP at MLB pipeline), but for 2019 he only has 27 career IP in AAA and 25.2 IP in MLB (Touki only has 50.1 AAA IP and 29 MLB IP, so this is a battle to watch for sure!).  Kolby Allard has the most AAA IP @112.1, but only 8 MLB IP (1 GS, 2 games in relief), but he might just be a victim of the studs in front of him in his organization.  Kyle Wright (#30 Overall & #9 RHP prospect) has 28.2 AAA IP and pitched out of the pen for 6 MLB IP last year.  Wright is good and exciting, but so is everyone else in Gwinnett.  Remember all the Luiz Gohara hype last year before he got hurt and never bounced back?  He has 90 AAA IP and 49 MLB IP but like Allard, he might've just been leapfrogged by the Braves other talent. Prediction: Touki wins the job and keeps it for 2019.  Soroka is the first call up when a 6th starter is needed.
Closer:  Arodys Vizcaino will start with the job and will pitch well… when he pitches.  2017 was the only season he was healthy enough to appear in more than 43 games (38.2 IP).  AJ Minter is a filthy dirty boy.  He was able to convert 15 of 17 save opportunities with a 10.1 K/9 last year while Arodys was icing his arm.  Vicaino should be off the board first, but if you're punting saves and picking late inning guys than I think Minter has to be at the top of your list.  Prediction: Vizcaino wins and keeps the job when healthy.  Minter still gets 10-18 save opps.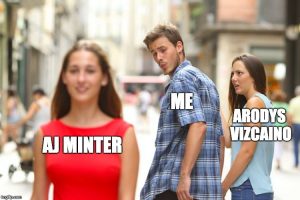 Super Utility?: Johan Camargo is probably the next man up at every position but C/1B.  So he has potential to play on everybody's off day and get a full season of ABs with or without an injury.  Johan has a career .281/.343/.455 with 23 HRs and 1 SB over 780 MLB PAs.  That's nothing to snickerdoodle at!  In his super utility he could get 400 ABs, so overly summarizing the math, if you cut his career numbers in half, that's 11 HRs, .281 avg in 400 ABs (with room to grow).  Not a bad late round flyer at all.
Prospects?: Most of the Braves prospects are pitchers and the ones on the 40-man roster are already mentioned above.  The braves have no exciting prospects on the 40-man roster.  So I don't expect a fantasy impact from any hitters.  Austin Riley is an exciting masher for dynasty grabs.
1B: It's a real clash of the titans amongst Neil Walker, Peter O'Brien, and Pedro Alvarez! Neil Walker might be in need of a backiotomy, as mediocre play and nagging injuries have limited his ABs to 412 or less the past 3 seasons.  Though he did post .823 and .801 OPSs before last years Wile E. Coyote cliff walk last year (.664 OPS).  So maybe there is hope for a rebound with regular playing time?  The real draw is that Walker played more than 20 games at 1/2/3B so he qualifies for all three.  Just because a real baseball team uses him at 1B doesn't mean your fantasy team should.  In fact: don't do anything the Marlins do.  Peter O'Brien could be Adam Dunn (in a good way!).  He mashes dongs (18.6 PA/HR), strikes out (29.4%), and (sorta) walks (9.2%). #threetrueoutcomes  The FML and all-knowing overlord projected Peter O'Brien for 18 dingers in 454 ABs before the Neil Walker signing.  O'Brien is a good source of power, but don't expect more than a .224/.315/.480 triple slash and you won't be disappointed.  Pedro Alvarez is technically in the organization, but his inability to even field the 1B position and all of his batting profile profiles like O'Brien's.  Pedro slaps a dinger once every 21 PAs, strikes out at a 30.3% rate and walks at a 9.7% rate.  Peter O'Brien is 4 years younger and hasn't yet shown that he won't grow in the majors.  Prediction:  I think Peter O'Brien and Neil Walker share ABs and no one really runs away with the job.
4th and 5th SPs:  Trevor Richards had a solid year last year in 126.1 MLB IP with 9.3 K/9.  He looks to be the front runner for the 4th rotation spot and will be a decent source of innings and Ks in 2019.  His minor league numbers show a 1.9 BB/9 over 239.2 IP so maybe he will improve on his 3.8 BB/9 from last year.  Trevor could be a solid darkhorse sleeper this year.  I might take a last round flyer on him and just expect solid ERA/WHIP/Ks with about 2 wins.  Sandy Alcantara was the big 'get' in the Marcell Ozuna trade, but only made it up to the show for 6 GS (34 IP) last season.  The 7.9K/9 was ok, but disappointing for his stuff. The 6.1 BB/9 was just gross.  In AAA, Alcantara had a meager 6.8K/9 and 3.0 BB/9 last season too.  Caleb Smith posted solid K/9 numbers (10.2) last year in 16 GS for the fish.  Pablo Lopez made 10 starts last year and has an impeccable control record in the minors.  Pablo's low K/9 and playing for a low win team would really limit his upside to a volume only play if he won the spot.  Prediction: Root for Trevor Richards and Caleb Smith to get the last 2 gigs and draft them for quantity.
Closer:  Drew Steckenrider, Sergio Romo, Adam Conley.  I don't think Sergio Romo steals too many looks from Steckenrider (other than days Steckenrider is unavailable due to workload).  Adam Conley has reinvented himself as a reliever for real baseball.  Prediction: Look for Steckenrider to get most of the looks. Draft him as a SAGNOF late and enjoy!
Super Utility?: I'm not here to get excited about Martin Prado's age 34 season.
Prospects?: Isan Diaz might be interesting if the major league SSs falter, but he might be better for real baseball than fantasy.  Victor Victor Mesa, son of Victor Mesa and brother to Victor Mesa Jr must be a huge George Foreman fan, but he's not on the 40-man roster and heas zero ABs stateside.  And he's also the 99th overall prospect, so I'm not that exciting.  He gets lots of mentions because he was the Marlins best prospect before they traded for Sixto Sanchez!!! Sixto is the #27 overall & #7 RHP prospect. He looks to start his age 20 season by getting his first ever innings at AA.  So he's not an option for 2019, but he's definitely not blocked by anyone and his elite control and growing strikeout numbers have me pushing some denim and dreaming big for the future.
Corner Infield: Jed Lowrie and Todd Frazier are the frontrunners right now, but Peter Alonso is the #1 1B prospect according to MLB pipeline and #51 prospect overall.  Alonso has just 301 PAs in AAA so he might need more seasoning.  However he smacked 21 dingers and roped 19 doubles in that time.  So the bat seems ready, but the ghost of Todd Frazier might 'block' him for service time concerns only.  Prediction:  Peter Alonso should have a nice 2nd half of the season. Todd Frazier will Todd Frazier for the first month or two of the season.  Jed Lowrie should have a season just like he did last year. (which is better than you think!).
CF: Poor Jeff McNeil is the odd man out of the corner infield battle, but he might still be occasional looks there as a super utility.  The Mets have said they're going to transition McNeil to the OF in hopes of him winning an OF job (then moving Michael Conforto or Brandon Nimmo to CF).  As a .311 batter in the minors who hit .329 in the bigs last year; I hope he does! Juan Lagares continues to stick around for his defensive prowess, but as a fantasy player he doesn't hit for power or enough average or steal enough bases to be of interest.  Keon Broxton is comparable to Lagares defensively, but he's actually exciting because of his 15/30 potential.  Jeff McNeil bats lefty (.345/.396/.470 against RHP last season) and Keon/Lagares are righties.  Prediction:  Jeff McNeil gets the heavy side of the platoon and mashes, Keon gets the light side and has hot weeks.
5th SP: Jason Vargas always sticks around and always does stuff.  His 8.2 K/9 and 2.9 BB/9 in 20 starts for the Metropolitans wasn't too bad, but wasn't really exciting.  Corey Oswalt has a career 7.8 K/9 and 2.2 BB/9, so I'm not that excited.  Prediction:  Jason Vargas wins the 5th spot and I don't care.
Super Utility?: Jeff McNeil is already discussed above.
Prospects?: None that aren't already mentioned.
4th and 5th SP: Zach Eflin, Vince Velasquez, Jerad Eickhoff battle it out for the last two rotation spots.  They're all pretty unsexy, but the Phillies could be stacking wins this year.  Prediction: Zach Eflin and Vince Velasquez get the last two spots, with the Phils using the kids gloves on Eickhoff in the bullpen for 2019.
Super Utility?: I still believe in Scott Kingery.  The Phillies believed in him last year when he signed a 6 yr deal.  I never believe in 29 HR power, but there's no reason this guy couldn't hit 15, steal 30, and bat .275 with regular ABs.  The only thing missing is the regular ABs.  Maikel Franco could open Scotty Jets' path to playing time as long as Manny doesn't swoop in and permanently block his path.
Prospects?: None that aren't already mentioned.
4th and 5th SPs:  Anibal Sanchez had an excellent year in ATL last year with an 8.9 K/9, 2.83 ERA, and 1.08 WHIP.  While I think the ERA and WHIP aren't likely to repeat, I could see Anibal having a very good season in the nation's capital.  Anibal is locked into the #4 spot.  Jeremy Hellickson was signed to compete for the 5th spot and he performed admirably but unsexily last year.  He's like the other two guys behind him, but with less Ks.  When Joe Ross has been healthy, he's posted around 8 K/9 and 2.5 BB/9.  So he's steady but unexciting.  Erick Fedde has posted 8.4 K/9 and 2.0 BB/9 in 89.2 AAA IP, but 8.4 K/9 with 4.1 BB/9 in 65.2 MLB IP.  Both sample sizes from 2017 and 2018, so I don't know what to expect in 2019.  I would expect either Fedde or Joe Ross to post about the same season statistically if they sneak into the job.  Prediction: Anibal Sanchez #4, Jeremy Hellickson #5
Super Utility?: No one interesting, unless you count the next guy.
Prospects?: Carter Kieboom is the #25 overall and the #6 SS prospect, but he might have to get a look at 2B or in the OF to move up.  Mr. Kieboom isn't on the 40-man yet because he only has 248 AA ABs, but he could arrive if needs develop due to injuries.  Right now he's a doubles masher, but he could grow into some MI-relevant power soon.  We'll have to see how the tools develop.