As always, probable pitchers are subject to change. For a look at all fantasy baseball streamers, click this link.
The story of Edinson Volquez and Johnny Cueto is the Tale of Two Reds.
It was the best of times, it was the worst of times to have Dusty Baker as a manager. It was the age of the possibility, with two pitchers on the same team going after the Cy Young every year. It was the age of those two hurlers sharing an apartment and duking it out on PlayStation. It was the epoch of mid-90s fastballs, it was the epoch of a Cincinnati team that never made it, it was the season of 2008… It was the season of throwing way too many pitches, but it was the spring of hope …
That year was technically the rookie season for both Cueto and Volquez, who had a few stints in the bigs with Texas before being shipped to Cincy for Josh Hamilton. At the time, it was Volquez who seemed to have the brighter future, as he posted a 17-6 record en route to an All-Star nod and a fourth-place finish in the Rookie of the Year voting even though he wasn't eligible to win it. Cueto, on the other hand, pitched like a rook, going 9-14 with a 4.81 ERA. An eerily prophetic article from May 14, 2008 observes how Baker managed the arms off of Mark Prior and Kerry Wood, and would probably do the same thing to Cueto and Volquez. And, of course, 196 innings later, Volquez was off to Tommy John surgery and out for the 2009 season. He was never the same as he bounced from the Padres to the Dodgers to his current squad, in Pittsburgh.
Cueto held up for a few mediocre and weird years before breaking through in 2012, when he won 19 games and finished fourth in the Cy voting. But he too was about to be Dusty-ed. He pitched 217 innings that year and reaggravated an old back injury in the playoffs. The next year, more injuries. And that brings us to 2014, where Cueto has returned to health and dominance. Sure, he got bombed by the Nats earlier this week, but that was after the best nine-game run for a starter in 105 years. Read that again.
Volquez had a promising start to 2014, and his ownership spiked early before he fell back to Earth. After a rough patch where he was getting knocked around pretty good, he rebounded with a winning effort in which he went six innings and only gave up one run against … the Nats. And so the stars are aligning again for these two one-time Reds, who both have two starts next week. And, oddly enough, I like them both. Cueto should get back on track with favorable matchups in Dodger Stadium and in Arizona against the weak D-Bags. I like Volquez based on matchups alone: He also has the Dodgers on the road as well as a trip to Citi Field. Join me now as we wade through the rest of this week's two-start pitchers, only I'll be doing it using the video for Michael McDonald's "Sweet Freedom" as inspiration.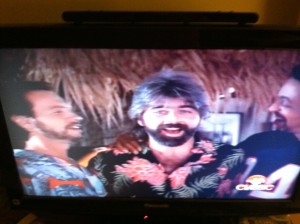 Must start
Max Scherzer (@OAK, @SEA), Yu Darvish (@MIN, @WSH), Sonny Gray (DET, LAA)
Some guys have checklists of hot chicks they want to bag. Me? I'm just happy to say that as of this year I have owned all three of these studs. Max is going out to those caverns in Oaktown and Seattle, Yu should blow the Twinkies away and Sonny will just be Sonny.
First Tier
Hyun-Jin Ryu (CIN, PIT), Zack Greinke (CIN, PIT), Johnny Cueto (@LAD, @ARI), Jeff Samardzija (@SF, @MIL), Lance Lynn (NYY, SF), Mark Buehrle (TB, KC), Cole Hamels (COL, NYM)
Hamels has had three straight strong outings, but he's been awful at home, as have the Phils. Buyer beware on that one. And now I will beat the Buehrle drum yet again: He's 8-1. With a 2.16 ERA. And Hamels is still more owned in Yahoo? Wha?
Second Tier
Michael Wacha (NYY, SF), Kyle Lohse (BAL, CHC), Tim Hudson (CHC, @STL), Drew Hutchison (TB, KC), Alfredo Simon (@LAD, @ARI), Drew Smyly (@OAK, @SEA), Tanner Roark (MIA, TEX), Yordano Ventura (HOU, @TOR), Tyson Ross (@ARI, @CWS), Jered Weaver (@SEA, @OAK), Nathan Eovaldi (@WSH, ATL), Ervin Santana (BOS, @MIA), Matt Cain (CHC, @STL), Josh Tomlin (@CWS, COL), Phil Hughes (TEX, @NYY), Jonathon Niese (PIT, @PHI), Jon Lester (@ATL, TB),  Chris Tillman (@MIL, @HOU), Tommy Milone (DET, LAA), Tyler Skaggs (@SEA, @OAK), Aaron Harang (BOS, @MIA)
At some point this year I might share the secret formula I used to pick Drew Hutchison as my pick for Sleeper of the Year, but only if he keeps it up and only if I can figure it out myself. Meanwhile, fantasy ballers were falling all over themselves to grab Tyson Ross all week after the billy goated Padre beat four straight weak opponents handily. Well, he's got two more patsies this week. Note: It's possible Cain could be out with a hammy injury, but not the kind of hammy injury he suffered a few weeks ago when he cut his finger making a hammy and cheese sandwich.
Third Tier
Edinson Volquez (@NYM, @LAD), Wade Miley (SD, CIN), Brandon McCarthy (SD, CIN), Nick Tepesch (@MIN, @WSH), Roenis Elias (LAA, DET), Jacob deGrom (PIT, @PHI), Erik Bedard (@TOR, @BOS), Clay Buchholz (@ATL, TB), Collin McHugh (@KC, BAL), Jose Quintana (CLE, SD), Chase Whitley (@STL, MIN), Chris Young (LAA, DET), Jarred Cosart (@KC, BAL), Jeremy Guthrie (HOU, @TOR), Kyle Kendrick (COL, NYM), Brandon Cumpton (@NYM, @LAD), Jhoulys Chacin (@PHI, @CLE)
I've been a big Roenis Elias guy this year. I mean how could you not root for a Cuban lefthander with a name that combines the names of two cops on "The Dukes of Hazzard"? But he's been walking too many people – and, frankly, striking out too many people if there is such a thing – to get deep into games. This is not the week for him to get on track, but if he survives the Angels and Tigers brighter days could be ahead.
Don't start
Kevin Correia (TEX, @NYY), Bruce Chen (@MIL, @HOU)
I'm gonna shave your nose hairs with a razor blade or staple your toe nails to your toes.