If I had a nickel for every time I streamed Matt Moore this season I would have probably six or seven nickels by now. Most of those nickels would have been thrown out of my second-floor window because the streams did not go very well. But, like any good insane person, I can't help myself and am back for more. Or should I say back for Moore?
Matt Moore tops the Streamonator list this week for two-start starters owned in less than 75% of RCLs. At $15.50, he has the 7th highest value, behind only the six you see above him in the chart below. I would have to go back and look to be sure, but I think this is the first time all season that my top seven starters lined up exactly with what Streamonator projects. That is two opinions for the price of one, people. You can't get that kind of bargain anywhere else!
While he sports a pretty ugly 5.38 ERA, he has tossed three straight quality starts. In those starts, he has allowed five runs in 20 1/3 innings while striking out nearly a batter per inning. His ERA of 4.09 in the second half is two runs lower than his first half ERA, which was inflated by an absolutely awful 8.88 ERA in June. June must have been when I was streaming Moore the most because that wound feels fresh.
His 4.51 FIP, while not great, is also almost a run lower than his ERA, so it seems that the Moore of late is leveling out to match up with what his peripherals are saying. While many of his numbers this season match up with what he has done throughout his career, there are a few concerns among the bunch. For starters, his swinging strike percentage is down. It's not drastically down, as 8.9% is not a freefall from his career mark of 10.2%, but it is notable. His BABIP is slightly above league average at .329, while his 1.51 WHIP is up above his career 1.37 WHIP and the 1.29 he put up last season. His Hard% is up nearly 4%, and he is giving up a few more home runs this season, but then again who isn't, right?
As for matchups this week, he has one great matchup against the Padres and one meh matchup against the Cardinals, who have been much better the last few weeks. The Padres have a wOBA of .291 over the last two weeks, which is good for third worst in baseball behind only the Mets and Nationals. The Cardinals, on the other hand, have the fifth best wOBA over that span with a .362 that is actually tied with the Marlins and Twins. The Cardinals start is a risk for Moore streaming, but his recent success and his matchup against the Padres make him one of the better two-start options this week. He is only owned in 28% of RCLs as of this writing.
As for other starters with a positive Streamonator $ value who are owned in less than 75% of RCLs, here is the entire list:
Yes, the entire list is Mike Fiers. Andrew Heaney almost cracked the list, but he ended up with a -$1.50 value over his two starts. If one of those starts wasn't against the Rangers and their league-best .377 wOBA over the last two weeks, he might have made the cut. Now, to the charts!
Pitchers are listed in order by rank. Colors represent 8 toughest or 8 easiest opponents according to team wOBA for last 14 days.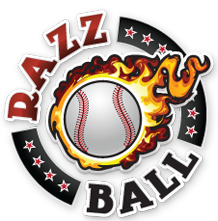 THE BEST
THE REPLICAS
THE STANDARDS
THE KNOCKOFFS
Player
Opponents
ERA/FIP
K9/BB9
Ian Kennedy KC
TB,

@MIN

5.09/5.36
7.85/3.68
Jose Urena MIA

@WSH

, PHI
3.68/5.00
6.18/3.12
Trevor Williams PIT

@CHC

,

CIN

4.40/4.09
6.68/3.01
Mark Leiter Jr. PHI

ATL

,

@MIA

3.86/5.10
7.87/3.70
Andrew Heaney LAA
OAK,

@TEX

8.10/10.43
8.10/0.00
German Marquez COL
DET,

ARI

4.18/4.18
8.28/2.88
Asher Wojciechowski CIN

NYM

,

@PIT

6.17/4.96
9.83/2.00
Marco Gonzales SEA

@BAL

, OAK
7.40/7.00
5.66/2.18
Lucas Sims ATL
@PHI,

@CHC

4.13/5.17
4.76/2.54
Luis Perdomo SD
SF, LAD
4.84/4.37
6.66/3.44
Edwin Jackson WSH

MIA

, @MIL
3.38/5.44
6.00/2.81
Jaime Garcia NYY
CLE, BOS
4.52/4.33
6.91/3.68
THE 
Player
Opponents
ERA/FIP
K9/BB9
Nick Pivetta PHI

ATL

,

@MIA

6.73/5.26
9.57/3.88
R.A. Dickey ATL
@PHI,

@CHC

4.06/4.88
6.53/3.41
Kendall Graveman OAK

@LAA

, @SEA
4.24/3.87
6.17/2.42
Ubaldo Jimenez BAL
SEA,

TOR

6.57/5.64
8.36/3.86
Justin Nicolino MIA

@WSH

, PHI
5.45/5.70
5.18/3.82
Andrew Cashner TEX

@HOU

,

LAA

3.44/4.58
4.51/3.51
Matt Garza MIL

STL

,

WSH

4.67/4.94
6.20/3.23
James Shields CHW

@MIN

, TB
5.63/6.13
7.88/4.16
Jordan Zimmermann DET
@COL, CLE
6.11/5.46
5.85/2.64
Chris Tillman BAL
SEA,

TOR

7.75/6.49
6.66/4.84
Christoper Flexen NYM

@CIN

,

@HOU

5.79/6.91
6.11/6.43
All pitchers are projected for two starts as of Friday night. 
If you would prefer to see the above tables as a color-coded graphic, we've got that too!
(Click to enlarge.)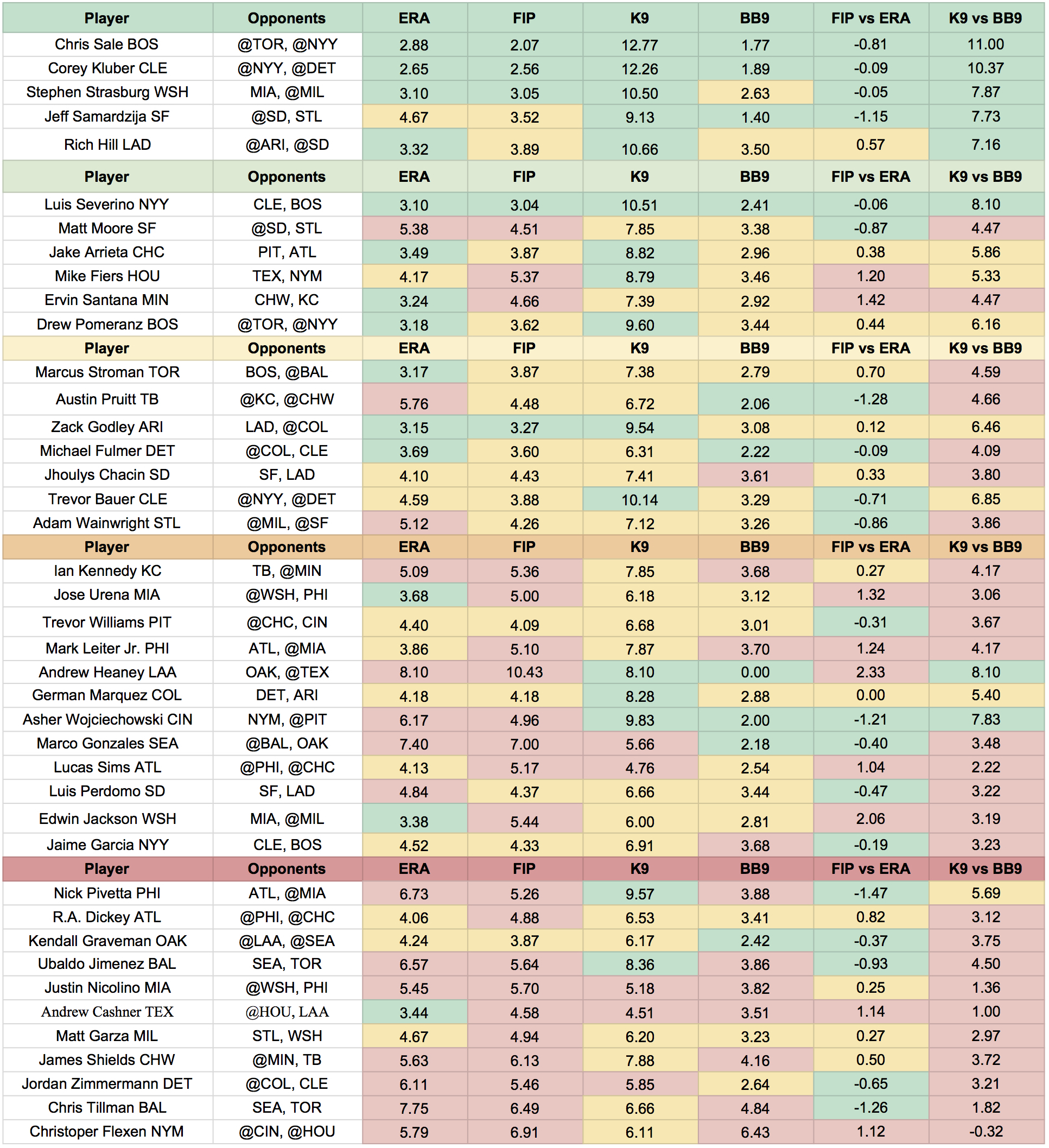 As always, disagree with anything here? Have any questions or comments? Want to tell Mike how great he is or how much you agree with him? Want relationship or investment advice?
DROP THOSE COMMENTS!
If you want to talk fantasy baseball or football or have players you want Mike to feature, hit him up on Twitter at @mikeMaher or post a comment below!