It's always good to try and see every pitcher that you can.
I've never seen Henry Owens pitch, but didn't think much of him for 2015 with a horrible walk rate in AAA (4.12 per/9).  "Is this strike zone regulation size, or what?!"  But he is a top prospect, reportedly has good stuff, and was decent in his debut against the Yanks.
You never know what you can see at the eye level, and you never know what pitchers might have a fluky bad walk rate in AAA only to find dynamite command in the Majors (cough,  Taylor Jungmann).  So I decided to check out Owens yesterday, to see how he looked on the road against the Tigers in his second MLB start:
First Inning: Owens' first pitch is an 87 MPH cutter (?) catching the outside edge for strike one to Rajai Davis.  The tall lefty is in there again at 89 MPH with a four-seamer that's popped back foul – maybe that first pitch was just a get-me-over four-seamer – then 0-2 is an 89 MPH fastball perfectly on the high inside edge that gets a very awkward swing from Davis for a 3-pitch K to start the game: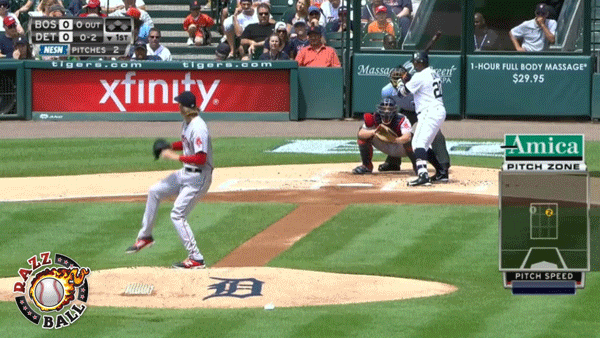 Wow, Davis hits lefties well, and that was awful.  Fastball well outside to Jose Iglesias, then 1-0 is bunted up the first base line, Owens makes the play and throws it to first, and a very weird play as Iglesias steps on Travis Shaw's glove which caught the low throw right on top of the bag, and the ball then popped out.  Iglesias is out, as Shaw had it and touched the bag with clear control of the ball, then it popped out as Iglesias stepped on the glove.  Owens with a pretty poor throw, but good enough.  Two down, and Ian Kinsler takes 88 outside, 89 barely misses high and outside, 88 looked pretty far outside but is called strike one – Kinsler starts jawing – then a 2-1 off-speed pitch at 77 just stayed in the zone and gets lined to left for a double.  Broadcast calls it a change-up, but it was mad hittable either way.  Victor Martinez gets blown away by a first-pitch 90 MPH fastball on the hands, 0-1 is a big looping curveball at 71 that stays well high, 90 MPH again in the zone gets a nick of a foul tip back 1-2 – fastball showing some better life.  Then Owens throws his best pitch of the day with a 76 MPH change-up with great life and sink that gets V-Mart to strike out to end the inning: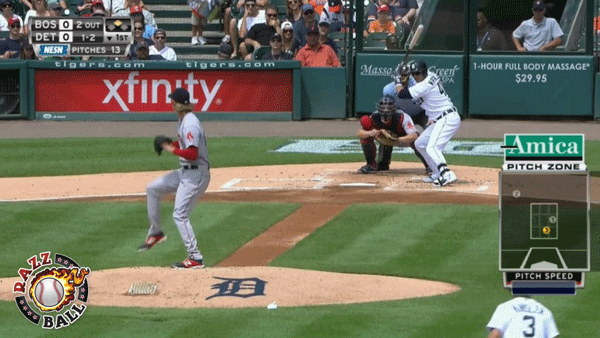 Damn, V-Mart hits lefties well – even in this his down year -and that was only his 6th strike out against a lefty all season in… well 69 at bats, but that's still pretty impressive for Owens.
Second Inning: 87 is outside to J.D. Martinez, a nice fastball at 89 MPH paints the low outside corner 1-1, 89 blows Martinez away on the outside edge with good location, 1-2 out there again is spoiled foul, 89 well high, curveball just outside sinking on the outside edge is hit foul, fastball outside hit pretty hard but just foul into the right field stands, a lot of pitches away to J.D.  2-2 change-up stays way outside, then change again is outside for a long-AB walk.  Owens with very inconsistent off-speed stuff – I don't get not challenging with a fastball.  Fastball at 90 in there to Nick Castellanos, then another good fastball at 90 on the outside edge gets Castellanos to pop it back and lose his bat, 0-2: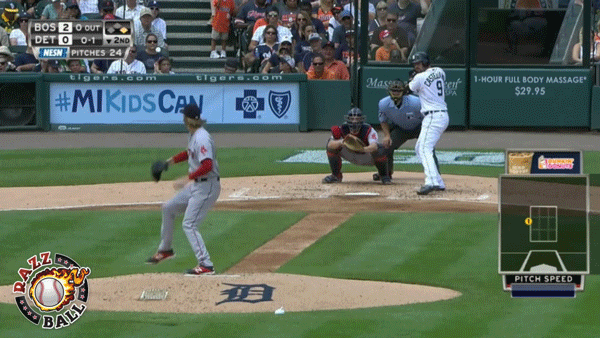 Love GIFfing the bats flying out of the hand!  Owens' fastball still tough to square up so far.  0-2 is 91 MPH just outside, then a high change-up is popped to right for the first out.  Fastball way low to James McCann, another nice change-up at 77 MPH hits the outside edge 1-1 – that was his second best off-speed with that change-up GIFfed above – fastball well high, 91 MPH is way low and inside, then 89 just misses the outside black for another walk.  90 misses inside to fill-in 1B Jefry Marte, then fastball on the outside edge is flown to right for an easy out, two down.  The speedy Anthony Gose takes a change-up well outside, 90 MPH on the hands yanked on the ground foul, then the 1-1 is a change-up dribbled right to the mound, and Owens makes a much better throw to first this time for an easy third out.
Third Inning: Spotted a 2-0 lead, Owens is back to the top and is outside at 88 MPH to Davis, 1-0 fouled back, change-up hangs high and outside, then a nasty change-up at 77 MPH dives down and in and gets a big swing-and-miss 2-2.  Nice bite on that one.  91 is low and in, then 89 is outside for a walk.  Iglesias takes high, again 89 MPH is high, then 87 MPH is well outside and goes to the backstop, with Davis running for a steal and he gets to third.  Owens ducked right after throwing the pitch, so he saw Davis running and it psyched him out.  Not great to see.  3-0 is a fastball in there to Iglesias, fastball laced foul, then 90 MPH on the hands is popped out.  Nice recovery from Owens.  Kinsler takes a perfect inside fastball on the black at 90 MPH for strike one, 91 on the outside edge fouled off – 0-2 and Owens' fastball seems back on.  High 90 MPH fastball fouled back, 91 MPH popped out of play, still 0-2 and 92 is low – I think that's his fastest so far – 91 fouled off, still 1-2 through 6 pitches.  7th pitch of the AB is high, then 90 MPH on the hands gets a very easy pop out in the infield for another out that strands Davis at third.  V-Mart takes a high hanging 77 MPH curveball in the top of the zone for strike one – seemed a generous call – then curveball again is hit hard to center, and Jackie Bradley pulls up on it to play it for a single.  I dunno, Bradley might've had a shot on a dive….  So it's a two-out RBI single, and J.D. fouls off a low first-pitch fastball, 90 on the hands fouled back, way high 90 MPH fastball taken, then an off-speed pitch at 74 cutting across the zone is popped to center for an easy third out.
Fourth Inning: Still a 2-1 game. and on the first pitch Castellanos laces one to left, but it's caught on the fly for the first out.  First hard-hit out so far.  Owens misses outside to McCann, fastball on the outer edge evens it up, 88 is low, and the broadcast mentions through 16 hitters – only 8 first-pitch strikes.  Then 2-1 is a change-up that hung in the middle of the zone, and McCann hits it pretty hard oppo field to left, but Alejandro De Aza has it a few feet in front of the track for the second out.  Another one hit pretty hard.  Then Marte is also first-pitch hacking, and crushes a high fastball to center, but Bradley web gems it with a catch over his shoulder on the track for the third out.  Man, a quick inning, but every out very well hit.  In Boston, that McCann out is off the monster…
Fifth Inning: At 69 pitches (41 strikes – which doesn't seem that bad), Gose takes a curveball in the dirt, then 86 MPH inside somehow hits the knob of Gose's bat for a "foul" that almost certainly should've been a HBP.  Lucky break there.  Curve is low, 2-1 fastball at only 87 MPH is high, 3-1.  Yikes.  88 MPH barely fits in the high inside corner to fill it up, then a high curveball hangs up there for a walk.  As the broadcast mentions – how do you throw him a breaking ball?!  Attack with the fastball, eesh!  So leadoff runner at first, and Davis takes 87 way outside and there's a meeting at the mound.  Ugly – no control now and losing velocity.  86 MPH (!!!) is outside 2-0, then 87 MPH in the zone is popped foul on the first base side, and Shaw makes the play reaching into the stands for the first out.  Even at 87 MPH, Owens is keeping the Tigers off-balance!  88 MPH is in the zone to Iglesias, Gose started then stopped for second, and Owens again ducked right away.  He's letting the runner at first impact him way too much: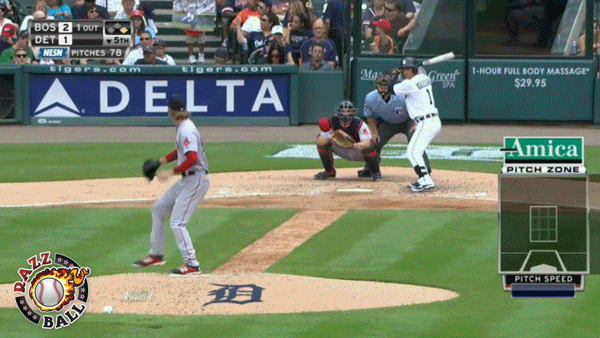 Hate seeing that.  Fastball again in the zone is fouled off, Iglesias reaches for a fastball way outside and tips it foul still 0-2, then Gose went on first movement on a throw to first, and the play is made at second for a pick off.  It wasn't a great move, just bad base running.  Obviously Owens' concern for the runner ends up paying off, but you still don't want to see it impact his mechanics when he delivers a pitch.  Then the 0-2 change-up on the outside edge is popped to shallow left for an easy third out.  Man, Owens isn't looking great, but getting some pretty easy outs.
Sixth Inning: At 83 pitches, they let Owens go back out there, and the first pitch is a hanging curveball in the zone that Kinsler rips to left for a leadoff ground-rule double.  Kinsler has owned Owens twice now with hung breaking balls in the zone, and with that one extra pitch, Owens is done for the day.  Luckily the Red Sox strand the runner, and hold on to give Owens his first career W.
Final Line:  W  5.0+ IP  84 Pitches (50 Strikes)  1 ER  3 Hits  4 Walks  2 K  Gamescore: 55  Gamescore+: 52.2
Final Analysis: So in last week's profile, Daniel Norris also threw 84 pitches with 50 strikes…  Twilight Zone!  Of course Norris pitched much deeper…  I really wasn't very impressed with this outing, even though with a high-80s/low-90s fastball, he was getting pretty weak outs most of the day except for the 4th inning.  We get a really good Gamescore+ calculation scoring under his Gamescore, with low Ks and those really hard hits in the outs in the 4th getting him through a lucky inning.
Every pitch had it's inconsistencies, but we'll start with the fastball that ranged from 86-92.  I don't like seeing a range that wide, especially since I think all were four-seamers.  In his first start against the Yankees, his fastball averaged 91.3 MPH, and I doubt it even averaged 90 MPH in this one (data not yet available on Fangraphs).  Dat scurry.  Then his best off-speed was the change-up, that 50% of the time had good life and sink, but the rest were hung and hittable.  Finally the curveball was hung almost every time, showing some upside with looping life here and there, but almost all of them were high.  It was nearly unusable in this one.
Obviously with a recap like that, Owens stays outside of the top 100 for me.  I have a pretty good comp – he reminds me a lot of Matt Moore.  Obviously Owens is taller and doesn't quite have the velo, but has a nice smooth delivery yet horrible control issues.  While Owens is still in the Majors for now, I don't know if it can last until the finish line with how his stuff looked and how base runners seemed to impact his delivery when he caught their motion in the corner of his eye.  I am cautiously optimistic he can be a fantasy #4 or #5 starter in 12 team leagues in his peak, but it might be a few years out.
JB's Updated Top 100 SP
(rankings for ROS based on 12-team Roto, green for risers, red for fallers)
| RANK | SP, Team |
| --- | --- |
| 1 | Clayton Kershaw, LAD |
| 2 | Max Scherzer, WAS |
| 3 | Chris Sale, CWS |
| 4 | Madison Bumgarner, SF |
| 5 | Corey Kluber, CLE |
| 6 | Gerrit Cole, PIT |
| 7 | Zack Greinke, LAD |
| 8 | Jacob deGrom, NYM |
| 9 | Jake Arrieta, CHC |
| 10 | Felix Hernandez, SEA |
| 11 | David Price, TOR |
| 12 | Chris Archer, TB |
| 13 | Sonny Gray, OAK |
| 14 | Cole Hamels, TEX |
| 15 | Johnny Cueto, KC |
| 16 | Francisco Liriano, PIT |
| 17 | Jon Lester, CHC |
| 18 | Dallas Keuchel, HOU |
| 19 | Matt Harvey, NYM |
| 20 | Michael Wacha, STL |
| 21 | Carlos Carrasco, CLE |
| 22 | Danny Salazar, CLE |
| 23 | Noah Syndergaard, NYM |
| 24 | Stephen Strasburg, WAS |
| 25 | Masahiro Tanaka, NYY |
| 26 | Carlos Martinez, STL |
| 27 | Jason Hammel, CHC |
| 28 | Lance Lynn, STL |
| 29 | Joe Ross, WAS |
| 30 | Jordan Zimmermann, WAS |
| 31 | Tyson Ross, SD |
| 32 | James Shields, SD |
| 33 | Garrett Richards, LAA |
| 34 | John Lackey, STL |
| 35 | Scott Kazmir, HOU |
| 36 | Jimmy Nelson, MIL |
| 37 | Taijuan Walker, SEA |
| 38 | Jake Odorizzi, TB |
| 39 | Mat Latos, LAD |
| 40 | Jose Quintana, CWS |
| 41 | Shelby Miller, ATL |
| 42 | Jeff Samardzija, CWS |
| 43 | Gio Gonzalez, WAS |
| 44 | Collin McHugh, HOU |
| 45 | Julio Teheran, ATL |
| 46 | Patrick Corbin, ARI |
| 47 | Matt Shoemaker, LAA |
| 48 | Trevor Bauer, CLE |
| 49 | Chris Tillman, BAL |
| 50 | Jaime Garcia, STL |
| 51 | Luis Severino, NYY |
| 52 | Alex Wood, LAD |
| 53 | Nate Karns, TB |
| 54 | Hisashi Iwakuma, SEA |
| 55 | Andrew Cashner, SD |
| 56 | Kyle Hendricks, CHC |
| 57 | Mike Fiers, HOU |
| 58 | Aaron Nola, PHI |
| 59 | Jake Peavy, SF |
| 60 | Hector Santiago, LAA |
| 61 | Chris Heston, SF |
| 62 | Erasmo Ramirez, TB |
| 63 | Andrew Heaney, LAA |
| 64 | Justin Verlander, DET |
| 65 | Taylor Jungmann, MIL |
| 66 | Robbie Ray, ARI |
| 67 | Marco Estrada, TOR |
| 68 | Eduardo Rodriguez, BOS |
| 69 | Ian Kennedy, SD |
| 70 | Edinson Volquez, KC |
| 71 | Rubby De La Rosa, ARI |
| 72 | Yordano Ventura, KC |
| 73 | Danny Duffy, KC |
| 74 | Dan Haren, CHC |
| 75 | Matt Cain, SF |
| 76 | Nathan Eovaldi, NYY |
| 77 | R.A. Dickey, TOR |
| 78 | Mike Leake, SF |
| 79 | Kendall Graveman, OAK |
| 80 | Wei-Yin Chen, BAL |
| 81 | Carlos Rodon, CWS |
| 82 | Chris Bassitt, OAK |
| 83 | Phil Hughes, MIN |
| 84 | Kevin Gausman, BAL |
| 85 | Ervin Santana, MIN |
| 86 | Ubaldo Jimenez, BAL |
| 87 | James Paxton, SEA |
| 88 | Jon Niese, NYM |
| 89 | Lance McCullers, HOU |
| 90 | Jesse Chavez, OAK |
| 91 | Jose Fernandez, MIA |
| 92 | Drew Smyly, TB |
| 93 | Anibal Sanchez, DET |
| 94 | Daniel Norris, DET |
| 95 | Michael Pineda, NYY |
| 96 | Drew Hutchison, TOR |
| 97 | Anthony DeSclafani, CIN |
| 98 | Brett Anderson, LAD |
| 99 | Chase Anderson, ARI |
| 100 | Aaron Brooks, OAK |
Dropped Out: Doug Fister, WAS (hasta la vista, baby!), Jeremy Hellickson, ARI (never liked him, I don't think he got past 95), Cody Anderson, CLE (ugh, I really did think he was OK… Throws kinda hard with a nice cutter, but eesh regression hit him with a Shane Greene-esque flair all the way to a DL-sucking), Matt Wisler, ATL (meh, barely made it in the past few weeks, looks so pedestrian), Tony Cingrani, CIN (was awful in his last AAA start after being awful back in the Majors), Kyle Gibson, MIN (ugh), Michael Montgomery, SEA (horrific walks)
Penultimate rankings update!  I will be out the next two weeks for my wedding/honeymoon, with one final re-rank August 31st, as Pitcher Profiles continue through Sept. without them.  A lot of a pitcher's ROS future is matchups, so be looking at Sept schedules ahead of time, especially H2H players!
Yikes, let's all pour one out for Jose Fernandez… I kept him in just in case he's not shut down, but I bet he is…
Aight, you guys sold me – Felix Hernandez takes a dip.  I still think he's going to finish strong, but dayum there's been some consistent pitching up top.
Yup, all in on Joe Ross.  I compared him to Chris Archer in his Pitcher Profile two weeks ago, and I don't think they booted Doug Fister just to pull Ross in early September to shield his innings.
Matt Shoemaker is back to the Truemaker!  After being the Falsemaker the first half…  His velo has gone up a full 2 MPH the past month or so, with 3 straight dynamite games.
I almost did this week's profile on Jimmy Nelson, but decided reliving that one bad pitch yesterday wasn't worth my tears.  Of the 8 hits he gave up, a few infield hits and slow rollers were in there as he was BABIP-ed to death before hanging one slider to Matt Carpenter.  Otherwise looked dominant again.
I was a little worried about Jake Odorizzi coming off a long-term injury, but he's been great over the past 4.
I bet Jaime Garcia wishes he was pitching in the 90s, steroids would be a big help!  He's been redonkulous, but as we all know, can't stay healthy.  Obviously a must-own, and on a per-game basis would be much higher for me.  ROS terms, I have to build in risk.
Really impressed by Luis Severino, and I could see a monster run.  But he is young, throws with a ton of movement which could lead to walks, there's some risk here…
Very nice to hear James Paxton is ramping up some rehab activity, as my big burly Canadian boyfriend might have enough to make an impact late.
Really interested to see if this Chris Bassitt thing is for real.  If he keeps it up the next few weeks, he's certainly a candidate for my Pitcher Profile when I'm back.
Thoughts on Mr. Owens?  And what do you think of these penultimate ranks?  I'll be back in late August after a few weeks off, and we'll have our final ROS ranks another pitcher to profile.  Happy pitching, Razzball Nation!