It's hard to pick which Ross is hated more: the one in Friends whose character is so annoying David Schwimmer could never get work again, or the dynamite starter for the Nationals, who even after pitching mad impressive through his first few starts, wasn't even the first SP to get the call when Stephen Strasburg went back to the DL yet again.  Why wasn't he the first call?!
After Joe Ross's first run in June, I kept him in the ranks a few more weeks even without a for-sure rotation spot, and when Strasburg tweaked the oblique, I was ready to vault him into the top-50.  But nooooooo, instead they use, I dunno, Taylor Jordan or someone who doesn't matter?  C'mon Nats, what did Ross ever do to you?!  Finally the Nationals got Ross back up to face the Mets last week in a decent – albeit underwhelming – start given the matchup, so I decided to break down his 5th MLB start at the Pirates, in a pitcher's duel Sunday afternoon against Gerrit Cole.  Here's how Ross looked:
First Inning: Ross's first pitch is a down-and-in 94 MPH fastball to Gregory Polanco, who yanks it on the ground to first for a pretty routine groundout on the first pitch – although Ross had to hustle to cover with the speedy Polanco truckin' along.  Starling Marte takes a strike in there, then a pretty well placed fastball at 93 MPH on the outside edge is hit right up the middle to center for a single.  Nice piece of hitting there.  So runner at first for Andrew McCutchen who takes 94 just outside, Ross's first slider hangs a bit high at 85, then Ross has the gusto to through a 2-0 slider and McCutchen swings over it for the first strike.  Fastball outside is taken, and Marte takes off and is caught stealing at second, nice play by Wilson Ramos.  So bases clear, and the 3-1 is a 95 MPH fastball just outside for a walk.  Wow, only Ross's third walk of the year in this his fifth start.  Newly acquired Aramis Ramirez is hitting cleanup and Ross again flashing that slider in a fastball count and it's a beaut with Aramis swinging over it, 0-1: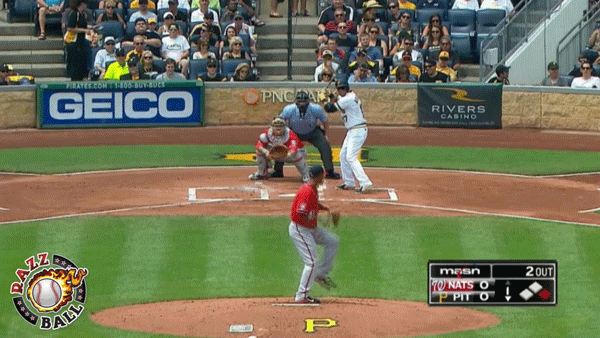 Then he comes right back in the zone pounding a 95 MPH fastball in there, 0-2: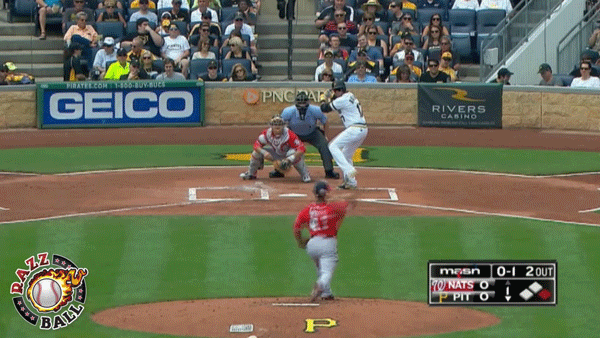 Then slider one more time that buries low and away gets Aramis to whiff over it, for one of the easiest, albeit well-pitched strikeouts I've seen this year:
I usually don't GIF three in a row, but look at that sequence!  Sure it helps Aramis is hot garbage as his career winds down, but impressive nonetheless.
Second Inning: So as we come back from commercial, the broadcast mentions Ross switched to the third base side of the rubber in May which has given his slider more deception – and hell – with only 3 walks on the year, who can argue with the results?!  Jung-Ho Kang takes a strike, 0-1 is a slider that stayed a bit up but kept on the fists and is fouled off weakly, then 0-2 pounds the inside corner at 93 that almost got strike 3 looking, but the 1-2 is another great slider that gets Gang to swing over it for another K.  94 is outside to Neil Walker, then 93 again out there is rocketed to left, but it's caught on the mid-run for the second out.  That was probably the hardest contact so far.  Fastball is in the dirt and inside on Pedro Alvarez, then a slider gets a weak dribbler foul, 1-1.  Then a nasty 94 MPH fastball with a little sink on it paints the inside corner for strike 2, slider way low and inside, then 94 again paints that inside corner for yet another K – this one looking – to end the inning.
Third Inning: Ross picks up a run of support, and Chris Stewart takes a fastball outside for ball one, then heater again out there is poked to right for a leadoff single.  That's twice now where some good contact was made when Ross hit the same spot with the same pitch twice in a row.  Gerrit Cole is bunting and bunts the first pitch foul, then the next bunt is a tad hard up the first base line, it was close to try and get the out at second, but Clint Robinson decides to take the out at first for the first out.  One down and runner at second, and Polanco takes a change-up on the outside edge at 88 MPH – not the best looking change-up but it gets a strike – then a pickoff play at second is razor close to get Stewart, but he barely makes it back.  Then the 0-1 is a 94 MPH fastball right down Broadway, and Polanco lines it hard up the middle for a rocket single, Stewart is able to score but the throw gets away from Ramos, and Polanco is able to advance to third.  Yikes, literally a millimeter from getting that scoring run out on the pickoff on top of almost getting him out on the bunt, and now there's a speedy runner at third with only one out.  And the first pitch to Marte is a slider that hung inside and it plunks Marte which gets the benches yelling.  Dude, calm down Pirates coaches, it was a friggin' slider with your best hitter coming up next.  But the Nationals broadcast's cool heads prevail, mentioning that with the benches warned, if Cole – who pitches inside – hits someone, he could get tossed.  Anyway, runners at the corners with the dangerous McCutchen up and Ross barely misses outside with a slider at 85 for ball one – that was close – slider again dives low and outside and McCutchen barely holds his swing, for a very close 2-0 count.  Dangerous pitch, and Ross goes again with a slider that stayed in the zone, and McCutchen flares it to center for an RBI single.  Nice hitting there, and now Ross has lost the lead giving up two runs with runners at first and second.  Aramis then golfs at a first-pitch fastball down and in and it's an easy, routine fly to right for the second out.  Man, am I glad he's off the Brewers!  Two down, and Kang takes a nice fastball but it's just outside for a ball, slider pulls the string and Kang is way in front and over it, 94 MPH is a perfect fastball in for strike two, then Ross goes slider again and front doors it at 85 MPH to get Kang looking and get out of the inning.
Fourth Inning: Still down 1-2, Ross starts Walker with a slider that stays outside, slider again buries in the dirt low-and-in, and the 2-0 is a fastball fairly well placed at the knees, but it was in the center of the plate and Walker as a lefty likes it down there and rips it to center for a homer.  Ross gave in to the fastball count there, and it cost him.  Ross is outside to Alvarez at 92, slider is in the dirt and inside, and Ross again down in a 2-0 count and losing a little command.  This time the fastball to a lefty gets Alvarez to swing under the 93 MPH heat, fastball again out there is hit foul, then the 2-2 is another slider at 84 that acts more like a change-up, and it changes speeds enough to get Alvarez out in front for a strikeout swinging.  Stewart takes a ball outside, slider is a beauty that dropped in the zone for a swing over it, another great slider sweeps in the zone and nips the outside corner 1-2, and Ross is getting his feel back.  Slider one more time has Stewart way in front and trying to hold his swing, but he went and it's another K.  Fastball barely low to Cole, fastball hits the outside corner 1-1, slider at 82 in the zone gets Cole out in front whiffing, then slider again in there is hit a mile high to left for an easy flyout to end the inning.
Fifth Inning: At 53 pitches, Ross is outside to Polanco 1-0, nice running fastball – maybe a cutter – at 91 gets in the zone 1-1, slider is down-and-in, then a fastball well placed down-and-in again is hit hard to center, but Michael Taylor makes a great leaping grab on the run for a first out.  Web gem!  But a 0.1 out for the Gamescore+ valuation.  Marte swings over a first-pitch slider, fastball outside, then a nice 1-1 slider is bounced to third for a routine second out.  McCutchen hits the first-pitch slider very hard oppo field but it slices just foul, 0-1 is a fastball low and outside, fastball on the hands hit back foul, then a slider on the hands is ripped to third, Yunel Escobar makes a diving play on it and gets McCutchen at first, with the Nats D stepping up to help Ross get a 1-2-3 inning.
Sixth Inning: First pitch fastball to Aramis is rocketed to third, but it's right to Escobar for the first out.  Better AB than Aramis's first two, that's for sure!  And speaking of bad ABs, Kang with two strikeouts on the day starts his third AB with a horrible swing at a slider expecting a fastball, strike one: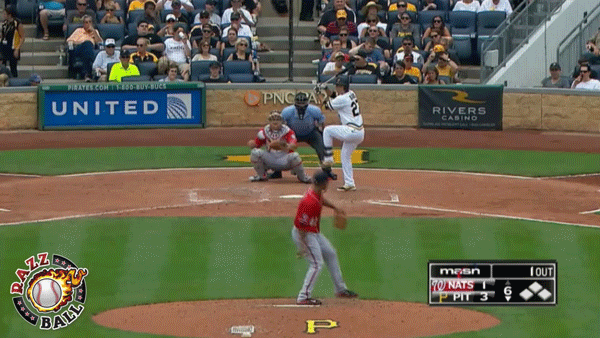 Slider again is low, steady diet of sliders continues with a bender outside, fastball in the zone gets strike two, but it was only at 91 MPH so let's hope velo is still there.  Sinking 91 MPH fastball is low and inside, slider on the hands gets an excuse-me check swing barely tipped off the bat, slider in the zone is hit well in front foul, 3-2 again is a slider on the hands and Kang breaks his bat for an easy grounder to third for the second out.  Escobar making the last four outs!  First pitch fastball to Walker is hit back foul, great slider at 83 burying down and inside is swung over and missed 0-2, slider again in the same spot is topped over for a dribbler foul, slider skips in low, the slider again burying low gets a swing-and-miss for his 7th K, retired 9 in a row, but at only 78 pitches they yank him and he's stuck with a tough L.
Final Line:  L  6.0 IP  78 Pitches (51 Strikes)  3 ER  5 Hits  1 Walk  7 K  Gamescore: 56   Gamescore+: 56.8
Final Analysis:  Holy cow!  I know Ross has been good, but I didn't expect him to look this good.  He had a tough luck matchup against Gerrit Cole which hurt his chances at a W, and obviously as he gets more experience, they'll stretch him out to pitch deeper as well.  His Gamescore+ ended up right at his Gamescore with a few hard-hit outs negating the boost of the nice Ks.
Ross's fastball is certainly above average, clocking in at 93.1 MPH on the season, but constantly hit the 94-95 range when he needed some extra juice.  It also featured a lot of movement with run and sink, but when he hit the same spot twice in a row, hitters could make an adjustment.  But the bread and butter is the slider, a pitch he throws 33.9% of the time usually in the 83-85 range that can cut into the zone or bury into the dirt.  He also throws a change-up 11.1% of the time this year, but I only noticed a handful, if that.  Maybe a few pitches that looked like hanging sliders were actually change-ups, but that pitch didn't differentiate itself too much if so.
Unlike his older brother, Ross has a much more typical and repeatable throwing motion, which is obvious given his 34:3 K:BB in 32.2 IP across 5 starts this year.  You want to know who Ross is, almost right now?  He's Chris Archer.  Fastball that can ramp it up, different versions of, at times, an absolutely unhittable slider, and the throwing motion is similar as well.  The difficulty in ranking Ross right now in ROS terms, is as mentioned above, how many more starts he's going to make since the Nationals hate him.  The Nats are loaded at SP and I doubt they yank Doug Fister, so yet again when Strasburg is back, Ross is likely heading back to the Minors or a long-relief role.  That said, Ross still makes it in at 67 in my ranks, just for the chance another injury occurs and he's just so, so good.  I'm going to rank him extraordinarily high next year, but I could see him being one of the more popular sleepers.  And if you're in a dynasty, now is the time to try and swoop in and pick him up before he really breaks out next year as a starter for the whole season.
JB's Updated Top 100 SP
(rankings for ROS based on 12-team Roto, green for risers, red for fallers)
| RANK | SP, Team |
| --- | --- |
| 1 | Clayton Kershaw, LAD |
| 2 | Max Scherzer, WAS |
| 3 | Chris Sale, CWS |
| 4 | Felix Hernandez, SEA |
| 5 | Madison Bumgarner, SF |
| 6 | David Price, DET |
| 7 | Gerrit Cole, PIT |
| 8 | Zack Greinke, LAD |
| 9 | Jake Arrieta, CHC |
| 10 | Corey Kluber, CLE |
| 11 | Jacob deGrom, NYM |
| 12 | Chris Archer, TB |
| 13 | Jose Fernandez, MIA |
| 14 | Cole Hamels, PHI? |
| 15 | Sonny Gray, OAK |
| 16 | Johnny Cueto, KC |
| 17 | Carlos Martinez, STL |
| 18 | Francisco Liriano, PIT |
| 19 | Dallas Keuchel, HOU |
| 20 | Matt Harvey, NYM |
| 21 | Jon Lester, CHC |
| 22 | Michael Wacha, STL |
| 23 | Masahiro Tanaka, NYY |
| 24 | Carlos Carrasco, CLE |
| 25 | Danny Salazar, CLE |
| 26 | Jeff Samardzija, CWS |
| 27 | Garrett Richards, LAA |
| 28 | James Shields, SD |
| 29 | Lance Lynn, STL |
| 30 | Jason Hammel, CHC |
| 31 | Jordan Zimmermann, WAS |
| 32 | Tyson Ross, SD |
| 33 | Noah Syndergaard, NYM |
| 34 | A.J. Burnett, PIT |
| 35 | Shelby Miller, ATL |
| 36 | Michael Pineda, NYY |
| 37 | Stephen Strasburg, WAS |
| 38 | Gio Gonzalez, WAS |
| 39 | Jose Quintana, CWS |
| 40 | John Lackey, STL |
| 41 | Collin McHugh, HOU |
| 42 | Julio Teheran, ATL |
| 43 | Hector Santiago, LAA |
| 44 | Scott Kazmir, HOU |
| 45 | Phil Hughes, MIN |
| 46 | Patrick Corbin, ARI |
| 47 | Taijuan Walker, SEA |
| 48 | Lance McCullers, HOU |
| 49 | Mat Latos, MIA |
| 50 | Andrew Cashner, SD |
| 51 | Kyle Hendricks, CHC |
| 52 | Andrew Heaney, LAA |
| 53 | Nate Karns, TB |
| 54 | Trevor Bauer, CLE |
| 55 | Jake Odorizzi, TB |
| 56 | Carlos Rodon, CWS |
| 57 | Mike Fiers, MIL |
| 58 | Yordano Ventura, KC |
| 59 | Chris Heston, SF |
| 60 | Chris Tillman, BAL |
| 61 | Erasmo Ramirez, TB |
| 62 | Jimmy Nelson, MIL |
| 63 | Aaron Nola, PHI |
| 64 | Hisashi Iwakuma, SEA |
| 65 | Wei-Yin Chen, BAL |
| 66 | Alex Wood, ATL |
| 67 | Joe Ross, WAS |
| 68 | Taylor Jungmann, MIL |
| 69 | Mike Leake, CIN |
| 70 | Ervin Santana, MIN |
| 71 | Edinson Volquez, KC |
| 72 | Mike Bolsinger, LAD |
| 73 | Jake Peavy, SF |
| 74 | Rubby De La Rosa, ARI |
| 75 | Robbie Ray, ARI |
| 76 | Danny Duffy, KC |
| 77 | Jaime Garcia, STL |
| 78 | Kevin Gausman, BAL |
| 79 | Marco Estrada, TOR |
| 80 | Dan Haren, MIA |
| 81 | Matt Cain, SF |
| 82 | Nathan Eovaldi, NYY |
| 83 | Ian Kennedy, SD |
| 84 | C.J. Wilson, LAA |
| 85 | Justin Verlander, DET |
| 86 | Kendall Graveman, OAK |
| 87 | Cody Anderson, CLE |
| 88 | Kyle Gibson, MIN |
| 89 | Ubaldo Jimenez, BAL |
| 90 | Eduardo Rodriguez, BOS |
| 91 | Tony Cingrani, CIN |
| 92 | Doug Fister, WAS |
| 93 | Anibal Sanchez, DET |
| 94 | Michael Montgomery, SEA |
| 95 | Jon Niese, NYM |
| 96 | Drew Pomeranz, OAK |
| 97 | Drew Hutchison, TOR |
| 98 | Matthew Wisler, ATL |
| 99 | Jesse Chavez, OAK |
| 100 | Jeremy Hellickson, ARI |
Dropped Out: Vincent Velasquez, HOU (Kazmir pushing him to bullpen), Brett Anderson, LAD (not hitting the DL, but man I have to fight him off because I'm worried about injuries, and he got injured the first week I put him in!), Matt Moore, TB (can we just give up on him this year yet?), J.A. Happ, SEA (Ugh, that one didn't work out…), Mark Buehrle, TOR (I wanted to keep him in, but ran out of spots)
Thoughts on Mr. Ross?  You guys agree he will be a big sleeper in 2016?  And what are your thoughts on the ranks?  I certainly could use your awesome comments to help with a big adjustment for next week, which will factor in all of the deadline trades.  Catch you in August, Razzball Nation!