When Chuck conceived his son Daniel Norris, he was working on set in Asia with Mrs. Norris still living in the US!  Wait, did that make any sense…  I'll leave the Chuck Norris jokes to the frat boy posters…
Traded to the Tigers along with another nice upside pitcher Matt Boyd, Detroit got some pretty good arms for a rental and they wasted no time throwing Norris right into the rotation.  And that's with 12 walks over his last 21 AAA innings!  But throw caution to the wind, don't look both ways before crossing, run with the scissors and see what ya got, amiright?!
I had Norris all the way to 61 right before the season, getting a little too rookie nookie and slack-jawed at his Minor League stats.  He wasn't awful through 5 appearances with the Blue Jays pitching his way to a 3.86 ERA, but he was a little too wild and his pitch counts got out of hand.  So with the move to a better ballpark and to a team ready to unleash him right away, I decided to break down his debut with the Tigers to see how he looked:
First Inning: Norris's first pitch is 90 MPH fastball taken by Manny Machado that hits the edge as he semi-bluffs bunt to get up 0-1.  Another fastball out there gets the call 0-2 then a high heater at 92 gets Machado swinging for a 3-pitch, all fastball K to start the day.  Wow.  Newly acquired Gerardo Parra takes 91 just outside, 91 again is outside, 88 MPH I think little cutter on the inside edge gets Parra to swing through it 2-1, fastball is fouled off, Norris's first off-speed is a hanging curveball way high, then 90 MPH gets Parra to swing through it for back-to-back Ks.  Neither looked absolutely overpowering though, just well-placed 2-strike heaters.  Then the first pitch to Adam Jones is a 92 MPH fastball on the outer edge, he rolls it over to third and it's a pretty quick inning.  Nice start!
Second Inning: Chris Davis opens the second taking a fastball high, 1-0.  Norris gets 3 runs of support and can settle in taking a lead.  89 is just high, 91 is high, and ruh roh.  Norris needs a Scooby Snack.  89 paints the outside corner, 89 again in the lower half is fouled back, and Norris fights it back to full.  Payoff pitch is 89 again fouled off – not loving seeing 89 MPH instead of 91-92 in the first.  Then Norris throws another fastball and 89 is at Davis's chin for a bad leadoff walk.  Yikes.  88 is high and tight to Matt Wieters, then 90 a little high is fisted off the hands to center for a bloop single.  Unlucky hit there.  So runners at first and second with no outs, and J.J. Hardy tries to bunt the first pitch and Norris makes a Sportscenter Top-10 play Supermanning it for the first out: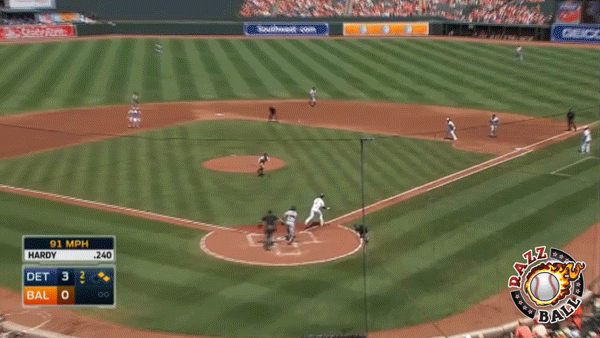 I know I've only GIFfed pitches to this point, but I couldn't help it!  Then the first pitch to Jimmy Paredes is a 92 MPH fastball on the outside edge that is chopped to short for an inning-ending double-play.  Runners at first and second with no outs, to 3 outs in 2 pitches!  Plus got that velo up – sure for only one pitch, but nice to see.  Norris needs to make a diving play every inning!
Third Inning: Still up 3-0, Norris is high to Jonathan Schoop, then Norris's best change-up so far is grounded pretty routinely to third, but Nick Castellanos boots it for a leadoff error.  Then in the weirdest scoring decision I've ever heard, they give Schoop an infield single.  That's preposterous and I could see that getting amended in the next round of score sheet changes MLB does every week.  Anyway, tough-luck runner at first and Nolan Reimold takes 92 in the zone, 92 just off the edge is slapped foul, then 0-2 is a nice 84 MPH change-up that gets a very weak squib off Reimold's bat and they get the leadoff runner for the first out: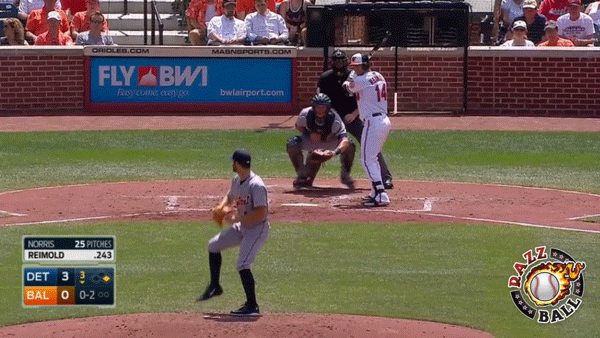 Back to the top and Machado takes a hanging curveball outside, and Norris hasn't found that bender yet.  Then one of Norris's best fastballs is 92 on the low outside edge that is flied to right for an easy second out: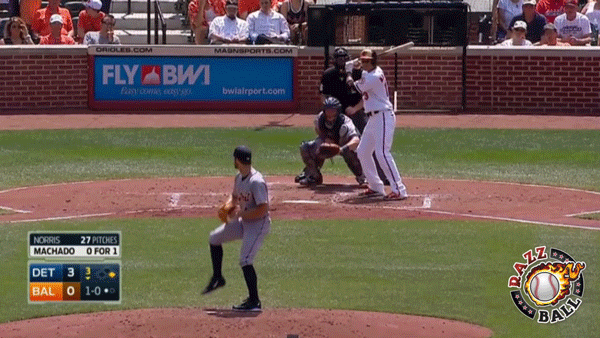 Sure not strikeouts, but those were two of his best pitches just GIFfed.  Every time I say that it sounds dirty…  Anyway Parra takes a breaking ball just high – almost looked like a slider and was his best one on the day – then 1-0 is 92 on the hands, and somehow Parra is able to turn enough on it for a hard hit to first, but Alex Avila makes a nice play like it was a fastball in the dirt and steps on the bag for the third out.  That was the first hard contact so far!
Fourth Inning: Norris opens the 4th with by far his best breaking ball, dropping this 83 MPH beaut in there to Jones for strike one: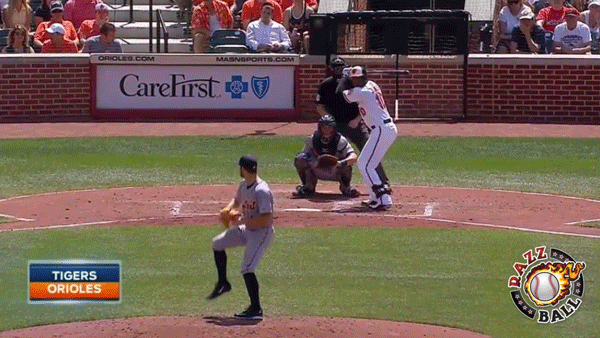 Fastball outside gets a check-swing foul, 0-2.  Another good curveball out there at 77 MPH is tipped foul, and curve again dropping all the way down to 75 MPH is flied weakly to center for the first out.  And wow, 92 on the hands absolutely blows Davis away for strike one, then Norris is just outside at 93.  Ever since that dive on the Hardy bunt, Norris has looked pretty dominant.  Curve stays barely high 2-1, then I absolutely jinxed him – Norris tries a heater on the hands again; this one at 90 MPH and right down the middle, and it's launched to right center for a mammoth HR.  I knew Norris gave up a homer going back and breaking this start down, but I didn't know when!  Can you jinx something in retrospect?  Hah, Wieters takes a hanging change outside, 91 MPH is just inside, 2-0 is a gorgeous change-up dropping in there 2-1, then another good change gets a routine grounder to third, and Castellanos doesn't boot this one for the second out.  Hardy takes a nice 93 MPH fastball in there for strike one, then 93 again is off the edge and Hardy lifts it to right for an easy flyout to end the inning.  Gotta keep that velo at 93 and on the edges, Norris, none of this 90 MPH right down the middle shizz!
Fifth Inning: Now with a 6-1 lead, Norris is outside to Paredes, 88 MPH is way high, and ruh roh – looking like the beginning of the 2nd.  87 MPH is in there – maybe a cutter but some lower velo here, then 81 is high 3-1.  89 blows Paredes away, deception getting em right now, then 88 high and tight gets Paredes swinging and he loses his bat as it helicopters into the Tigers dugout: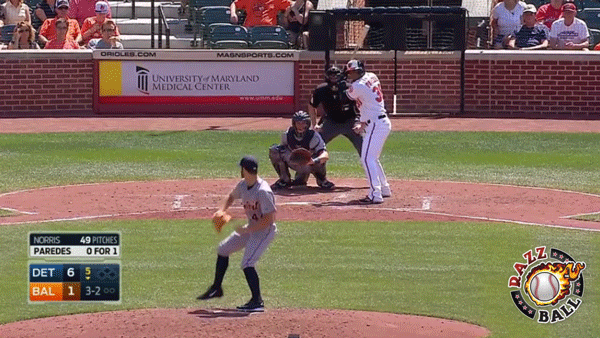 Yikes!  Not a big velocity pitch, but Norris had Paredes swinging out of his shoes.  Curveball to Schoop is outside, again curve is high and outside, 91 in the zone fouled off, then 85 MPH change-up on the outside edge is a routine bouncer to short for the second out.  Then oh man – another great change-up gets Remiold well in front for a swinging first strike, fastball at 92 outside – nice to see velo back up – 91 on the outside edge is swung through and missed, one of Norris's best curves at 75 goes low and inside sweeping through the zone but it's taken, 2-2 is a low heater, then 3-2 is a change-up that sneaks into the inside corner for strike three called.  Reimold didn't like it, but it's Norris's 4th K.
Sixth Inning: Hanging curveball to Machado starts the 6th with a ball well high, then a hanging curve or change-up at 82 at the letters is popped out in the infield for a quick first out.  Fastball that looked good to me is outside to Parra, then heater again on the hands is another pop to short for two quick outs.  92 MPH is high to Jones, 92 again blows Jones away in the zone, then 93 gets a lazy pop to second for three infield pop outs on 7 pitches to get through the sixth.  Wow.
Seventh Inning: 67th pitch is 92 MPH a tad high and outside to Davis, Norris misses again outside, fastball fouled back, 2-1 hanging curve stays high, and man that pitch just hasn't been there.  Then 91 on the hands gets a mile high pop up to right for another easy out (it was in the sun that made it a little iffy for J.D. Martinez, but he has it just fine).  Yikes, another bad hanging curve to Wieters 1-0, change-up that looked good to me is called inside I guess 2-0, then fastball on the hands is yet another pop out to short, two down.  5 straight pop ups.  93 is outside to Hardy – man good to see the velo still there late – a great 92 MPH fastball paints the outside corner, 1-1 curveball barely misses outsdie, finally a good one, then a 2-1 cutter gets one of the weirder ground outs you'll see as it dies a mere inch or two in front of the plate for an easy third out.
Eighth Inning: Norris is back out there at 80 pitches and there's a little slider that gets into the zone for strike one which is good to see a breaking ball in there to Paredes, fastball popped back just out of play, then 92 at the eyes is swung through and missed for Norris's 5th K.  91 is well high to Schoop, then an 86 MPH change is chopped perfectly between third and short for a single.  That wasn't hit too hard, but Norris is still going to get taken out, with a pretty impressive debut win for his new club.
Final Line:  W  7.1 IP  84 Pitches (50 Strikes)  1 ER  4 Hits  1 Walk  5 K  Gamescore: 70  Gamescore+: 72.6
Final Analysis: Wait, who had efficiency issues again?!  Norris mowed through the Orioles lineup needing only 84 pitches to get 22 outs, and really only had two hard hit balls all game.  Even with the mediocre Ks, the weakly inducecd contact and lack of walks gave Norris a favorable Gamescore+.
I really wish Norris's fastball was more consistent, as it usually sat 91-92, topped out at 93, but fell into the 89 range as well.  That Davis homer was absolutely murdered on a 90 MPH fastball right down the middle, after he was hitting 92-93 the previous few.  Fangraphs has his avg fastball at 91.3, but with a little seasoning, I could see Norris getting his delivery a little more repeatable and climb to 92ish.  His main off-speed is a fantastic circle-change, that had great sink and movement.  Usually I hate seeing a guy avg 91.3 on fastballs and 85.1 on change-ups – you like to see something closer to 10 MPH of differentiation – but Norris's change is dynamic enough to work at that speed.  But he really struggled with the off-speed.  He hung virtually every slider, which I couldn't even tell if it was a hanging slider or curveball.  The curve had some nice looping sink at times, but was equally as inefficient.  Norris was able to get though with nice fastball deception – just look at that last GIF – and his change-up working.
So what to make of Norris?  On the one hand, he just threw 7.1 innings while only giving up two hard-hit balls – a homer to Davis and one sharp groundout.  On the other hand, we saw some really inconsistent fastball velocity, nearly unusuable breaking stuff, and he's only 22.  I saw enough to have him crack into the ranks, but I'm not losing a quality starter or burning a streaming spot to solely hold Norris in standard leagues.  But there's some big upside here for dynasties as he moves into a much better pitcher's park.
JB's Updated Top 100 SP
(rankings for ROS based on 12-team Roto, green for risers, red for fallers)
| RANK | SP, Team |
| --- | --- |
| 1 | Clayton Kershaw, LAD |
| 2 | Max Scherzer, WAS |
| 3 | Chris Sale, CWS |
| 4 | Felix Hernandez, SEA |
| 5 | Madison Bumgarner, SF |
| 6 | Gerrit Cole, PIT |
| 7 | Zack Greinke, LAD |
| 8 | Corey Kluber, CLE |
| 9 | Jacob deGrom, NYM |
| 10 | Jake Arrieta, CHC |
| 11 | David Price, TOR |
| 12 | Chris Archer, TB |
| 13 | Jose Fernandez, MIA |
| 14 | Cole Hamels, TEX |
| 15 | Sonny Gray, OAK |
| 16 | Johnny Cueto, KC |
| 17 | Francisco Liriano, PIT |
| 18 | Dallas Keuchel, HOU |
| 19 | Matt Harvey, NYM |
| 20 | Jon Lester, CHC |
| 21 | Carlos Martinez, STL |
| 22 | Michael Wacha, STL |
| 23 | Carlos Carrasco, CLE |
| 24 | Masahiro Tanaka, NYY |
| 25 | Noah Syndergaard, NYM |
| 26 | Danny Salazar, CLE |
| 27 | Jason Hammel, CHC |
| 28 | Lance Lynn, STL |
| 29 | Jordan Zimmermann, WAS |
| 30 | Tyson Ross, SD |
| 31 | Stephen Strasburg, WAS |
| 32 | Mat Latos, LAD |
| 33 | James Shields, SD |
| 34 | Garrett Richards, LAA |
| 35 | John Lackey, STL |
| 36 | Scott Kazmir, HOU |
| 37 | Jose Quintana, CWS |
| 38 | Shelby Miller, ATL |
| 39 | Jeff Samardzija, CWS |
| 40 | Gio Gonzalez, WAS |
| 41 | Collin McHugh, HOU |
| 42 | Julio Teheran, ATL |
| 43 | Patrick Corbin, ARI |
| 44 | Taijuan Walker, SEA |
| 45 | Hector Santiago, LAA |
| 46 | Lance McCullers, HOU |
| 47 | Alex Wood, LAD |
| 48 | Andrew Heaney, LAA |
| 49 | Trevor Bauer, CLE |
| 50 | Jake Odorizzi, TB |
| 51 | Nate Karns, TB |
| 52 | Jimmy Nelson, MIL |
| 53 | Chris Tillman, BAL |
| 54 | Hisashi Iwakuma, SEA |
| 55 | Andrew Cashner, SD |
| 56 | Jaime Garcia, STL |
| 57 | Kyle Hendricks, CHC |
| 58 | Mike Fiers, HOU |
| 59 | Yordano Ventura, KC |
| 60 | Chris Heston, SF |
| 61 | Erasmo Ramirez, TB |
| 62 | Mike Leake, SF |
| 63 | Justin Verlander, DET |
| 64 | Aaron Nola, PHI |
| 65 | Luis Severino, NYY |
| 66 | Wei-Yin Chen, BAL |
| 67 | Joe Ross, WAS |
| 68 | Phil Hughes, MIN |
| 69 | Carlos Rodon, CWS |
| 70 | Taylor Jungmann, MIL |
| 71 | Ervin Santana, MIN |
| 72 | Ian Kennedy, SD |
| 73 | Matt Shoemaker, LAA |
| 74 | Edinson Volquez, KC |
| 75 | Jake Peavy, SF |
| 76 | Rubby De La Rosa, ARI |
| 77 | Robbie Ray, ARI |
| 78 | Danny Duffy, KC |
| 79 | Kevin Gausman, BAL |
| 80 | Marco Estrada, TOR |
| 81 | Dan Haren, CHC |
| 82 | Matt Cain, SF |
| 83 | Nathan Eovaldi, NYY |
| 84 | Kendall Graveman, OAK |
| 85 | Cody Anderson, CLE |
| 86 | Kyle Gibson, MIN |
| 87 | Ubaldo Jimenez, BAL |
| 88 | Eduardo Rodriguez, BOS |
| 89 | Tony Cingrani, CIN |
| 90 | Doug Fister, WAS |
| 91 | Anibal Sanchez, DET |
| 92 | Michael Montgomery, SEA |
| 93 | Jon Niese, NYM |
| 94 | Daniel Norris, DET |
| 95 | Michael Pineda, NYY |
| 96 | R.A. Dickey, TOR |
| 97 | Drew Hutchison, TOR |
| 98 | Matt Wisler, ATL |
| 99 | Jesse Chavez, OAK |
| 100 | Jeremy Hellickson, ARI |
Dropped Out: A.J. Burnett, PIT (admitted he might've thrown his final pitch), C.J. Wilson, LAA (also with elbow issues that could cost him the year), Mike Bolsinger, LAD (send to AAA… Yikes…), Drew Pomeranz, OAK (returning to bullpen)
David Price's career HR rate at home (mostly TB, a little DET) is 0.71 per/9, while 0.94 per/9 in virtually the same innings on the road.  He's had about a league average HR rate through his career in great pitcher's parks, and while I'm certainly not panicking, he goes down a smidgen.
Certainly no start-to-start concern for Carlos Martinez, but as we wind down to the final two months here, an innings limit concern doth linger.
Yikes, Noah Syndergaard couldn't be any better.  But even with the Mets pushing for a playoff spot, there's no way they let him throw over 200 innings combined in AAA/Majors.  In redraft, he might be my favorite sell-high just because they're going to skip him here and there.
Man, I dunno how I went from a high Jason Hammel rater, to too low a month or so ago in a few comments, to too high after his minor hamstring tweak.  Wasn't dominant or anything last time out, but looked fine!
Love the move for the two new Dodgers.  Man, I cannot flip flop more than on a pitcher like Alex Wood…  Maybe his move to the other side of the rubber had one bump in it before really working last time out, and now gets a big O to help get some wins.  Not going too high though.
Uh oh!  Brewers bias alert…  Jimmy Nelson has looked phenomenal his last two starts.  I added where I could.  Coincidentally, he ended up at 52 – his number and my lucky number!  Go Jimmy!
I was surprised I didn't get more flack for keeping Justin Verlander in the ranks when he finally got off the DL, but I'm not buying these last two games as much as I've seen other rankers.  Worth a flier though.
Let's do this Luis Severino!  Awesome numbers in AAA and with Pineda hurt, has got a chance to stick – maybe until the end.  Very excited.
With C.J. Wilson possibly done, it assures Matt Shoemaker will stay in the rotation, and he's pitched better.  I had him out the past few weeks thinking he'd lose his spot, but it's looking good now.
Thoughts on Chuck Norris's son?  And what do you think of the ranks?  Hopefully I didn't miss any other pitchers changing teams, it was a nuts deadline!  Happy final two months of pitching, Razzball Nation!