So, usually I have an idea if a team is good, and, if I don't know that, I have some idea when the season will begin, but welcome to the year 2020 when all is unknown. I'm currently typing this with my hands tied behind my back so I don't accidentally touch my facet–Face! Damn it, this typing with my nose is more difficult than I thought it would beet–Damn! This is giving 'hunt and peck' typing a new definition. More like 'hen and peck' amiright? Don't answer me because you might accidentally transmit saliva into the air. Thanks, and remember, SOCIAL DISTANCING!!!, which is what I scream at Cougs every time she comes within six feet of me. Makes for interesting sleeping as our bed is about six feet in width. So, the RazzSlam is a Best Ball tourney with Points scoring. Everyone likely knows what a Best Ball league is, but, if you don't, it's when you draft a team and the computer manages it for you by choosing who are the best players, and you get those stats. It's basically one fantasy league removed from the robots taking over and killing us all. Well, the last laugh is on you robots, there's a virus beating you to the punch! Anyway, here's my RazzSlam, 12 team draft recap:
C: Travis d'Arnaud (22, 259)
C: Chance Sisco (29, 342)
1B: Freddie Freeman (2, 19)
2B: Ozzie Albies (3, 30)
SS: Jorge Polanco (10, 115)
3B: Matt Chapman (7, 78)
MI: Michael Chavis (17, 198)
CI: Pete Alonso (4, 43)
OF:  Mookie Betts (1, 6)
OF: Giancarlo Stanton (5, 54)
OF: Ramon Laureano (8, 91)
OF: Oscar Mercado (13, 150)
OF: Bryan Reynolds (15, 174)
Util: Avisail Garcia (19, 222)
Bench: Mallex Smith (24, 283), Austin Riley (25, 294), Anthony Santander (28, 331), Hanser Alberto (31, 366), Ryan Mountcastle (32, 379), Adam Haseley (34, 403), Adam Frazier (36, 427), Austin Hedges (38, 451), Monte Harrison (39, 462), Jose Iglesias (41, 486), Jeimer Candelario (42, 499)
P: Chris Paddack (6, 67)
P: Roberto Osuna (9, 102)
P: Eduardo Rodriguez (11, 126)
P: Zac Gallen (12, 139)
P: Julio Urias (14, 163)
P: Andrew Heaney (16, 187)
P: Luke Weaver (18, 211)
P: Dylan Bundy (20, 235)
P: Ryan Yarbrough (21, 246)
Bench: Mackenzie Gore (23, 270), Johnny Cueto (26, 307), Pablo Lopez (27, 318), Justus Sheffield (30, 355), Drew Smyly (33, 390), Taijuan Walker (35, 414), Patrick Sandoval (37, 438), Joe Ross (40, 475)
THE RAZZSLAM WAS ALL THE RAGE FOR ONE WEEK IN MARCH BEFORE EVERYONE WENT VIRAL LIKE AN INSTAGRAM INFLUENCER WITH MOUTH BLISTERS. WITH THE NEW CIRCUMSTANCES, HOW DO YOU FEEL ABOUT THIS TEAM?
Short answer is I have no idea. Long answer is the rest of this post. NFBC, who held these drafts, gives the team a B+, which is prolly the best grade I've ever received for a team coming out of a draft, so that's concerning. But not only do I not know when the season will begin, I don't know heads and/or tails with this RazzSlam scoring either: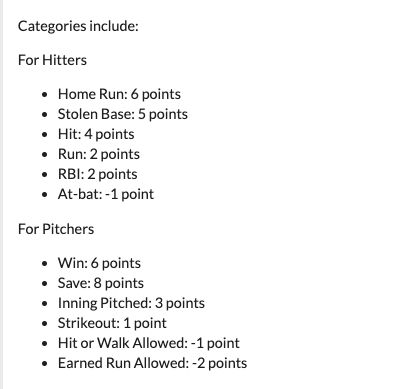 These points do not compute like most Points Leagues. According to their scoring, last year in what was admittedly a wonderful year, Shane Bieber accrued 610 points. Michael Conforto walked away with 612 points while being, essentially Michael Conforto. Max Muncy is great, wonderful, adjective, but he scored the same number of points as Jacob deGrom. Yes, that Jacob deGrom. I wouldn't even say this Points League is skewed for hitting; it's basically hitters and then reach over your FUPA and grab a bunch of pitchers. Also, I found last year that closers are oddly valuable. Maybe it's that whole 8 points for a save thing. If Osuna gets three clean saves in a week with one K per game, he gets 36 points. In a one start week from deGrom, where he throws a 10-K shutout with seven baserunners, he scores 36 points.
SO, IN YOUR INFINITE HANDSOMENESS AND EXTREMELY FINITE INTELLIGENCE, WHY DID YOU NOT DRAFT MORE CLOSERS?
Good question. Also, I kinda need more shortstopsses (Shortstopi? Shortsto3.14? Maybe it's just shortstops), too. Can I blame coronavirus for my lack of closers? No? How about now? Same answer? Okay. At a certain point, around round 20th-ish (you sound adorable saying that aloud — "around round 20th-ish" — you're like a rhyming lisper!), it was announced the season would not happen on time, so I called an audible, then Googled what an audible was, then started drafting a ton of starters. You'd think I'd be able to find nine decent starters each week from my seventy-dozen starters. Also, closers went fast, so c'est la vie, as Jeff Francoeur would say. My best guess is this team is good. Could it be bad? As Mallory from Family Ties would say, you damn Skippy it could be! I don't love my lack of flexibility with my hitters. In these Best Ball-style leagues, I like to get guys with a lot of eligibility, so when the robots fill out my lineup, guys can slide in anywhere.
I SEE YOU'RE STILL MAKING OPEN, WHITE-HOT LOVE TO PETE ALONSO, BUT FREDDIE FREEMAN SEEMS LIKE A NEW ENTRY INTO YOUR LOVE DEN.
More like I'm making an entree of them!
I'M MAKING A FACE INDICATING I WOULD'VE PREFERRED NOT TO HEAR THAT.
Right, right. Tough, but fair. I went with a bunch of hitters here who haven't been on a ton of my other teams, if you're keeping track, and obviously you are. The goal in these Best Ball Points Leagues are guys who give all five categories, and get on base, whether a hit or walk vs. all-or-nothing guys. That, hopefully, explains Betts, Albies, Freeman, Laureano, Mercado, Reynolds–Okay, just about my whole team's offense, besides Albombso and Giancarlo. They were just so cheap that it was hard for me to pass up either. All the kicking of myself earlier in this draft season about drafting Giancarlo, against my better judgement, now I can't wait for the season to start with him at 100% health (and then he'll be 100% injured again a week later). Also, Albombso is the type that could hit 30 homers in a 100-game season, and lead the league. (By the by, all my 2020 fantasy baseball rankings are updated for a 100-game season.)
OKAY, REAL QUESTION BEFORE I PEACE OUT AND WASH MY HANDS WHILE TWICE SINGING HAPPY BIRTHDAY, ARE YOU SECRETLY AN ORIOLES FAN? YOU ALWAYS DRAFT SO MANY OF THEM.
You need to qualify that, Mr. Al Caps. I don't love Orioles pitchers; their own mothers don't love them. I love late Orioles hitters. Hanser, Santander, Mountcastle and Sisco have ended up on so many of my team this year. Let's take Santander — I take Santander everywhere, and people give me strange looks! — Steamer hitter projections (all now at 100 games) give him 14/3/.262. I know, snooze. His ADP is 392. Justin Upton's ADP is 210 and his projections are 17/3/.240; Nomar Mazara's ADP is 240 and his projections are 15/2/.255; Nicholas Castellanos's projections are 16/2/.274, and his ADP is 93! Runs and RBIs are already fluky in 162-game seasons; wait until you see how they look in 100-game seasons. People are ignoring late Orioles hitters in drafts like they're ignoring CDC's warnings to shelter-in-place, but I'm grabbing the Birds and trying to avoid flu'ing the coop.