Throughout my time as a dynasty player, I've learned that there's one thing that's as inevitable in this format as death and taxes….. turnover. Sometimes it's simply because a manager no longer likes the format or league. Sometimes it's a lack of the time element that needs to be applied to properly compete. Other times it's an incident that disenfranchises owners, and leads them to quit. Well over the last month I'm pretty sure all of these apply to outgoing managers within our Razzball in-house dynasty the Razznasty. There's been drama, tears, a gang-related shooting, and an arm wrestling tournament in a truck stop. Actually I think I'm confused, all those things happened during my Memorial Day weekend with my in-laws. You know what they say, "sometimes you join the Hell's Angels, and other times you marry into them".  Moving along, let's discuss the standings, trades, and wavier claims for the month of May.
The Standings
What was once a 20 point lead for Mentok has whittled to an eleven point lead a month later. This is just simply things settling down after a very strong April from Mentok. He's continued to stay active making win now trades, and panning the wavier wire for golden adds. Commissioner Yes Cheese had an excellent May adding 10 points to his total, and jumping 2 places from 4th to 2nd. Cheese is one of the better dynasty players I've competed against, and did a nice job of making trades to improve his squad over the last year plus. He's built a formidable team, and has a nice eye for minor league talent. In third place sits Shill Team 6, owned by frequent commentor of the same name. Shill dropped one spot in the standings but only dropped one point off his total score month over month, so he should be commended for maintaining. In fact he could be in second place within three hours, it's that close. The two biggest gainers this past month have been Razzball Legend Nick the Dick, and first year manager Raskals. Nick gained a whopping 18 points month over month to climb from 9th place at the end of April to 4th as June begins. Raskals on the other hand has continued to make win now moves as he builds one of the most formidable squads in league. Raskals presently sits in 5th with a total of 107.5 points, a 11.5 point jump month over month. Sitting in 6th place is "The Rebuilding" Epic of Goodfoldamesh, otherwise known as J-FOH's name of the month. He says he's rebuilding, but damn he looks a lot closer to competing. Dee Gordon's suspension messed with his head like Zooey Deschanel's character in 100 days of summer did to a whiney Joseph Gordon Levitt. Rounding out the teams with a shot, is the illustrious Matt Truss of RCL and DFS fame. Matt I need to title the next Razznasty Update "Can't Truss It", so get to work. In fact I'll make a deal I'll dress like Flavor Flav in this video if you do. The rest of the standings is rounded out by two teams that changed hands (funny how that works), former Prospector Mike, and 6 flunkies including myself.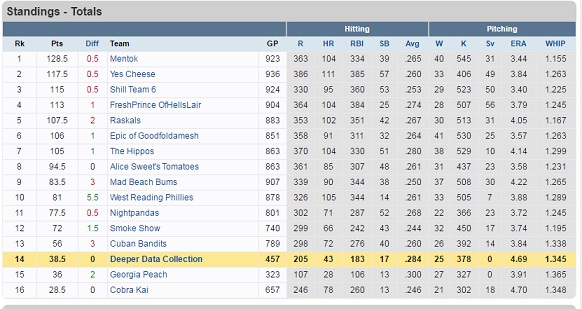 Trades
Included below are all swaps that took place over the past month….Even one that did and then didn't, more on that later.
Epic of Goldfoldamesh trades: Ryan Madson, Ben Paulsen, and Jay Bruce to Alice's Sweet Tomatoes for Orlando Arcia, Renato Nunez, and Zack Godley.
Here was a deal that took place prior to ownership of Alice's Sweet Tomatoes being transferred and re-named. Unfortunately we lost a great one in Ra'zbahl Al Ghul! Happy trails until we meet again. Wait that sounded like he died, he didn't die FYI. Either way, the team formerly known as Ghul added some win now pieces, but at the expense of top 10 prospect Orlando Arcia and young pieces Nunez and Godley. 
Deeper Data Collection trades: Joe Panik and Matt Moore to Raskals for Cody Reed (Cin) and Raskals 2nd round pick.
I had some depth at MI and wanted to rid myself of Moore before he reverted back to what he is. I was able to move them for an up and coming spec arm I like very much in Cody Reed, and a second rounder. Raskals added more MLB players in his quest to compete. The man drives a hard bargain what can I say. 
The Hippos trades: Dallas Keuchel and Jacob Faria to Yes Cheese for Dansby Swanson and Chris Devenski
A win now move for Cheese to add pitching and a "sell Keuchel before the bottom falls out" for The Hippos. I like the Swanson get for Hippos, but fully understand the move from Cheese's perspective. After all he got the reigning AL Cy Young winner for a prospect and a BORP. Good trade for both sides. 
Mad Beach Bums trades: Adam Jones and Adrian Gonzalez to Raskals for Franklin Barreto and Kyle Tucker.
Just more Raskals doing Raskal thangs, adding win now players with his eyes on the prize. The squad formerly run by Hannibal (pre-season front runner) acquires a pair of talented minor league players in Franklin Barreto and Kyle Tucker. This was actually the second time Raskals traded Barreto in 3 days, but more on that later. 
Mad Beach Bums trades: Jason Heyward and a third round pick to Mentok for Trea Turner.
Newly minted member Mad Beach Bum adds a top ten prospect with a short ETA for a possibly overrated outfielder and a pick. This trade could go either way, particularly if Heyward starts to rake this summer. 
**The Trade That Broke the Razznasty**
So as alluded to previously a trade took place that was undone and then sent shockwaves throughout the league forcing Hannibal to quit, and others to picket outside of the Razznasty offices. The trade was made by Razzball Hall of Famer J-FOH, and hard-charging Raskals. The trade was Chris Davis heading from Epic of Goodfoldamesh to Raskals for Franklin Barreto and Albert Almora. The trade was a mistake made by J-FOH while under the influence of cheetos and peyote, and was therefore undone by all-knowing commish Yes Cheese. I personally agree with the decision, as it's in the best interest of the league to not let such a one-sided trade go through. This trade set off a bit of a shite storm, but this comes with the territory in high stakes dynasty leagues with no buy-in or prize pool.  
Wavier Adds
There's been a flurry of activity in our semi-weekly auctions. ($100 annual FAAB budget)
Mentok: Brad Brach ($25), Tommy Joseph ($8), and Stone Garrett ($0)
Yes Cheese: Chris Devenski ($2), Adam Morgan ($1), Andrew Stevenson ($2), Josh Ockimey ($4), Ivan Nova ($1), and Matt Shoemaker ($4)
Shill Team 6: Chris Shaw ($4), Ryan Buchter ($1), Steve Pearce ($3), Tony Cingrani ($3), Chase Utley ($0), and John Gant ($0)
FreshPrince OfHellsLair: Wander Javier ($0), Will Harris ($2), Tyler Goeddel ($2), Coco Crisp ($2), and Jake Marisnick ($0)
Raskals: Ryan O'Hearn ($0), Jake Diekman ($3), Mitch Keller ($3), and Travis Demeritte ($0)
Epic of Goodfoldamesh: Cesar Vargas ($3), Marwin Gonzalez ($7), Dae-Ho Lee ($4), Jeremy Hazelbaker ($3), Jayson Werth ($3), Jeremy Hellickson ($3), Johnny Giavotella ($1), Addison Reed ($0), Aaron Hill ($0), and Christian Bethancourt ($0)
The Hippos: Danny Santana ($1), Ross Ohelndorf ($4), Tony Cingrani ($8), Junior Guerra ($5), David Phelps ($0), and Chih-Wei Hu ($0)
Alice's Sweet Tomatoes: Derek Norris ($2), Chase Utley ($1), Andrew Lee ($0), Tyler Chatwood ($15), J.J. Hardy ($0), Jordy Mercer ($0), and Chris Herrmann ($1)
Mad Beach Bums: Derek Dietrich ($8), Shane Greene ($0), Jason Castro ($1), Ronald Guzman ($0), Albert Abreu ($1), Tony Watson ($1), Curt Casali ($0), Shawn Kelley ($1), Mike Foltynewicz ($11), Dylan Cozens ($0), Derek Norris ($0), Wuilmer Becerra ($0), Nick Vincent ($0), Eloy Jimenez ($0), Chance Sisco ($5), and Whit Merrifield ($9)
West Reading Phillies: None
Nightpandas: Sean Rodriguez ($2), Dan Straily ($1), Matt Andriese ($2), and Brandon Guyer ($1)
Smoke Show: Geovany Soto ($1)
Cuban Bandits: Preston Tucker ($9), Matt Bush ($4), and Chad Green ($0)
Deeper Data Collection: Connor Greene ($1), Drew Ward ($1), Eddie Rosario ($1), and Jesse Hahn ($1)
Georgia Peach: Harrison Bader ($5), Cam Bedrosian ($1), and Jorge Polanco ($1)
Cobra Kai: Christian Colon ($2), Kevin Plawecki ($0), Mat Latos ($2), Colby Lewis ($9), Zach Davies ($4), Austin Jackson ($2), and Hunter Dozier ($0)
Thanks for reading and a big airhorn salute to Razznasty leaguemates.