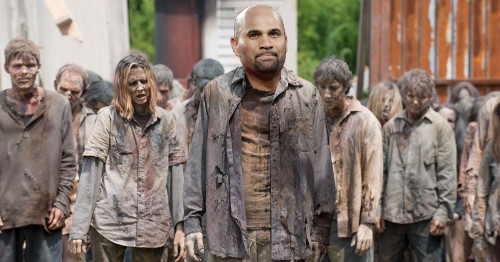 Between preparing for drafts and actually doing the drafts I'd be lying if I said I feel refreshed now that it's over. In fact I'm quite exhausted and have found myself walking around in a zombie-like fashion the past two weeks. And it doesn't help that I don't drink coffee. Never have. Most people find it fascinating when I tell them that at 42 years of age I have never had a single drop. It's just not my cup of tea. I mean coffee. Whatever. Truth be told, drafting season is my favorite part of the whole experience. Watching the season play out is often stressful, disappointing and underwhelming. This is generally true even during successful championship seasons. Anticipation is often greater than realization. I'm looking forward to watching Carlos Correa, Trevor Story and Javier Baez fall far short of their ADPs.
Do you know how I know that The Walking Dead has jumped the proverbial shark? The fact that I have three unwatched episodes in my DVR. Like Game of Thrones, The Walking Dead has been one of the few shows that I watch live. I can't quite explain the exact reason for my lack of interest, but I'm thinking it has to do with the lack of Rick Grimes. Don't get me wrong, Daryl is pretty awesome, but he can't carry the show on his own. Maggie's on another show drinking whiskey or something, Carol and her long hair look like something from Tales From The Crypt, Negan is a crybaby and they killed Jesus. Is it just me or do any of you feel the show slipping as well?
Time to do a little reflecting on my primary points league drafts.
League #1: 10-Team Head-to-Head Points League Snake Draft (CBS)
This is the league that probably means the most to me. This is our 19th season and we are still going strong with eight of the original owners still onboard. Some of you probably didn't even know what fantasy baseball was when this league started in year Y2K. This league, like just about any other, has its flaws, but we've managed to evolve enough to keep things going. In our 19 years I have four championships, three second place and two third place finishes. My pimp hand is strong in this league.
My biggest complaint with this league is that the scoring system is heavily skewed towards starting pitchers, but given that it's a keeper league, the scoring system is never going to change as that would blowup the hard work teams have done to curate their keepers. Just to give you an idea, Mike Trout and Mookie Betts are projected to score about 575 points while Max Scherzer is at 770. Based on my 2019 projected fantasy points, there are only five hitters in the top 40.
This puts a premium on starting pitchers. Or does it? Hitters are more reliable than starting pitchers making them much safer picks. The way I look at it is that the top ten players in this league are Trout, Betts and then about eight top starters. Once you get past the "sure thing" aces, there are a lot of pitchers that have the potential to score a lot of points. This includes pitchers such as Patrick Corbin, Jameson Taillon, Jack Flaherty, Mike Clevinger and Jose Berrios. That list could go on, but the point is that while all of these pitchers are projected to score more points than hitters like Ronald Acuña, Daniel Murphy, Whit Merrifield and Charlie Blackmon, that doesn't mean they should be drafted first. I would be drafting any of those hitters over any those pitchers.
The other gotcha in this league is that it is a keep forever league. You have to keep six players and you can keep any six no matter how many years you've kept them and there is no draft pick penalty/charge. This is what I meant when I mentioned that changing the scoring system would wreak havoc on teams that have strategically collected specific keepers based on the scoring system. Changing the scoring system immediately changes the value of nearly every player.
My six keepers (in no particular order) were Corey Kluber, Gerrit Cole, Stephen Strasburg, Paul Goldschmidt, Freedie Freeman and Francisco Lindor. We can also keep two minor league players. My two are Vladimir Guerrero Jr. and Jo Adell. Not a bad starting squad. I finished second last year so I had the second to last pick (9th) pick. However, I made a trade last year to acquire Kluber that included me giving away my first round pick. So technically my first pick wasn't until the second pick of the second round (pick 12). Once you factor in the sixty keepers, my first pick was really an 8th round pick.
Here are my draft picks:
First a quick explanation of the table above. FPTS (fantasy points), FVARz (fantasy value above replacement), RANK (overall league specific rank), ADP (average draft position), Score (ADP minus Rank which represents the value you will get from drafting that player at his ADP based on his value in your league), Pick (which pick I used to select the player), ADP-V (Pick minus ADP which represents the value I got for drafting the player when I did versus his ADP), Rank-V (Rank minus ADP which represents the value I got for drafting the player when I did versus his overall league rank).
For a point of reference, here are the first 11 players drafted (in order) before my first pick.
Kris Bryant, Charlie Blackmon, Zach Greinke, Jack Flaherty, Rhys Hoskins, Khris Davis, Jesus Aguilar, Edwin Diaz, Masahiro Tanaka, Jameson Taillon and Blake Treinen. If you are wondering why a few of those names were not keepers that's because some teams have more the six keeper worthy players. I had to decide between Strasburg and Greinke and even though I had Greinke projected with a few more points, I am foolishly hoping that this is the year Strasburg stays healthy. I know. I know. Fool me once. Also, given our "keep forever" platform I factored age into the equation. I'm actually hoping Strasburg comes out firing on all cylinders (as they say) so I can trade him as Vlad Jr. will become by 6th keeper next season. But I digress.
Let's take a quick look at the picks in the first round, none of which were made by me.
The first two were no-brainers. Bryant and Blackmon would have been keepers on several of the teams. However, I would have taken Blackmon with the first pick instead of Bryant. I knew Greinke would be taken in the first round, I just wasn't sure when. Had I looked at each teams' keepers it would have been obvious as the team that drafted him only had one SP keeper. It was probably the right decision for him, but I would have wanted to take Hoskins whom I had ranked higher. The Flaherty pick was a little bit early (ADP: 72, Pick: 64, Rank: 91). But that's the thing, no one else in the league had my spreadsheet so they had him ranked right about 72. That means he wouldn't have gotten back to him had he waited another round. Throw in what I've already said about the weight of SPs and this pick make a lot of sense. I wouldn't have made it, but I do understand it.
Hoskins was a great pick. Not that it took much skill, but getting him here yielded tremendous value. Khris Davis was right on par given ADP expectations. That brings us to Jesus Aguilar. Terrible pick. Awful. Seriously. I literally laughed when it happened. His ADP was 113 and his rank was even worse at 146. This guy would have been available until the 4th, 5th and maybe even 6th round. This team lost a ton of value in the first round by making this pick. One team's loss is another team's find.
Edwin Diaz is the consensus top closer. Personally I'm never going to draft a closer this early, but from a purely value pick perspective this was a good pick.
This next pick, Masahiro Tanaka, was another that I was very surprised (and happy) to see. I love it when people make shitty picks and leave better players for me to potentially draft. This was another, I need a starting pitcher and ADP says Tanaka is the guy. Personally I would have taken Taillon. And if I hadn't traded away my first round pick this would have been my pick and I would have taken Taillon. Based on ADP and Rank, Taillon would have been a good selection. Had I taken Taillon, however, I would have been leaving a better pick on the board based on draft value. I'm bummed I missed out on Taillon as the next team drafted him rounding out the first ten picks, but as a result I believe I was forced to make that better pick.
I was really hoping to snag Taillon with my first pick. This league rewards starting pitchers and I'm feeling good about him this year and beyond. My spreadsheet said he was a good pick in this spot and I was going to go for it. There's nothing more heart breaking than when the guy you are targeting is sniped right before your turn. This is the nature of the snake draft.
With my first pick I ended up selecting  J.T. Realmuto. I was not very happy taking a catcher, but given his overall rank of 13, getting him with the 72nd pick was a big win. He's in a good lineup in a hitters park and I can easily see him hitting 25+ home runs. Just keeping it real(muto).
Then I had to wait and watch another 16 players come off the board before I got another turn. When I did, I went this Robinson Cano. He was the best second basement left and my rankings had him pegged as a 5th rounder. Getting him in at the end of the 9th was a win. Watching him hit a home run off of Scherzer in his first at bat was a win win.
A few moments later I snagged Andrew McCutchen. I was targeting David Dahl and Victor Robles, but Robles went before I took Cano and Dahl went right before I took McCutchen. Based on his ADP (117) and his Rank (101), taking him at 91 was a little bit of a reach, but I needed an outfielder and there was a reasonable chance he'd be gone by my next pick at 109. Plus I'm kinda high on McCutch this year batting leadoff in Philly. Another player that rewarded me with an Opening Day dinger.
At 109 I decided I need a starting pitcher. Another reason I wanted to get Taillon with my first pick was, given my SP keepers, I could then just focus on hitters for the next many rounds. As we know, that plan went to shit. Between my last pick and this pick I watched Kyle Hendricks, Rick Porcello, Madison Bumgarner, Yu Darvish, Luis Castillo, Mike Foltynewicz and Nick Pivetta be drafted. Given the numbers, I selected Chris Archer. He's not necessarily someone I was targeting pre-draft, but I'm happy with where I got him.
This brings up a very important thing to point out. It's fine to head into a draft with a list of players you'd like to end up with, but unless you are constantly reaching, the likelihood of ending up with most (or even a lot) of those players, is low. You need to be able to adjust and accept the fact ahead of time that you are going to end up with a bunch of players you initially had no intention of drafting. The key thing is to make the most of your picks. Select players that are valuable simply due to the fact of when they were drafted.
My next pick was a slight reach, taking Michael Conforto at 111. The reason was simple. Outfielders were dropping like flies and everyone was reaching. I only had McCutchen so I needed another. I considered Inciarte who I had ranked higher, but he also had a much higher ADP, so I knew I could wait a few rounds on him. There are also three very big Mets fans in this league and I knew it was now or never on Conforto.
This brings me to another relevant piece of information. Be aware of your surroundings. What the hell does that mean? Try to know the other owners in your league. Which teams do they root for? Who have they been drafting in their other drafts. Every little bit of knowledge can go a long way.
With pick 129 I could not ignore Carlos Santana. He very well might be the most undervalued player in points leagues this year based on ADP. His ADP was 131. I took him at 129, but I have him ranked at 34. I considering taking him before this pick, but circumstances dictated otherwise. Getting him here was my best pick of the draft.
Finally I decided it was time for a closer so I grabbed Kirby Yates. This was a few rounds early based on his ADP, but a bunch of closers had already come off the board and I wanted to grab at least one that I felt good about. Besides, based on his rank, this was a good pick.
Next I decided to grab Inciarte. As I said, I had considered him four rounds earlier, but decided to wait. I now decided to wait no more. Again, a little early based on ADP, but ahead of the game based on rank. I think Inciarte is another underrated player. Batting leadoff in the Braves lineup is going to result in a fair share of stolen bases and runs scored. This league gives two points for each stolen base. This pick rounded out my outfield and I was pretty happy with it.
At this point the draft was half over. Right around this time is when it's almost time to throw out the rankings and start picking the players you want/need. As the draft moves on I find that ADP starts to go out the window, and by the 15th round (21st if you count our six keepers), that process has most certainly begun.
You can see the rest of my picks in the table above. I touch of a few of them briefly. I'm not a fan of Teheran, but I got him right where he was ranked so I am ok with it. I think I got a good bargain on Nomar Mazara to pad my outfield. I drafted both Brad Peacock and Matt Strahm because I like them and they have RP/SP eligibility. That's a big plus in this league. With my last pick of the draft I took a flyer on Byron Buxton. I have been down on him for the last two plus years, but I figured I'd throw him a bone. The talent is there somewhere.
I know I said I was going to review all of my relevant points league drafts but this post has already gone on longer than I expected. I'll see if I can do a follow-up post as I'd like to touch on my auction results in the league with Scott White and  some of the other analysts over at CBS. That's a pretty strong league that would likely be worth discussing.
Follow malamoney on Twitter at @malamoney