Bases haven't been nearly full at all in Michael Fulmer's starts this past month!
After a rocky beginning to his Major League career, Fulmer has been absolutely on fire the past month, vaulting from "meh, another big prospect called up too early, schwatev" to "this guy is ROY!"  As in, Roy Campanella!  Wait, I don't think he was a pitcher…
Featuring a huge fastball and an awesome beard, it's getting tougher and tougher to not jump on board the Fulmer train on his incredible scoreless streak and 5 Ws in a row.  I usually write the intro before breaking down the start, but I worked a little out-of-sequence today.  Spoiler alert!  I'm so on board.  I'm trading in my "Mustache Rides – $0.25" shirt with Grey on it to "Beard Rides – $0.50" with Fulmer.  So without any more ado or facial hair-play, here's how Fulmer looked yesterday in a dominating start against the Yanks:
First Inning: Fulmer's first pitch is an 95 MPH sinking fastball in there to Jacoby Ellsbury, 0-1.  93 MPH runs outside, change-up at 87 flutters outside, 95 stays high and outside, 3-1.  But 95 in the top of the zone has Ellsbury fly it out routinely to center, one down.  Brett Gardner takes a 95 MPH strike, then an 86 MPH change-up gets rolled to second for another easy out.  95 is outside to Carlos Beltran, 96 MPH heater is barely tipped foul, then an absolutely nasty 89 MPH slider gets a redonkulous whiff, 1-2.
Just like my GIFfing excitement, the Tigers announcers went nuts for that too!  Then they were like, "what's next?  96 MPH high fastball?"  Nope!  This: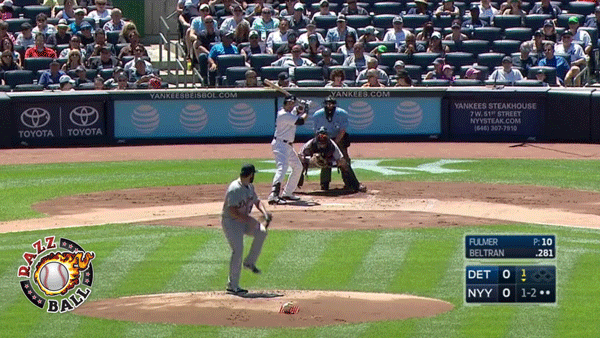 Yeah, that's some dirty back-to-back slidage right there!  The K ends a quick first inning.
Second Inning: After an only 10 pitch first inning, Fulmer is outside to Starlin Castro with a fastball, then fastball again is a lazy fly to right, one down.  Then 95 MPH high and on the hands to Chase Headley gets another easy fly to center, two down even quicker than the first.  95 outside to Didi Gregorius, then a nasty change-up with almost a two-seamer look at 87 MPH gets a strike looking, 1-1.  Change again is pulled well foul, slider skips in the dirt 2-2, 96 MPH fastball with good sink barely gets tipped back foul, 86 MPH change hangs outside, fastball outside fouled off, fastball in the zone at 96 MPH fouled off again, long at bat.  Then the payoff pitch is a 97 MPH way inside for a two-out walk.  Up is Austin Romine who fouls off a fastball, then a hanging slider staying on the outside edge of the plate is lifted to right, but it hangs in the air for a pretty easy catch, inning over.
Third Inning: First pitch slider with nice movement high in the zone is called a ball to Aaron Hicks even though it looked good, fastball outside is slashed foul – Hicks barely late – then 95 MPH fastball again outside is slashed again down the third base line, but this one is fair for a double.  Don't really like the pitch selection there – Hicks made the slight adjustment after a hard foul on the same pitch the pitch before.  First pitch change-up is in there to Rob Refsnyder, huge sinking fastball at 96 goes too low and inside, 96 again sinks too low, then a hanging change-up staying high in the zone is hit pretty hard to left, but Justin Upton nabs it on the run towards the foul line near the track for the first out.  So back to the top and the first pitch 96 MPH fastball on Ellsbury's hands ties him up for an infield pop up.  Needed that!  Nice biting inside slider is taken just inside to Brett Gardner, nice change-up that stayed low this time gets the low outside corner 1-1, change-up again gets the inside part of the zone 1-2, and this is a pretty sequence.  And Fulmer goes change-up again, it wasn't as pretty staying high in the zone, but Gardner still offers and swings through it to end the inning on Fulmer's 2nd K.

Fourth Inning: The Tigers pick up a run of support and Fulmer drops in a slider to Carlos Beltran, 0-1.  Fastball high and outside is cut on late and fouled off, big slider hops in the dirt low and in, change-up flutters outside, 96 MPH heat barely misses low and inside, then a high slider up and on the hands gets Beltran tied up for another swinging K.  Sinking 95 MPH fastball is low to Starlin, change-up is in there, 97 MPH on the outside edge is barely hit foul – nice velo there – slider in the dirt at 89 has Castro barely able to hold his swing, then I think a hanging slider that didn't do much high in the zone gets a rocket to third, but Nick Castellanos is there for the second out.  95 MPH is in there to Headley 0-1, then watch this AWESOME swing from Chase Headley on an 86 MPH change-up: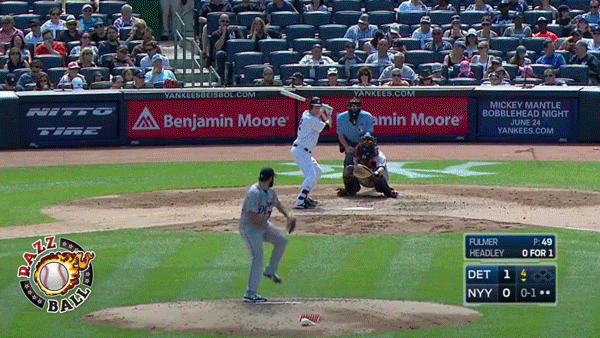 Wowzer.  But then to add insult to injury, Fulmer tries an inside slider and it hits Headley on the foot.  So that swing, then you get plunked.  If you're worried if that would phase Fulmer, he then throws an inside slider on the very next pitch to Gregorius.  Confidence there!  Then a fastball right down the middle at 95 is hit pretty hard to center, but hangs up long enough for Cameron Maybin to run down.  Not quite where Fulmer wanted that one, but it worked out.
Fifth Inning: Tigers are now up 2-0, and Fulmer gets a high slider in the zone to Romine, 0-1.  Slider again is outside, 94 MPH fastball fouled off, then a hanging slider staying on the outside edge of the plate is hit down the first base line and barely stays in play while hopping into the seats for a ground-rule double.  Another leadoff double to work around.  Hicks takes an outside change-up, change-up again drops in there, slider on the hands pulled foul, 95 MPH climbs the ladder high, hanging 86 MPH change-up right down the middle is murdered to right, but foul by about 15 seats in the second deck.  Too close for comfort there.  Change-up again – confidence off the hanging pitch – flutters outside, then slider on the hands is popped up, and it's caught in foul ground by Jarrod Saltalamacchia for the first out.  96 MPH fastball is in the zone for strike one to Refsnyder, then a change-up is rocketed to third but Castellanos is there again for the second out.  95 MPH fastball is low and outside to Ellsbury, change-up flutters way low and outside,  96 MPH is well high and outside, then 94 is outside for a four pitch walk.  Hmmmm, maybe the "unintentional" intentional walk?  So runners on first and second with two down, and 96 MPH is outside and it brings Salty out for a chat.  96 MPH tailing fastball gets the call on the outside corner 1-1 – looked well outside to both me and the Tigers announcers – 96 MPH is inside, outside change-up is sliced foul, 97 MPH gets a defensive & late slap swing foul, inside slider gets an accidental held swing tip foul, hanging change-up is well high and outside, 96 on the hands fouled straight back, 97 again in a great spot low and inside is fouled off, then a nasty slider like one of those early GIFs is a great pitch, but Gardner lays off and it's inside, and there actually is a…  wait for it…  BASES FULMER!  Grinding inning here, and inside slider is fouled off Beltran's foot 0-1, then a hanging slider on the outside edge gets skied a mile high, but it stays in Yankee Stadium for an out in front of the warning track to get Fulmer out of a long inning.
Sixth Inning: At 82 pitches, a fastball is grounded fairly hard up the middle by Castro, but Ian Kinsler is there for a nice 1-itch out to open the 6th.  Change-up is in there to Headley, 84 MPH change flutters well outside, then 95 MPH fastball is flied lazily to left, another quick out.  Slider bends inside to Gregorius, change-up gets a whiff, 95 MPH is in the zone, 95 climbs the zone too high, then a 96 MPH fastball gets Gregorius to ground out routinely to short to end the inning: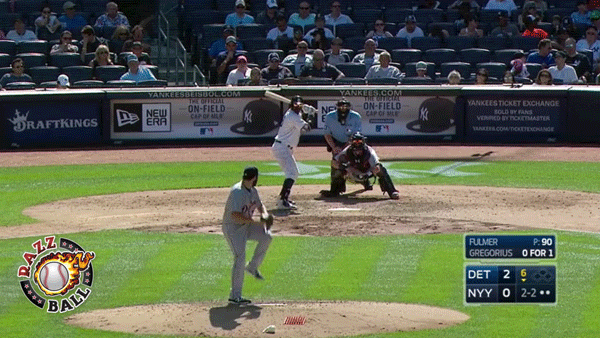 That would be Fulmer's final pitch, but just great to see that velo staying high-90s through the whole start.  The Tigers would end up winning the game for their rook.
Final Line:  W  6.0 IP  91 Pitches (55 Strikes)  0 ER  2 Hits  3 Walks  3 K  Gamescore: 68   Gamescore+: 65.2

Final Analysis: With yesterday's W, it gives Fulmer 28.1 straight scoreless innings, the longest streak thus far in 2016.  What an incredible run.  Interesting that the Gamescore+ came out unfavorably compared to the Gamescore – I think a lot of that lies in the strikeouts.  Only 3 this outing, but it wasn't like the Yanks were hitting scorchers implying a "lucky" outing.  Just interesting to note.

It'd be hard-pressed to talk about Fulmer's arsenal and not immediately rave about the fastball.  Consistently at 95ish MPH, he topped out at 97 and as you can see in that final GIF, hit 96 on the last out.  Unlike what we saw in Aaron Sanchez's Pitcher Profile, we didn't see the big range in velocities with the heater, which is great to see for a 23-year-old rook.  Off the heater, he features a pretty gnarly slider in the 88-89 MPH range.  It's got crisp bite with nice-and-tight late movement that almost reminds me more of Jake Arrieta's cutter more than a pure "slider".  Those back-to-back sliders in the GIFs above were some of the best on the day.  Then there's the big reason why Fulmer has found success lately – faith in the change-up.  In his first 4 starts, he threw his change well under 10% of the time.  But in his last 5 – over this ridiculous scoreless span – it's been used close to 15% of the time and over 10% every start.  Taking out the rest of his mix, I'd only call it about an average change-up.  But he throws it from such an aggressive delivery just like the fastball that it works incredibly effectively with his repertoire.
Tough to not go ranking-crazy after a really solid outing like that!  Fulmer's got a true 3-pitch mix, and even though the change-up isn't "Major League plus", it still works for him with how his stuff comes together.  I really liked seeing him throw the same pitch again after making a mistake (after almost giving up a two-run bomb to Hicks in the 5th on a change-up, threw change-up again the next pitch), and he maintained his velocity all 6 innings.  I'd even consider pushing him into that top-30 range if I didn't have some concerns about the innings.  As Grey and I mentioned on last week's Pod, it was a little odd he didn't come up to the same fanfare as say Julio Urias or Jameson Taillon.  His Minor League numbers before the promotion were fantastic and he was a big prospect.  Fulmer is here to stay, hopefully you have your fantasy squads full of him!
Updated Top 100 SP
(rankings for ROS based on 12-team Roto, green for risers, red for fallers)
| RANK | SP, TEAM |
| --- | --- |
| 1 | Clayton Kershaw, LAD |
| 2 | Jake Arrieta, CHC |
| 3 | Chris Sale, CWS |
| 4 | Max Scherzer, WAS |
| 5 | Noah Syndergaard, NYM |
| 6 | Jose Fernandez, MIA |
| 7 | Madison Bumgarner, SF |
| 8 | Stephen Strasburg, WAS |
| 9 | Corey Kluber, CLE |
| 10 | Jacob deGrom, NYM |
| 11 | Jon Lester, CHC |
| 12 | Johnny Cueto, SF |
| 13 | Danny Salazar, CLE |
| 14 | Carlos Carrasco, CLE |
| 15 | Yu Darvish, TEX |
| 16 | David Price, BOS |
| 17 | Taijuan Walker, SEA |
| 18 | Chris Archer, TB |
| 19 | Zack Greinke, ARI |
| 20 | Carlos Martinez, STL |
| 21 | Matt Harvey, NYM |
| 22 | Justin Verlander, DET |
| 23 | Aaron Nola, PHI |
| 24 | Joe Ross, WAS |
| 25 | Masahiro Tanaka, NYY |
| 26 | Steven Matz, NYM |
| 27 | Cole Hamels, TEX |
| 28 | Jose Quintana, CWS |
| 29 | Drew Pomeranz, SD |
| 30 | John Lackey, CHC |
| 31 | Dallas Keuchel, HOU |
| 32 | Aaron Sanchez, TOR |
| 33 | Jeff Samardzija, SF |
| 34 | Jason Hammel, CHC |
| 35 | Rich Hill, OAK |
| 36 | Gerrit Cole, PIT |
| 37 | Carlos Rodon, CWS |
| 38 | Julio Teheran, ATL |
| 39 | Sonny Gray, OAK |
| 40 | Michael Fulmer, DET |
| 41 | Kenta Maeda, LAD |
| 42 | James Paxton, SEA |
| 43 | Anthony DeSclafani, CIN |
| 44 | Kyle Hendricks, CHC |
| 45 | Jordan Zimmermann, DET |
| 46 | Drew Smyly, TB |
| 47 | Lance McCullers, HOU |
| 48 | Marcus Stroman, TOR |
| 49 | Julio Urias, LAD |
| 50 | Kevin Gausman, BAL |
| 51 | Marco Estrada, TOR |
| 52 | Matt Shoemaker, LAA |
| 53 | Michael Wacha, STL |
| 54 | Gio Gonzalez, WAS |
| 55 | Chris Tillman, BAL |
| 56 | Ian Kennedy, KC |
| 57 | Jimmy Nelson, MIL |
| 58 | Francisco Liriano, PIT |
| 59 | Hisashi Iwakuma, SEA |
| 60 | Adam Wainwright, STL |
| 61 | Felix Hernandez, SEA |
| 62 | Tyler Glasnow, PIT |
| 63 | J.A. Happ, TOR |
| 64 | Jameson Taillon, PIT |
| 65 | Steven Wright, BOS |
| 66 | Jon Gray, COL |
| 67 | Vincent Velasquez, PHI |
| 68 | Jake Odorizzi, TB |
| 69 | Nate Karns, SEA |
| 70 | Wei-Yin Chen, MIA |
| 71 | Rick Porcello, BOS |
| 72 | Adam Conley, MIA |
| 73 | Danny Duffy, KC |
| 74 | Patrick Corbin, ARI |
| 75 | Tanner Roark, WAS |
| 76 | Blake Snell, TB |
| 77 | Trevor Bauer, CLE |
| 78 | Nathan Eovaldi, NYY |
| 79 | Scott Kazmir, LAD |
| 80 | Archie Bradley, ARI |
| 81 | Zachary Davies, MIL |
| 82 | Junior Guerra, MIL |
| 83 | Mike Leake, STL |
| 84 | Robbie Ray, ARI |
| 85 | Sean Manaea, OAK |
| 86 | Matt Moore, TB |
| 87 | Josh Tomlin, CLE |
| 88 | Jaime Garcia, STL |
| 89 | Michael Pineda, NYY |
| 90 | Mike Fiers, HOU |
| 91 | Eduardo Rodriguez, BOS |
| 92 | Collin McHugh, HOU |
| 93 | Edinson Volquez, KC |
| 94 | Hector Santiago, LAA |
| 95 | Jerad Eickhoff, PHI |
| 96 | James Shields, CWS |
| 97 | Matt Andriese, TB |
| 98 | CC Sabathia, NYY |
| 99 | Colby Lewis, TEX |
| 100 | Derek Holland, TEX |
Dropped Out: Yordano Ventura, KC (F off, Yordano), Andrew Cashner, SD (DL), Tyler Duffey, MIN (ugh, that fell apart quick!), Ervin Santana, MIN (meh, I don't think he ever got past 95)
Are you guys getting your lineups full of Michael Fulmer?  And what do you think of this week's ranks?  Shoot your thoughts below and happy pitching, Razzball Nation!