Grey beat me with the parallel to the other Aaron Sanchez, so I've got to cook up something different!  …dammit.
As I mentioned in my first in-season re-ranks last week, I mentioned I always liked [the real] Aaron Sanchez's stuff and had some of my worst early-season regret not ranking him higher.  But after that sizzling (…crap) debut, 5 K and 3 BB against the Yankees in his second course (…ahhhh!).  It was still a quality start, but if he keeps walking guys, he'll be a recipe for disaster (…OK, I'm done).
While it's still too early to make blanket judgment calls, it's nice to start having 3-game samples on starters as we head into week 3.  Sanchez is likely owned in most mixed leagues, but in the RCLs where the name of the game is streaming, I wanted to see how "must-hold" he is in formats where starting pitchers are cycled in-and-out more than sex jokes in Two Broke Girls.  Oh my god, have you seen that show?!  Wife loves it, but it's written by 12-yr-olds who giggle during sex ed class in middle school!  Speaking of: "boobies".  Tee-hee!  Wow, this got way off track.  One of the more interesting starters going on Sunday afternoon, I decided to break down Sanchez's third start on the young season to see how his command is maturing (hopefully maturing faster than I am…):
First Inning: Sanchez picks up an early two runs of support before stepping on the rubber, and barely nips the high-outside black for strike one to Mookie Betts.  Another fastball is check swing nipped foul, then Mookie takes 96 all the way that had plenty of the zone for a 3-pitch strikeout on all fastballs to open it up.  Wow.  Sanchez keeps attacking with a 95 MPH fastball on the hands to Xander Bogaerts that's tipped foul, then another fastball inside is grounded weakly to short for a quick two outs.  96 MPH paints the outside corner perfectly for strike one to David Ortiz, his first curveball is hung way outside, he tries curve again and it's much better but barely dips low, 2-1.  Change-up at 90 MPH stays outside and Ortiz holds up, then 97 is a little too low and outside for a walk.  Yeesh, 3-pitch strikeout, an easy out, then a walk to the lefty.  Don't like seeing that.  Hanley Ramirez takes 96 on the outside black for strike one – a lot of paint going on, but looking like perfect strikes – then a fastball is dribbled weakly to third and the play is made to get Hanley by a microsecond.  2007 Marlins Hanley Ramirez is easily safe…  But a nice first inning!

Second Inning: First pitch fastball strike is in there to Travis Shaw, bending 76 MPH curve has Shaw out in front for a weak grounder foul, then 0-2 is perfectly placed on the high, inside black for Sanchez's second K.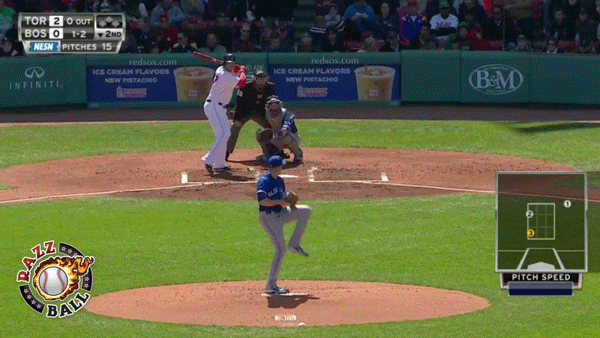 97 MPH!  Both Ks looking at fastballs dotted perfectly too!  Some umps won't give you that one, but credit Sanchez for that location on 0-2.  97 MPH is in there to Chris Young, 97 again barely outside, and this velocity is insane!  97 perfectly paints the outside black 1-2, then a front door curveball at 79 MPH catches the inside black for yet another K looking.  It didn't have the strongest bite, but it works!  97 is barely low to Jackie Bradley Jr., 95 in there to even it up, 95 low, 95 in the zone gets a whiff, 2-2 is a 97 MPH fastball that sails high, but the 3-2 pitch is a 98 MPH fastball in the zone that gets a pretty routine grounder to first to end the inning.
Third Inning: Fastball sails high to Ryan Hanigan for ball one, fastball is in there 1-1, another heater is called low, but it looks good, 2-1.  Fastball again is definitely low, fastball again on the hands chipped foul, 96 down the middle fouled away, then 96 MPH just out of the zone high is chased for Sanchez's 4th K and his first swinging.  Mmmm.  Making his Major League debut, Marco Hernandez foolishly chases 96 dotted on the outside black.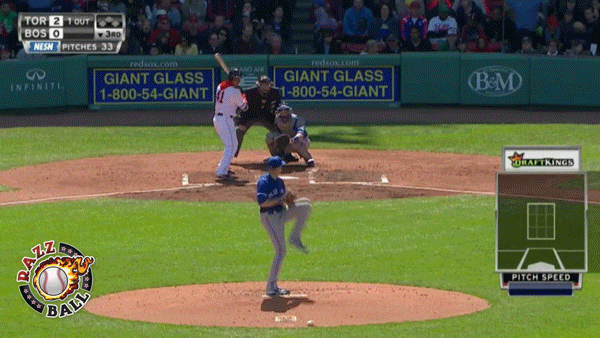 Welcome to the bigs, son!  Fastball is just outside, fastball again out there is poked foul on a late swing, 97 sails high, 2-2 is again high at 95 MPH, then 96 MPH is barely inside in the higher portion of the zone for a walk.  Yikes, I hatttteeee that walk right there.  Sanchez should've just blown this kid away.  Well, into the stretch and back to the top with Betts hacking on a fastball right down the middle and it's lined hard to left, but a loud out.  First solid contact of the day.  But it's two outs, and Bogaerts takes 95 barely outside – close one there – 1-0 is way inside, 94 sails high, and quickly 3-0.  Sanchez takes a tick off and gets 93 MPH in there, 94 on the upper black is tapped back foul, and the payoff pitch is a 95 MPH fastball chopped to third and Sanchez battles back to get out of the inning.  Nice moxie there.
Fourth Inning: Still protecting a 2-0 lead, Sanchez is high and outside to Papi, stays high with the fastball, and yet again is high 3-0.  Seems skiddish of Ortiz, then the 3-0 fastball is an inch low for a leadoff walk.  Bleh.  94 catches the outside black to Hanley, fastball on the hands pulled foul, huge slurvey curveball sweeps well outside 1-2, then 94 MPH on the hands with a little bit of sink gets Hanley to swing over the fastball for Sanchez's 5th K.  One down, and 93 is just outside to Shaw, 94 again is outside, and man that velo at 97 to 98 is long gone…  Where's the beef?!  2-0 is swung through an missed at 95 MPH, 94 is in there, then 95 high and on the hands saws off Shaw for a lazy fly to left, two outs.  Then a first-pitch fastball is rolled over for an easy groundout to third off the bat of Krispie Young to get Sanchez out of the inning easily after the leadoff 4-pitch walk.

Fifth Inning: Sanchez working on the no-hitter gets a strike in there to Bradley Jr., 95 on the outer third is rocketed foul, then 95 again out there is grounded right to Tulo for an easy first out.  94 high to Hanigan, 94 outside, 2-0 with neither close.  94 right down the middle 2-1, 94 that looked high gets the call 2-2, 96 on the hands fouled off, still 2-2 and Sanchez is still relying on a heavy diet of fastballs.  Dammit, I did the same thing from the open again!  Fastball again fouled away, then – you guessed it – fastball is blooped to center, but it's caught by Kevin Pillar on the slide for the second out.  Still only one hard hit thus far.  Hernandez slashes a fastball foul, then fastball again breaks his bat, but it bloops into shallow left for a single.  Some beginner's luck right there from the rook!  Breaks up the no-no, and fastball gets strike one to Betts, rolling curveball at 76 spins into the top of the zone just barely for strike two, fastball high at 96 makes it 1-2, then fastball outside is taken for ball 2, and Hernandez steals second with the ball ending up in center and moving Hernandez to third.  Yeesh.  Close play had Ryan Goins been able to secure the ball and make the tag.  Then wouldn't you know it, 2-2 fastball in the zone is pounded right up the middle for an RBI single and now Sanchez's shutout is broken.  So still two outs, Betts at first, and fastball is in there to Bogaerts at 94, then 94 on the outer third is tapped to Tulo for an easy groundout and gets Sanchez out of the inning.
Sixth Inning: The game remains 2-1 Blue Jays, and fastball is barely inside to Ortiz;  Sanchez just won't attack him.  Fastball again is inside, then a 2-0 fastball is hammered to center, but Pillar jumping right in front of the wall makes the great play for a loud first out.  You can see why Sanchez was avoiding Papi!  Fastball nips the high black to Hanley for strike one, then Sanchez's best curve on the day at 76 bends in the zone for strike two: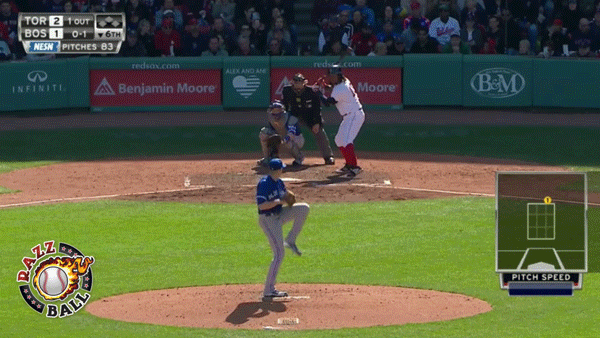 Then curve again bending in the zone at 78 gets Hanley to roll over it for an easy nubber that Sanchez fields himself and makes the toss to first, two down.  94 on the hands to Shaw is flared back foul, 92 gets the high black 0-2, and Shaw is whining.  Hey, Sanchez has been getting the calls on the high black all day, at least the zone has been consistent.  Fastball is taken outside, then Sanchez's best wipeout curve on the day gets Shaw swinging way over it at 78 MPH for Sanchez's 6th K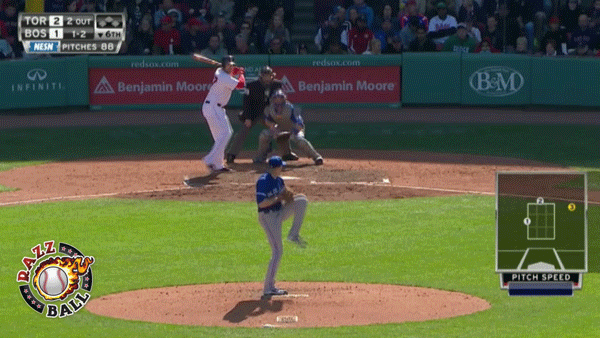 Seventh Inning: At 89 pitches, Sanchez is back out there with another pair of runs of support, and gets strike one on Young at 92 MPH.  93 on the outside edge gets strike two, but still a pretty big difference in velo.  That said, 94 is in there for a taken strike 3 and Sanchez's 7th K.  Gotta swing at that!  Bradley Jr. fouls back yet another fastball, then a nasty 77 MPH curve sweeps across the zone and gets the inner edge, 0-2.  Curve hangs outside 1-2, then curve again outside is poked to left for a routine flyout, two down.  Sailing fastball is way high to Hanigan, 93 is outside, and another 2-0 count with neither close.  Seen this a few times.  93 is in there, 93 low, and Sanchez is kicking the mound in a little frustration.  92 MPH is in there, and man that velo really dropping as he struggles with his command, and 93 MPH is well low and inside for his 4th BB.  Gibbons sticks with Sanchez though and he's way outside and low to Hernandez 1-0, 92 is perfect paint in the low black at the knees 1-1, then fastball again down there is skied to center, but it's an easy routine play to end the inning.  And at 105 pitches, Sanchez leaves the game, and the Jays hold on to give him his first W on the year.
Final Line:  W  7.0 IP  105 Pitches (66 Strikes)  1 ER  2 Hits  4 Walks  7 K  Gamescore: 72  Gamescore+: 71.6
Final Analysis: Consistency, consistency, consistency!  Pure results wise, this was a great outing.  Sub-1.00 WHIP, 9 K per P, but other factors had him all over the map.  Even though I scored him with favorable contact metrics, I found it interesting his Gamescore+ came out lower than his Gamescore…
It all starts, continues, and ends with the fastball for Sanchez.  And hey, while I may kinda be knocking his lack of secondary stuff in this analysis, it did befuddle the Red Sox hitters.  But back to consistency, it rode up there to 97 multiple times and all the way to 98 MPH in the second inning, only to die off to 93ish by the end of the outing.  I really didn't like seeing the wide range in velocities.  Really the only secondary pitch we saw the whole outing was the curveball, ranging from 76-79 with varied results.  Some were sharp, but even that GIF for strike two to Hanley above was a little "rolly".
I'm a little out of sorts watching this start.  As mentioned in the 7th, Sanchez had some really wild-looking 2-0 counts, and umpire Lance Barksdale – right after cornering the Baltimore drug market – was calling a lot of strikes high and just out of the zone.  He wasn't inconsistent with the calls, but you always like to see your younguns be able to spot pitches down, not get calls high in the zone.  And of the 7 Ks, 4 were looking and oddly enough, all 4 on fastballs.  That's got to be pretty uncommon to get 4 backwards Ks on heaters in one start…  While the early returns on Sanchez have been awesome, I'm still worried about the 23-year-old's consistency, not only with overall control, but consistent velocity and ability to keep the ball down in the zone.  I'd probably ride him while hot in mixed leagues, and in deeper leagues with pitching scarcer, I would try some sell-high offers.  That's for redraft though, I still really like his pure stuff and outlook in keepers/dynasties.
Updated Top 100 SP
(rankings for ROS based on 12-team Roto, green for risers, red for fallers)
| RANK | SP, TEAM |
| --- | --- |
| 1 | Clayton Kershaw, LAD |
| 2 | Jake Arrieta, CHC |
| 3 | Chris Sale, CWS |
| 4 | Max Scherzer, WAS |
| 5 | David Price, BOS |
| 6 | Noah Syndergaard, NYM |
| 7 | Jose Fernandez, MIA |
| 8 | Madison Bumgarner, SF |
| 9 | Corey Kluber, CLE |
| 10 | Carlos Carrasco, CLE |
| 11 | Gerrit Cole, PIT |
| 12 | Stephen Strasburg, WAS |
| 13 | Matt Harvey, NYM |
| 14 | Chris Archer, TB |
| 15 | Jon Lester, CHC |
| 16 | Felix Hernandez, SEA |
| 17 | Zack Greinke, ARI |
| 18 | Carlos Martinez, STL |
| 19 | Danny Salazar, CLE |
| 20 | Carlos Rodon, CWS |
| 21 | Jacob deGrom, NYM |
| 22 | Cole Hamels, TEX |
| 23 | Francisco Liriano, PIT |
| 24 | Joe Ross, WAS |
| 25 | Dallas Keuchel, HOU |
| 26 | Raisel Iglesias, CIN |
| 27 | Marcus Stroman, TOR |
| 28 | Jeff Samardzija, SF |
| 29 | Patrick Corbin, ARI |
| 30 | Taijuan Walker, SEA |
| 31 | Johnny Cueto, SF |
| 32 | Sonny Gray, OAK |
| 33 | Masahiro Tanaka, NYY |
| 34 | Vincent Velasquez, PHI |
| 35 | Justin Verlander, DET |
| 36 | Yordano Ventura, KC |
| 37 | Drew Smyly, TB |
| 38 | Adam Wainwright, STL |
| 39 | Michael Wacha, STL |
| 40 | Jason Hammel, CHC |
| 41 | Ian Kennedy, KC |
| 42 | Garrett Richards, LAA |
| 43 | Luis Severino, NYY |
| 44 | Steven Matz, NYM |
| 45 | Hisashi Iwakuma, SEA |
| 46 | Jose Quintana, CWS |
| 47 | Michael Pineda, NYY |
| 48 | Wei-Yin Chen, MIA |
| 49 | Jake Odorizzi, TB |
| 50 | Jordan Zimmermann, DET |
| 51 | Juan Nicasio, PIT |
| 52 | Kyle Hendricks, CHC |
| 53 | Mike Fiers, HOU |
| 54 | James Shields, SD |
| 55 | John Lackey, STL |
| 56 | Kenta Maeda, LAD |
| 57 | Andrew Cashner, SD |
| 58 | Aaron Nola, PHI |
| 59 | Gio Gonzalez, WAS |
| 60 | Anthony DeSclafani, CIN |
| 61 | Aaron Sanchez, TOR |
| 62 | Jimmy Nelson, MIL |
| 63 | Jaime Garcia, STL |
| 64 | Robbie Ray, ARI |
| 65 | Jerad Eickhoff, PHI |
| 66 | Matt Moore, TB |
| 67 | Adam Conley, MIA |
| 68 | Collin McHugh, HOU |
| 69 | Yu Darvish, TEX |
| 70 | Lance McCullers, HOU |
| 71 | Julio Teheran, ATL |
| 72 | Tyler Glasnow, PIT |
| 73 | Edinson Volquez, KC |
| 74 | Tyson Ross, SD |
| 75 | Kevin Gausman, BAL |
| 76 | Nate Karns, SEA |
| 77 | Scott Kazmir, LAD |
| 78 | Blake Snell, TB |
| 79 | Ervin Santana, MIN |
| 80 | Jose Berrios, MIN |
| 81 | Rich Hill, OAK |
| 82 | Shelby Miller, ARI |
| 83 | Jake Peavy, SF |
| 84 | Eduardo Rodriguez, BOS |
| 85 | Nathan Eovaldi, NYY |
| 86 | J.A. Happ, TOR |
| 87 | Mike Leake, STL |
| 88 | Derek Holland, TEX |
| 89 | Jon Niese, PIT |
| 90 | Rick Porcello, BOS |
| 91 | Taylor Jungmann, MIL |
| 92 | Bud Norris, ATL |
| 93 | Josh Tomlin, CLE |
| 94 | Kris Medlen, KC |
| 95 | Marco Estrada, TOR |
| 96 | Lucas Giolito, WAS |
| 97 | Hector Santiago, LAA |
| 98 | Shane Greene, DET |
| 99 | Brandon Finnegan, CIN |
| 100 | Chris Tillman, BAL |
Dropped Out: Clay Buchholz, BOS (Ugh, why did I even rank him, I didn't like him at all!)
Thoughts on Aaron Sanchez?  Am I too worried about the control?  And what else is "embracing" in these re-ranks?  Shoot your thoughts below and may your ERAs stay low, Razzball Nation!