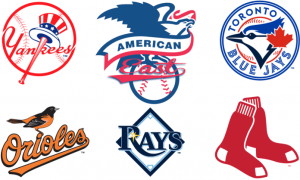 The AL East is "big boy" baseball. Four teams from the division ended 2017 in the top 10 for home runs in all of baseball. The Yankees were first with 241, the Orioles were fifth with 232, the Rays were sixth with 228….Hold up. The Rays? Yes, the Rays. The final team was the Blue Jays with 222. With great power, comes great responsibility. Unfortunatley, there was a lot of DGAF'ing, as the Rays were second in MLB for striking out and the Orioles were eighth. From a pitching perspective, it would makes sense then that three of the teams (BOS, NYY, and TOR) ended top 10 in strikeouts. TB ended 11th. Big boy baseball indeed. To cement the point home, four of the teams (BOS, BAL, TB, and NYY) were bottom 10 in sacrifice hits. TOR was 13th. Small ball, schmal ball. Chicks dig the long ball. Ladies and gentlemen, the AL East.
BOSTON RED SOX: 93-69 record in 2017
After the above spiel about how the AL East is a big boy division, it only makes sense then that the leader of the division last season was 27th in home runs and 23rd in striking out. Hey, it is not the 1% that defines the entire country! Anyways, there are no position battles for the Red Sox. Andrew Benintendi will be in LF, Mookie Betts in RF, Jackie Bradley Jr. in CF, Rafael Devers at 3B, Xander Bogaerts at SS, Eduardo Nunez at 2B, Hanley Ramirez at 1B, and JD Martinez at DH. There are some things that should be mentioned, though.
Blake Swihart – The former first round selection and next great catcher for the Red Sox is now third on the depth chart, behind Christian Vazquez and Sandy Leon. Catcher no longer seems to be his primary role going forward, though, as Alex Cora will more than likely utilize him as a super utility player. Outfield, infield, catcher. Not a bad piece, especially since he's a switch hitter at the plate. Swihart won't get enough at-bats to be fantasy relevent, outside of the deepest of leagues, but injuries happen in baseball and the possibility of multi-positional elibigilty that includes C is enticing. The big upside would come if he's traded and goes to a situation with guaranteed playing time. What the Red Sox do with Swihart has an effect on what happens to Deven Marrero and Brock Holt, as there are three players battling for two spots. Marrero is the defensive whiz, but a liability at the plate. He also does not have any minor league options left. Holt is a former All-Star and respected member in the clubhouse.
Second base – Eduardo Nunez is slated to open the season as the second basemen for the Red Sox. When Dustin Pedroia is ready to go (recovering from offseason knee surgery), he will likely take over the duties and Nunez would slide back into a utility role. Nunez is also recovering from his own knee injury.
Hanley Ramirez – Hanley is slated to be the Red Sox Opening Day first baseman and #3 batter in the lineup. Keep in mind that he has a $22 million vesting option for 2019 if he accrues 497 plate appearances.
NEW YORK YANKEES: 91-71 record in 2017
Outfield – Aaron Hicks and Brett Gardner will likely share duties in center field. Aaron Judge and Giancarlo Stanton will rotate their time between RF, LF, and DH. Gardner will likely fill in for either Judge or Stanton in the corner outfield positions when either is at DH. Jacoby Ellsbury and Clint Frazier are both injured and likely won't be ready for Opening Day. When healthy, they will be the fourth and fifth outfielders.
Right side of the infield – Greg Bird is penciled in as the starting first baseman. Unless he struggles mightily, 500+ plate appearances should be in the cards. When he needs a day off, Neil Walker looks to be the guy to fill in. Second base is where things get interesting. Tyler Wade has been impressing, both defensively and at the plate. Both he and Walker look to be in line for plenty of at bats this season. With the versatility that Wade possesses with the glove, he could become a super utility guy. The Yankees have a ton of versatility in the infield, so plate appearances shouldn't be an issue for both Walker and Wade.
The rest of the lineup will be Gary Sanchez at C, Brandon Drury at 3B, and Did Gregorius at SS.
TAMPA BAY RAYS: 80-82 record in 2017
The Rays look to be settled, as far as who's starting where on Opening Day. Wilson Ramos behind the plate, CJ Cron at 1B, Joey Wendle at 2B, Matt Duffy at 3B, Adeiny Hechavarria at SS, Denard Span in LF, Kevin Kiermaier in CF, Carlos Gomez in RF, and Brad Miller at DH.
Mallex Smith – Currently recovering from a hamstring injury and could evenutally compete for time in LF with Span. If Smith wins out, Span could slide into the DH role.
Brad Miller – The Rays are going to want to get his bat into the lineup, as he's one of the few remaining that can bop one over the fence. With that said, he's still recovering from a fractured right pinkie toe. If and when he's ready to go, he will likely be the strong-side of the platoon at 1B, 2B, and DH.
TORONTO BLUE JAYS: 76-86 record in 2017
Troy Tulowitzki is hurt….again. I'm about as shocked as getting viruses on my computer when visiting porn sites. Until he comes back, it will be a battle between Aledmys Diaz and Yangervis Solarte. Diaz had that magical year in 2016 when he clubbed 17 home runs. More than likely an outlier year, as his ISO was .210. He's more like a .150-.160 ISO guy. While his defense isn't the greatest, he does have more experience than Solarte at shortstop. Solarte is a switch hitter that clubbed 18 home runs with SD last season. His power is more legit than Diaz's. Both have good plate discipline, as neither strikes out often. Diaz around 15% and Solarte in the 13% range. Solarte has always been known as a good utility player, so more than likely, he will remain in that role while Diaz mans short until Tulo is ready to come back. Which basically means that Diaz will be the starting shortstop for the Blue Jays in 2018.
The rest of the lineup looks set. Russell Martin at C, Kendrys Morales at DH, Justin Smoak at 1B, Devon Travis at 2B, Josh Donaldson at 3B, Randal Grichuk in RF, Kevin Pillar in CF, and a platoon of Curtis Granderson/Steve Pearce in LF.
BALTIMORE ORIOLES: 75-87 record in 2017
Caleb Joseph will be behind the plate, Jonathan Schoop at 2B, Manny Machado at SS, Tim Beckham at 3B, Adam Jones in CF, and Chris Davis at 1B. Colby Rasmus will be on the strong side of the platoon in RF. Who will be his platoon mate, though? Anthony Santander looks to be the likely candidate. The switch hitter is a Rule 5 draft choice from last year, so he needs to be on the roster for 44 days to start the season or the Orioles risk losing him. Buck Showalter has been impressed with him, both defensively and at the plate. It doesn't hurt that he's hitting .333 in spring and leads the team with four home runs and 16 RBI. Trey Mancini is the left fielder, but the injury to Mark Trumbo could shake some things up. Trumbo is slated to be the DH, but he's out for 3-4 weeks with a right quad strain. Mancini could be the DH, which would then open up a spot for Santander in left. More than likely, it will be Danny Valencia that fills in for Trumbo. Valencia batted .256 with 15 home runs with Seattle last season. He does have some versatility defensively, but Steamer projects him for only 202 plate appearances this season.