Welcome to the home stretch, boys, gals, and in-betweens. Like we discussed last week, the two-start starters list has been dwindling due to expanded rosters, young arms having their innings limited, and many teams opting for six-man rotations as a result. This week, with many teams also having an off day, there are fewer than 30 options for two-start starters. (By the way, fogimon, will you be watching Corey Kluber's second start tomorrow? #KissyEmoji)
There are still some options for two-start streamers, however. Checking in with Streamonator, here are the two-start starters for this week with a positive dollar value who are owned in less than 75% of RCLs:
Despite the light list, we still have five starters with positive dollar values. Of the names on this list, I like Marquez and Straily the most. Snell I would gamble on if I needed to, but I would stay away from Cotton and my cousin Tyler Mahle (not really my cousin).
Marquez shines through this week because of his matchups: at San Francisco and at San Diego. Two teams who have struggled mightily at the plate, and he gets them in their pitcher-friendly ballparks. He is not without risk, but you could not ask for two better matchups.
I'm not sure how Straily is still only owned in 53% of RCLs, but sign me up for that, too. His matchups aren't as good (vs. Mets and at Diamondbacks) because of that trip to Arizona, but I am still willing to roll with him over the others on the list.
Snell is meh, but he doesn't scare me as much as Cotton or Mahle. Despite their positive value, if I am in need of starts in H2h playoffs, I am not going near either of those two. Their potential for disaster outweighs any value they provide, at least in my eyes. Stay away and save yourself.
And now, to the charts!
Pitchers are listed in order by rank. Colors represent 8 toughest or 8 easiest opponents according to team wOBA for last 14 days.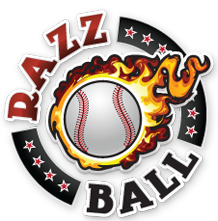 THE BEST
THE REPLICAS
THE STANDARDS
THE KNOCKOFFS
Player
Opponents
ERA/FIP
K9/BB9
Matt Harvey NYM

@MIA

,

WSH

6.14/6.08
6.69/4.46
Tyler Mahle CIN

STL

, BOS
2.70/4.01
6.30/4.95
Ian Kennedy KC
@TOR,

@CHW

5.45/5.67
7.46/3.76
Tyler Skaggs LAA

CLE

, @HOU
4.37/4.17
8.36/3.09
Doug Fister BOS

@BAL

, @CIN
4.40/4.07
8.00/3.71
Luis Perdomo SD
ARI, COL
4.61/4.50
6.64/3.44
THE 
All pitchers are projected for two starts as of Friday night. 
If you would prefer to see the above tables as a color-coded graphic, we've got that too!
(Click to enlarge.)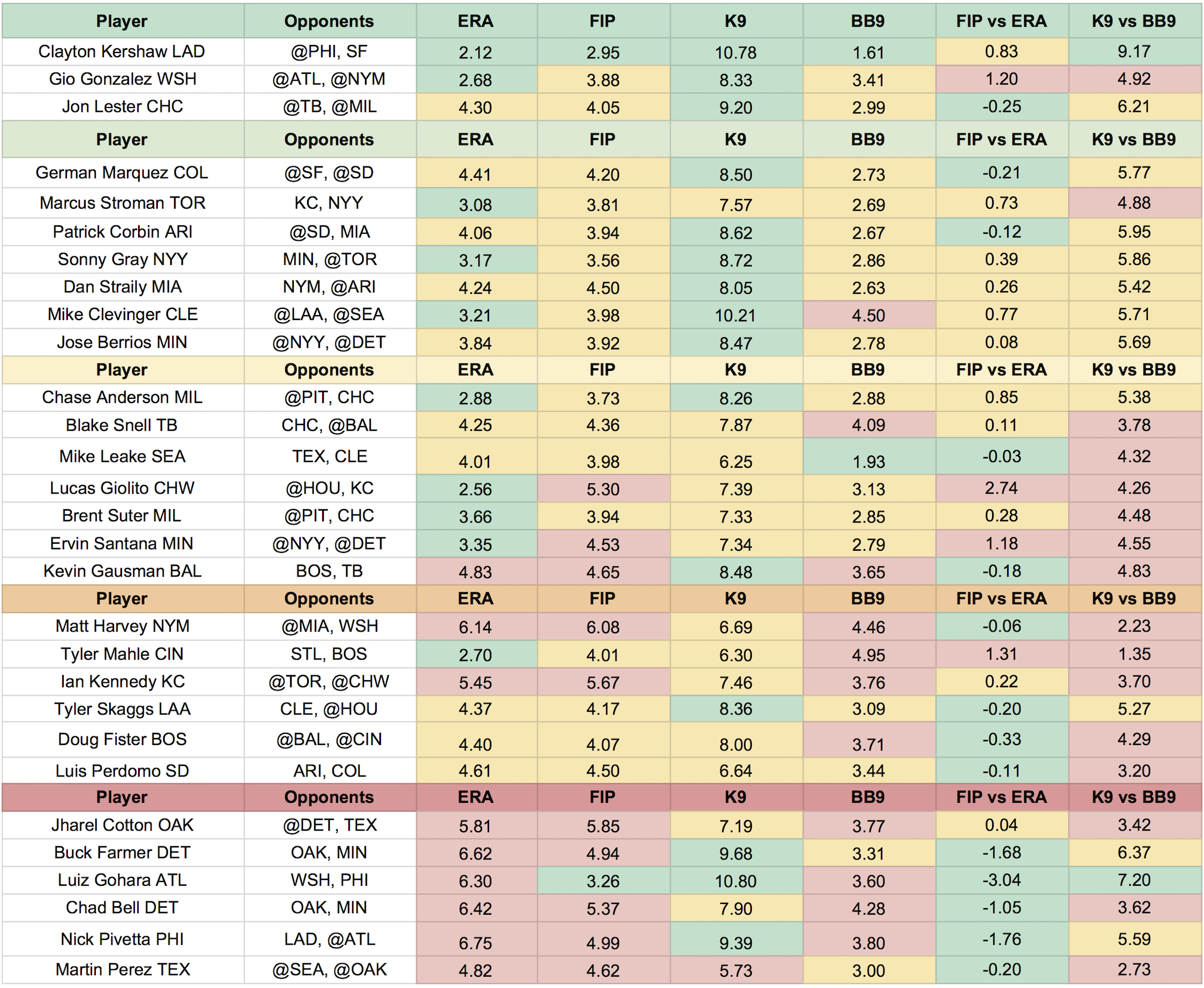 As always, disagree with anything here? Have any questions or comments? Want to tell Mike how great he is or how much you agree with him? Want relationship or investment advice?
DROP THOSE COMMENTS!
If you want to talk fantasy baseball or football or have players you want Mike to feature, hit him up on Twitter at @mikeMaher or post a comment below!