There was once a planet called *hris Davis that was all powerful, but had issues with contact so nobody knew about it.  Power split the planet in two.
Khris Davis, "You, the light side of the planet, me the dark side, but I vacuumed up all your power to combine into my own and now I have all the power."
Chris Davis, "How could you!"
Khris, "Well, you stumbled into my lair, after going 0-for-52 trying to open the door.  Should you get your eyes checked?  I ask as a concerned villain."
Chris, "You stole my power, Khris with a K!"
Khris, "Tut-tut-tut, Chris with a C.  It's K-HR-ris!  Muahahahaha…"  Sips from a Capri Sun, then continues, "…hahahahahahaha…" Coughs a bit, ending his evil laugh, then adds a final sting, "Now you are as useful as that Qhris Davis meteroid playing for the Marlins' Double-A team."  Yesterday, Khris Davis (2-for-5, 3 RBIs and his 8th and 9th homer, hitting .266) continued his barrage on baseballs, while Chris Davis (0-for-3, 1 run, hitting .000) continued his barrage on hitting.  Anyway, here's what else I saw yesterday in fantasy baseball:
Kendrys Morales – 2-for-3 and his 1st homer, hitting .243.  If MLB outlaws position players pitching outside of 7-run games, I have a serious question, how will the O's find someone to pitch after the third inning?  The umpire checks his lineup card, then, "Is a Yacabonis a 2nd baseman?"
J.B. Wendelken – 0 IP, 2 ER, ERA at 3.18.  J.B. Wendleken sounds like a fine name if you are running an early 20th century eponymously-named department store.  "What is this – a kee-osk devoted to making up women?!  And at the front of the store no less!  Tarting up the face of women with powders and lip hues?!"  Employee, "Sir, these trousers look ridiculous for a man."  J.B. Wendleken, "That is because they are not for a man.  They are for a woo-man!"
Marcus Semien – 2-for-5, 2 runs and his 3rd homer, hitting .323.  Semien with lift-off after getting the O's pitching face.
Dwight Smith Jr. – 2-for-4, 2 RBIs and his 1st homer, hitting .280.  He's doing basically what I thought Cedric Mullins would do who is just being basic.  Smith will be in this afternoon's Buy column, but why wait for that mishegas?
Michael Wacha – 3 2/3 IP, 7 ER, ERA at 5.28.  *looks at Streamonator*  Well, that makes the drop easier in shallow leagues, the matchups are not getting easier.
Jose Martinez – 4-for-5, 3 runs, 1 RBI, hitting .259.  Since I own Dexter Fowler, I'm concerned this might be the beginning of the end of Fowler and the start of Jo-Mart's everyday playing time.  I'm grabbing him now in shallower leagues, just in case (not Juan Nicasio).
Walker Buehler – 4 IP, 5 ER, ERA at 8.25. Maybe Walker Buehler would be happier if the Dodgers traded for Jace Fry.  Any hoo!  Buy low!  Buehler is a top 10 starter, not an 8+ ERA guy, not even a 4+ ERA guy.  If you're in a league where his owner is panicking, now is the time to pounce like a hipster in Brooklyn for anything artisanal.  "Were you honey bees farmed for longer than three hours?"  "Never, that produces tired honey."  Buy! Buy! Buy!
Enrique Hernandez – 1-for-4, 2 RBIs, and his 4th homer, hitting .349.  Hey, I like Joc Pederson and I get the OBP/splits/yadda-blabbity-bloo, but how does Enrique wearing his Launch Angle Jeans move to 7th in the order while Pederson continues to hit leadoff?
Clayton Kershaw – Will make his season debut vs. the Reds.  I'd bet he will look good, until he is injured again, but that's the safe bet.  Or maybe smart money might be on him not looking good and getting injured again soon.  He hasn't exactly pitched crisply in the minors during his rehab assignment.  I'm now going to put these hedges on my landscape architect CV.
Steven Matz – 6 IP, 2 ER, 5 baserunners, 8 Ks, ERA at 1.65.  Sonavabench!  Damn, I over-managed that one.  Should've just started him.  Not sure how I thought he was a better guy to bench than German Marquez in Coors.  I need a nap. *five seconds later, claps hands*  I feel refreshed!
Amed Rosario – 2-for-4, 4 RBIs and his 1st homer.  He hit that ball a metric ton.  Is that far?  It is now!
Pete Alonso – 2-for-4, 2 RBIs and his 6th homer, hitting .378.  He comes up to bat and I start Hammer dancing around my house, and it really is my house and not like when I would say "my house" and it was a Radio Shack.
Todd Frazier – Mets said he will return any day now.  Nooooooooooooooooo *enters nail salon, gets manicure, exits nail salon* oooooooooooooooooooo.  Please, Mets, I was just starting to have faith in you.  Can't Frazier and Dexter Fowler go start a new team somewhere else?
Johan Camargo – 1-for-4 and his 1st homer.  Wanna hear another story of Grey's dumb managing?  Of course, you do.  Somehow I picked up Camargo for Friday instead of Thursday, because I dropped a guy whose game had started and…*eats glass*  Garbled, "I'm good."
Ronald Acuña Jr. – 3-for-4, 2 RBIs and his 5th homer.  Tildaddy is done drinking his beer!
Zack Godley – 6 IP, 6 ER, ERA at 7.41.  I guess it's one's perception, but that seems a little unGodley.
Eduardo Escobar – 1-for-3, 3 RBIs and his 1st homer, hitting .220.  Finally, you people are making some headway.  Now please become more aggressive about dropping him. He needs to be spurred on.
Jon Gray – 6 2/3 IP, 1 ER, 8 baserunners, 6 Ks, ERA at 4.19.  vs. Jeff Samardzija – 7 IP, 0 ER, 4 baserunners, 7 Ks, ERA at ERA at 1.62.  There's talk that Samardzija threw more sliders, successfully, yesterday, but I don't know if it's a small sample size thing as a game plan to attack the Rockies or if it's a new thing.  It'll be a long time before I trust either pitcher again.  However, it was cool that the Rockies/Giants game was sponsored by Kid Rock's Kowboy Kuts: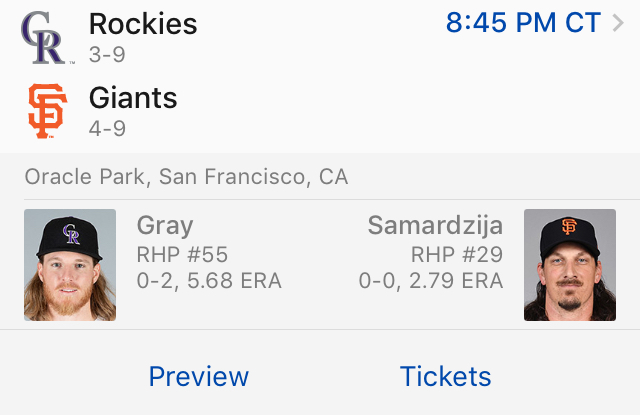 Kevin Pillar – 1-for-3 and his 3rd homer, and 3rd homer in the last four games.  Maybe he's not a scrubmarine, but instead a hot schmotato alert!
Jose Quintana – 7 IP, 0 ER, 5 baserunners, 11 Ks, ERA at 5.14.  Member last week when I didn't know why I drafted this schmohawk in multiple leagues?  This week, I know why.  Next week:  TBD.
Nate Eovaldi – 5 IP, 5 ER, ERA at 8.40.  The Red Sox pitchers' elaborate plan to make Chris Sale look better by comparison is working splendidly.
Mitch Moreland – 2-for-5, 2 RBIs and his 5th homer. He is so smoking hot.  Send this guy to Fire Island and let him hustle for a living.  Yes, you absolutely should pick him up.
Justin Smoak – 1-for-3, 3 RBIs and his 2nd homer.  Ya know what the Jays need?  A 1B/DH-type.  If they could only find one of those.  Making bread with the wry!
Freddy Galvis – 4-for-4, 2 runs and his 4th homer.  I know this is goofy, but since he returned from his first off-day in three years, he has been on it, now three homers in the last five games, and around $20 of value on our 7-Day Player Rater (yes, we have one of those too).
Rowdy Tellez – 2-for-4, 2 RBIs and his 3rd homer, hitting .241.  The Jays announced his home run was longest ever in Fenway, then retracted it.  And we say metric system is confusing.  Geez.
JaCoby Jones – 0-for-3 as he was activated from the IL.  Mikie Mahtook was designated for assignment.  His assignment is to either change his name to Mike, Michael or Mikey.  Mikie just looks dumb.
Spencer Turnbull – 4 IP, 3 ER, ERA at 4.80.  Ya mean this fairly sure-shot schmohawk isn't that good?  C'mon!
Leonys Martin – 3-for-4, 2 runs, 2 RBIs and a slam (2) and legs (1).  Leonys taking revenge against the Tigers for letting him go.  If Martin could just be released by six more AL teams, he'll be an All-Star.
Shane Bieber – 7 IP, 0 ER, 4 baserunners, 6 Ks, ERA at 1.80.  Just Googled "Indians Bieber" and Justin Bieber is a huge draw in India.  By the way (terrible segue alert!), I watched Dehli Crime on Netflix, and it was terrible, but it's fascinating to me that instead of cops handcuffing criminals in India, they hold their hand like they're dating.
Dee Gordon – 3-for-4, 2 runs, 2 RBIs and his 1st homer, hitting .365.  Somebody check his urine!  What?  No, not for asparagus smell!  So, he appears to have been a bargain at drafts this year so far, or sofa if a furniture magnet is reading.  Mansplainingly, the entire M's offense appears to be a bargain so far.  What kind of supplements did they get in Japan?  Tonkatsudafed?
Daniel Vogelbach – 1-for-4 and his 6th homer, and 17th homer this week.  The Jelly Donut of Swat!  I'm been telling you to pick him up, not sure what else I can do.  Will you respond to a fantasy baseball 'pert in a pinafore?
Connor Sadzeck – 1 IP, 0 ER and his 1st save.  I mentioned him on this week's podcast, because his name is Sadzeck.  So depressing.  Like my SAGNOF.  I still think Swarzak is the closer, but it's becoming more fluid. *turns nose up* At least I hope that's fluid.
Hunter Dozier – 3-for-5, 2 RBIs and his 3rd homer, and back-to-back games with homers.  I ignored mentioning his homer on Wednesday, but now it's harder to avoid.  He won't be in this afternoon's Buy column, but I could see some hot schmotatoness.
Adalberto Mondesi – 1-for-3 and his 2nd homer, hitting .306.  Doesn't look so crazy now for adopting nine kids and naming them each a letter of Adalberto's name, huh?  Though, it does annoy me when B stands where D goes.  "You're not just background extras in my life!"  That's me yelling at my nine children.
Jorge Soler – 2-for-5, 2 runs, 3 RBIs and his 3rd homer, hitting .250, and has two homers in as many games.  Or one homer for each gam.  Not sure if he's owned in fewer than 50% of leagues, so he's not in my Buy column this afternoon, but he should be owned and/or bought or picked up.
Billy Hamilton – Carted off the field after a collusion with the outfield wall.  Those things don't move, Billy.  He has a knee sprain and is day-today.  Terrance Gore could see an uptick in playing time, once he's done running around the globe for fun.
Brad Boxberger – 1 IP, 2 ER and his 1st blown save.  Well, he got the chance like I said, but this isn't how you run with the job.  You know who I want now, right?  Dick Lovelady!
Matt Kemp – 0-for-4, hitting .143.  Pretty cool how Scott Schebler hits two homers in the last three games, and David Bell takes that as a cue to bench him for Matt Kemp.  Pretttttay, pretttttay cool.
Sonny Gray – 4 IP, 0 ER, 2 baserunners, 6 Ks, ERA at 2.03.  When you can go more than 5 IP against the MIA Marlins, give me a call.
Eugenio Suarez – 3-for-4, 2 RBIs and his 3rd homer, hitting .297.  I'm old enough to remember when he had only one homer and was hitting .192, because I'M NOT FOUR DAYS OLD!
Pablo Lopez – 4 2/3 IP, 4 ER, ERA at 6.60.  Always liked FML, Fade and Low Lights off The Life of Pablo, and now thinking it might've had ominous connotations.