The sexy prospects are finally making it baby!
It's good to be back to the Pitcher Profile, with so many hot options out there to break down as we head into the ASB.  While Lucas Giolito (who I was always spell wrong with two T's the first time I type his name) has more "overall" prospect buzz, I think I might have been more excited that we finally got the Tyler Glasnow callup.  I had continually been ranking him very favorably in my ranks in the 60s, and I'm not gonna lie, when I saw Steven Brault got the call before him (and this is even after Chad Kuhl too), I was dismayed.  But alas!  Glasnow made his debut last Thursday afternoon against the Cardinals with a lot of encouraging stuff coming out of it.  Not too surprisingly, he was sent back down as he wasn't needed for another start before the All-Star Break, but will he be back soon sooner or later?  Well, here's how he looked in his MLB debut, and an analysis on if you should be holding onto him on redraft rosters:
First Inning: Glasnow's first MLB pitch is a 93 MPH fastball just outside to Greg Garcia, 1-0.  There was a brief rain delay before this game started, so hopefully that doesn't impact the big kid's nerves.  94 in the zone fouled off, 92 way outside, 92 paints the outside corner and looked a smidge out – has Garcia talkin' with the ump – 96 way low and inside, 3-2 with fastballs a little all over the place.  95 at the knees fouled off, then 95 again down there is too low for a leadoff walk.  Well, this is what the knock was against him!  94 inside to Aledmys Diaz, then Glasnow's first curve is almost a slurve at 78 for strike one, 1-1:
Man, look at that break!  93 on the hands fouled down the line, big curve again breaks low and outside, curve again hangs a little inside and is pulled deep to left but foul, 95 on the outside corner fouled away, then curveball breaking down is foul tipped into the mitt for Glasnow's first K with Garcia stealing second.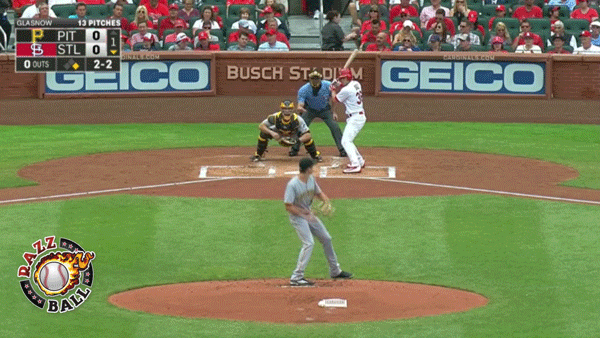 Pirates broadcast makes a good point that could've been hitter's interference on the steal, but no one says anything.  We need Glasnow more efficient!  Took 14 pitches for his first out, and 92 MPH fastball is a little up and in on Matt Holliday, 1-0.  Again up and in at 91, and fastball speeds have been 91-96.  I don't love that.  Then that nasty curve break in the zone at 77 2-1 (2-0- curveball!), 94 in the zone fouled off, then that curve in the zone is grounded routinely to short, two down.  Beautiful 94 MPH fastball paints the outside black to Stephen Piscotty 0-1, curveball in the dirt barely has Piscotty hold his swing, then 1-1 curveball is dribbled to third, but Jung Ho Kang charges in and makes a great play to get him by a half step to end the inning and give Glasnow a scoreless first.
Second Inning: The Pirates quickly pick up a run off Adam Wainwright, and Glasnow just misses to start the second to Matt Adams, 1-0.  Outside fastball fouled off, inside fastball roped foul, curveball hangs outside, curve again stays outside, then 95 on the outside corner is hit well oppo field, but caught in front of the track, one down.  Curveball hits the outside of the zone to Yadier Molina 0-1, 96 is well low and outside, 95 on the inside black fouled off, curveball drops low, then 96 dotting the outside black gets Molina to whiff through it on a protective swing, two down.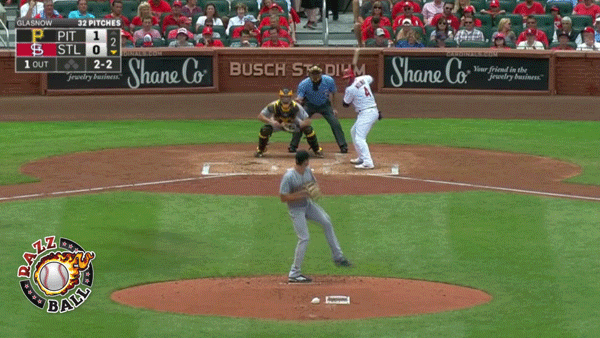 Yeah, that's nasty.  And watch out for that bird!  Better near the camera than in front of home plate, right Randy Johnson?!  95 outside to Randal Grichuk, 94 on the hands popped up out of play, curve tipped foul, inside curve again popped back foul, 96 well low and outside, curve in the zone fouled, 95 on the inside third fouled, this is becoming a battle.  But another curve right at the knees is dribbled up the middle, the shift gobbles it up, and Glasnow keeps the Cards off the board.
Third Inning: Glasnow comes in strong with a heater to Kolten Wong, 0-1, 92 MPH fastball well low and inside, then 90 MPH (???) on the outside edge is flied pretty hard to center, but Cutch is there, one down.  Man, 90 MPH fastball?!  94 high fastball blows Wainwright away whiffing, 94 right down the middle taken, 96 low and in the dirt, whoa 78 MPH curveball hangs way inside and almost hits Wainwright 2-2, then curveball again inside buckles Waino's knees and gets the inside black this time for a backwards K.  96 on the outside edge fouled off by Garcia back to the top, 96 again out there fouled off, these are some great heat now, 94 high and away, curve low and inside, then 95 just below the black is grounded routinely to first for an easy third out.  A nice, quicker inning for the big fellah.

Fourth Inning: Glasnow still pitching a hitless game goes curveball to start the 3rd and it's in there to Diaz, 94 paints the outside corner 0-2, then curve again that didn't have a very sharp break on the hands and is crushed to left, and it somehow hits the top of the wall and bounces back into play giving Diaz a triple.  Missed a HR there by a literal inch.  So runner at third, no more no-hitter talk, and Holliday fouls off a first-pitch fastball, 0-1.  94 paints the inside black 0-2, 95 right on the letters doesn't get the call 1-2 (it was easily in the zone), but curve gets grounded to third and Glasnow gets the first out without letting Diaz score.  Piscotty whiffs on a first pitch high fastball, 93 is a little chin music up and in, curve breaking in the zone gets a waving swing that tips it back, curve in the dirt at 80 MPH bareeeeeely has Piscotty holding, curve again dribbled foul, 94 a bit high and outside, then 80 MPH curveball breaking off the outside of the zone gets the whiff for a huge 1-out strikeout with a runner on third.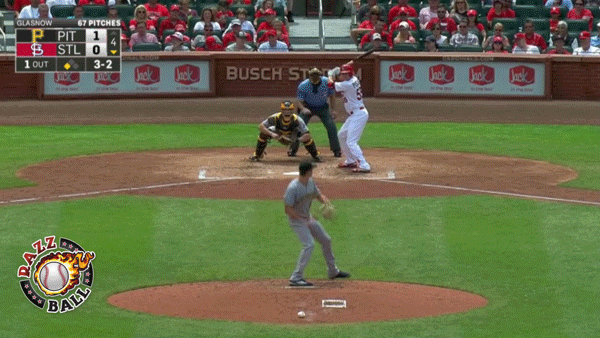 So two down, and first pitch fastball is way low and inside and rolls to the backstop and Diaz scores easily.  Definitely a wild pitch.  Sad emoji.  Then 93 on the outside of the zone is ripped hard to left, but Matt Joyce has it on the run for a hard hit third out.
Fifth Inning: Still a 1-1 game (Glasnow got a hit in the top of the inning too!) and 94 paints the inside black to Molina, 94 again inside gets a whiff, 93 a little high, then a nasty curveball gets a weak little pop to first, one down.  But the first-pitch curveball to Grichuk is a hanger on the inside third that he cranks to deep left for a homer.  I haven't mentioned it yet in the pitch-by-pitch, but this is the peril of being a two-pitch pitcher.  Your curveballs have to be perfect, and they're only 75% perfect or so thus far.  So 2-1 game, and first pitch fastball to Wong is grounded to second for a quick second out.  Fastball at 92 gets a foul tip from Wainwright, 94 on the inside third blows him away 0-2, then 94 blows him away again for a big 3-pitch K.  Yay for pitching in the NL!
Sixth Inning: At 79 pitches, Glasnow is back out there and gets a curve on the outside edge to Garcia in there 0-1, but fastball on the outside edge is ripped to left center and gets in the gap for a leadoff double.  Yeesh.  Curse of the third time through the order already!  Ray Searage comes out and hopes to spread his pixie dust on him, but the first pitch out of the meeting is a 91 MPH way high to Diaz, 1-0.  Then the Cardinals foolishly give Glasnow an out by bunting Garcia to third, one out.  You have a young pitcher who had some hard contact against him the last inning then a leadoff double, and you BUNT?!  Wow.  Fastball misses to Holliday, 92 again misses way inside, 91 even further inside and almost hits Holliday, then 3-0 fastball at 92 barely misses inside for a 4-pitch walk.  So maybe the bunt was a good idea, and getting Glasnow to have to field can get in his head.  And then just to be an absolute double-whammy, reliever Arquimedes Caminero, who I just raved about being able to pick up in the REL for SV+HLD, promptly gives up a 3-run shot on the first pitch to Piscotty.  Are you friggin' kidding me?!  Both stranded runners obviously score and murder Glasnow's ERA despite a really good showing.
Final Line:  L  5.1 IP  87 Pitches (54 Strikes)  4 ER  3 Hits  2 Walks  5 K  Gamescore: 49   Gamescore+: 50.0

Final Analysis: Mannnnnn…  I think I'm going to come out of this analysis more picky and negative than I wanted to.  It was still a really good outing against a good offense – the ERA is really misleading – but it's time for me to be nit-picky.  The Gamescore+ and Gamescore came out about even, which is about what you'd expect given that line.

As you may have remembered, I linked a Glasnow video I shot showing a strikeout in the Minors in AAA Durham earlier this year (man iPhones can take good video! [Apple paid me nothing for this promotion]), my complete and utter love was based on seeing him live in that game.  He went 6 innings with 11 Ks and 1 BB, only allowing two fluky singles.  What's disappointing in that start vs. his MLB debut was he was 94-98 with the fastball then vs. this start he was 90-96.  Maybe I shouldn't be too dissuaded, but I hate seeing fastball variance like that.  Could be some nerves and some overthrows in there, and I should mention this was a concern I had with Aaron Sanchez in his Pitcher Profile earlier in the year, and Sanchez has been unreal.  Glasnow's fastball is also pretty redonkulous, with a little deception in the big kid's delivery and he only gave up one hit on it.  Then to obviously the curveball, which danced all over the place with both vertical and horizontal movement.  It's easily a plus-MLB pitch, but he did hang a few which gave up the near-HR triple and the Grichuk no-doubter blast.  Unfortunately, that's really it to break down.  All fastballs and curveballs (Fangraphs listed one change-up at 91.1 MPH, but that must've been a fastball) which really scares me.  We've seen time and time again pitchers with two great pitches struggle without a third pitch, so I was disappointed we didn't see any change-ups.  If you Google "Tyler Glasnow Change-up", you'll see pages and pages of results about how the Pirates want/need him to develop it for Major League success.  Apparently it didn't come along in AAA like we had hoped…
So to the crux of the article: Glasnow or later?  Should you be holding him, or letting him go while he's back in the Minors?  I'm sadly leaning towards the latter, and dropping the kid a little in my ranks.  Sure this outing was better than the box score, but the fastball variability and lack of a third pitch really scares me.  It was great to see "only" two walks from a guy who has had BB rates in AAA in the high 4s the past two years (maybe trying to force himself to throw change-ups has been part of that), but there was still a lack of fastball control that I wanted to see.  Then to the issue if there's actually a spot – Gerrit Cole is almost ready to return, even though he's been terrible I highly doubt Francisco Liriano loses his spot, Jeff Locke is shockingly not going anywhere, I think Chad Kuhl has locked up (no pun there) a spot despite a bad encore, then you have Jon Niese who will stay in unless traded and Jameson Taillon who sounds like is closer to returning than not off his shoulder fatigue.  At 101.1 IP already in AAA/MLB for Glasnow, the innings for the 22-year-old are a little bit of a factor here too.  I absolutely love this guy in fantasy for dynasty (and not just fantasy baseball, he's a good looking guy!  I mean, ummmm…), but in 10 team redraft without N/A spots, I can't see holding him.  In 12 team redraft like RCLs, it's really on the fence if you need an upside stash, but I'm likely cutting there too.
Updated Top 100 SP
(rankings for ROS based on 12-team Roto, green for risers, red for fallers)
| RANK | SP, TEAM |
| --- | --- |
| 1 | Clayton Kershaw, LAD |
| 2 | Madison Bumgarner, SF |
| 3 | Max Scherzer, WAS |
| 4 | Jake Arrieta, CHC |
| 5 | Chris Sale, CWS |
| 6 | Jose Fernandez, MIA |
| 7 | Jacob deGrom, NYM |
| 8 | Johnny Cueto, SF |
| 9 | Stephen Strasburg, WAS |
| 10 | Corey Kluber, CLE |
| 11 | Jon Lester, CHC |
| 12 | Noah Syndergaard, NYM |
| 13 | Carlos Martinez, STL |
| 14 | David Price, BOS |
| 15 | Danny Salazar, CLE |
| 16 | Carlos Carrasco, CLE |
| 17 | Cole Hamels, TEX |
| 18 | Zack Greinke, ARI |
| 19 | Drew Pomeranz, SD |
| 20 | Justin Verlander, DET |
| 21 | Gerrit Cole, PIT |
| 22 | Yu Darvish, TEX |
| 23 | Adam Wainwright, STL |
| 24 | Rich Hill, OAK |
| 25 | Kenta Maeda, LAD |
| 26 | Jose Quintana, CWS |
| 27 | Masahiro Tanaka, NYY |
| 28 | John Lackey, CHC |
| 29 | Jeff Samardzija, SF |
| 30 | Julio Teheran, ATL |
| 31 | Aaron Sanchez, TOR |
| 32 | Chris Archer, TB |
| 33 | Danny Duffy, KC |
| 34 | Matt Shoemaker, LAA |
| 35 | Jason Hammel, CHC |
| 36 | Kyle Hendricks, CHC |
| 37 | Dallas Keuchel, HOU |
| 38 | Steven Matz, NYM |
| 39 | Michael Fulmer, DET |
| 40 | Tanner Roark, WAS |
| 41 | Anthony DeSclafani, CIN |
| 42 | Aaron Nola, PHI |
| 43 | Trevor Bauer, CLE |
| 44 | Felix Hernandez, SEA |
| 45 | Michael Wacha, STL |
| 46 | Lance McCullers, HOU |
| 47 | Kevin Gausman, BAL |
| 48 | Taijuan Walker, SEA |
| 49 | Chris Tillman, BAL |
| 50 | Michael Pineda, NYY |
| 51 | Vincent Velasquez, PHI |
| 52 | Adam Conley, MIA |
| 53 | Junior Guerra, MIL |
| 54 | Sonny Gray, OAK |
| 55 | Jerad Eickhoff, PHI |
| 56 | Ian Kennedy, KC |
| 57 | Archie Bradley, ARI |
| 58 | James Paxton, SEA |
| 59 | Marco Estrada, TOR |
| 60 | Zachary Davies, MIL |
| 61 | Blake Snell, TB |
| 62 | Marcus Stroman, TOR |
| 63 | Drew Smyly, TB |
| 64 | Hisashi Iwakuma, SEA |
| 65 | Joe Ross, WAS |
| 66 | Jake Odorizzi, TB |
| 67 | Jimmy Nelson, MIL |
| 68 | Jeremy Hellickson, PHI |
| 69 | Steven Wright, BOS |
| 70 | Rick Porcello, BOS |
| 71 | J.A. Happ, TOR |
| 72 | Jon Gray, COL |
| 73 | Brandon McCarthy, LAD |
| 74 | Jordan Zimmermann, DET |
| 75 | Gio Gonzalez, WAS |
| 76 | Scott Kazmir, LAD |
| 77 | Carlos Rodon, CWS |
| 78 | Tyler Glasnow, PIT |
| 79 | Mike Leake, STL |
| 80 | Bud Norris, LAD |
| 81 | Robbie Ray, ARI |
| 82 | Jaime Garcia, STL |
| 83 | Josh Tomlin, CLE |
| 84 | Jameson Taillon, PIT |
| 85 | Bartolo Colon, NYM |
| 86 | Francisco Liriano, PIT |
| 87 | Matt Moore, TB |
| 88 | Tyler Duffey, MIN |
| 89 | Mike Fiers, HOU |
| 90 | Sean Manaea, OAK |
| 91 | Collin McHugh, HOU |
| 92 | James Shields, CWS |
| 93 | Kendall Graveman, OAK |
| 94 | Wei-Yin Chen, MIA |
| 95 | A.J. Griffin, TEX |
| 96 | CC Sabathia, NYY |
| 97 | Ervin Santana, MIN |
| 98 | Mike Foltynewicz, ATL |
| 99 | Lucas Giolito, WAS |
| 100 | Daniel Mengden, OAK |
Dropped Out: Matt Harvey, NYM (Thoracic Outlet UGGGHHHHH!!!), Julio Urias, LAD (likely done pitching as an MLB starter this season), Nate Karns, SEA (stupidly moved out of the rotation), Cody Reed, CIN (been terrible, barely made the ranks anyway), Tim Lincecum, LAA (ditto), Patrick Corbin, ARI (Yikkkkkkkes, this didn't end well.  He's pretty unusable in almost all formats now, so decided I was just done with him), Nathan Eovaldi, NYY (Never was a big fan, felt like I had to make a few comments defending his low rank earlier in the year), Shelby Miller, ARI (was only #100 last week)
Thoughts on Tyler Glasnow?  Am I too negative?  And missing last week was a doozy, too much going on!  Let me know what I missed in my ranks, and happy All-Star Break, Razzball Nation!