As the season begins to wind down, and the grind of the first four months feeds into the stretch run of the final two months. The contenders begin to rise to the top in Razzball's own dynasty league the Razznasty. We got a serious race going, with the top spot changing hands multiple times over the last few days. RCL Czar Matt Truss sits atop the mountain, for the next few hours at least. BTW Matt you are a Czar, watch out for Commies old friend. Look at that a Russian history lesson mixed with fantasy baseball. I'm gunning for a Smithsonian gig one day. In the meantime I'll keep providing you with gushing articles about prospects, dynasty strategy, and PROSPECT PODCASTS!!! I hope everyone is ready for our first episode coming tomorrow!!! We'll be talking the prospect side of the trade deadline, and some of the recent weeks callups. Benintendi anyone? Yes, I have to mention him twice a post.
Standings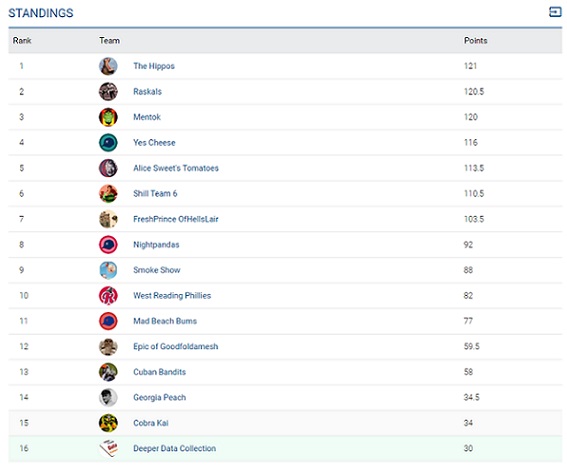 As I previously mentioned the Matt Truss led Hippos stands at the pinnacle of the Razznasty table, but with Raskals, season long pace-car Mentok and even commissioner Yes Cheese all within a handful of points. It's going to be a dogfight till the end. The most credit is probably due to Alice Sweet's Tomatoes, who's made up a ton of points since taking over in the early part of the season. It's difficult to take over a middle of the pack squad and turn it around in a few months. AST has done a great job of being ahead of the rotating door of closers, and adding and dropping bats and prospects as needed. Well done Alice, you're a better man than I! Last up in the shouting distance group is Shill Team 6 at 110.5. For the second month in a row my friend and yours Nick the Dick sits in standings purgatory with his FreshPrince OfHellsLair. More like the StaleLord OfPurgatoryChasm amirite? I gave you Aroldis, now I clown you Nick. After Nick there's a whole bunch of underperformers and rebuilders. The worst of which is yours truly, seriously my team is garbage, but I got Xander and Benintendi so I could be good in 5 years.
Trades
Below is a handy chart of all the trades that took place in the month of July. As you can see there was a lot of future buying for rebuilders, and lots of reinforcing for those courageous heros that are actually playing fantasy baseball as opposed to collecting names from a Top 100 list. My favorite trade of the bunch was Yes Cheese bagging Blake Snell for a now demoted closer, a closer with an awful K rate in danger of losing his job, and back of the rotation starter. Understandable depth move by Hippos, but I wonder if he'd take that back now. The other trade I love in here is J-FOH buying two of my favorites in Josh Ockimey and Christin Stewart for some potential depth pieces. This is a good trade for both sides, and Cheese has done an excellent job of acquiring prospect talent prior to value jumps. Both Stewart and Ockimey have entered the Top 100 fantasy prospect conversation since he added them. Our commish is as good or better at that than almost any player I've played with in the Dynasty format.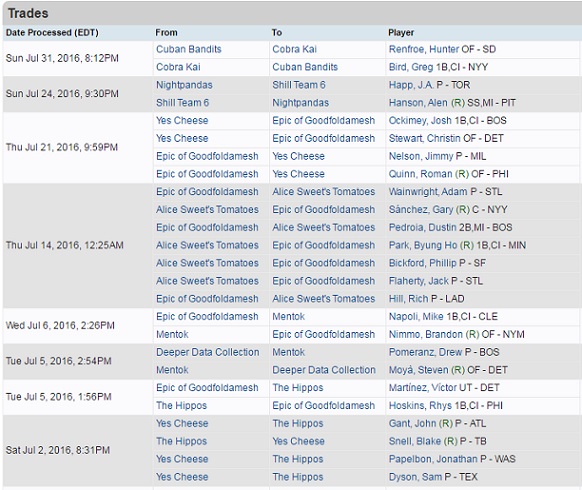 Wavier Wire
The Hippos – Jacob Faria ($0); Chad Green ($0); CC Sabathia ($0); Chad Bettis ($0); Matt Boyd ($0); Tyler Duffey ($0); Jim Johnson ($0); Nathan Eovaldi ($0)
Raskals – No waiver moves
Mentok – Dario Alvarez, ($2); Keury Mella ($1); Luis Urias ($0); Addison Reed ($1)
Yes Cheese – Ricky Nolasco ($1); Mauricio Cabrera ($0); Ryan Dull ($1); Justin Wilson ($0); Stephen Vogt ($0); Dan Straily ($0); Sandy Alcantara ($1); Adam Engel ($0); Tyler Beede ($0); Cody Ponce ($2)
Alice Sweet's Tomatoes – Tom Koehler ($0); Jake Peavy ($0); Colin Rea ($0); Drew Hutchison ($0); Michael Kopech ($0); Robbie Grossman ($0); Joakim Soria ($3); Mauricio Cabrera ($2); John Axford ($0); Jorge De Rosa ($0); Conner Greene ($0); Adalberto Mejia ($0); Sean Doolittle ($0); Jake Barrett ($0); Jim Johnson ($3); Cam Bedrosian ($0); Hector Neris ($0); Yan Gomes ($0)
Shill Team 6 – Peter Bourjos ($1); Jeremy Hellickson ($1); Cody Asche ($1); Freddy Galvis ($0); Adonis Garcia ($1); Jace Peterson ($0); Erick Aybar ($0); Jake Peavy ($0); Sam Travis ($0); Hansel Robles ($0); Jordy Mercer ($0); Jedd Gyorko ($0); Jake Cronenworth ($0); Adam Liberatore ($0); Alex Dickerson ($0)
FreshPrince OfHellsLair – Seth Smith ($2); Nick Markakis ($1); Ryan Schimpf ($6)
Nightpandas – Danny Espinosa ($2); Kendall Graveman ($2); Cheslor Cuthbert ($3)
Smoke Show – No wire moves
West Reading Phillies – Jarrod Dyson ($1); Hernan Perez ($5)
Mad Beach Bums – Carlos Torres ($0)
Epic of Goodfoldamesh – Edwin Rios ($1); Jharel Cotton ($4); Chase DeJong ($3); Dietrich Enns ($1); Matt Esparza ($0); Matt Strahm ($0); Hunter Dozier ($6); Demi Orimoloye ($5); Aristides Aquino ($2); Edwin Rios ($1); Mitchell Hansen ($0)
Cuban Bandits – Rob Refsnyder ($0)
Cobra Kai – Bud Norris ($1); Scooter Gennett ($0); Tyler Thornburg ($0); Fernando Rodney ($1); Chad Bettis ($1); Kennys Vargas ($1)
Georgia Peach – Michael Lorenzen ($0); Sean Reid-Foley ($0); Dietrich Enns ($2); Jake Barrett ($55)
Deep Data Collection – Carlos Asuaje ($3); Austin Hedges ($1); Miguel Andujar ($4); Luis Alexander Basabe ($4)
Follow me on Twitter @RalphLifshitzBB and check out the forthcoming Razzball Prospect Podcast