Oh man, what a week of pitching!  Filled with intrigue, romance and murder!  Eh, a little carried away there, although poor Jarrod Parker might indeed have his MLB life cut short.  Get well soon, J-Park!
Then yesterday afternoon Michael Pineda swiss-cheesed the Orioles bats in a near-historic K-fest.  He hasn't ever had shoulder issues, let him throw 150!  Johan Santana is like, "…not the best idea…"
Also this weekend, we finally got to see Carlos Rodon start a game, his first in his MLB career Saturday night hosting the Reds.  I bet he got all confused facing the Reds since he pitched for NC State and all…  North Carolina bias!  I didn't see him pitch at all through Spring and only a highlight or two in his bullpen stints, so I was excited to break down his debut and see what he can bring to fantasy owners in 2015.  Here's how he looked:
First Inning: Rodon's first pitch as an MLB starter is a 93 MPH down and inside to Billy Hamilton, 1-0.  Fastball at 94 is low, good velocity and sink with the heater, then 94 again is low and inside.  I thought Rodon was an inch or two taller, seems shorter than I remember…  Not much to take out of that, but impressive to see the velo.  94 clips the inside corner, 94 again barely hits the high and inside corner, full count.  Then 96 (!!) is a little low and way outside for a leadoff walk to probably the worst guy in the MLB to walk.  Rodon just overthrew that one.  But he's right back at 96 MPH and it's in there for strike one on Marlon Byrd.  Rodon's first off-speed is a slider in there 0-2, then whoa – a perfect 0-2 slider backdoors the outside corner but he doesn't get the call, 1-2: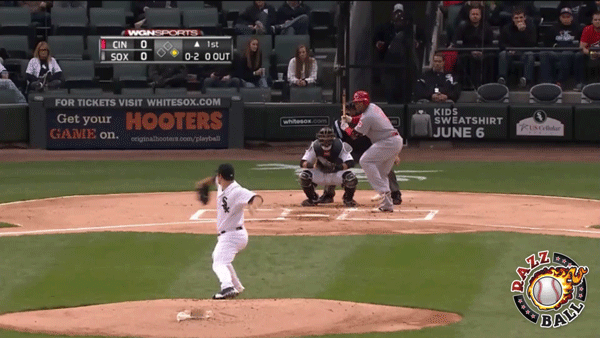 Then Rodon is low and in the dirt with Hamilton stealing, and the wild pitch moves Hamilton to 3rd.  They actually call it a passed ball; either way Rodon got hosed on that bad 0-2 call.  Slider outside is tipped back foul, 95 on the outside corner fouled back, 96 is way low and outside, all the way to 3-2.  Then a slider at 89 MPH was maybe an inch or two lower than that first GIF yet still looked like it was in the zone – but it's called ball four.  Rough zone tonight – runners on first and third.  Up is Joey Votto who takes a slider outside, and out comes catcher Geovany Soto for a chat.  And man, it was animated too, Soto was pretty dramatic with his gestures.  And on cue a 94 MPH fastball is in there, 96 MPH is low, 18 pitches now with no outs.  Yikes.  2-1 is a fastball low and in fouled off, then a 90 MPH slider sweeps across the zone and ends up in the dirt and outside and Votto still swings through it for his first K as a starter: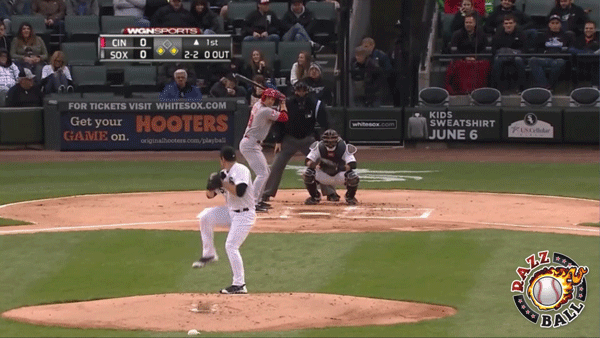 Nasty stuff there, that slider comes as advertised.  Todd Frazier fouls back a fastball, then the 0-1 slider is popped up in the infield, and Byrd was attempting to steal and is doubled up at first.  A little bit of a lucky break – Byrd I think slid into second before realizing it was an infield pop – but then again Rodon should've had the K there on the bad call.  The high pitch count and walks hurt, but not a bad start.
Second Inning: Rodon opens the 2nd with a 91 MPH fastball fouled back – velo seemed slower maybe that was a cutter – then an 84 MPH slider in the same spot gets Brandon Phillips to pop out for an easy, lazy out to right, one down.  Fastball in there to Devin Mesoraco who is DHing, slider in, awesome slider bending from well off the plate and into the zone is strike two, slider again bends barely low – of course Hawk thought it was a strike but it was low – then 95 MPH on the hands is grounded weakly to first for two quick outs.  Fastball low to Brennan Boesch, fastball again tipped foul, slider fouled back and breaks his bat, 1-2 with the new bat, then that monster slider at 90 MPH that looked very similar to that GIF to Votto gets Boesch swinging and Rodon a quick inning.
Third Inning: Rodon picks up a couple runs of support and starts opposing catcher Tucker Barnhart with a fastball on the outside edge fouled off, fastball again outside, 93 paints the inside corner 1-2, heater again really missed the spot outside 2-2, but there's no answer for the slider and it gets Barnhart swinging.  Ya know, I wish Rodon could locate that putaway fastball like he wants to – all Ks on the slider.  Zack Cozart takes a slider low, then a fastball on the fists barely bloops over second baseman Emilio Bonifacio and the Reds have their first hit.  Lucky one for sure there.  Hamilton takes ball one, 94 MPH fastball is in there, 92 is just outside – close call there K zone had it a strike – 94 on the outside corner is fouled back, then an 88 MPH slider again eats up another hitter on the hands and it floats over Bonifacio in almost the same exact bloop-hit trajectory for another single.  Man, unlucky hits there…  Slider way low to Byrd, 95 is in there, then 94 MPH somehow goes through the legs of Byrd, 2-1.  Actually went behind his legs and Soto still caught it, great save by the catcher there.  Slider goes low and in, Byrd swings at a 96 MPH heater high that was ball four and is late, but Rodon goes back to the slider and it's low for another walk.  Afraid to trust that fastball in the zone on payoff pitches…  Votto takes 96 outside, 95 is inside, and with Rodon down 2-0, Soto comes out to chat for a second time.  95 gets a check swing foul, then a sexy, sinking 96 MPH fastball gets a swing-and-miss, 2-2: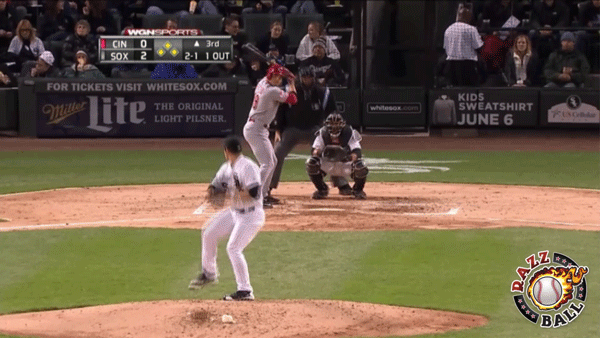 Look at that dandy.  Even Soto motioned at the quality of that one.  But then 96 MPH that was supposed to be low and in is high and outside, and Votto inside-outs it for a 2 RBI single.  Well, the two lucky bloop singles hurt, but that one was laced.  Strike in there to Frazier, 94 again paints the inside corner, then that devastating slider that barely missed Frazier's shoetops is swung over and missed for a huge K.  4 strikeouts now, and with 2 outs Phillips is first-pitch swinging at a slider in the zone and it gets an easy groundout.
Fourth Inning: Rodon opens the 4th with a slider in there, then bends a second one in the zone to get ahead of Mesoraco 0-2, slider dives into the dirt, then Rodon gets a big putaway strikeout with his fastball at 95 MPH high and on the outside edge for his 5th K.  Awesome to see the fastball get the K.  Boesch fouls the first one off, fastball on the hands dribbled first base side foul, then his 66th pitch is the killer slider sweeping off the plate for a swinging 6th K.  Barnhart takes a fastball outside, 93 off the outside edge is slashed foul, Rodon stays out there with 95 for a taken strike, slider is outside, 96 is defensively slashed away, 96 high and tight almost hits him, then fastball again at 95 MPH perfectly on the low outside corner is hit weakly to second for an easy groundout ending an easy inning.
Fifth Inning: Picking up another run of support and now up 3-2, Rodon starts Cozart with a 90 MPH pitch outside – maybe that cutter again – then 91 MPH gets strike one that certainly looks like a cutter. Fangraphs doesn't list him having that pitch, but with the lower velo it seems like it's additional fastball variant.  Good to see something else with the fastball/slider combo.  Seemingly cutter again at 92 catches the outside corner, four-seamer at 95 is low, slider bends low, then 93 on the outside corner is crushed to center, but Adam Eaton catches it on the run right on the edge of the track.  Man, I'm still scared that hitters sitting 3-2 fastball are going to get pitches to hit – first hard hit out tonight.  Fastball in there to Hamilton, slider low, fastball popped foul, 96 is just outside, 2-2 fastball fouled off, the 95 high and tight jams Hamilton and it's a relatively easy play for Alexei Ramirez, two outs.  Great first-pitch slider to Byrd is strike one taken, fastball is just low, slider fouled back, then 97 is just a millimeter inside, 2-2.  Highest velocity of the night right there.  97 again is off the plate but slashed foul, then holy F!  98 MPH on the outside black is swung through and missed:
Perfect location as it was likely a strike anyway, and a great way to end another clean inning.
Sixth Inning: At 91 pitches, Rodon gets a slider in there to Votto 0-1, misses low, fastball is high and a bit outside, then a 94 MPH fastball is dumped to left center for a hit, Melky Cabrera got to the ball perfectly and guns Votto out trying to leg it into a double.  Surprised Votto went for it there.  Frazier takes strike one, fouls a 95 MPH heater on the outside edge off, maybe a hanging cutter high is fouled back, then 99 – yes 99 MPH (!!!!) is high in the zone and fouled back, and follows it up with an 89 MPH slider burying into the zone for his 8th K on his 100th pitch.  Nasty.  97 on the outside edge is slashed foul by Phillips, 97 again is inside – and geez look at this velo right now!  95 just blows him away upstairs 1-2, 98 is low and inside, slider low and outside, then slider again is low for Rodon's 4th walk.  Again – that reluctance to throw 3-2 fastballs.  And with fastballs like 97 to Mesoraco on the first pitch who swings through it for strike one, I don't see why.  Then 96 on the hands gets a lazy flyball to left, and that'll end Rodon's Major League debut with 6 strong innings and winds up with a W.
Final Line:  W  6.0 IP  109 Pitches (67 Strikes)  2 ER  4 Hits  4 Walk  8 K  Gamescore: 60  Gamescore+: 65.4
Final Analysis: Man, I knew Rodon threw gas and I knew his slider was legit, but topping out at 99 MPH and getting swings-and-misses like that?!  Awesome stuff.  Very glad to see him Gamescore+ come out well ahead of his Gamescore – strikeouts aplenty and two of the four hits were really unlucky bloopers that both scored.  Easily could've been a scoreless debut as he also battled a tight zone.
It all starts with the power fastball, which averaged 94.4 MPH this start.  Even that figure seems misleading since he seemed to throw a few cutters at 90-92 like how he opened the 5th.  Fangraphs doesn't list him having a cutter, but maybe those get filtered out as the season presses on.  Rodon was routinely over 95, and I love seeing pitchers ramp up the velo through a start – just look at those readings in the 6th: 99, 97, 97, 98, 97, etc.  Then the bread-and-butter: a wipeout slider that can bend into the zone or sweep across it several feet and bury into the dirt.  It was slashing every which way and never hung – Rodon could still use a smidge more command with it, but that's my only complaint.  Well above average as they are, Rodon is basically a two-pitch pitcher which scares me a bit.  He is developing a change-up with Don Cooper according to the White Sox broadcast, but it's not ready quite yet.  We saw the issues of only two pitches in this start – hitters would sit 3-2 on fastballs and be able to make a better swing decision (lay off the slider for a walk or hack at the heater).  If Rodon even had an average change-up, he'd vault up a good bit higher.
I have a very easy comp – he's a left-handed Chris Archer.  Dominant fastball, dominant slider, but if the command wanes at all it could be a tough night.  That was my concern with Archer when I broke him down two weeks ago, and whaddya know, he struggled with the slider and his command this past week for a couple of bad starts.  I'm not overly concerned with Archer, but I think Rodon is nearly what Archer is right now.  They're still a little bit apart in my ranks since this is a rookie, this is his first start, and Archer does have a change-up he can sparingly sprinkle in, but Rodon is indeed in the must-own class and I'm excited to see how he holds up rest of season.
JB's Updated Top 100 SP
(rankings based on 12-team Roto, green for risers, red for fallers)
| RANK | SP, Team |
| --- | --- |
| 1 | Clayton Kershaw, LAD |
| 2 | Felix Hernandez, SEA |
| 3 | Max Scherzer, WAS |
| 4 | Chris Sale, CWS |
| 5 | Corey Kluber, CLE |
| 6 | David Price, DET |
| 7 | Madison Bumgarner, SF |
| 8 | Matt Harvey, NYM |
| 9 | Johnny Cueto, CIN |
| 10 | Zack Greinke, LAD |
| 11 | Stephen Strasburg, WAS |
| 12 | Jake Arrieta, CHC |
| 13 | Cole Hamels, PHI |
| 14 | Gerrit Cole, PIT |
| 15 | Carlos Carrasco, CLE |
| 16 | Garrett Richards, LAA |
| 17 | Sonny Gray, OAK |
| 18 | Michael Pineda, NYY |
| 19 | Jeff Samardzija, CWS |
| 20 | Jacob deGrom, NYM |
| 21 | James Shields, SD |
| 22 | Michael Wacha, STL |
| 23 | Collin McHugh, HOU |
| 24 | Jon Lester, CHC |
| 25 | Dallas Keuchel, HOU |
| 26 | Tyson Ross, SD |
| 27 | Chris Archer, TB |
| 28 | Jordan Zimmermann, WAS |
| 29 | Scott Kazmir, OAK |
| 30 | Yordano Ventura, KC |
| 31 | Danny Salazar, CLE |
| 32 | Francisco Liriano, PIT |
| 33 | James Paxton, SEA |
| 34 | Andrew Cashner, SD |
| 35 | Julio Teheran, ATL |
| 36 | Alex Wood, ATL |
| 37 | Lance Lynn, STL |
| 38 | Phil Hughes, MIN |
| 39 | Carlos Martinez, STL |
| 40 | Trevor Bauer, CLE |
| 41 | Jimmy Nelson, MIL |
| 42 | Jesse Chavez, OAK |
| 43 | Jake Odorizzi, TB |
| 44 | Carlos Rodon, CWS |
| 45 | Anibal Sanchez, DET |
| 46 | Gio Gonzalez, WAS |
| 47 | Masahiro Tanaka, NYY |
| 48 | Jason Hammel, CHC |
| 49 | J.A. Happ, SEA |
| 50 | A.J. Burnett, PIT |
| 51 | Mike Fiers, MIL |
| 52 | Jose Quintana, CWS |
| 53 | Mat Latos, MIA |
| 54 | Ian Kennedy, SD |
| 55 | Rubby De La Rosa, ARI |
| 56 | Jose Fernandez, MIA |
| 57 | Mike Leake, CIN |
| 58 | Archie Bradley, ARI |
| 59 | Danny Duffy, KC |
| 60 | Chase Anderson, ARI |
| 61 | Matt Shoemaker, LAA |
| 62 | Shelby Miller, ATL |
| 63 | Noah Syndergaard, NYM |
| 64 | Doug Fister, WAS |
| 65 | John Lackey, STL |
| 66 | Kyle Hendricks, CHC |
| 67 | Hisashi Iwakuma, SEA |
| 68 | Shane Greene, DET |
| 69 | Drew Hutchison, TOR |
| 70 | Taijuan Walker, SEA |
| 71 | Anthony DeSclafani, CIN |
| 72 | Hyun-Jin Ryu, LAD |
| 73 | Edinson Volquez, KC |
| 74 | Aaron Harang, PHI |
| 75 | Bartolo Colon, NYM |
| 76 | Drew Pomeranz, OAK |
| 77 | Rick Porcello, BOS |
| 78 | Jered Weaver, LAA |
| 79 | Jesse Hahn, OAK |
| 80 | Aaron Sanchez, TOR |
| 81 | Miguel Gonzalez, BAL |
| 82 | Tim Hudson, SF |
| 83 | R.A. Dickey, TOR |
| 84 | Chris Heston, SF |
| 85 | Jon Niese, NYM |
| 86 | Alex Colome, TB |
| 87 | Nathan Eovaldi, NYY |
| 88 | Wily Peralta, MIL |
| 89 | Jake Peavy, SF |
| 90 | Chris Tillman, BAL |
| 91 | Kevin Gausman, BAL |
| 92 | Clay Buchholz, BOS |
| 93 | Alfredo Simon, DET |
| 94 | Wei-Yin Chen, BAL |
| 95 | Tim Lincecum, SF |
| 96 | Kyle Lohse, MIL |
| 97 | Ubaldo Jimenez, BAL |
| 98 | Travis Wood, CHC |
| 99 | CC Sabathia, NYY |
| 100 | Brandon Morrow, SD |
Dropped Out: Alex Cobb, TB (Tommy John – same comment with Homer Bailey last week, they couldn't figure this out sooner?!), Drew Smyly, TB (likely a torn labrum, ugh), Mike Minor, ATL (I guess we may never get a positive update on that shoulder…)
Are you feeling Rodonkulous?!  I wanted to use that in my title but Grey used it in one of his posts already!  And as always, let me know your thoughts on the ranks.  Happy pitching Razzball Nation!