I'm popping a cherry of sorts here…  I'm double-dipping in my first ever Pitcher Profile on a hurler already profiled.  But things change!  People change!  Hairstyles change!  I'll miss you the most, scarecrow!  (bonus points if you know that movie!)
Two years ago, I broke down Chris Archer's first career complete game that Summer…  Look at how much we've improved!  No weekly rankings, no GIFs, it's like that was written in the stone age!  At the time, Archer was a young-up-and-comer who even surprised the most die hard of Archer fans, but after going complete twice in a three game span in 2013, really hasn't shown uber-dominance in any long stretches.  Well, looking back at 2014 he did go on a huge roll starting at the end of May, but never more than say 6 or 7 starts.
After a meh opener, Archer has been a stud the last four, and at age 26 may be finally settling in to an ace-like season.  So I decided to break down his outing yesterday hosting the Blue Jays to see if I think this is a new Archer that is going to maintain dominant numbers all year:
First Inning: Archer's first pitch is a 92 MPH right down the middle taken by Devon Travis.  93 fastball climbs the ladder and is fouled back, and Archer is right back to his high velo with 95 MPH on the outside edge fouled away, still 0-2.  Archer's first slider is a nassssssty 89 MPH bender that goes just off the plate, 1-2: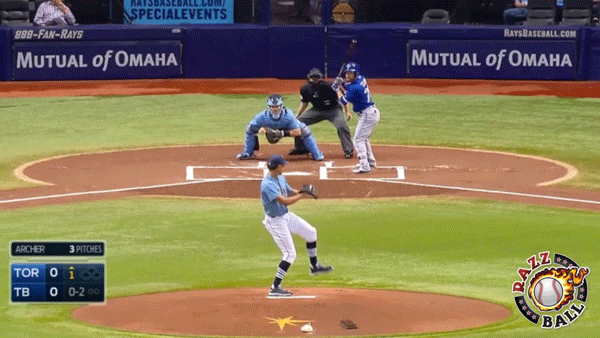 Then Archer goes slider again, but instead of sweeping across the horizontal plane, it dives towards the dirt to get a swing and miss: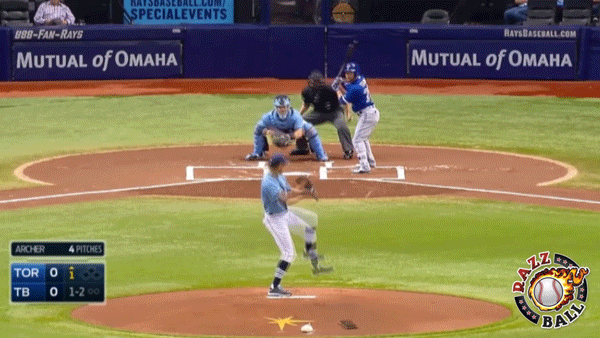 And lordy, if I'm compelled to GIF a two-pitch sequence to the first batter, I think I might need to change my pants during this start…  Anyway, Archer blows Russell Martin away with 95 MPH heat up and in getting a whiff to make it 0-1, fastball again catches the outside edge 0-2, then a 95 MPH fastball goes over everyone and hits the plastic backing behind the plate, 1-2.  Scared an usher out there!  Then the 1-2 is another slider, Martin tops it for a weak dribbler and catcher Rene Rivera makes the throw to first, two down.  Josh Donaldson whiffs on a 95 MPH fastball on the hands, whiffs over a slider at 90 (!!!!!!) MPH that looked a lot like that second GIF, then Archer tries another fastball hoping to paint the outside corner, but it ends up down the middle for a very hard hit Donaldson single to center.  Nice hitting there, and that heater was at 97!  Fastball misses to Edwin Encarnacion, another is fouled back, 95 MPH again is upstairs and cut on and missed, slider rolls into the dirt, slider again bends low, full count.  And Archer throws 95 MPH trying to be too perfect on the low inside corner and it dips low for a walk.  After a dominant start through two strikes to Donaldson, now a single and a walk and Justin Smoak takes a fastball in there for strike one.  Then Archer throws his first change-up at 86 MPH that's in the zone, 0-2.  That change didn't do much, and I was hoping to see a big improvement on those as Archer is mostly a two-pitch guy.  Fastball spikes in the dirt, high slider is tipped foul, then another slider that bent into the backdoor is swung over and missed for Archer's 2nd K to get out of the inning.
Second Inning: Picking up two runs of support, Archer is outside with a fastball to Michael Saunders, barely nips the outside corner 1-1, there's another change-up at 86 MPH that's in the zone 1-2, sweeping 2-to-8 slider goes low, then 95 MPH heat paints that low outside corner for Archer's 3rd K looking.  Mowing em down!  Slider stays high to Dalton Pompey, fastball is fouled back, two-seamer runs back off of the outside corner for a ball, hanging slider stays high and is fouled off, another high slider is pulled down the first base line foul, then 96 MPH on the outside edge is grounded to second, two down.  Up is Kevin Pillar who almost gets hit with a 94 MPH fastball up and in, 95 blows him away on the inside edge, 1-1 is a another fastball well high but it's cut on and fouled back, then a defensive swing on 1-2 on a great slider is topped over to third, and Evan Longoria makes the play charging in to end the inning.
Third Inning: Even though he's looked fantastic, Archer is already at 38 pitches and misses inside to Ryan Goins, fastball is outside, then a hanging slider (I think, might have been hanging change-up) is flied out to center, one down.  That might've been Archer's most hittable pitch, good thing it was to Goins!  Slider is in there to Travis 0-1, fastball low, fastball fouled back, then an 89 MPH slider that looked a lot like that first GIF is swung over and missed, two outs.  Fastball is outside to Martin, 94 MPH heater with some good movement hits the inside corner, then a slider on the outside corner is flied to right center for an easy out, a much needed quick inning for Archer.
Fourth Inning: Fastball is outside to Donaldson, then a great slider gets him to flinch as it bends into the zone, 1-1.  Fastball at 94 MPH was a little too close to down the middle again to Donaldson for my liking but is barely tipped foul, slider bends low and outside, and the 2-2 is an inside slider grounded to short for a routine out.  95 MPH is outside to Encarnacion, perfect fastball paints the outside corner, great slider sweeps from just inside to paint the outside corner 1-2, fastball at 97 goes low, 95 is fouled back, then 89 MPH slider bends into the inside corner and front doors him for Archer's 5th K looking.  Then a first pitch change-up is popped foul to third by Smoak to get a 1-pitch final out.
Fifth Inning: Archer opens the 5th inning with an absolute bang (for me!) with by far his best change-up to get a swing and miss from Saunders, 0-1: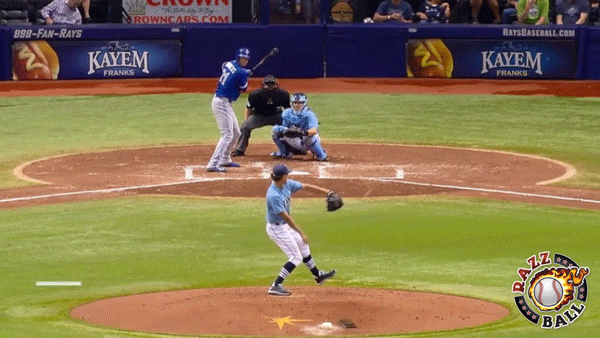 Another change is topped over to second for an easy groundout, one down.  Pompey tries a bunt and it dribbles foul, then a little bit of a hanging slider on the hands is ripped down the first base line for a double.  Only the second hit allowed by Archer and not a good pitch.  But Archer rebounds with a perfect painting fastball for strike one to Pillar, fastball is low, then a great 88 MPH slider bending way outside gets an absolute wave and miss, 1-2: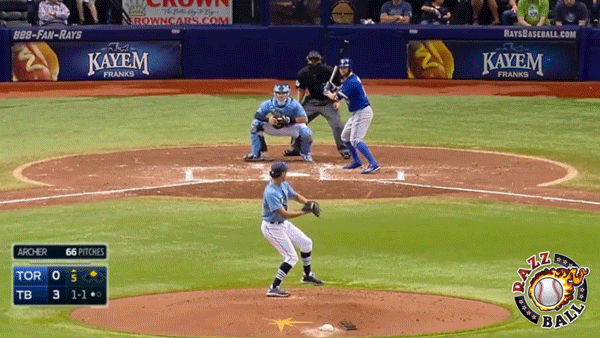 Archer throws the same slider at 90 MPH and Pillar can't hold up for another K.  Great pitch.  Fastball is low to Goins, two-seamer at 95 runs outside, 2-0.  This is either his first or maybe only second time falling behind 2-0, and he's right back in there with a slider 2-1.  Archer then goes slider again, and it's grounded right to him and Archer makes the play for out number three.
Sixth Inning: Archer opens the 6th with a fastball in there to Travis, then another heater with a little sink on it gets a groundout to short for a quick first out.  Great slider gets strike one on Martin, fastball is high, great fastball at the knees at 95 gets strike two, slider is way outside, fastball fouled back, then a slider bending across the zone paints the outside corner for Archer's 7th K.  Martin just couldn't pull the trigger.  A little bit of a hanging slider barely misses high to Donaldson, perfect slider down is swung over, 95 MPH heater is high, then a 2-1 slider is hung a bit in Donaldson's wheelhouse, but he just gets under it for a routine flyout to left.  Donaldson curses at that one, as that easily couldn't been walloped, but Archer is out of the inning.
Seventh Inning: At 84 pitches, Archer doesn't waste any time getting a fastball in there to Encarnacion, then another fastball is ripped to third, but Longoria makes a diving play to get him out.  First really hard-contact out this game.  94 MPH fastball is perfect at the knees to Smoak, then 95 MPH on the outside corner is laced to center for the second out.  Eesh, two very hard hit outs, that was roped.  But Archer still has his velo and isn't scared with a 94 MPH fastball in there to Saunders, slider goes low, slider again low, fastball at 93 is high, then Archer's final pitch is a 3-1 fastball on the hands that's hit pretty hard, but it's a grounder into the shift for the final out.
Final Line:  W  7.0 IP  93 Pitches (64 Strikes)  0 ER  2 Hits  1 Walk  7 K  Gamescore: 79  Gamescore+: 78.2
Final Analysis: Great, great stuff out there from Archer.  I think if he didn't have that high pitch count in the first and have those hard hit outs in the 7th, they might've let him try for a CG.  Those last three outs in the seventh were hard hit enough to swing the Gamescore+ under his Gamescore, but just by a marginal amount.
Archer's heater topped out at 97 MPH and was rarely outside of the 94-95 range.  His fastball velocity on the season is actually averaging a career-best 95.2.  If that maintains through the season, he's going to have one of the fastest arsenals in the game.  But it all comes down to the slider, which was dancing all sorts of ways, bending across both planes.  Regularly at 89-90 MPH as well!  And it's not a cutter, it has way too much movement for that.  It's averaging 87 MPH on the season, but was up to a season-high velo of 87.2 yesterday.  The thing that scares me is he's still virtually relying on those two pitches.  He threw a few change-ups, but only to lefties and sparingly.  He's thrown them 7.8% of the time on the season, unfortunately that pitch has been increasing in velocity the past few years.  I'd like him to be able to get the change-ups in more of the 84-85 range than the 86.2 MPH they're averaging now.
The concern with only having two pitches is keeping me from going all in.  I did move him up to 31, but as the #1 pitcher in fantasy right now I obviously have some minor doubts.  It's mostly that we've seen great stretches from him before, and he's still only a two-pitch guy.  If that slider eludes him in a start, it's going to be a rough rough outing.  That said, his fastball is fantastic as well and should keep him from getting bludgeoned even if he loses his slider for a time.
JB's Updated Top 100 SP
(rankings based on 12-team Roto, green for risers, red for fallers)
| RANK | SP, Team |
| --- | --- |
| 1 | Clayton Kershaw, LAD |
| 2 | Felix Hernandez, SEA |
| 3 | Chris Sale, CWS |
| 4 | Max Scherzer, WAS |
| 5 | Corey Kluber, CLE |
| 6 | David Price, DET |
| 7 | Madison Bumgarner, SF |
| 8 | Matt Harvey, NYM |
| 9 | Johnny Cueto, CIN |
| 10 | Stephen Strasburg, WAS |
| 11 | Jake Arrieta, CHC |
| 12 | Zack Greinke, LAD |
| 13 | Cole Hamels, PHI |
| 14 | Carlos Carrasco, CLE |
| 15 | Gerrit Cole, PIT |
| 16 | Jeff Samardzija, CWS |
| 17 | Masahiro Tanaka, NYY |
| 18 | Jordan Zimmermann, WAS |
| 19 | Garrett Richards, LAA |
| 20 | Jacob deGrom, NYM |
| 21 | James Shields, SD |
| 22 | Collin McHugh, HOU |
| 23 | Dallas Keuchel, HOU |
| 24 | Alex Wood, ATL |
| 25 | Tyson Ross, SD |
| 26 | Michael Wacha, STL |
| 27 | Yordano Ventura, KC |
| 28 | Sonny Gray, OAK |
| 29 | Scott Kazmir, OAK |
| 30 | Michael Pineda, NYY |
| 31 | Chris Archer, TB |
| 32 | Jon Lester, CHC |
| 33 | Alex Cobb, TB |
| 34 | Julio Teheran, ATL |
| 35 | Danny Salazar, CLE |
| 36 | James Paxton, SEA |
| 37 | Carlos Martinez, STL |
| 38 | Drew Smyly, TB |
| 39 | Trevor Bauer, CLE |
| 40 | Phil Hughes, MIN |
| 41 | Lance Lynn, STL |
| 42 | Jimmy Nelson, MIL |
| 43 | Matt Shoemaker, LAA |
| 44 | Anibal Sanchez, DET |
| 45 | Jake Odorizzi, TB |
| 46 | Gio Gonzalez, WAS |
| 47 | Francisco Liriano, PIT |
| 48 | Shane Greene, DET |
| 49 | Drew Hutchison, TOR |
| 50 | Drew Pomeranz, OAK |
| 51 | Andrew Cashner, SD |
| 52 | Jose Quintana, CWS |
| 53 | Mat Latos, MIA |
| 54 | Jered Weaver, LAA |
| 55 | Archie Bradley, ARI |
| 56 | Jason Hammel, CHC |
| 57 | J.A. Happ, SEA |
| 58 | Mike Leake, CIN |
| 59 | Brandon McCarthy, LAD |
| 60 | Chase Anderson, ARI |
| 61 | A.J. Burnett, PIT |
| 62 | Jesse Chavez, OAK |
| 63 | Kyle Hendricks, CHC |
| 64 | Mike Fiers, MIL |
| 65 | Taijuan Walker, SEA |
| 66 | Homer Bailey, CIN |
| 67 | Doug Fister, WAS |
| 68 | Anthony DeSclafani, CIN |
| 69 | Hisashi Iwakuma, SEA |
| 70 | Kyle Lohse, MIL |
| 71 | Ian Kennedy, SD |
| 72 | Hyun-Jin Ryu, LAD |
| 73 | Edinson Volquez, KC |
| 74 | Rubby De La Rosa, ARI |
| 75 | Brandon Morrow, SD |
| 76 | Aaron Harang, PHI |
| 77 | Jesse Hahn, OAK |
| 78 | Jose Fernandez, MIA |
| 79 | CC Sabathia, NYY |
| 80 | Noah Syndergaard, NYM |
| 81 | Shelby Miller, ATL |
| 82 | Danny Duffy, KC |
| 83 | John Lackey, STL |
| 84 | Daniel Norris, TOR |
| 85 | Tim Hudson, SF |
| 86 | Mike Minor, ATL |
| 87 | Aaron Sanchez, TOR |
| 88 | R.A. Dickey, TOR |
| 89 | Chris Heston, SF |
| 90 | Rick Porcello, BOS |
| 91 | Jon Niese, NYM |
| 92 | Nathan Eovaldi, NYY |
| 93 | Bartolo Colon, NYM |
| 94 | Wily Peralta, MIL |
| 95 | Jake Peavy, SF |
| 96 | Carlos Rodon, CWS |
| 97 | Chris Tillman, BAL |
| 98 | Kevin Gausman, BAL |
| 99 | Clay Buchholz, BOS |
| 100 | Alfredo Simon, DET |
Dropped Out: Adam Wainwright, STL (Achilles and out for year, ughhhhhh, even though I had him lower than anywhere else so at least I dodged this bullet), Kyle Gibson, MIN (how is a 3:9 K:BB through 4 starts even possible?!) Matt Garza, MIL (lordy he's garbage), Justin Verlander, DET (everything has been pessimistic)
Man, I love Dallas Keuchel.  Maybe it's the beard, I dunno.  He's got the best athlete's beard in Houston!  Well, maybe second for someone in another sport, but still!  I know an 18:11 K:BB screams regression, but he is so effing consistent so far where even the aces have been hammered.  He didn't move up dramatically, but up another 3 this week.
I had a tough time with Tanaka vs. JZ.  I'm scared of Zimmermann, fastball is down 1.7 MPH from last year, and even though he's only allowed one HR has been clobbered with a BABIP that's not too crazy against (.324).  Tanaka has the risk his elbow snaps, sure, but doesn't every pitcher at this point?  Hah.
I guess if I'm using that rationale for Tanaka, I HAVE to move Michael Wacha up.  He looks great, velo is there; doesn't mean I'm no longer worried about his shoulder, but if it holds up I imagine he finishes even higher than that rank.
Ventura was my boy last year.  I had him ranked about neutral this year, and now I'm with the masses – dude annoys me.  Calm the F down, it's baseball!  There's no roid rage (anymore – I thought it was the ball!) in baseball!
Always nice to have a stat correction add 5 ER to your line…  James Paxton's got one last game to prove it.  He's at Houston, velo was a tad better in this last bad start, I need to see him pop at least a few pitches above 95 when he needs them.  Avg velo is down; he needs the power fastball to be what I thought he could be this year.
It wasn't the best season debut, but Drew Smyly looked pretty good.  I'd be sure he's owned in all of your leagues.
Eesh Shane Greene can't get lefties out…  Teeing off at .296 to only .128 for righties.  Cleveland played 8 lefties, and shizz hizz the fanz, if you know what I mean.  One thing I overlooked was his struggles v. lefties; hopefully that oversight is forgivable as the first 3 teams he faced have pretty much no good lefties…  Needs that change-up to keep developing.
After averaging 92.0 on the heater and hitting 95 a few times in his first start off the DL, Homer Bailey went down to 90.9 and didn't look impressive at all in his encore against my awful Brewers.  I'd be watching him carefully on the wire though…
For a few innings there, Taijuan Walker looked dominant in his last start.  Still putting it together, but has more upside than arguably anyone below 35 or so in my ranks.
While Hisashi Iwakuma's lat strain is supposed to be a 2-4 week timetable, teammate J-Pax also had that lat issue last year and it lasted something like 3-4 months.  Very scared.
Thoughts on this revisit to Archer?  What ranks really grind your gears?  Shoot your thoughts below, and as always, may your ERAs and WHIPs remain tiny like pool shrinkage!