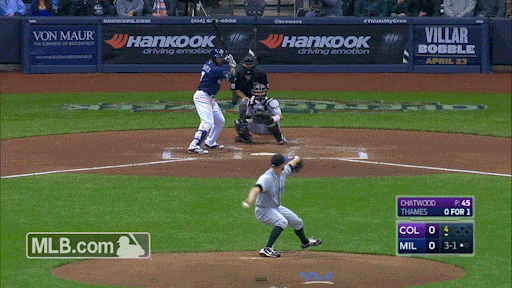 A lot's happening in Korea these days. Not sure if you watch the news, but let's just say they're not happy with us in the North. You know, the whole communist vs. freedom thing. [Jay's Note: Or is it simply two man-child idiots battling over who's more emotionally unstable?] But in the South, where our friends live, we may be getting on their bad side, as well. No, not in a manner that causes global political strain, but with one of their most beloved past-times… our national past-time.
The KBO had a monster in it the last few years. Sure, Japan claims Godzilla, but Korea can say they produced a baseball godzilla. Steamer loved him in the preseason projections, ESPN hated him enough to put his pre-draft ranking at 200+, and other Razzball pundits warned of not overspending for someone that couldn't make it in the MLB just a few years ago.
And now? Well, Milwaukee not only paid him, but they've been seeing a lot of the gif above recently. Platoon? GTFO. You don't platoon this…
Please, blog, may I have some more?