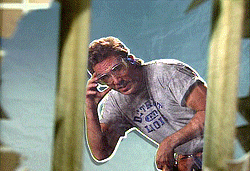 Primer's are the best. Aren't they? Last year I started off by talking about painting the walls of my house. This year it's the same thing, but with my cabinets. So, let's give the Two-Start Pitcher Primer a little facelift. Or…a second coat of paint. We'll pick up with the dilemma of painting yourself or getting someone to do it…
…This left me with one of two choices: pay some stupid amount of money for someone to trash my kitchen, cover everything in little drops of paint splatter and brighten up the house by turning my brown cabinets white, or do it myself. Tim 'The Toolman' Taylor I am not. In fact, I may have married more of a Tim 'The Toolman' than I am myself. Wait, haha, don't take that wrong. My wife's gorgeous. Maybe I should change the analogy. Ok, what's the girl's name who wears the short shorts and works on the show with Tim and Al Borland on 'Home Improvement'? Heidi? Yeah, that's what I hitched myself to. I win! And now that I've spent 100 words talking about my wife in a fantasy baseball post, let's get back to the story. Which option did I choose?
Well, six months later my kitchen has white cabinets and my checking account has a lot less money. What was the determining factor? Primer. Freaking primer.
Now before all you handymen laugh me out of Razzball and send more judgment my way than my Southern Baptist grandmother did when she saw my high school girlfriend, let me 'splain. Painting's not a fun chore to me, but saving money is. As a result, I thought I'd give it a go with the paint job. Embarking upon the journey of turning my cabinets white, I began one Saturday morning while my aforementioned smokin' hot wife and kids ran some errands. Major points coming my way, right? Then my wife returned, and rather than some smooches I got disappointment and frustration. Nothing but unhappy body language, because I forgot the primer. Why can't you start painting brown cabinets white, the same effing color as the PRIMER!?! So, after some laughs and phone calls in came the painter to fix my mess and paint our cabinets with two coats of white…after a coat of primer.
In order to be prepared for the weekly update of which starters can give you two coats of starts you first need a primer. And for the record, I much prefer writing a primer about fantasy baseball with a keyboard than applying one to my cabinets with a brush. Wouldn't you?!?
You've been peppered all kinds of strategy this draft season, but now let's get you ready to actually win your league during the season. Two-start pitchers refers to starting pitchers that are scheduled to take the bump twice in a weekly period from Monday-Sunday. With a normal 5 day rest between starts, this means you're looking for pitchers that start Monday or Tuesday, and then come back around during the weekend. While there is value to utilizing this strategy in every format it is primarily beneficial to those of you playing in weekly leagues or leagues where pickups are only allowed weekly. Grabbing a two-start pitcher gives you more opportunity for counting stats with the second start, but read carefully what was just written: an opportunity. There's no guarantee that a two-start pitcher will bring more value than someone who throws just once, but this primer will explain why, and the weekly updates will give advice on how to navigate those waters during the year. So, let's start painting!
When examining which two-start pitchers to pick up, you need to look further than just name value or season stats. Many variables go into making the pitcher attractive any given week, such as: Home/Road Starts, ERA/FIP, and the 9's.
It's quite simple: Home starts are overwhelmingly better than road starts the majority of the time, FIP is a truer indicator of future success over ERA, and anything south of a 3:1 K/9:BB/9 isn't that wonderful. Got it? Good. Ask questions IN THE COMMENTS if ya don't.  And sign up for the Stream-o-Nator because that ranks every start for every pitcher for every week.
Now, onto the rankings of the Week 1 Two-Start Starters!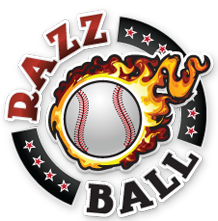 THE BEST
THE REPLICAS
| Player | Opponents |
| --- | --- |
| Stephen Strasburg WAS | MIA, @PHI |
| Danny Duffy KC | @MIN, @HOU |
| Justin Verlander DET | @CHW, BOS |
| Jose Quintana CHW | DET, MIN |
| Dallas Keuchel HOU | SEA, KC |
| Gerrit Cole PIT | @BOS, ATL |
| Kenta Maeda LAD | SD, @COL |
| Rick Porcello BOS | PIT, @DET |
| Sean Manaea OAK | LAA, @TEX |
| Jake Odorizzi TB | NYY, TOR |
| Julio Teheran ATL | @NYM, @PIT |
| Masahiro Tanaka NYY | @TB, @BAL |
| Matt Shoemaker LAA | @OAK, SEA |
THE STANDARDS
THE KNOCKOFFS
THE 

Now, it's Week 1 so we're filled with aces. Moving forward you'll see the opponents highlighted in either red or green, representing either a bad matchup or a good one, respectively. And of course, the greatest emoji in the history of emojis makes its triumphant return to the series. Each pitcher will be ranked into one of five tiers. Disagree? GREAT! That's why we have the COMMENTS section. It's all highly subjective as my opinion…it's just the best one. (Wink).
You'll find more depth beginning next week, but this is just a primer. That's a good base coat. Good luck in Week 1! Welcome to the 2017 Fantasy Baseball season!
DROP THOSE COMMENTS!
Follow [email protected] on Twitter at @matthayes for far more than just fantasy advice.