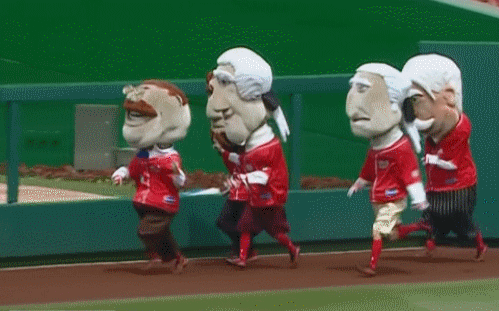 Welcome to the 2017 Razzball Team Previews! You'll find everything you need to know about each team to get yourself ready for the upcoming fantasy baseball season. And I do mean everything, everybody. We've got line-ups, charts, numbers, projections, questionable questions, smarter answer, potent potables and well, that's a lie. No potables here, but plenty of potent fantasy names brimming with potential. Now's the time to be an eternal optimist. For a few more days, at least. So, we've got a team to preview and questions to ask. Let's get after it!
A quick note on the format. Each preview will feature six questions to a team's blog writer. Are there only six great fantasy questions for each team? Of course not, but THAT'S WHAT THE COMMENTS ARE FOR! So, enjoy the thoughts of another writer, the dialogue on each team, and then continue the conversation in the comments!
We have a very special guest for this post, Steve Mears, to provide his take on what the team has in store this season. Now enough rambling, let's see what 2017 holds for the Washington Nationals!
2017 Washington Nationals Depth Chart & Projections
Starting Lineup
Bench
| | | | | | | | | |
| --- | --- | --- | --- | --- | --- | --- | --- | --- |
| Pos | Player | AB | R | HR | RBI | SB | AVG | OPS |
| IF | Stephen Drew | 188 | 22 | 7 | 25 | 1 | 0.237 | 0.711 |
| 1B | Adam Lind | 178 | 23 | 7 | 27 | 1 | 0.275 | 0.789 |
| OF | Michael Taylor | 178 | 19 | 5 | 21 | 7 | 0.237 | 0.672 |
| C | Jose Lobaton | 120 | 13 | 3 | 14 | 1 | 0.240 | 0.676 |
| OF | Chris Heisey | 104 | 13 | 4 | 13 | 1 | 0.229 | 0.692 |
| MI | Wilmer Difo | 82 | 9 | 1 | 9 | 4 | 0.260 | 0.664 |
Starting Rotation
Bullpen
Note: Projections provided by Steamer and do not reflect Dusty Baker's dumb managing style.
And now we specifically want to get to the specifics. So, let's bring in Steve Mears from Talk Nats to give us the low down on the Nationals in 2017.
[email protected]: The wealth of riches that fills the Nats 2017 lineup is pure silliness. With three top 20 overall options (at least, in my rankings) the team's poised to compete with the Cubs for the most runs scored in the NL. And sitting atop the lineup is the newcomer Adam Eaton. He's shown an incredible penchant for scoring runs the past few years in Chicago, with a far worse lineup behind him. Given the new digs and the makeup of this team, give me a healthy expectation of Adam Eaton's final line. I'll set the over/under at .290/110/15/60/15.
Steve Mears: We still don't know where Dusty Baker will have Adam Eaton batting this season and that could affect his numbers slightly. In lead-off I expect him to be a .285 hitter with 120+ runs scored and I believe with Davey Lopes as his "steals" coach he will get to 20 steals at a minimum. He will also pepper Section 139 which is a pull shot home run area towards the Nats bullpen. If Mighty Mouse can really get the pull shots going he should get to 17 to 20 home runs. If Adam Eaton bats 2nd (mostly) then I foresee more productive outs and a lower .275 batting average and closer to 100 runs scored but more RBI opportunities which will add to his sabremetric "Runs Created" statline and could be at a higher WAR as Trea Turner will be the guy scoring 120+ runs at the lead-off where Dusty Baker has indicated Trea will bat.
[email protected]: In a 12 team league I'd be ecstatic to grab Bryce Harper and Trea Turner at the back end of the 1st and the turn into the 2nd. Turner's debut exceeded all expectations, while Harper's failed to reach anyone's last season. I'm imagining they meet somewhere in the middle for 2017. Come season's end which player ends up more valuable to the Nats and, as a result, more valuable to fantasy owners?
Steve Mears: For fantasy, they will most likely do slightly better with Bryce Harper as he is just poised to eclipse his 2015 stats if that is possible. He has looked great in the batter's box with no signs of pulling off pitches. I could see Bryce getting to 50 home runs in 2017. We love Trea Turner at TalkNats and we love speed/power guys and Turner should steal 50+ bags with his eyes closed and bash 25 home runs. If Trea could become a 30/30 guy his WAR value will skyrocket. I don't think Trea Turner is a secret anymore amongst fantasy owners and everyone wants Bryce. A trivia tidbit, Bryce and Trea as roomies this Spring Training have been a lot of fun for the Instagram videos they have posted up and given us a daily glimpse into what they are up to each night from taking out the trash to playing with Bryce's dog Wrigley to feasts of sushi rolls and their deliveries of pallets of Gatorade products. Trea has turned into quite the "foodie" and we wonder if he is doing Tuesday night yoga with Bryce. ?
[email protected]: Everyone will target Max Scherzer and Stephen Strasburg early in drafts, but two of the options behind them posted solid campaigns last season. Will we see another step forward for either Joe Ross or Tanner Roark? I'm assuming the Nats are all in on these guys from trading away their top SP prospects.
Steve Mears: Tanner Roark is the #3 starter and would be a #1 on most teams. He wants to win 20 games this year. Joe Ross needs that change-up going and most importantly needs to stay healthy. The sleeper pick is Erick Fedde who will debut this year and get some starts. He is the Nats top pitching prospect and he manhandled the Mets "A" lineup today and had a no-hitter going for most of his start and finished with a 5 inning 2-hit gem. Fedde is a slightly taller clone of Jordan Zimmermann. Gio Gonzalez will factor in also and should be a cheap pick-up and do better than last year.
[email protected]: Everyone loves getting an edge. As an expert on this team, give us some insider trading. Who is someone flying under the radar that will surprise us in 2017, making them an underrated option from the Nats?
Steve Mears: The Nats have nobody flying under the radar this year unless you look at bounceback candidates which would be Ryan Zimmerman and Matt Wieters. Zimmerman is working new mechanics this spring with lower hands and setting himself up in the middle of the batter's box which will help with his outside plate coverage. FanGraphs has downgraded him to a +0.1 WAR which is the lowest among starting 1st baseman making him a player who should only go up in value.
[email protected]: Now on the flip side, who is someone on this roster that everyone may be targeting but is an overrated option just waiting to disappoint us?
Steve Mears: Daniel Murphy can't be as great as he was last year, right? I think with his debacle in the World Baseball Classic he could have a slower start to the season as he hasn't seen much live pitching for over 2 weeks. I expect him to have a good year but could he really have a year like last year?
[email protected]: Let's time travel. At the end of 2017 what will this team's final record be, and how will we remember their year?
Steve Mears: I love FanGraphs projections and I used that last year for player's wins but they don't add the value of a manager so we created a chart of Dusty's first year with new teams and how he improves them and last year we projected to within 1 win of the 95 that the Nats actually won (I had 96). This year if we do the same, FanGraphs has the Nats at 91 wins plus the "Dusty Factor" that I call it is worth 3 wins per our formula which puts the Nats at 94 wins. The reason that seems to make sense even though the Nats are better than last year is that the NL East is improved and the Nats won't dominate the Braves or Phillies quite as much as they did last year. If all goes right of course with each player the Nats win 120 games, right? Yah, right. 94 wins and my buddy sitting next to me says 97. Bryce Harper wins the MVP and Trea Turner is 2nd in the voting. I'm going to remember 2017 for the greatest year in Nats history and Joe Blanton and Walter Johnson have something in common. See what Walter Johnson did at age 36. Joe Blanton is 36 years old.
NOW DROP THOSE COMMENTS! Thanks, Steve, for the conversation about the Nationals in 2017! Make sure to catch more of Steve's writings at Talk Nats, and keep checking back. More 2017 Team Previews to come!