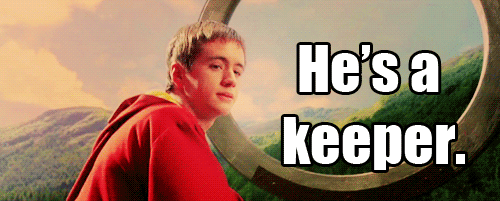 The article that gets passed around more than a Kardashian with professional athletes. Let's change that. I believe this thing's a…wait for it…keeper. Oh, gosh. Got ya there, didn't I? Well, all hilarity aside, it's about time we focused not just on the right now with all the Top 100's, but we delivered one with an eye to the future. Let's get a little wisdom in our baseball leagues that we can apply to the seasons to come. It's time for the Top 100 Keepers!
Now, before we dive into the rankings, we need to discuss the subjective dynamic of keeper leagues. In my opinion, these leagues sit squarely in the middle of redraft annual leagues (you can find all of Grey's rankings for 2017 HERE) and the deeper dynasty options like JB's REL League or mine and Ralph's Razz30. The former doesn't need to look at age much, and the latter focuses primarily the mingling of prospects with big leaguers (Here's where you can find Ralph's Top 100 Prospects…such a great read). Yet, here we are with Keeper Leagues.
Keeper Leagues are the Goldilocks of fantasy baseball. Not too long, not too short. It fits just right. So, as you read these rankings, I'm primarily concerned with a 3-5 year window. If you're making moves in a keeper league for beyond that window you're just shooting yourself in the foot. That's not The Process, that's just dumb. No Kevin Maitan or Jason Groome's here, but age definitely matters. You'll see some 'spects, but also a lot of savvy veterans well into their 30's. Think of it like a bell curve. If a player's trajectory is aiming up, it's a bonus; if it's beginning to fall, well…so is their rank.
And now for the final piece of subjectivity: Hitters vs. Pitchers. J-FOH touched on this last year, but here's my thoughts on it when it comes to future value, and how you'll see that reflected in the rankings. I heavily value hitters over pitchers when it comes to keeper rankings. In my opinion (see, there's that subjectivity), there is far more value and reliability with a hitter than a pitcher, especially when it comes to health concerns. Tommy John is far too prevalent and shoulder injuries can destroy you (see: Hyun-jin Ryu). Beyond injury is simply the volatility of their progression. Case in point: my Atlanta Braves. I absolutely love what the team has done in shifting their trajectory, but some of the shine from the prospects headed this way have certainly lost a little luster. Sean Newcomb, Aaron Blair, Matt Wisler and Mike Foltynewicz were all supposed to anchor the braves rotation, every one of them has underperformed the hype. Haha, and then there's the whole Shelby Miller problem. Sheesh. Or, look at everyone not nicknamed after a Norse god in the Mets rotation. It's simply terrifying. Last year Raisel Iglesias, Carlos Rodon, Garrett Richards, Taijuan Walker, Adam Wainwright, Patrick Corbin and Tyson Ross were all in the Top 100. A little heads up…they're nowhere close to my rankings. Hitters over pitchers. Every day.
We'll break these up in groups of 10, and then give some deeper analysis way down at the nether of this already too long article. Enough talking…more ranking!
For context: here are the 2016 Top 100 Keepers from J-FOH. But let's be honest…these are better.
Zero surprises that Trout takes the #1 spot, and all the other names are really a matter of preference. Tons of youth with a lot of proven production. Some may argue that Harper should drop down due to the volatile nature of his playing style mixed with his disappointing 2016, but let's not be so recency biased. He's a unicorn, and 2016 was his floor. He did all of that while injured. His teammate Turner next to him…that's a little risky. But I'm a full believer.
In case you were counting, that's 5 SS in the top 20. There's a changing of the guard in fantasy baseball with middle infielders being potentially the deepest positions in the game. Remember when Troy TUlowitzki was so incredible because he was the only SS worth anything? Not anymore. This is optimistic for Trevor Story, but you can see the other trend happening: four Rockies in the top 20. That matters. I'd grab as many Coors Field hitters as possible this year, and for the next 3-5 nothing changes with their park factor. Unless Yellowstone blows up, but then we're all screwed.
Quick note on Odor, Grey's gregariously giddy about him this year. I have a hard time with it. He's #20 because at 22 years old he hit 33 HR and got 14 SB, but his .296 OBP must improve. I think it can, but it's rare that someone with a 1:7 BB/K rate produces that all the time. Regression may be in store for 2017.
Here comes the next small wave of SP, but it's still hitter dominated. Guys like Springer and Bregman need to bloom into their potential, while names like Villar, Bogaerts and Dozier need to prove they can repeat their monster 2016 seasons. As for mainstays Miggy, Votto and Donaldson, I don't see anything changing with them over the next few years. They're reliable. Reliably incredible. Is that everyone? Look…and in only three sentences.
What do you do with Giancarlo Stanton? Seriously…he has the talent to be in the Top 5, but that health. I truly hope he blasts 50 bombs at least once in the next few years, but you can't depend upon even 110 games, let alone a full slate. Myers and Polanco need another stellar season to prove they belong here. And then there's David Dahl. He's the first big reach in these ranks, but, again, there's that whole Coors Field thing. He's only 22 and is already a 20/20 candidate with a .280 average. In that vaunted lineup he could really wreak havoc for years to come.
Some may argue that Schwarber should be higher on this list, but I actually want to see him do it for a full season. The bop in his bat is completely legit, but his hit tool needs to come full circle and I'd like to see him cut down on the K's. Next year he could crack the Top 20 of this list, but I'll hesitantly put him right inside the Top 50 for 2017. And, oh, Benintendi. How I love thee. Go Heels!
Strasburg and Darvish both have to erase the doubts about their health, but they're elite options still young enough to prove they can handle the rigors of a full season.
Sanchez, just like Schwarber, could soar up these ranks next year with a dominant encore to his flash last season. I believe Rendon can rebound to his 2014 numbers when he was a borderline first-round pick. More SP pepper the rankings, and if you're looking for power you know what to expect out of the Davis'. I doubt that slows down in the next few years, either, even though Khris needs to learn to take a walk more often.
Cruz and Encarnación are approaching 40, but David Ortiz just proved that it's within the realm of possibilities for an almost-flamingo to still be a viable fantasy asset. Jones and McCutchen need to reverse their trend, while Frazier and Duvall could benefit from a more balanced slash line.
A few more prospects appear in the ranks here. Buxton has the talent to be much higher, and his massive September (9 HR) showed it may be closer than some think. Baez, Pederson and Bradley Jr. all have room to grow, but are already impressive options. And then there's Austin Meadows. I don't know what's going to happen with the Pittsburgh outfield, but I want all of these shares, because he'll hit his way into the majors. And yes, that's Justin Upton. I suffered through his schizophrenic fantasy tendencies as an Atlanta for a few seasons, but I believe he can hone in the consistency. He's still just 29. Somehow.
Urias is the most exciting young arm that's yet to truly make an impact in the entire game. And right behind him we have the second true prospect of the list, Nick Senzel. There are so many reasons why he should make an appearance soon. He was a top pick in the amateur draft, he crushed in his debut last summer, and the Reds have nothing blocking him from taking over. It's bullish to say that he's a Kris Bryant mold (in terms of what he can produce), but all the signs are there for him to be a major contributor as early as this summer. The other young bucks include Moncada and Mazara (or is it Mazooza, Grey?), who should both carve a path to the upper tiers of their positions soon. Sneaky add to the group, and to redraft leagues for this year, is Keon Broxton. His pace last year was bananas, and with just a little more plate discipline (high K%) he could boost into another stratosphere. We're talking Starling Marte upside with more power and slightly less average.
As a Braves fan I'm excited for what the Dansby Swanson era will usher in for the franchise, but as a fantasy addict I question his ceiling. Is he truly the next Derek Jeter? If so, that means he won't reach the highest tier of fantasy stardom. Which is fine, but this is case in point to the differences of MLB's top prospects lists and top fantasy prospects. Defense and leadership don't count in this game, Lieutenant Dan. But Ice Cream Does! Well, that's what Bartolo Colon thinks. Some others in the crop need more playing time, but their ceiling is high enough to warrant their high value.
That's a total of 18 pitchers and 82 hitters. Feels about right. And yep, zero closers. Their position is too volatile, let alone the wear, tear and strain of their flame-throwing arms.
Last note…while these rankings are presented in an order, don't treat them as canon in a vacuum. In keeper leagues it's important to take salary (if your league uses it), scoring, other team's keepers and your current team construction into account. So, yes…I'd much rather have Andrew McCutchen than Nomar Mazara, but if you're playing for two/three years from now rather than '17/'18, it may be a shrewd move. Again, subjectivity is a massive dynamic to the keeper game.
My subjectivity is just the best kind…
NOW DROP THOSE COMMENTS!
Where am I wrong? Where am I right? Let's continue the conversation in the comments.
And good luck to you in 2017 and beyond!