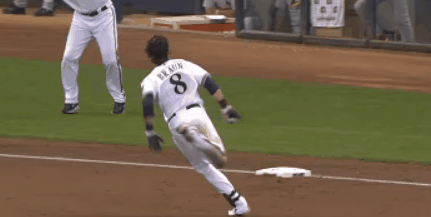 Welcome to the 2017 Razzball Team Previews! You'll find everything you need to know about each team to get yourself ready for the upcoming fantasy baseball season. And I do mean everything, everybody. We've got line-ups, charts, numbers, projections, questionable questions, smarter answer, potent potables and well, that's a lie. No potables here, but plenty of potent fantasy names brimming with potential. Now's the time to be an eternal optimist. For a few more days, at least. So, we've got a team to preview and questions to ask. Let's get after it!
A quick note on the format. Each preview will feature six questions to a team's blog writer. Are there only six great fantasy questions for each team? Of course not, but THAT'S WHAT THE COMMENTS ARE FOR! So, enjoy the thoughts of another writer, the dialogue on each team, and then continue the conversation in the comments!
We have a very special guest for this post…wait for it…our very own JB GILPIN! He'll be our expert to provide his take on what the team has in store this season. Now enough rambling, let's see what 2017 holds for the Milwaukee Brewers!
2017 Milwaukee Brewers Depth Chart & Projections
Starting Lineup
Bench
Starting Rotation
Bullpen
Note: Projections provided by Steamer.
And now we specifically want to get to the specifics. So, let's bring in JB from RAZZBALL to give us the low down on the Brewers in 2017.
[email protected]: Oh, JB. Bless your heart you're a Brewers fan. Well, anyone who listen to our Podcast with you and Grey knows that you a) really know your stuff, b) are a master at reining in Grey and c) understand the hopeless present for the Brewers. Haha!  So listen, 2016 saw a bit of a rebound for Ryan Braun. Ok, more than just a little rebound. The Hammerin' Hebrew had his best season since all the turmoil started in 2012 with a .305/80/30/91/16 line. That's 1st-round worthy production, and incldued his ISO jumping and K% dropping. Yet, the general consensus seems to be that he can't repeat it. Does he take a step back or prove the doubters wrong? And if he does blow up again, will he end the season in Milwaukee?
JB: Woooooooo I get to be the resident Brewers expert!  Dream job – fulfilled.  Braun was awesome last year, no doubt there.  I think the constant maintenance (only 135 games played, yet without a DL stint I'm pretty sure) helped him stay fresh, and will be something the Brewers do again this year.  So therein lies a frustration point with Braun's value – you're going to have to be ready to change things up if he's out of the line-up, which we did a lot on day/night back to backs, especially on Sundays.  The Ks and ISO look more like his 2008-2012 stretch, so I think it all comes down to health.  And with his first healthy offseason in forever [insert steroid quip here] coming into 2017, I think he should be able to repeat roughly the same production.  I think it's about 60-70% likely he IS traded midseason though.  We signed a first basemen despite ridiculous depth at OF through our Minors, with fans hoping Braunie might convert to 1B while playing out his contract.  Seems like he gave reluctance to do so, and with that OF depth and a youth movement, he's certainly expendable.  Without the steroid mess, we may have held for legacy sake, but I'm fine dumping the baggage…

Also, Miller Park is a wet dream for hitters, and a big detraction on his 2016 numbers was a by-far, career-high 28.8% HR/FB.  I think he's a .300 hitter again, but maybe closer to low 20s HRs, especially if he switches teams/parks.  Unless of course, the

Rockies

get him or something, but that ain't happening.  All things considered, I'd project him for something like .301/85/21/95/90/10.  A little down – not horrific regression though.
[email protected]: One of the more polarizing players this draft season is one of the best pickups the Brewers have made in a while (I believe those were your words on the Podcast a few weeks ago). Steamer is crazy for some Eric Thames this year with a .272/70/29/82/12 line. Goodness. Did Korea really turn him into the second coming of Sammy Sosa, or are we going to be letdown like he's the hitter version of Daisuke Matsuzaka?
JB: Love the Eric Thames signing.  People can thumb their nose at stats from the KBO all they want, but a 3 year/$16 million deal avoids so much risk.  If he doesn't pan out, he's not going to weigh down the books or impact the rebuilding effort.  If he DOES pan out, he's a cheap piece for when we're [hopefully] contending, plus he has a $7.5 option for 2020.

Hah, well that line would be a 

down

 season for Sosa, but I think Thames can be solid.  Our park is phenomenal for lefties – who we haven't had nearly enough of since Prince – just look at who Adam Lind was before, during, after his

Brewers

stint.  29 homers might be a little aggressive for Thame the Beard ™, but the Crew are aggressive in their own right on the base paths and he's already picked up a steal in Spring.  Move the homers down to 25, and that projected line looks spot on.
[email protected]: Let's see…Jonathan Villar regression? Josh Hader's upside for 2017? How in the world did Hernan Perez do that in 2016? The one and only JETT BANDY? Nah, I'm gonna be selfish here. In the Razz30 (you know, the better version of your REL with me and Ralph) I traded for Keon Broxton this offseason. And I couldn't be giddier about it. Many projections don't believe he'll carry out his 2016 pace across an entire season, and it's reflected in his 200+ ADP, but why couldn't he? He has great plate discipline, solid power, speed for days and will atop what should be an aggressive lineup. Over or under .250/85/20/65/40 this season? Am I just crazy high on him?
JB: So many questions for what should be "there is no C!"  Let's bullet, shall we?!

Villar – Sure, "some" regression.  But what's the worst case scenario?  Maybe .260/80/10/50/35?  That's a big hit, but still worth a mid-round pick at MI.  I actually drafted him 2nd round in NFBC, and felt great about it.  His multi-position elig. (will be gaining 2B) plus the speed seemed like a slam dunk.  It's not like he's changing parks or teams, so while a repeat of 2016 is unlikely, his draft day price isn't close to what his repeat stats would be.  He might be a 1/2 turn guy in 2018 if he duplicates.
Hader – Ugh, I loathe our AAA team is in Col. Springs.  I hope it doesn't ruin him.  Maybe skip him in the rotation at home, hah!  Upside for me (and I did rank him in my Top 100) would be he's called up in mid-May, and is about a 3.50 ERA guy, 1.28 or so WHIP, and a K per inning.  He's not going to be Michael Fulmer, but I don't think he'll be Berrios either.
Perez – Hah, no idea.  He's always had a real nice, smooth swing, but I thought more a singles swing.  He added more lift like a ton of hitters did last year (and maybe the balls are juiced too, who knows?!) which gave him a little power.  The steals?!  Whew, did not see him being even a double-digit guy!  34 last year, but he never looked overly aggressive or like he was given a green light he couldn't handle (unlike, cough, Villar sometimes…).  Maybe 4-5 starts a week for Hernan, and with his multi-position elig., that makes him a phenomenal deeper league target.
Bandy – Hah Brewers catching is gonna be a mess.  I like Susac the most, but he has a sore trap late in Spring which is never a good sign.  Manny Pina I see as a solid player as well, so it might be a ton of mixing and matching.
Broxton – I kinda don't wanna answer, because the original REL is BALLER and everyone is loving the league.  I hope we have some more readers follow, and if they think they can coordinate their own REL, let me know and I can send you our Constitution and you can tweak accordingly.  30 team leagues reflecting the parent organizations is really fun.  Anyway, the one thing you mention with Broxton I disagree with is the plate discipline.  Before dramatically changing his swing, he was striking out 50% of the time early on through 2016.  He went to AAA, moved his hands down to his belt, then started murdering it.  Per Fangraphs' nifty little blurb – "His 14.7% swinging strike rate would have been one of the league's 10 worst if he had the plate appearances to qualify.".  A lot of that was front-loaded, but still…  The Brewers seemed to oddly preach to all their guys to take as many pitches as they can, as we were high in both BB and K rates last year.  So while his walk rate was great, the Ks were still too high.  I think I'd take the under on all those numbers you give as his line, but he certainly has the upside to hit those thresholds.  I actually think the steals is the closest – I might project 35-36 conservatively, dude is gonna run.  FWIW – Broxton is .364/.451/.659 this Spring with 3 homers and 2 steals, so he's off to a good start and not showing too many ill effects from the broken wrist that ended his 2016 campaign a little early, although he did take off a few games due to soreness in the wrist.  Also, he is only 2-6 stealing bases, so there's that.  He'll be fine, though.
[email protected]: Everyone loves getting an edge. As an expert on this team, give us some insider trading. Who is someone flying under the radar that will surprise us in 2017, making them an underrated option from Milwaukee?
JB: Hmmmm, well I have two – I think Orlando Arcia is going to take a nice step forward, but SS is so deep, you don't really need to take a flier.  While our rotation blows and the Opening Day nod means nothing, I don't understand why Junior Guerra gets shat on everywhere – Grey included.  Sure the park is bad, and everyone loves to whine about his age, but he's a convert to pitching and throws hard – 93.1 average fastball velocity last year, that would frequently touch 95-96 when he needed to.  And his splitter is a league-dominant pitch, right there with Matt Shoemaker's for effectiveness. Sure his K rate wasn't huge (7.40) and his BB rate wasn't great (3.18), but just at the eye level, he looks like an above average pitcher.  the guy as a rookie posted a 2.81 ERA and 1.13 WHIP, throws hard, and has an elite breaking pitch, yet no one seems to even want to draft him.  I think upside-wise he could turn into a stable SP3.

(Post-edit note from JB: Of course after writing this about Guerra, he gets murdered by the A's 2 hours late in Spring Training, but at least it's Spring!  Get the kinks out now!)
[email protected]: Now on the flip side, who is someone on this roster that everyone may be targeting but is an overrated option just waiting to disappoint us?
JB: I actually like the values I'm seeing across the board for our guys.  Upside everywhere, with the risk built in.  I guess I think Domingo Santana is getting some sleeper appeal that I'm not quite seeing as much.  Couldn't stay healthy last year, another guy with a 30%+ K rate and double-digit walk rate, and his swing just looks a little too long to me.  When he gets it, he crushes it, but I could see Lewis Brinson taking his spot before Broxton.  Well, in a perfect world, Sunday (Domingo's nickname, because, ya know, Spanish) works out and we trade Braun for an ace, and can fit in Brinson that way, but who knows.
[email protected]: Let's time travel. At the end of 2017 what will this team's final record be, and how will we remember their year?
JB: Hard to believe we were better last year than in 2015 when we were "contending".  I'll say another step forward, and a 76-86 record.  It'll be the year of "The Brewers shockingly stayed in contention for a while, before trailing off".  Probably wishful thinking :)  Go Crew!
Goodness. Best one yet. #amiright? NOW DROP THOSE COMMENTS! Thanks, JB, for the conversation about the Brewers in 2017! Make sure to catch ALL of JB's writings right here at Razzball. We'll be bringing the Top 100 Hitters and Pitchers posts this year…and keep checking back for a few more 2017 Team Previews!