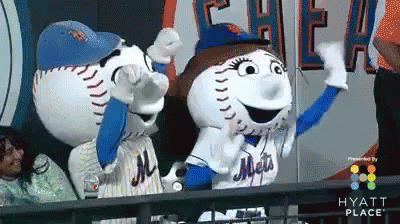 Welcome to the 2017 Razzball Team Previews! You'll find everything you need to know about each team to get yourself ready for the upcoming fantasy baseball season. And I do mean everything, everybody. We've got line-ups, charts, numbers, projections, questionable questions, smarter answer, potent potables and well, that's a lie. No potables here, but plenty of potent fantasy names brimming with potential. Now's the time to be an eternal optimist. For a few more days, at least. So, we've got a team to preview and questions to ask. Let's get after it!
A quick note on the format. Each preview will feature six questions to a team's blog writer. Are there only six great fantasy questions for each team? Of course not, but THAT'S WHAT THE COMMENTS ARE FOR! So, enjoy the thoughts of another writer, the dialogue on each team, and then continue the conversation in the comments!
We have a very special guest for this post, Steven Schreiber, to provide his take on what the team has in store this season. Now enough rambling, let's see what 2017 holds for the New York Mets!
2017 New York Mets Depth Chart & Projections
Starting Lineup
Bench
Starting Rotation
Bullpen
Note: Projections provided by Steamer.
And now we specifically want to get to the specifics. So, let's bring in Steven Schreiber from Amazin' Avenue to give us the low down on the Mets in 2017.
[email protected]: I've started every other Team Preview by focusing on hitting, but that pitching staff for the Mets. Goodness. So much freaking talent…and so many injury concerns. I had a conversation with another one of our writers trying to gauge their value this year in light of the health scares. We diagreed a lot on how it will really affect them. So, settle our mess. Rank the Mets starting rotation for me both in terms of best to worst, and then from scariest to safest.
Steven Schreiber: It's really a conundrum trying to weigh the talent versus the risk with this rotation and let's face it: the rotation pitching at or near peak level is what is going to allow them to compete with a strong Nationals club. The good news is that last season was a borderline nightmare with the pitching injuries and they still managed to win 87 games and get a Wild Card appearance out of it. The bad news is that we all wanted (and were expecting) more than that coming into the season.

Talentwise,

Noah Syndergaard

has jumped out to the front of the pack and it's clear why given the combo of his unreal power arsenal and control but a healthy

Jacob deGrom

is right there with him statistically. DeGrom just wasn't himself last year from the start of the spring but after offseason elbow surgery, he's looked just like the 2015 version of himself. Healthy

Matt Harvey

is also right up there with those two but it's been much longer since we've seen that. Last year was essentially tanked by Thoracic Outlet Sydrome and that's a tricky recovery. His fastball hasn't fully returned yet, though the

Mets

are hopeful it will as he builds up arm strength and he did touch 96 in his last outing, though he's mostly sat in the 92-94 range.

Steven Matz

is a wild card and I think we're only scratching the surface with him. When he's pitched, he's been excellent and he's got top of the rotation stuff but he's had a real tough time staying on the mound –– whether it was the nearly three years lost in the minors to Tommy John surgery, a lat tear that cost him a few months in 2015, or a bone spur that affected him most of 2016 before he was shut down after 22 starts.

The fifth starter slot is still technically up in the air, though all signs seem to point towards

Robert Gsellman

getting the job. Don't sleep on Gsellman, some have compared him to

Jacob deGrom

-lite and that's not just the hair (it's only partly). Gsellman owns a great sinker, like deGrom, that's only improved due to a velocity bump, also like deGrom, taking it into the mid-90's regularly. Gsellman has also added a devastating Warthen slider, pitching coach Dan Warthen's signature pitch. The Mets wouldn't have made it to the Wild Card game with him or

Seth Lugo

, who will likely be in the bullpen and serve as starting rotation depth.

Zack Wheeler

is also back after a two year Tommy John layoff. He's lit up the radar game in his last two spring appearances, sitting 94-95 and touching 97, but his control hasn't rounded into shape yet, which means he may start in extended spring training.

From scariest to safest, I'd probably go with Harvey, Wheeler, Matz, Lugo, Gsellman, Syndergaard (just based on the velocity), deGrom. But we all know that a single pitch can change everything for a pitcher.
[email protected]: The starting outfield seems locked in to be Jay Bruce, Yoenis Cespedes and Curtis Granderson. All will produce in a great way, but lurking behind them is arguably an even better hitter in Michael Conforto. He's a bit of an enigma in that he produced well in almost 200 at bats in 2015, then underachieved massively last season before being demoted. He didn't belong in AAA, though, after hitting a .422/.483/.727 slash line in 33 games there. Can the Mets just figue out a way to get him at bats? Maybe Jay Bruce to 1B? He's hard to target heading into the year due to his at bats. Could he get north of 500 ABs this year and give us an All-Star season?
Steven Schreiber: I think there are a lot of Mets fans who would wager that 500 at bats of Michael Conforto would be better of 500 at bats of Jay Bruce this season. Michael Conforto had a rough season in 2016 but he is a really good young hitter and a huge piece of this team's future. The Mets tried hard to trade Jay Bruce to give Conforto a starting job and couldn't do it, which is why he's still here and why it's looking more and more like Conforto will start in Las Vegas. You're right, Conforto is clearly way too good for Las Vegas and is likely going to demolish the level again but as long as Bruce is still here and Lucas Duda is healthy, they're both going to be in the lineup. What happens with Conforto from there will be based on injuries, as well as the performance of Bruce who, let's not forget, was pretty brutal in 2014 and 2015 (.222/.288/.406) before a bounceback last season in Cincinnati.
[email protected]: The Mets are poised to compete for the NL East crown again in 2017 with their strong rotation and veteran-laden lineup, but if they need some young options to complement the big league club there are two names that could seemingly bring some immediate value. Headlined by Dominic Smith and Amed Rosario is there any prospect that should make a splash in New York this year?
Steven Schreiber: If you're willing to entertain a technicality, Robert Gsellman still has rookie status this season as he only threw 44.2 innings in the majors. It would not surprise anyone to see Rosario in the majors at some point –– the Mets are pretty well covered in case of injury at shortstop with Asdrubal Cabrera and Jose Reyes on the roster but the front office absolutely LOVES Rosario's maturity and have been very willing to challenge him. He and Smith are both likely to open the season in Las Vegas and could each see big league time if there are injuries. T.J. Rivera seems likely to open the year on the big league roster in a bench role and has hit everywhere he's been (though he's a 28-year old rookie, so obviously keep expectations somewhat in check). Ditto with Josh Smoker in the big league bullpen. I also wouldn't sleep on Brandon Nimmo and Gavin Cecchini, who both saw big league cups of coffee last season and are likely to serve once again as depth in Las Vegas.
[email protected]: Everyone loves getting an edge. As an expert on this team, give us some insider trading. Who is someone flying under the radar that will surprise us in 2017, making them an underrated option from the Mets?
Steven Schreiber: I think Asdrubal Cabrera is in for a big season. Thanks to some swing tweaks he made with Kevin Long last summer, Asdrubal went on a rampage in August and September. It's a convenient split but Cabrera went on the disabled list with a knee issue in mid-July and at that point was hitting .255/.308/.410 for the season. From the day he returned on August 19through the end of the regular season, Cabrera hit .345/.406/.635 and most importantly, had 22 extra base hits in just 148 at bats (in his initial 373 at bats, he had a total of 32 extra base hits). That's a big difference and he's continued it this spring, hitting .400/.442/.725 with 7 extra base hits in 40 at bats.

I also would keep an eye on Neil Walker, who went on a tear in August that was similar to Cabrera's but it was ultimately cut short by a back issue that ended his season. Prior to that, Walker had already tied his career-high in home runs of 23 in just 113 games and was doing that all while playing at roughly 60%, according to his own words. Surgery has apparently fixed the back pain he'd been having since 2011 and he's hitting .293/.356/.585 this spring.
[email protected]: Now on the flip side, who is someone on this roster that everyone may be targeting but is an overrated option just waiting to disappoint us?
Steven Schreiber: Matt Harvey is somebody I would stay away from, assuming you can't get him at a steep discount. His fastball may come back in May but recovery from Thoracic Outlet Syndrome is not easy and certainly not as tried and true as the recovery from Tommy John surgery, for instance. I'm hoping he returns to form because 2013, even 2015 Matt Harvey, is a really fun pitcher to watch. We're just not sure.

Jeurys Familia

is also somebody who's probably going to be overvalued based on what you're getting, mainly the fact that he's still likely to lose a chunk of his season to a suspension (though there are whispers that it'll be less than the 30 days originally rumored). The Mets as a team are a good bet to create save opportunities and Familia, postseason struggles aside, is still a top tier closer on talent alone but you're likely not getting a full season out of him unless something changes.
[email protected]: Let's time travel. At the end of 2017 what will this team's final record be, and how will we remember their year?
Steven Schreiber: Part of me really wants to be a homer here but I'm also pretty realistic. The Nationals are a great team and the division crown is going to be a dogfight with them and the Mets that's likely going to come down to the head-to-head matchups. The Mets won those in 2015, the Nationals dominated those in 2016. Additionally, the Braves and Phillies have also each improved a little and the Marlins, while likely not a contender, aren't a pushover either. All of that's probably going to tighten up the division a bit. I'll go for the slight homer spin here and say the Mets will stay healthy and win the division with a 93-69 record, while the Nationals finish at 91-71. But I fully realize that result could easily flip-flop.
NOW DROP THOSE COMMENTS! Thanks, Steven, for the conversation about the Mets in 2017! Make sure to catch more of Steven's writings at Amazin' Avenue, and keep checking back. More 2017 Team Previews to come!