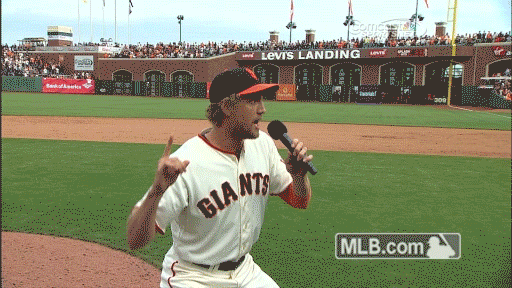 Welcome to the 2017 Razzball Team Previews! You'll find everything you need to know about each team to get yourself ready for the upcoming fantasy baseball season. And I do mean everything, everybody. We've got line-ups, charts, numbers, projections, questionable questions, smarter answer, potent potables and well, that's a lie. No potables here, but plenty of potent fantasy names brimming with potential. Now's the time to be an eternal optimist. For a few more days, at least. So, we've got a team to preview and questions to ask. Let's get after it!
A quick note on the format. Each preview will feature six questions to a team's blog writer. Are there only six great fantasy questions for each team? Of course not, but THAT'S WHAT THE COMMENTS ARE FOR! So, enjoy the thoughts of another writer, the dialogue on each team, and then continue the conversation in the comments!
We have a very special guest for this post, Trevor Cole, to provide his take on what the team has in store this season. Now enough rambling, let's see what 2017 holds for the San Francisco Giants!
2017 San Francisco Giants Depth Chart & Projections
Starting Lineup
Bench
Starting Rotation
Bullpen
Note: Projections provided by Steamer.
And now we specifically want to get to the specifics. So, let's bring in Trevor Cole from The Giants Baseball Blog to give us the low down on the Giants in 2017.
[email protected]: The Giants lineup is filled with reliability. Well, in years past it's been that way. Buster Posey, Brandon Belt, Brandon Crawford, Denard Span…they're mainstays. One name missing? Hunter Pence. In standard 5×5 leagues I've always been a Pence fan as he brings a high floor and a medum ceiling, perfect for drafting right outside the top 50. However, 2016 wasn't as kind to Pence and that reliability as he tried to recover from injury. What should we expect from Pence in 2017, a rebound to his old form or another step down into his twilight?
Trevor Cole:  If there's ever a guy to bet on continuing to produce well into his thirties it's Hunter Pence. This guy keeps himself in top shape and adheres to a strict diet in order to continue being successful late in his career. Yes '15 (freak injury getting hit by pitch and breaking his arm) and '16 were injury-ridden for him and he hasn't torn it up this spring like I'm sure the Giants were hoping, but entering his age-34 season, I think he still does have plenty left in the tank. As long as he avoids a freak injury, I'd guess around a .280/20/80/15 slash line with an OPS up around or above .800 would be his ceiling. Again, if he has a DL stint or two those numbers will drop but if he gets his 600 at-bats, the numbers will be there.
[email protected]: The name not mentioned above that might carry the highest ceiling, somehow, is the trade deadline addition last year, Eduardo Nunez. Out of nowhere, at age 29, he posted a .288/73/16/67/40 slash line. The average seems repeatable based on his history, but the outburst of power/speed is less consistent. At the end of 2017 is Nunez above or below the line of .270/75/12/60/35?
Trevor Cole: Nunez had a great, out of nowhere first half with the Twins, however, once he arrived in San Francisco, it took him a good while to get going. When he did towards the end of the year in September, he hurt his hamstring and was out of the lineup a lot and missed most of the postseason as well. He's a guy many are predicting to build off last season but I'm not so sure. I do think he'll hit for a decent average (above .275) and he'll steal his bases, but I don't think the power will be there like it was in the first half of 2016. He only hit 4 long balls after joining SF in July, but as I said he finished strong with a .313/2/10/8 slash line in September despite missing over a weeks worth of games. Depending on where Bochy hits him in the lineup (and that could change daily) will determine his RBI/run opportunities but I expect his average to be around .300 with 10-15 big fly's and 30 stolen bases come the end of the year.
[email protected]: Madison Bumgarner and Johnny Cueto lapped the other options in the San Francisco rotation; they're both top 15 SP, or top 5 in the case of Bumgarner. So, with the trio of recognizable names that's left, are any of them worth targetting in fantasy for 2017?
Trevor Cole: Absolutely. I believe Matt Moore, health permitting of course, is in for another breakout, 2013 type campaign. He gets to pitch the whole year in the NL and half the season in a pitchers paradise, plus he's coming off his first 30+ start season since his 2014 Tommy John surgery. Pitching for a contender who finally found themselves a legit closer should only further his success. I think he's got the ability to approach MadBum-type numbers as he enters the prime of his career. 15 wins, 180+ k's, a sub-1.20 WHIP and an ERA in the low-3's wouldn't surprise me the least, and he has the ability to be even better.

Jeff Samardzija is really hit and miss, but may be worth a flyer towards the end of your fantasy draft if you still need starting pitching. He'll be good for 200 innings, a dozen or so wins and 150+ strikeouts but his ERA won't be much lower than 4.00. Your very definition of a number 4 starter.
[email protected]: Everyone loves getting an edge. As an expert on this team, give us some insider trading. Who is someone flying under the radar that will surprise us in 2017, making them an underrated option from the Giants?
Trevor Cole: Ty Blach is someone who could end up taking over the fifth starters role if Matt Cain stumbles out of the gate, which is a good possibility. Blach was nails down the stretch and in his one appearance in October last season and has had a very nice spring. Also, Jarrett Parker, the guy who looks like he'll be getting the lions share of the at-bats in left field, brings a lot of power to the lineup. If he gets 400 at-bats, he could easily surpass 20 home runs, so he could be a good, cheap source for power. Last but not least is the guy who everyone's raving about this spring, and that's Korean free-agent signee Jae-gyun Hwang. That guy has tore the cover off the ball all spring, leading the team in just about every major offensive category. He'll probably start 2017 in AAA as his defense needs a little refining, but if Nunez's hamstring flares up again or Joe Panik's struggles continue then we could see Hwang sooner than later.
[email protected]: Now on the flip side, who is someone on this roster that everyone may be targeting but is an overrated option just waiting to disappoint us?
Trevor Cole: I think Denard Span has kind of hit a wall. I do hope like heck I'm wrong, but he didn't show much in his first season in San Francisco and I don't think he likes hitting in AT&T Park. We all knew his offensive numbers would take a small dip, but the thing that stood out to me though was his 12 stolen bases. Typically, in a full season like that you at least get 30 swipes from him and his steady .300 batting average, but he was down around .260 all year and the ball just wasn't coming off his bat with any authority.

Another guy, obviously is Matt Cain. Although he's still just 32, he's an old 32 and has thrown a lot of innings. He's nowhere near the pitcher he was just 3 seasons ago, let alone 5-8 seasons ago. In fact, he despite his $20M price tag, he may not even last the season on the Giants roster.
[email protected]: Let's time travel. At the end of 2017 what will this team's final record be, and how will we remember their year?
Trevor Cole: I think the Giants, as is, are good enough to make a postseason run; however, they do have some issues that hopefully they can address. They're no stranger to in-season trading and depending on how the young guys do out in left field and in the bullpen leading up to Mark Melancon will determine who they will be seeking in trade come June/July. The thing about them is they'll make the move if there's one to be made that will help them so I expect them to stay competitive. That rotation is one of the best in the game, the defense should be solid and the offense has nowhere to go but up after a down year last season. If I had to guess right now I'd say they finish 89-73 and again find themselves in the Wild Card playoff game.

I do feel like they could have done a little more to lengthen their bullpen this offseason, and I hope that it doesn't come back to haunt them and that's what we remember this season for, much like last. Instead, I hope this year is remembered for the emergence of young guys like Ty Blach, Jarrett Parket and reliever Derrick Law (who really had a strong year last season) leading the team to the playoffs and another World Series tittle, but only time will tell!
NOW DROP THOSE COMMENTS! Thanks, Trevor, for the conversation about the Giants in 2017! Make sure to catch more of Trevor's writings at The Giants Baseball Blog, and keep checking back. More 2017 Team Previews to come!