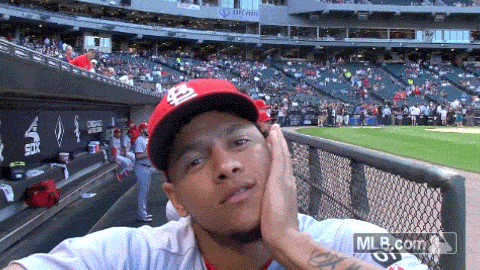 Welcome to the 2017 Razzball Team Previews! You'll find everything you need to know about each team to get yourself ready for the upcoming fantasy baseball season. And I do mean everything, everybody. We've got line-ups, charts, numbers, projections, questionable questions, smarter answer, potent potables and well, that's a lie. No potables here, but plenty of potent fantasy names brimming with potential. Now's the time to be an eternal optimist. For a few more days, at least. So, we've got a team to preview and questions to ask. Let's get after it!
A quick note on the format. Each preview will feature six questions to a team's blog writer. Are there only six great fantasy questions for each team? Of course not, but THAT'S WHAT THE COMMENTS ARE FOR! So, enjoy the thoughts of another writer, the dialogue on each team, and then continue the conversation in the comments!
We have a very special guest for this post, Brian Walton, to provide his take on what the team has in store this season. Now enough rambling, let's see what 2017 holds for the St. Louis Cardinals!
2017 St. Louis Cardinals Depth Chart & Projections
Starting Lineup
Bench
Starting Rotation
Bullpen
Note: Projections provided by Steamer.
And now we specifically want to get to the specifics. So, let's bring in Brian Walton from The Cardinal Nation Blog to give us the low down on the Cardinals in 2017.
[email protected]: With a lot of strong options up and down the lineup, the Cards lineup seems poised to give them the best chance to hang with the Cubs in the NL Central. They've added Dexter Fowler, seen some breakouts, and are anchored by vets like Matt Carpenter and Yadier Molina. None of them are top options in fantasy drafts, but the entire lineup could be drafted. Which hitter ends up with the strongest overall season for the Cards in 2017?
Brian Walton: Matt Carpenter had an all-star first half in 2016, but tried to come back too quickly from an oblique injury and his results suffered. With the addition of Fowler to lead off, Carpenter will take his strong OBP to the middle of the lineup, where his RBI should take a tick upward from his career high of 84 in 2015.
[email protected]: Two of the aforementioned breakouts come from the duo that I assume will receive the most at bats up the middle for the Cards: Jedd Gyorko and Aledmys Diaz. Both had a breakout in 2016, with Gyorko's being a bit of a resurgence. Looking into this year, which player has a better chance of repeating their success from last season?
Brian Walton: Unless Kolten Wong falters at second base or Jhonny Peralta at third is injured, Gyorko could play a reserve role, rather than start every day. He will still get his at-bats, but they could be sporadic. On the other hand, Diaz' job is firm. While there is some risk of a sophomore slump, Diaz' rookie season was solid and there is no reason to believe that he cannot deliver again in 2017.
[email protected]: In contrast to the hitting, the starting rotation seems to be littered with names that regressed in 2016. Adam Wainwright was mediocre in returning from injury, Michael Wacha was a shell of the impressive breakout he flashed a few years back, and Lance Lynn missed the whole year. Carlos Martinez seems like the new ace of the staff, especially with electric prospect Alex Reyes out for the year. So, of all those non-Martinez names, which one will finish with the strongest 2017?
Brian Walton: Wacha had a hot spring, but his ongoing health remains a question. I like him in drafts at a low price and would use him until he is hurt. But, my choice for a strong 2017 is Lance Lynn. His Tommy John surgery was over 18 months ago and the right-hander pitched in multiple minor league outings last summer. In addition, Lynn is in his contract year and I firmly believe he is highly motivated to perform well this season and cash in via the open market in the fall.
[email protected]: Everyone loves getting an edge. As an expert on this team, give us some insider trading. Who is someone flying under the radar that will surprise us in 2017, making them an underrated option from St. Louis?
Brian Walton: To be honest, there are no real under-the-radar players on the Cardinals. However, I firmly believe that Carlos Martinez is poised to make the step into the second tier of National League pitchers under Clayton Kershaw. To that end, Martinez went for $26 in NL Tout Wars on Sunday morning, the same price as Noah Syndergaard.
[email protected]: Now on the flip side, who is someone on this roster that everyone may be targeting but is an overrated option just waiting to disappoint us?
Brian Walton: Randal Grichuk is a popular breakout candidate and offers tantalizing power. On the other hand, he still frustratingly chases breaking pitches and strikes out at an alarming rate (30 percent last season and over 26 percent this spring).
[email protected]: Let's time travel. At the end of 2017 what will this team's final record be, and how will we remember their year?
Brian Walton: I see the fate of the 2017 Cardinals being very similar to the 86-76 squad of 2016 – competitive for the Wild Card, but again a distant second to the Cubs in the National League Central. If the club is not very careful, the year could become remembered as the final season of future Hall of Famer Yadier Molina in a Cardinals uniform.
NOW DROP THOSE COMMENTS! Thanks, Brian, for the conversation about the Cardinals in 2017! Make sure to catch more of Brian's writings at The Cardinal Nation Blog, and keep checking back. More 2017 Team Previews to come!