The list of two-start starters for Week 16 is pretty ugly. Not only did it take some time to materialize as teams figured out their rotations following the All-Star break, but once the dust settled and we had a good idea of who would be starting when many of the names we were left with were not all that appealing. Sure, the high-end options like Kershaw (for now), Strasburg, and Greinke were there, but the meat and bones of the list were lacking.
Just ignore Clayton Kershaw. At this point in the season, I am convinced that Dave Roberts reads this post every week and then trolls us all by changing his rotation on Sunday night. He is at the top of the list as of this writing, but that could easily change in the next few seconds. The Dodgers have a dozen or so possible starting pitchers, and Roberts shuffles or adjusts his rotation pretty frequently.
One name to take a look at this week is the soft-tossing Brent Suter. While he does not exactly light up the radar gun, he has been very effective in his recent stint as a starter for the Brewers. In his last two starts, he shut out the Orioles over six innings while striking out eight and then allowed just two earned runs over 6 ? innings against the Yankees while striking out five before the break.
Throughout his career in the minors, Suter has been consistently solid-yet-unremarkable. In other words, he has never really been great but hasn't been bad, either. He has a 3.44 ERA across six seasons in the minor leagues while throwing to a 3.12 ERA during his time in the show. His 2.96/2.78/8.23/2.63 (see chart below) is also solid.
Streamonator does not like him as much as I do. The 'nator has Suter up around its 20th best option or so (with a negative value), while I have him at the top of the Standards category below, which puts him around 15th or so. He is, however, only owned in 1% of all RCLs, so he should be available to everyone reading this except the one person who is in the league with that one guy or gal who already picked him up.
If you are in need of an arm in the short term, especially in a two-start week, you can do worse. You can do better, too, but I like Suter as a guy who can offer some solid short term numbers. Other guys Streamonator likes for the upcoming week who are owned in less than 50% of RCLs: Matt Moore, Zack Wheeler, and Rafael Montero.
Eduardo Rodriguez – E-Rod returns this week for the Red Sox and is scheduled to start twice in Week 16. It can be tough to rely on starting pitchers who are returning from injury in weekly leagues because there is always the chance he either gets scratched or just lasts an inning or two before heading right back to the DL. E-Rod

should

be OK, though. He made three rehab starts in the minors, and his last one was a gem in AAA. He was also pitching pretty, prettyyyyy, prettyyyyy well before he got hurt again.
Pitchers are listed in order by rank. Colors represent 8 toughest or 8 easiest opponents according to team wOBA for last 14 days.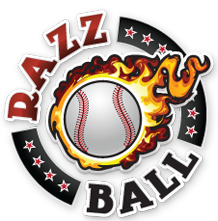 THE BEST
THE REPLICAS
Player
Opponents
ERA/FIP
K9/BB9
Justin Verlander DET
@KC, @MIN
4.66/4.34
8.43/4.42
Jon Lester CHC
@ATL, STL
4.25/3.97
9.17/3.08
Jason Vargas KC
DET, DET
2.62/3.79
6.60/2.12
Matt Moore SF

CLE

,

SD

6.04/4.81
7.51/3.75
Zack Wheeler NYM
STL,

OAK

4.86/4.74
8.29/3.79
Michael Wacha STL
@NYM,

@CHC

4.10/3.51
9.04/3.26
Eduardo Rodriguez BOS
TOR,

@LAA

3.54/4.07
9.59/3.10
Adam Wainwright STL
@NYM,

@CHC

5.20/3.80
8.26/3.06
Ivan Nova PIT

MIL

, @COL
3.21/4.13
5.00/1.12
Marcus Stroman TOR
@BOS, @CLE
3.28/3.88
7.45/2.32
THE STANDARDS
Player
Opponents
ERA/FIP
K9/BB9
Brent Suter MIL
@PIT, @PHI
2.96/2.78
8.23/2.63
Rafael Montero NYM
STL,

OAK

5.77/3.53
9.92/5.54
Jake Odorizzi TB

@OAK

,

TEX

4.63/5.68
7.75/3.23
Jason Hammel KC
DET,

CHW

5.02/4.54
7.27/3.05
Ty Blach SF

CLE

,

SD

4.60/4.06
4.21/2.05
Josh Tomlin CLE

@SF

, TOR
5.90/4.47
6.77/1.06
Sean Newcomb ATL
CHC, @LAD
4.26/3.49
8.53/3.98
CC Sabathia NYY
@MIN,

@SEA

3.81/4.19
7.27/3.12
Jordan Zimmermann DET
@KC, @KC
5.87/5.82
6.35/2.84
J.A. Happ TOR
@BOS, @CLE
3.54/4.43
8.85/2.07
THE KNOCKOFFS
THE 
Player
Opponents
ERA/FIP
K9/BB9
Tom Koehler MIA
PHI, @CIN
8.00/6.70
8.00/4.80
Scott Feldman CIN
WSH,

MIA

3.94/4.26
7.54/2.89
Sal Romano CIN

ARI

,

MIA

4.50/6.65
9.00/5.63
Adalberto Mejia MIN

NYY

, DET
4.43/5.30
7.48/4.43
Tyson Ross TEX
@BAL, @TB
5.33/5.16
6.39/4.62
Ariel Miranda SEA

@HOU

,

NYY

4.15/5.23
6.92/3.20
Sam Gaviglio SEA

@HOU

,

NYY

4.31/5.90
5.91/3.04
Andrew Cashner TEX
@BAL, @TB
3.54/4.52
4.43/3.98
Chris Tillman BAL

TEX,

HOU

7.90/6.25
6.61/4.78
Luis Perdomo SD
@COL,

@SF

4.54/4.19
7.45/3.24
Miguel Gonzalez CHW

LAD

, @KC
5.15/5.18
5.15/2.97
All pitchers are projected for two starts as of Friday night. 
If you would prefer to see the above tables as a color-coded graphic, we've got that too!
(Click to enlarge.)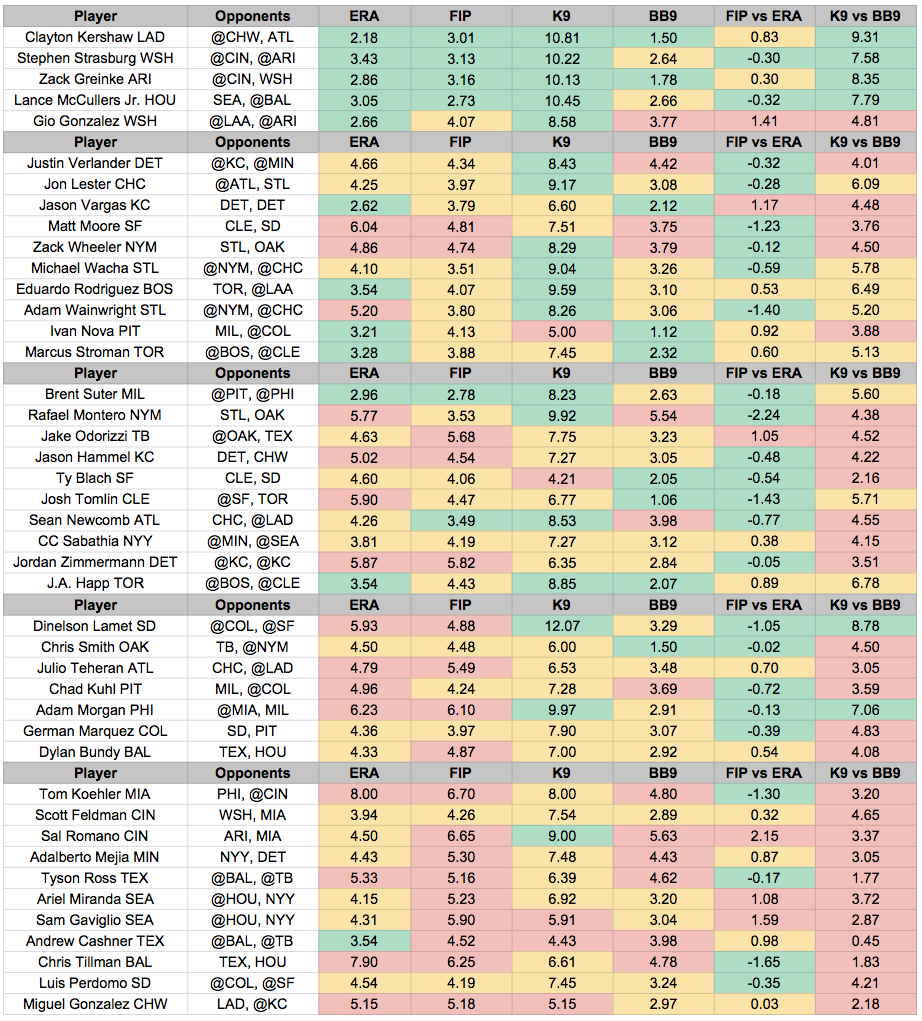 As always, disagree with anything here? Have any questions or comments? Want to tell Mike how great he is or how much you agree with him? Want relationship or investment advice?
DROP THOSE COMMENTS!
If you want to talk fantasy baseball or football or have players you want Mike to feature, hit him up on Twitter at @mikeMaher or post a comment below!