The greatest rivalry in sports reasserted its standing this weekend.
New York versus Boston; corporate versus blue collar; Mookie Betts versus Aaron Judge; Aroldis Chapman versus…. himself?
Baseball rivalries are unique in the frequency at which the clubs meet. More than twenty times in a given season, you'll see navy and red clash, and even though common intuition might assume this devalues each individual matchup, the tenacity of a decades-old rivalry like this abandons the adoption of that rule.
If you're looking for a fantasy rivalry of the same caliber, it is with great pleasure I bring you a centuries-old matchup.
Grey versus Rudy…
Grey recently released his top 100 for the second half, which begs for comparison to Rudy's rest of season Player Rater (which I captured prior to the second half resuming Friday night). Staying consistent with an article format from last week – prospector Ralph's mid-season prospect list was compared to its preseason version and Baseball America – I'm here to compare Grey's list to Rudy's Player Rater. Oh, and I'm open to crowdsourcing a name for this bout. Stats versus 'Stache has a comfortable lead at the moment.
As always, a few things to note before diving in. Grey's list (link here) is going to be the baseline for the headings below. For example, when I say Rudy Higher than Grey, 1-50 we're looking at players in Grey's top 50, the Player Rater has even higher (most efficient would be to flip my vlookup  – excel! – to look at where Rudy's players are on Grey's list, but keep in mind, Grey only has his top 100 out right now). I split Grey's list from 1-50 to 51-100 as I noticed variances were understandably higher from 51-100 on his list. Keep in mind that it's probably easier to climb from number 95 to 85 than number 15 to 5, so try look at the difference relatively to each player's relative positioning inside the top 100.
Grey Higher than Rudy, 1-50
Adam Duvall – 132 spot difference

Grey #45 overall
Rudy #177 overall

Rake Jake Lamb – 105 spot difference

Grey #47 overall
Rudy #152 overall

Aaron Judge – 55 spot difference

Grey #8 overall
Rudy #63 overall

Billy Hamilton – 45 spot difference

Grey #30 overall
Rudy #75 overall

Cody Bellinger – 43 spot difference

Grey #25 overall
Rudy #68 overall

Yu Darvish – 42 spot difference

Grey #32 overall
Rudy #74 overall
Let's kick off this analysis by paraphrasing a point Grey makes multiple times in his second-half ranking: power bats are volatile. Aaron Judge and Cody Bellinger are the two most notably ranked higher by Grey than the Player Rater, and if you throw in Miguel Sano's 33 spot inflation on Grey's list, we have a trifecta that represents the trend towards three true outcomes (TTO, for all you millennials out there).
Starting with the king of the HR Derby, it seems as though regression is assumed when a player posts a .421 BABIP over 85 games, but at some point we have to swallow our pride… right? Judge is hitting the ball harder and consistently further than anybody we have ever seen, putting the ball to right center with more force than some dead-pull hitters, and showing up Giancarlo Stanton on the national stage. Yet we champion regression like it's a certainty. I'm continually torn – just like Grey and others – on what to do with Judge for the rest of this season and 2018. He surely can still be productive with a .350-.360 BABIP, which isn't unattainable (see Paul Goldschmidt), but once that average starts creeping downward, the strikeout rate I was initially optimistic he quelled may bring aboard some harsher productivity criticism. Grey has Judge with five more homers and 10 points more average than the Player Rater, a fair, optimistic look for Judge's next 70 games – give or take. If there was one player I could time travel ahead to 2018 and peruse through his Fangraph's page for 10 minutes, it's Aaron Judge. If Elon Musk can help me out, you know I'll preach my findings on the podium of Razzball.
Two of the biggest differences between Grey and the Player Rater are Adam Duvall and Rakey Jakey Lamb – another package of power bats. You'll notice in many of the players that follow, Grey trends higher on those with big first halves – to be fair, so am I – while the Player Rater isn't so quick to join the party. Grey jests about ESPN's tendency to push Beltre over Lamb in their rankings, and all Lamb has done is prove ESPN [insert disparaging word here]. Pacing out to handily eclipse his 29 homers from last season, Lamb continues to place himself among the elite third basemen in the league without the acknowledgement of that standing. On the Duvall side of the coin, Grey's vision of him as a top 50 player can be attributed to 30 points of average left behind by the Player Rater. Sure, the BABIP is high (.323, 50 points above his career average), but I support Grey in the valuation of a player who has produced at this level for 200+ games. Heck, let's give Duvall some slack, the guy has lived his whole life with people wondering if he's the actor from "The Godfather." You didn't know we had an 86-year-old in the majors?! Is that… Jamie Moyer?
Rudy Higher than Grey, 1-50
Caution yourself with these minor differences, as six spots doesn't mean the Player Rater is considerably higher than Grey. With that said, Jose Altuve's rank stands out. He was a consensus first round pick back in March, and you'd think a staple of the Astros' powerhouse club – that I wouldn't build in much regression for – would be tough to leave out of the top 12. However, Grey found a way! He cites the fact that the Astros stopped running wild, which is backed by the 74 attempts this season compared to the 92 from the first half of 2016, but Altuve's pace hasn't taken a hit. He'll nab his 30, with a good chance for a better overall efficiency than he had last year. Sometimes team steal rates affect the whole club, while other times it's merely cutting off the fat. The wrench that could be thrown in my defense of Altuve? Look at his first half stolen bases each of the last three seasons: 23, 25, 41. The second half of those seasons? 7, 13, 15. First half runner is an understatement.
If you lend and ear to Razzball's most recent podcast, you'll hear Grey's silky-smooth voice breaking down another philosophy that I whole-heartedly agree with. By the midpoint of the season, we become much more comfortable projecting high-end pitchers. Grey has six players sandwiched between Chris Sale and the duo of Max Scherzer (#4) and Clayton Kershaw (#5), while the Player Rater has the trio back-to-back-to-back. It's eye opening to see Grey slotting three pitchers inside his top 10 – if you've followed his rankings for the last few years – but this ranking backs our supreme confidence in a particular trio of arms. The six spot difference is really nothing to harp on; a sub-1.00 WHIP and another 100+ Ks are on their way from each of these studs. On top of that, you can make a case for virtually any player combination from number two to 14 overall. Kershaw is still one of the greatest pitchers we've ever seen, but he's proving his humanity when associated with Scherzer and Sale. If you told me Kershaw produces the third most value among the trio rest of season, I wouldn't be completely shocked.
Grey Higher than Rudy, 51-100
Logan Morrison – 285 spot difference

Grey #84 overall
Rudy #369 overall

Jimmy Nelson – 239 spot difference

Grey #98 overall
Rudy #337 overall

Domingo Santana – 124 spot difference

Grey #100 overall
Rudy #224 overall

Justin Smoak – 1114 spot difference

Grey #83 overall
Rudy #197 overall

Alex Wood – 104 spot difference

Grey #62 overall
Rudy #166 overall

Ryan Zimmerman – 95 spot difference

Grey #75 overall
Rudy #170 overall
Remember I was talking about the Player Rater's tendency not to trust first halves? Here is your evidence. All six of these players have had stellar starts, and the Player Rater is really not buying a few of them. Logan Morrison isn't projected to eclipse double-digit home run totals or 55 in the combined counting stats department. Grey agrees with the window for average sitting .245-.255, but pushes up everything else in terms of production, with 13 homers and a similar RBI total to Eric Thames rest of season. If you take Grey's list from the trade value perspective, I have a hard time taking Morrison over guys like Mark Trumbo (#88) or Evan Longoria (#89). Clearly a tendency for me to rely on track record, but on teams where security is your favorite kind of blanket, shipping the breakout LoMo for a player like Longoria or Trumbo is a deal I would try to make. I keep waiting for a journalist to ask the Rays' first baseman, "So Logan, how do you feel about Grey ranking you three spots behind Gary Sanchez?" Take everything I just said about LoMo and apply the general theme to Justin Smoak (adding in the context of his new approach) and Ryan Zimmerman (noting the last time he played 120+ games was in 2013).
Jimmy Nelson's ranking inside the top 100? I. Love. It.
I've been high on the righty for a while after digging into his breaking ball and arm-slot changes. Grey throwing him out there as an SP2 rest of season makes me giddy, but we do have to look at this in context. Once you pass the elite level of starters, differences abound between Grey and the Player Rater. I'd speculate that's one reason Grey has three starters inside his top 15, and why he mentions that you could make a case for 20 other pitchers in this 98 overall spot. Nelson is sitting on a 3.17 FIP in one of the more offense friendly parks around; toying with a swinging strike rate near 12%. Want another pitcher with nearly identical peripherals? Luis Severino. More lukewarm takes you say? The Brewers should win more games rest of season than the Yankees. By now you can probably see Grey's logic with the aggressive rank of Nelson.
Rudy Higher than Grey, 51-100
I'll call this crop of players, "Wait, I thought it was 2015 still!" and Jonathan Villar. For all the players Grey inflated slightly because of their performances, it slid down the stalwarts of the past few seasons. Two of Grey's ranks make me a bit wary: Andrew McCutchen and Madison Bumgarner.
McCutchen I covered late last month, with the underlying theme pointing to the productive contact and reversion to a peripherally better hitter than he was even back in 2015. You're never going to find Statcast metrics to widen your eyes, but his potential for a second half to quietly place him inside the top 10 outfielders seems like a floor. The interesting difference between Grey and the Player Rater is where the production comes from. Grey is giving McCutchen a few more homers, while the Player Rater is confident in an elite .289 average rest of season. I'd love a combination of the two lines, but if the Play Rater edges Grey's projection out, Cutch is a top 30 hitter who we all almost dropped in April.
Bumgarner's rank may be a case of the Giants playing as horrible as humanly possible, combined with a skepticism that this southpaw will immediately bounce back to top five levels of production. With the separation Kershaw-Scherzer-Sale have created from the rest of the pack, Bumgarner finds himself near deGrom and Kluber, a second trio of arms we can gaze at with confidence. Still fantastic, but with precedent for injury issues, worry for health is legitimate. This discrepancy comes from the 21 extra strikeouts and two wins the Player Rater sees, while Grey airs further on the side of caution. This comes down to personal preference, and I have no problem immediately banking on him for top five starter production. Is that because I have shares and am optimistic? Guilty as charged.
Other Points of Interest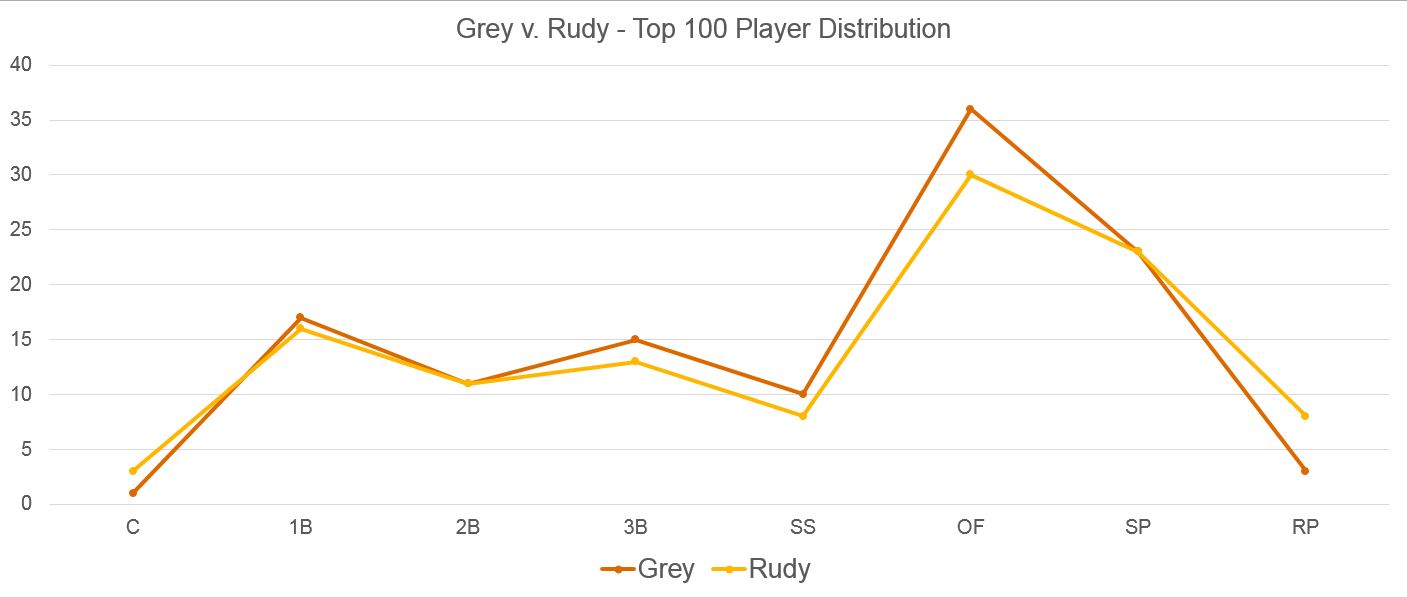 This fantasy battle is like the coming Mayweather vs McGregor fight. Except it's not at all because I actually enjoy Grey and Rudy's presence. Anybody else find it suspicious that 20 nanoseconds after Jeff Horn "beat" Manny Pacquiao, they agreed on a rematch? I'm not saying boxing is a fishy sport, but it's a fishy sport. Fair to put the over/under on the Mayweather vs McGregor rematch in the Spring of next year?
Distributions above are pretty similar. Grey likes a few more outfielders, and is lower on a few catchers, with the biggest change being the dampening confidence in closers. Grey has the Jansen-Chapman-Kimbrel trio packed together, while the Player Rater adds in Wade Davis, Zach Britton, Andrew Miller, Roberto Osuna, and Ken Giles (Yes, Andrew Miller is really that good). If you're a frontrunner who wants some stability in a roto league, go out and get a Mille share, you'll thank me later. I'm a bit less confident in Chapman with his 10% walk rate, making the industry consensus trio of upper-echelon closers a duo for me. And while you can convince me the four pure closers the Player Rater adds in are all worthy of a top 100 rank, this breed of player really depends on a specific team's outlook. By now, you should have a clear picture of your team's standing in the sphere of saves. Act accordingly to bring home the gold.
I omitted a few massive differences between Grey's ranks and the Player Rater based on my subjective call there may have been some factors it wasn't taking into account. Particularly with Starling Marte, who is ranked 66th for Grey and 1,323rd for the Player Rater. I also didn't fully understand why Travis Shaw was ranked 590th for the Player Rater, when Grey and the majority of other analysts would be crazy not to slot him inside the top 150-200. One bold ranking that I didn't get to was Chris Owings (72nd for Grey, 480th for the Player Rater). I initially pulled this out thinking unintended error on the side of the Player Rater, but as I dug into the reasoning behind the low rank, Fangraph's shined light on the six homers, eight bags, and .270 average it's calling for. On top of minor playing time concerns, Grey's allotment of 10 homers, nine bags, and a .280 average is likely a bit generous. While he admits he may come to regret the decision – the Player Rater clearly thinks so – it could be play on the shallow aspects of shortstop or the no humidor news from Chase. Either way it's bold and I like it – enough of these chalky industry rankings!
As always, follow me on Twitter (@LanceBrozdow), and discuss below!