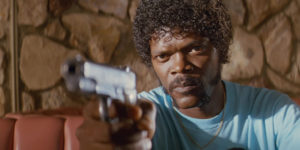 Is there anything cooler than Samuel L. Jackson cursing?  I mean seriously, I think even my Grandma would remark 'he's so sweet' after watching this MF'ing montage (ummm, and I shouldn't have to say this but that thing NSFW…you [email protected]#$a).  I'm of course quoting Pulp Fiction, where Jules Winnfield kindly asks Pumpkin, aka Ringo to help Honey Bunny, aka Yolanda to, ahem, 'regain her composure'.  And again, please read the damn title…you should know that it's also NSFW.  I mean, is there any SFW Tarantino film?  Rhetorical!  Let's move on to the real reason you're here, shall we?  Yes, let's.  The cheap go for today is Chad Kuhl.  Now I say this with some slight caveatism (<– totally a word).  Would I prefer to see this matchup in Pittsburgh?  Yeah.  Would I prefer that Ryan Braun not be in the lineup today?  Sure.  But am I gonna pass on the fact that the Brew Crew leads the MLB in K%?  Hells to the no, children.  And just to clarify that '1st in K%' statement, let's break things down further.  Home K%?  Brewers are King.  Full season K%?  Tops there, too.  Last seven days?  Yup and in fact, they've upped the ante and are sitting at a huge 28.4% level, well above their season number at 25.4%.  There are lots of safer choices for your cash games so I wouldn't consider Chad there, but I'm all about him in tourneys today.  So don't panic and tell that Honey Bunny within yourself to be Kuhl as you roster Chad today.  And with that, we're off.  Here's my great vengeance and furious anger taeks for this Wednesday DK slate…
New to DraftKings? Scared of feeling like a small fish in a big pond? Well reserve your spot in the 25 Team Razzball Exclusive League set to run Monday September 26th to wet your DK whistle. Just remember to sign up through us before you do. Wanna know what the best part is about signing up with us? The free subscription for the rest of the season to our DFSBot, that's what! For details on the how to, please visit our Razzball Subscriptions page.
Chris Sale, SP: $14,000 – The sky is blue, water's wet, Ariana Grande looks like she's nine, and the Phillies suck.  Universal truth bombs getting dropped around here!  Sale is gonna be hard to pay for even in cash so for that reason, I say he may just be the arm to sub in on a GPP lineup that surfs around for the cheap bats, especially on a Coors day.  And did I mention that the Phillies suck?  That's kinda important here.
Masahiro Tanaka, SP: $11,200 – Likely the SP1 of many in cash since the price is manageable and the matchup leans in his favor.  I'm ok with these things, though I'm admittedly filled with ennui every time I feel I need to suggest Tanaka.  I don't know what it is.  It's like 'I'm pretty sure he's gonna give me at least 20, but there's no upside for 40 here' is the only thing that ever crosses my mind about this guy.  This wasn't a joke, I'm literally letting you into my psyche.  You're welcome.
John Lackey, SP: $8,800 – There could be a slight risk here with taking an old pitcher on a playoff bound team.  The hook is likely short if things look dicey or if Lackey has any semblance of an injury, but the Reds have the third lowest wRC+ on the road and Lackey enjoys being a homeschooler himself with a .267 wOBA against at Wrigley.  I'm fine with Lackey in either set up.  If you're wondering about Max Scherzer (expensive and will be overly popular), Corey Kluber (rocky of late), and Kenta Maeda (you'll see why later), just read those things in parentheses and you'll understand.
Matt Moore, SP: $7,900 – While the rest of the sheeple flock to Zack Greinke against the Padres, the royal you and I will note the Dodgers are actually worse than the Phillies vs southpaws on the year and spend less with Moore.  Given likely low ownership by comparison because of the price game and Greinke being so close, Moore works for me in both formats.
Daniel Mengden, SP: $7,400 – After dropping a thirty burger last time out, I'd think Mengden would be on a few radars but something tells me he won't be.  GPP only with that sweet, sweet K upside we all desire.
Ryan Weber, SP: $4,000 – Now this is where we talk theory.  Weber + Sale (or Scherzer if you preferzer) keeps up well under the 20K threshold spend up for pitchers and allows for plenty of room to maneuver on bats.  Is this at all about Weber doing well?  NOPE.  Is it about him being min price and allowing for multiple LU options?  YUP.  Don't over think this, just realize it for what it is: a free space.
Tom Murphy, C: $2,800 – Clearly a 'check the LU' call, but how can you not love a backup catcher in Coors.  Especially one that hit 2 HRs just four days ago…if you're looking for catcher analysis, well, you've come to the wrong place.  Look for the cheapest and move on.  Oh and Coors bats: yes because duh.  FIN.
Jose Abreu, 1B: $4,200 – Plenty of good 1B bats to pay up for, but I'm all about El Grande Dolor of late.  Jose has dropped a .953 OPS in the second half to go with 14 HRs in just 61 games.  Abreu's surge for 30 bombs continues and I want in on this ride as it's inexcusably cheap today.  And while we're here, stack talk time.  Phillies bullpen is a dumpster fire and I look to get in on the cheap on a day like this.  Gimme Melky Cabrera, Todd Frazier, Adam Eaton, and Avisail Garcia.
C.J. Cron, 1B: $3,800 – If you wanna dip a bit lower, Cron has been deceit, albeit boring, this year.  Though he's oddly not done well against lefties this year, that .243 BABIP makes me think some bad luck is in play.  Just park one over the wall to avoid those problems, ok CJ?
Rougned Odor, 2B: $4,600 – Jered Weaver is in town and everyone should rejoice.  Jered has a 4.92 ERA in pitcher friendly Anaheim and those are his GOOD numbers.  Gross…obligatory and likely overly played Rangers stack is in order.  Gimme Nomar Mazara, Mitch Moreland, Adrian Beltre, and Carlos Beltran.
Jonathan Schoop, 2B: $3,900 – The Salt 'n' Peppa Shoop pronounced like mouthwash is a nice, cheap power option against Clay Buchholz.  Oh who am I kidding, everyone who is an Oriole is a good option today.  Stacks upon stacks here, my friends.  You know the big names, feel free to backfill with the lesser known.  I'm expecting more runs here than the morning after a spring break party in Tijuana.
Ryon Healy, 3B: $4,000 – Collin McHugh is a flyball pitcher and Healy has been hitting some big flys of late…four of them in his last 10 entering play last night, to be exact.  Collin has pitched well of late, but even if he does, a solo tater doesn't hurt him and it greatly helps my Healy call.  Win/win!
Yulieski Gurriel, 1B/3B: $2,600 – You just can't ignore a bat that'll likely sit in the top four of the order at this price, especially if you're looking to pay up at pitching for Sale or Max today.
Danny Espinosa, SS: $2,600 – Espinosa is that type of bat that goes ice cold for months and then shows up to jack 6 HRs in 10 days.  He hit one on Monday and with Koehler maybe trying to pitch too finely against Scherzer, there's advantage Danny.
J.D. Martinez, OF: $4,400 – I drafted this man in the second round of a 15 team mock that's running now.  Yes, I'm doing a mock for 2017 before 2016 is even done.  Don't judge me.  All this to say, I have in many ways much love for Just Dongs.
Giancarlo Stanton, OF: $3,800 – Stanton destroys baseballs, doesn't matter who is throwing them.  Also doesn't matter who's throwing to him at this price.  You know the upside, dive in.
Josh Bell, 1B/OF: $2,900 – Probably batting second, probably underpriced, probably going yard.  Probably all you need to know about Bell…probably.
I'm Only Happy When It Rains
Uh oh, looks like we got some tinkle concerns and I'm not talking about what R. Kelly would do to you if you were under 18 and trapped in a closet with him.  AUGHTS REFERENCE OVERLOAD.  Anyway, looks like MINvsDET has got itself some thunderstorm concerns so make sure to check back in at lock.  I'd warn you similarly of the MILvsPIT tilt but hey, they realized upon building a stadium that they needed a retractable roof for such nights.  Because they live near flippin' Canada just like the Twins and they know snow exists.  Was Minnesota banking on global warming just knocking out precip issues during baseball season?
Doing Lines In Vegas
The heavy lines on the night are owned by those you'd expect.  Lackey and his Cubs own a -240 over the Reds at home with a 9 o/u.  So basically, Cubs stack is in play, but we kinda already knew this so we didn't talk about it above.  That's the royal we of which you're totally a part of even if you didn't know until now; we don't want you feeling stupid around here.  Following that would be Scherzer at -200 and Kluber as well as Bartolo Colon at -190.  A bit of a surprise is seeing Sale and the Pale Hose at just a -160.  I mean, I know it's on the road but really?  I call bunk and/or hooey here and also on the low run total of 7…unless all the runs are scored by Chicago.  Some other worries with my calls above.  The line has moved in the LADvsSF from -154 to -170 in favor of Maeda while also featuring an o/u moving from 7 to 7.5.  This is no bueno for my Moore call.  He might slip into strictly GPP territory for me today if that line waivers any further.  If you're looking for places to stack, well, let me go Daniel Day Lewis on your and say there will be runs.  A whopping four games are at or over 10 runs – COLvsSTL, MINvsDET, TEXvsLAA, BALvsBOS – with of course Coors leading the way at 12.5.