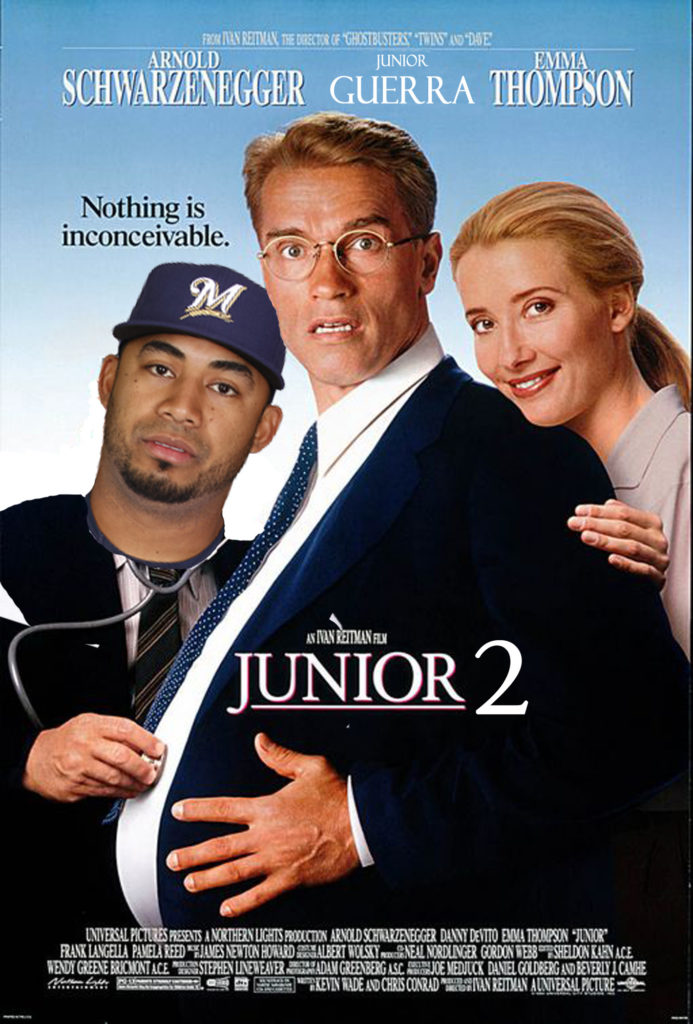 When you have to tell people your favorite team's ace is a 31-year-old rookie, you kinda make a face like Arnold Schwarzenegger right there…  It's as uncomfortable as a dude getting pregnant!  But for a rebuilding team, I guess nothing is inconceivable after all!
As an unabashed Brewers homer, and owner of the REL Brewers where I have to own a certain amount from my parent team, I've been a big follower of the Brew Crew beat, and there's been buzz for Junior Guerra ever since we picked him up.  I even brought him up on the Pod when he was promoted, much to Grey cackle-ment.  I of course never saw anything like this coming though…  I knew he had a fastball and a great splitter, but that splitter hasn't been just "great".  It's been the best splitter in baseball.  His other stuff is pretty good, but he hit 98 MPH in his last start against the Pirates, and if he can throw gas like that, it's going to make him a dynamic guy ROS.  So I decided to double up on my Sunday afternoon baseball watching by breaking down Guerra's start against the Cubs, while watching my Brewers like I would've anyway.  Two birds one stone!  Sue me!  Here's how he looked:
First Inning: Guerra's first pitch is a 91 MPH low and away to Tommy La Stella, 92 is in there, 91 runs well outside, La Stella chases a sinking 92 MPH fastball going low, Guerra's first splitter is a good one but drops just a little too low, then 92 is just a bit too far outside – La Stella starts but barely holds – and it's a leadoff walk.  Ugh, Cubs fans have invaded and cheer hard for Kris Bryant who takes an outside slider that definitely looked good to me but called outside 1-0, 93 low and in ripped foul, 93 again looks to paint but called low 2-1, split goes low, then 94 is way low for another walk.  Yeesh.  94 outside to Anthony Rizzo, then a low fastball is hit right to Scooter Gennett for a tailor-made double-play.  Huge play.  Ben Zobrist takes a late hack at a 94 MPH fastball and nubs it foul, then 94 low and in gets absolutely murdered to right, but it's pulled and foul by only a few feet.  But on the verge of all that disaster, Guerra goes 0-2 splitter and the 88 MPH pitch drops into the outside corner for a K looking to get out of the inning.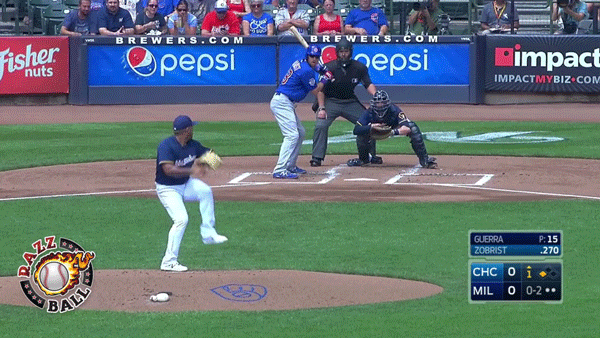 Second Inning: Mannnnn after a grinding 39 pitch bottom of the first by Jon Lester, Guerra has a 2-0 lead and 93 paints the outside corner to Willson Contreras, 0-1.  91 is high, 93 is in there, then that devastating splitter at 87 drops off the outside corner and gets a weak tapper to third for the first out.  93 inside to Jason Heyward, fastball again misses, 94 hits the outside corner 2-1, then 93 in the zone is grounded to first, another pretty easy groundout.  Splitter skips in off the dirt to Addison Russell, then nasty 93 MPH fastball with great sink gets a whiff 1-1: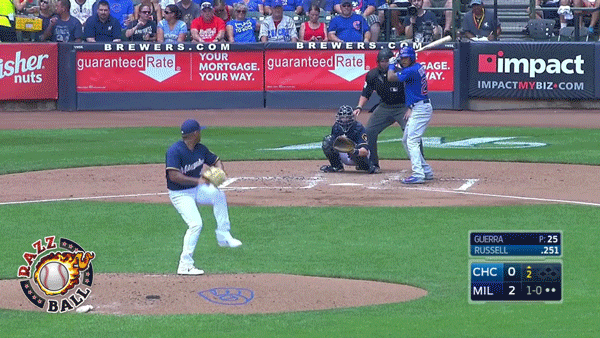 Mmmmm.  High 94 MPH fastball fouled back, splitter goes way outside 2-2, then splitter again out there gets a wave and dribbler to third just like Contreras's out, and it's a 1-2-3 inning all on easy groundouts.
Third Inning: Another grinding inning for Lester – the Brewers don't score but it's another long layoff – and a fastball is in there to David Ross, 0-1.  Splitter gets a big whiff as it drops off the outside corner, then Guerra paints the outside corner at 94 for a quick 3-pitch strikeout.  93 barely misses outside to Lester, 92 right in there, 92 outside, 93 gets barely nipped foul, 93 is high and away, 3-2 count now to the light hitting Lester.  Then 93 is outside, and Guerra puts his glove to the face and I imagine drops some saucy Hispanic curse words…  So runner on first, and 93 is outside to La Stella, then 93 right down the middle is lined into center for a single.  Can't be letting these guys get on in front of the Cubs' artillery.  Big splitter hangs a little high and Bryant can't quite hold his swing 0-1, then 94 on the hands is popped to Chris Carter for an easy second out.  Wow, nasty splitter looked to drop into the bottom of the zone to Rizzo but called low 1-0 – zone has been called pretty tight for both sides – 94 is inside to Rizzo who crowds the F out of the plate, but Guerra goes 2-0 splitter and it's rolled over to first for another easy groundout to get out of the inning.
Fourth Inning: Lester finally cruised through an inning and Zobrist takes a rolling slider in the dirt 1-0, 93 barely misses low, 92 is way inside, 3-0 fastball is in there, 93 paints the outside corner, then 93 again is barely outside and it's a leadoff walk.  No one too happy with the zone right now, that one had a little piece of the zone according to Foxtrax.  Contreras whiffs through a fastball, then fastball inside is taken and Zobrist steals second – but a challenge is called and Scoot got him on the swipe.  Way to gettem, Scoot!  Then outside fastball is hit towards first, it pops out of Carter's mitt for an infield single.  Weird that Carter was playing so far in there with no one base – odd shift…  Anyway, one out and runner on first and Heyward takes a sinking fastball outside, splitter again looked to fall into that bottom black but called low 2-0, 93 is well outside, 92 right in there 3-1, then fastball is rocketed to second, but the shift pays off with a double-play opp, but Heyward beats it by a step.  Regular shift and that's a single up the gap.  So two outs, and Guerra is low and outside at 95 MPH to Russell, 93 is fouled straight back off the ump's mask, 94 pulled foul up the third base line, 95 is way outside, splitter is barely tipped foul, then splitter again that was breaking into the zone is popped to short for an easy third out.
Fifth Inning: Still a 2-0 game despite a lot of weird stuff, and a curveball rolls outside to Ross 1-0, curve again goes low, fastball on the hands pulled foul, then 92 again on the hands gets a lazy pop to center, one down.  91 on the hands to Lester fouled back, 92 right down the middle with Lester taking all the way, then splitter hangs a little down the middle and Lester hits a rope to center, but Captain Kirk Nieuwenhuis nabs it on the run for the second out.  Hardest hit fair ball of the day!  Man, the ump is calling no breaking balls for strikes with a curve looking good called low to La Stella, fastball again looked close is called low 2-0, 92 MPH fastball is in there, then fastball on the outside corner is lasered to the left field gap.  It lands easily, but Kirk gobbles it up, and fires a great throw to Scoot who gets La Stella out trying to make it a double and it wraps up a 1-2-3 inning.
Sixth Inning: The Crew put up another 2 runs of support to go up 4-0, and Guerra misses outside to Bryant, 1-0.  93 is outside, then 92 on the knees is flared to center for a leadoff single.  94 is in there to Rizzo, 94 again gets a foul bunt with the Brewers shifting hard, but it's 0-2 now and Rizzo nips a splitter foul, 93 rises high, outside splitter is fouled off, then a splitter is hit right to Gennett for a tailor-made double-play and Scoot boots it.  Wow.  Heartbreaking error.  I retract my earlier Scoot support.  So runners on first and second, no outs, and fastball is low to Zobrist, then a 93 MPH fastball is hit hard on the ground between first and second for an RBI single.  Thanks a lot Scooter.  But first pitch two-seamer to Contreras is a weak dribbler to short, and it's a double-play that moves the runner to third.  94 is called low to Heyward, still not getting calls low in the zone, 92 paints the outside corner, 94 is way outside, nasty 85 MPH splitter gets a whiff, 2-2: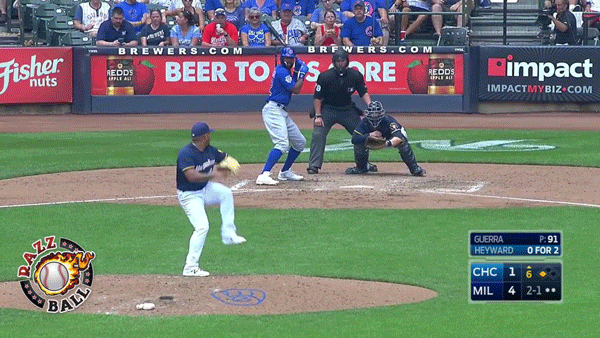 Whewwww, then my heart just dropped with a 94 MPH fastball rocketed to right, but it's right to Hernan Perez who has it on the track for a loud final out.  Guerra gets out of it with only an unearned run.
Seventh Inning: Wow, even despite the walks and the error, Guerra is still at only 93 pitches and starts Javier Baez with a 92 MPH fastball that gets a whiff, 0-1.  Russell had to leave so this is his spot, and splitter is low, then easily Guerra's nastiest curve on the day gets another swing-and-miss, 1-2: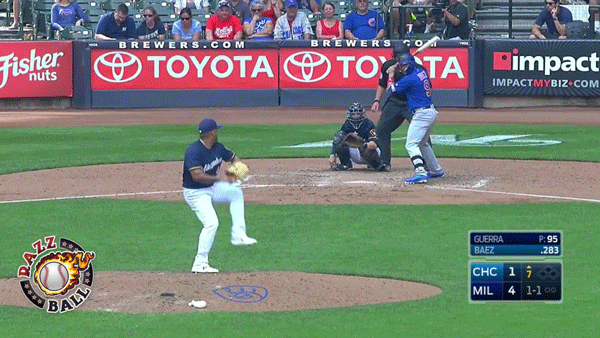 Dear lord!  Then a hanging splitter is hit pretty hard to left, but Baez got under it and Braun nabs it for the first out.  And that will actually close the book on Guerra, who comes out of the game so Will Smith can come in and face lefty pinch-hitter Miguel Montero.  Great outing again for Guerra, but Will Smith would blow this game epicly sticking Guerra with a no decision.
Final Line:  ND  6.1 IP  97 Pitches (55 Strikes)  0 ER  5 Hits  4 Walks  2 K  Gamescore: 59   Gamescore+: 57.8

Final Analysis: Sure I might be a little biased, but this was yet another fantastic performance from the Brewers ace.  With the low Ks, it's not too surprising the Gamescore+ came out below the Gamescore, but there was constant weak contact and nothing in this start was too "fluky".

Starting with the fastball, and, well so much for the hope he had added velocity after the break.  Even the Brewers announcers commented that the radar gun in Pittsburgh his last start seemed to be a little hot.  Instead of peaking at 97-98, Guerra was sitting at 92-94 with a few at 95.  It's still an MLB plus pitch, and his two-seamer got used a little more than usual, with nice sink like that GIF above.  Then to the bread and butter – that splitter.  Man is this pitch good!  It functions in a way like a change-up, and even is called his "split-change" at times.  It features downward break that dances, with variant vertical movement as well.  While the Ks weren't huge on the pitch this time, it still got weak contact on some grounders.  Rounding it out is his curveball, which Fangraphs calls a slider and I may have flip-flopped on if it was a curve or slider above as well.  It's not a pitch he throws a ton, but if he can get the kind of break he had on that GIF to Baez, it can be a plus third offering.
There's a lot of things that make Junior look unsexy.  He's a 31-year-old rookie, the K numbers aren't "ridiculous", he pitches for a bad team in a bad park…  I get it.  But in a fantasy landscape where starting pitching has been horrific in the middle-tiers, I think it's time to lock in Guerra in the must-own zone.  His ownership in the 60%s in ESPN and Yahoo kinda surprised me though – seems like the masses have already bought in.  Maybe I'M the slow one!  Guerra gets a nice bump up in my ROS ranks, and I don't see any reason for this not to continue.  At first I thought he was a lock to be traded being so old and all, but since he is a catcher-convert, he doesn't have a ton of innings and is under team control through 2021.  He's gonna stay put here in the NL.  Credit our resident nerd David Stearns for finding this guy on a waiver claim…
Updated Top 100 SP
(rankings for ROS based on 12-team Roto, green for risers, red for fallers)
| RANK | SP, TEAM |
| --- | --- |
| 1 | Madison Bumgarner, SF |
| 2 | Max Scherzer, WAS |
| 3 | Jake Arrieta, CHC |
| 4 | Chris Sale, CWS |
| 5 | Jose Fernandez, MIA |
| 6 | Stephen Strasburg, WAS |
| 7 | Jacob deGrom, NYM |
| 8 | Johnny Cueto, SF |
| 9 | Corey Kluber, CLE |
| 10 | Noah Syndergaard, NYM |
| 11 | Jon Lester, CHC |
| 12 | Carlos Martinez, STL |
| 13 | David Price, BOS |
| 14 | Danny Salazar, CLE |
| 15 | Carlos Carrasco, CLE |
| 16 | Cole Hamels, TEX |
| 17 | Clayton Kershaw, LAD |
| 18 | Adam Wainwright, STL |
| 19 | Yu Darvish, TEX |
| 20 | Justin Verlander, DET |
| 21 | Gerrit Cole, PIT |
| 22 | Zack Greinke, ARI |
| 23 | Kenta Maeda, LAD |
| 24 | Jose Quintana, CWS |
| 25 | Masahiro Tanaka, NYY |
| 26 | Drew Pomeranz, BOS |
| 27 | Julio Teheran, ATL |
| 28 | Matt Shoemaker, LAA |
| 29 | Danny Duffy, KC |
| 30 | Felix Hernandez, SEA |
| 31 | Rich Hill, OAK |
| 32 | Chris Archer, TB |
| 33 | Aaron Sanchez, TOR |
| 34 | Lance McCullers, HOU |
| 35 | Jason Hammel, CHC |
| 36 | Kyle Hendricks, CHC |
| 37 | Dallas Keuchel, HOU |
| 38 | Steven Matz, NYM |
| 39 | Michael Fulmer, DET |
| 40 | Tanner Roark, WAS |
| 41 | Anthony DeSclafani, CIN |
| 42 | Junior Guerra, MIL |
| 43 | Michael Pineda, NYY |
| 44 | Blake Snell, TB |
| 45 | John Lackey, CHC |
| 46 | Jeff Samardzija, SF |
| 47 | Michael Wacha, STL |
| 48 | Kevin Gausman, BAL |
| 49 | Taijuan Walker, SEA |
| 50 | Chris Tillman, BAL |
| 51 | Zachary Davies, MIL |
| 52 | Trevor Bauer, CLE |
| 53 | Brandon McCarthy, LAD |
| 54 | Sean Manaea, OAK |
| 55 | Vincent Velasquez, PHI |
| 56 | Aaron Nola, PHI |
| 57 | Adam Conley, MIA |
| 58 | Joe Ross, WAS |
| 59 | Ian Kennedy, KC |
| 60 | Archie Bradley, ARI |
| 61 | Marco Estrada, TOR |
| 62 | Marcus Stroman, TOR |
| 63 | Steven Wright, BOS |
| 64 | Hisashi Iwakuma, SEA |
| 65 | Jake Odorizzi, TB |
| 66 | Jimmy Nelson, MIL |
| 67 | Jeremy Hellickson, PHI |
| 68 | James Paxton, SEA |
| 69 | Rick Porcello, BOS |
| 70 | Sonny Gray, OAK |
| 71 | Tyler Skaggs, LAA |
| 72 | Jon Gray, COL |
| 73 | Jameson Taillon, PIT |
| 74 | J.A. Happ, TOR |
| 75 | Mike Leake, STL |
| 76 | Scott Kazmir, LAD |
| 77 | Jordan Zimmermann, DET |
| 78 | Collin McHugh, HOU |
| 79 | Gio Gonzalez, WAS |
| 80 | Carlos Rodon, CWS |
| 81 | Matt Moore, TB |
| 82 | Drew Smyly, TB |
| 83 | Robbie Ray, ARI |
| 84 | Jaime Garcia, STL |
| 85 | James Shields, CWS |
| 86 | Francisco Liriano, PIT |
| 87 | Mike Foltynewicz, ATL |
| 88 | Dylan Bundy, BAL |
| 89 | Josh Tomlin, CLE |
| 90 | Bud Norris, LAD |
| 91 | Bartolo Colon, NYM |
| 92 | Jerad Eickhoff, PHI |
| 93 | Jose Berrios, MIN |
| 94 | Mike Fiers, HOU |
| 95 | Kendall Graveman, OAK |
| 96 | A.J. Griffin, TEX |
| 97 | CC Sabathia, NYY |
| 98 | Ervin Santana, MIN |
| 99 | Andrew Cashner, SD |
| 100 | Lucas Giolito, WAS |
Dropped Out: Tyler Glasnow, PIT (DL – shoulder, Pirates have no reason to rush him back), Daniel Mengden, OAK (never got past #100, it's time to shave the mustache), Tyler Duffey, MIN (I got suckered in by a few fluky good games recently, but he's mostly been bad), Wei-Yin Chen, MIA (DL – elbow)

Thoughts on the movie Junior 2?  And what caught you eye in the ranks this week?  Shoot your thoughts below, and happy pitching Razzball Nation!