Happy Saturday, Razzfriends and family!
To those who are first time visitors, the snake handling is perfectly normal.
None of you asked (rude), but I was on vacation last week and caught an NPB game in Japan: Yakult Swallows vs. Yokohama DeNA BayStars. The BayStars are the team that Trevor Bauer "chose" (despite many reports otherwise) over MLB teams.
In the NPB's Central League, pitchers have at-bats. Bauer was not active when I was there, but that would have been something to see.
One last unsurprising but still insane experience: Ohtani was everywhere. No further notes.
The last face you see before you leave Japan.

Not bad. pic.twitter.com/6gviEergmL

— kee 4 #3 (@Keelin_12ft) April 12, 2023
I was blissfully unaware of most baseball injuries over the past week. So, welcome to a post where I am learning about some of these injuries for the first time and also realizing I missed the first RazzSlam FAAB. The next RazzSlam FAAB is June 6, by the way.
Let's roll that beautiful bean footage!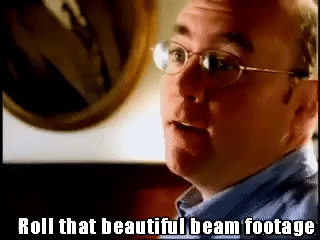 Notable Injuries (April 7-13)
Tim Anderson (SS, CSW)
The White Sox shortstop is expected to be out 2-4 weeks with a sprained knee. Anderson was injured when the Twins' Matt Wallner slid over Anderson while seeking an out.
Elvis Andrus and Romy González were shifted to shortstop and 2B, respectively. Lenyn Sosa, who made his MLB debut in 2022, was recalled from Triple-A to take Anderson's spot on the roster. Itch covered Sosa over in Prospect News: Lenyn Sosa Joins His Comrades In Chicago (and I am over here entertaining myself with my goofy post titles).
Lenyn Sosa's homer off a 101.4 MPH Jhoan Duran fastball is the fastest pitch hit for a home run by a White Sox batter during the pitch tracking era (2008-present)

— Christopher Kamka (@ckamka) April 12, 2023
Andrus had his best season since 2019 last year, but 2023 is a different story. Andrus is currently slashing .146/.176/.167 and is only in the 5th percentile for xwOBA.
The typically injury-prone White Sox made it out of spring training without any major injuries. However, the injury bug has appeared in the Sox clubhouse over the past two weeks. Yoán Moncada (back), Eloy Jiménez (hamstring), and Joe Kelly (groin) sustained recent injuries. Luckily, Eloy is cleared for DH duties as of Friday.
Orlando Arcia (SS, ATL)
Orlando Arcia sustained a micro fracture to the wrist after being HPB by a 98 MPH Hunter Greene fastball.
The real story here is that Vaughn Grissom is returning to the Braves after losing the SS job to Arcia during spring training. While back in the minors, Grissom has been slashing .366/.458/.585. There are some outstanding concerns around Grissom's defensive skills. However, the upside and likelihood of improvement mostly engulfs any of those concerns.
Did any of you draft him and keep him? Tell me in the comments!
Vaughn Grissom szn starts tonight ? https://t.co/8Fl6SPkjCy pic.twitter.com/L73Ut88PCi

— Kevin Keneely (@KevinKeneely1) April 14, 2023
Seth Brown (1B/OF, OAK)
The Oakland outfielder will be out for 4-6 weeks with a grade 2 oblique strain. Brown sustained the injury during an AB against the Tampa Bay Rays. In 2023, Brown has slashed .200/.250/.367.
The A's have recalled SS Kevin Smith to take Brown's spot on the roster. In 2022, Smith slashed .180/.216/.302 in 47 games with the A's. However, there is reason to be hopeful about Smith in 2023. He went .395/.469/.605 in spring training.
Kevin Smith ended last year on a tear at Triple-A, carried it over to Spring Training and continued into the first week of the season in the Minors. https://t.co/P7ipp4azVK

— Martín Gallegos (@MartinJGallegos) April 10, 2023
Oneil Cruz (SS, PIT)
It's early in the season, but there is no doubt we have already witnessed one of the most heartbreaking injuries of the season: Oneil Cruz's nasty ankle fracture. Cruz sustained the injury sliding into home plate and colliding with White Sox catcher Seby Zavala. In the fallout of the incident, benches cleared, words were had, and the vibes were all around very bad.
The benches cleared in Pittsburgh following a play at the plate involving Oneil Cruz.

(via @NBCSWhiteSox)pic.twitter.com/64JCBPmq81

— ESPN (@espn) April 9, 2023
Cruz will be sidelined for at least four months. The good news (yes, there is some good news!) is that the Pirates have shared that the injury should not affect Cruz's long-term performance.
Mark Mathias, an infield utility player, was recalled to take Cruz's spot on the roster. However, Rodolfo Castro will start at SS in Cruz's absence. Castro has slashed .292/.433/.892 so far this season. Mathias slashed .277/.365/.554 in 74 PA with the Rangers in 2022.
Travis d'Arnaud (C, ATL)
The Braves catcher is going on the 7-day IL after sustaining a concussion from a collision with Rougned Odor at home plate. Chadwick Tromp was recalled to replace d'Arnaud. At this point, d'Arnaud should be back soon. So, hold on for one more day.
Adam Duvall (OF, BOS)
The Red Sox have had brutal luck in terms of injuries this year. Duvall, who has been the best hitter on the Sox this season, fractured his wrist making a diving play in the outfield last Sunday. While no timetable has been given for his return, it will be weeks.
As a result, the Sox outfield is sort of a mess. Bobby Dalbec was recalled from Triple-A (over Jarren Duran) and Rob Refsnyder was moved to center field.  Raimel Tapia will likely platoon with Refsnyder. So, there are few options here for pick ups, but for some more robust options, you can check out the Steamer projections.
Bobby Dalbec at short?!!

— Bill Burr (@billburr) April 12, 2023
Kyle Farmer (INF, MIN)
Farmer took a 91.6 mph fastball to the jaw via White Sox Lucas Giolito. Farmer will have to have his teeth realigned but avoided any fractures. There is currently no timeline for Farmer's return.
Shortstop Willi Castro replaced Farmer for the rest of the game. OF Kyle Garlick was promoted from Triple-A to take Farmer's place on the roster. In 2022, Garlick slashed .233/.284/.433 in 150 AB with the Twins.
Luckily, many injured Twins are returning to the roster in April.
Kyle Farmer is out of the game with a jaw injury the Twins announce.
pic.twitter.com/z6adAcpxQD

— Alec Ausmus (@A_TwiceKSTP) April 12, 2023
Mitch Garver (C, TEX)
Garver, the Rangers catcher, is out with a minor sprained knee. Even a minor sprained knee can keep a player out for up to six weeks. The Rangers recalled catcher Sandy León from Triple-A. León played with Cleveland and Minnesota in 2022, and I am not even going to share his slash lines here because he is not your solution. Colorado Rockies catcher Elias Díaz is still available in some leagues and could be worth a look.
Lowest on-base percentage by a catcher since 2018 (min. 250 games):
Austin Hedges .247
Sandy Leon .250
Tomás Nido .253 #Mets #newyork https://t.co/4e2HMbYwxM pic.twitter.com/Ew62EuZgUl

— Marc Weber (@MarcWeberSports) April 9, 2023
Andrés Muñoz (RP, SEA)
In another blow to the Mariners pitching staff, star reliever Muñoz will be out on the 15-day IL with a strained right deltoid. He is eligible to come off the IL on April 23. In the interim, Matt Brash will be replacing Muñoz.
In the past, control has been an issue for Brash. However, his FIP for his few IPs in 2023 is 0.89. While the current sample size is small, his xFIP is 2.26. Maybe I am being too BRASH, but I feel optimistic.
Matt Brash doing Matt Brash things. pic.twitter.com/lxZrp57YTy

— Rob Friedman (@PitchingNinja) April 7, 2023
Corey Seager (SS, TEX)
The Ranger shortstop Seager is out with a grade 2 strained hamstring. He will miss at least a month because of the injury. Seager sustained the injury while running from first to second base during the fifth inning against Kansas City.
Josh Smith, who replaced Seager after he left the KC game, will likely continue to replace Seager. So far this season, Smith is slashing .158/.407/.158 in 19 AB. Ezequiel Duran may also play at SS occasionally during Seager's absence.
Smith was notably HBP (88mph) on the face earlier this month. He received six stitches.
Warning: looks gnarlier than it is but don't watch of squeamish

Josh Smith gets hit in the face by pitch pic.twitter.com/lKUdmRwAej

— Catastrophic Failure (@ohshidt) April 6, 2023
Jeffrey Springs (SP, TBR)
The season may be spring, but it is not Jeffrey Springs szn. Springs left a game in the fourth inning after experiencing discomfort in his right arm. The diagnosis? Ulnar neuritis. I am not a doctor, but I do have Google which tells me ulnar neuritis is "inflammation of the ulnar nerve [funny bone] in the arm that results in numbness or weakness of the hand".
Update: Jeffrey Springs

While that initially sounds like really good news, my guess is he will go in for an MRI to evaluate the integrity of the ulnar, UCL & flexor/Pronator muscles.

Best case scenario it's 'only' inflammation & fluid around the ulnar nerve.

If no injury to… https://t.co/Nu6BdDpRY1 pic.twitter.com/UjwaTwBQEx

— Jesse Morse, MD, MBA (@DrJesseMorse) April 13, 2023
So what's the backup plan? LHP Garrett Cleavinger replaced Springs for the rest of the outing against the Red Sox. Cleavinger was able to hold off the Sox, and the Rays remain undefeated (at the time of publication), which is actually insane especially considering the pitcher injuries. However, nothing has been shared about any longer term plans to replace Springs.
Shane McClanahan and Drew Rasmussen are the remaining SPs. Let's hope they can hold out for one more game to capture the record for post-1900 consecutive season start wins.
Brandon Woodruff (SP, MIL)
RHP Woodruff is out on the 15-day IL with right shoulder inflammation. Janson Junk was recalled to take Woodruff's spot.
In 2022, Junk pitched 8.1 innings and finished with a 6.48 ERA for the Angels. In 2023, Junk was off to a hot start in Triple-A with a 0.90 ERA in 10 IP. In his 4.2 IP with the Brewers so far, he has a 7.71 ERA. Will we see Junk's junk (don't be sick)? To be determined.
This breaking ball from Janson Junk caught too much of the plate and this 3 run shot broke the game open.

Junk ends the day with 4 ER. His defense had 3 errors behind him.

— Tyler Koerth (@TylerKoerth) April 12, 2023
Other Injuries and Injury Updates
Here are some more folks who landed themselves in the ER recently:
Domingo Acevedo (RP, OAK), strained back
JT Brubaker (SP, PIT), Tommy John surgery
Aaron Civale (RP, CLE), strained oblique
Zach Davies (SP, ARI),  strained oblique
Zach Eflin (SP, TBR), lower back tightness
Joey Gallo (OF/1B, MIN), strained oblique
Darick Hall (1B, PHI), thumb UCL surgery
Joe Kelly (RP, CSW), strained groin
Matt Manning (SP, DET), fractured foot
Roberto Pérez (C, PIT), rotator cuff
Jose Siri (OF, TBR), strained hamstring
JT Chargois (RP, MIA), strained oblique
And here are some updates for recently injured or returning players:
Aaron Ashby (SP, MIL), shoulder: surgery; out until late this season.
Paul Blackburn (SP, OAK), finger: rehabbing in the minors.
Eloy Jiménez (DH, CWS), cleared to DH as of yesterday (Friday)
Max Kepler (OF, MIN), knee: could return this weekend.
Yoán Moncada (3B, CWS), back: having an MRI and could be back April 21st
Lars Nootbaar (OF, STL), thumb: could return this weekend.
Drew Pomeranz (RP, SPD), neck: rehab from an elbow injury delayed because of neck injury.
Seiya Suzuki (OF, CHC), oblique: supposedly going to be activated this weekend.
Joey Votto (1B, CIN), back: struggling performance-wise in rehab but expected to be back soon.
Seiya Suzuki finished 2-4 today with a HR an RBI. He talked to media after the game and said, he "plans to join Chicago this weekend."

When asked if he's flying out today he said through his translator that "it's a secret." @KCCINews @scottreister @IowaCubs @Cubs pic.twitter.com/lydlvKpNyP

— Shannon Ehrhardt (@SEhrhardtKCCI) April 12, 2023
That's it for this week's Razzball Ambulance Chasers. See you next week for more doom and gloom!
---
Phew, what a week! What changes did you make to adapt to injuries this week? Hit me up in the comments or on Twitter: @keelin_12ft.