Greetings and welcome back to the Mike Maher Hurricane Irma Shelter. My apologies for taking last week off, but it seems like I got out of South Florida just in time. I am now safely in the Pocono Mountains, where hurricanes dare not stray. Blizzards, on the other hand…
Hopefully, you all survived a week without me, especially as rosters expanded and probable pitcher lists were thrown further into confusion. This is the time of the year where it really gets dicey. We are all either in the home stretch or are in the playoffs in H2H leagues, while daily lineups and probable pitchers are more unpredictable than ever. Aces and top hitters for teams with guaranteed roster spots are getting extra rest now that each team has roughly 115 players available for each game. It's not just Dusty Baker and Dave Roberts making our lives difficult anymore. Now, it's all managers.
These two-start starters lists, regardless of where you look each week, are never going to be 100% accurate. Too much can change throughout the week and even over the weekend. These are just projections based on recent history and how the schedules line up. This week, multiply that by about a gajillion. If expanding rosters (and bullpens) weren't enough to throw things off, Hurricane Irma and her friends are making sure to take care of the rest.
This week more than ever, you will need to double and triple check these starters on Sunday night and Monday morning. Some are all but guaranteed to change between now and then. Now, for the value picks from Streamonator this week:
The wild card here is Garrett Richards, who has a $14.20 value and just a 7% ownership in RCLs. BUT, he is only one start removed from a lengthy stint on the disabled list, and he only went 3 1/3 innings on a tight pitch count. While he will likely have a longer leash in these two starts, he will probably still be on a pitch count and may still be shaking off some rust as he gets healthy. Streamonator likes him this week, but I am a bit more hesitant. He seems like a guy to stay away from if you have a nice lead and want to be more conservative and a guy you want to roll the dice on if you are trying to catch someone and need to take some chances.
I am staying away from Pivetta even in deeper leagues, despite his positive dollar value and 100% availability. The start against Oakland is not enticing enough for me (especially since they have been hot at the dish the last two weeks) to roll the dice on his inconsistency and a start against the Marlins in Philadelphia.
Rodriguez also gets an Oakland start and is a worthwhile gamble this week, while Walker gets a San Francisco start but also a Colorado start, though the latter is in Arizona. I like both more than Sabathia and his starts against Tampa Bay and Baltimore. Now, to the charts!
Pitchers are listed in order by rank. Colors represent 8 toughest or 8 easiest opponents according to team wOBA for last 14 days.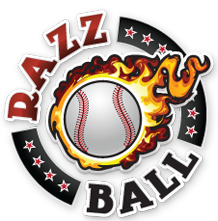 THE BEST
THE REPLICAS
Player
Opponents
ERA/FIP
Jose Quintana CHC

NYM

, STL
4.32/3.92
Eduardo Rodriguez BOS

OAK

, @TB
4.33/4.03
Justin Verlander HOU

@LAA

, SEA
3.74/4.03
Gerrit Cole PIT

@MIL

, @CIN
3.93/4.07
Sonny Gray NYY
@TB, BAL
3.22/3.48
Kenta Maeda LAD
@SF, @WSH
4.02/3.87
Garrett Richards LAA
HOU,

TEX

1.13/2.14
Taijuan Walker ARI
COL, @SF
3.33/4.00
CC Sabathia NYY
@TB, BAL
3.91/4.61
Marco Estrada TOR
BAL,

@MIN

5.00/4.51
THE STANDARDS
THE KNOCKOFFS
THE 
Player
Opponents
ERA/FIP
K9/BB9
Joe Biagini TOR
BAL,

@MIN

5.29/3.93
7.98/3.23
Reynaldo Lopez CHW
@KC, @DET
4.84/4.93
8.46/4.03
Matt Harvey NYM

@CHC

, @ATL
5.82/6.09
6.75/4.19
Ty Blach SF

LAD

,

ARI

4.81/4.39
4.17/2.20
Robert Stephenson CIN
@STL,

PIT

5.15/5.30
9.60/5.98
Myles Jaye DET*

@CLE

,

CHW

0.00/5.26
0.00/3.18
Matt Garza MIL

PIT

,

@MIA

5.06/4.97
6.19/3.62
Miguel Gonzalez TEX
SEA,

@LAA

4.48/4.74
5.73/3.23
Andrew Moore SEA

@TEX

, @HOU
5.89/6.00
4.06/1.42
Travis Wood SD

@MIN

, @COL
6.00/5.27
6.44/4.22
Ubaldo Jimenez BAL

@TOR

, @NYY
6.80/5.54
8.40/3.82
* Two appearances
All pitchers are projected for two starts as of Friday night. 
If you would prefer to see the above tables as a color-coded graphic, we've got that too!
(Click to enlarge.)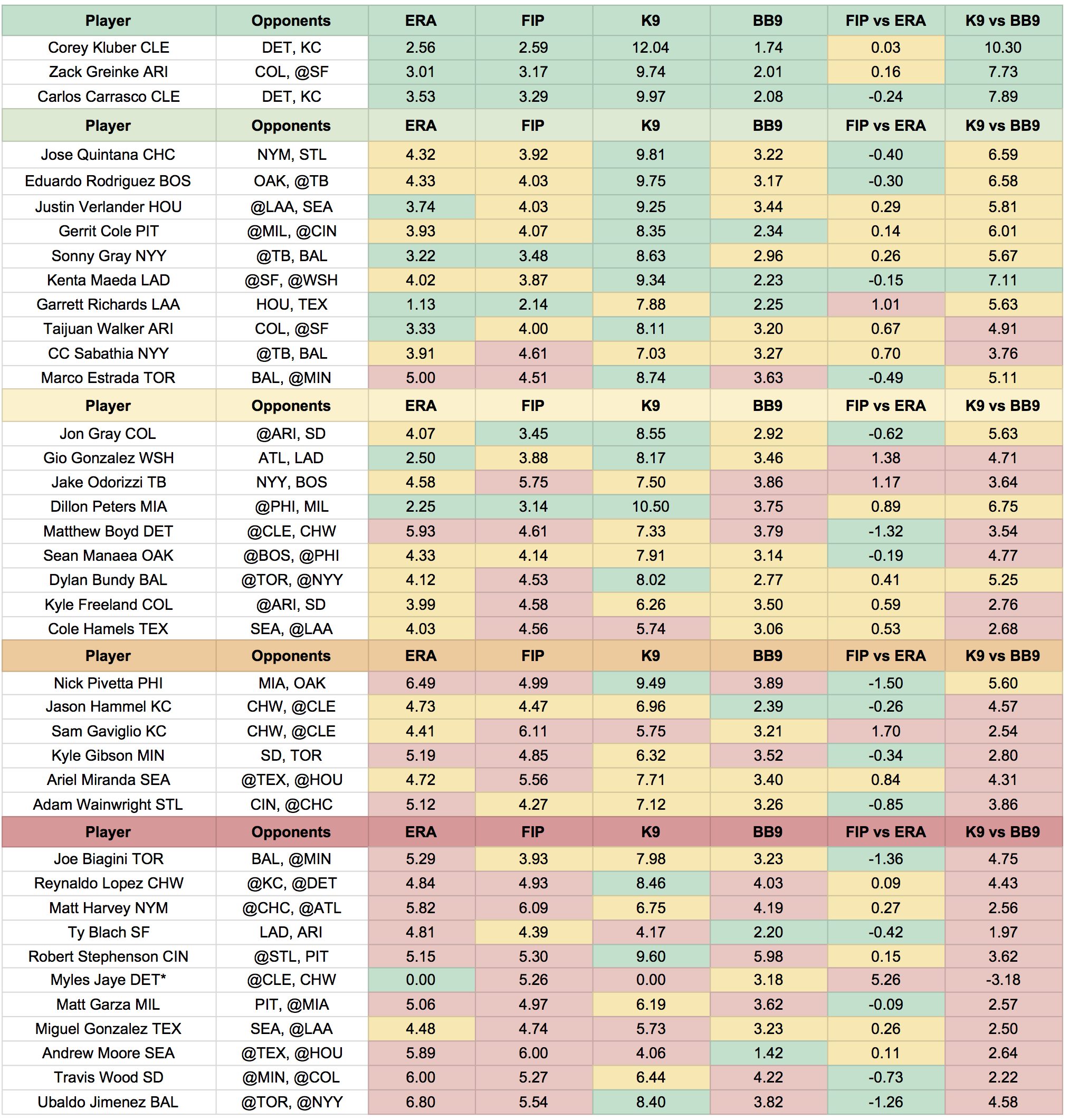 As always, disagree with anything here? Have any questions or comments? Want to tell Mike how great he is or how much you agree with him? Want relationship or investment advice?
DROP THOSE COMMENTS!
If you want to talk fantasy baseball or football or have players you want Mike to feature, hit him up on Twitter at @mikeMaher or post a comment below!