We have a bit of a light lineup this week due to some off days on Monday and Thursday, so Week 19 will be more of a challenge to find value among the Two-Start Starters. It sounds like Max Scherzer is going to be healthy enough to go and make his two starts, but that only helps out Scherzer owners and not the rest of us who are looking for some available value.
Even Streamonator is down on Week 19, as there weren't any available starters owned in less than 75% of RCLs with a positive dollar value. There is one possible exception to that statement*, but we're not going to let statistically-based advice from Streamonator stop us from rolling the dice this week, right?
There are, however, a few starters in our Replicas that I would roll with this week who might be available in your leagues. It will likely be harder to grab at least two of these starters in an RCL where waivers and ownership are a bit more savage, but all three are owned in less than 75% of ESPN leagues.
I have been rolling with Godley since April in a few leagues, so I was really surprised to check his ownership in ESPN leagues and see that it is actually below 65%. He is owned in 93% of RCLs, though, so if you have any members of Razznation in your league then you are probably out of luck. As you can see from his numbers in the chart below, Godley has been solid all year.
Obviously, the thing that scares you about Godley this week is his matchups against the Dodgers and Cubs. The Dodgers are arguably the best team in baseball and have the 7th best team wOBA over the last two weeks, while the Cubs have been much better in the second half of the season and are 10th in wOBA over the last two weeks. He does not have any softball matchups, which works against his value.
BUT both starts are at home, where Godley has held opposing teams to a .226 wOBA and .140 / .257 / .232 slash line this season. So, while he has two tough matchups, you could do much worse than rolling the dice on two Godley starts this week if he is indeed available in your league.
Wacha is enjoying a nice bounce-back season in 2017 after a pretty dreadful 2016. He hit some bumps in the road earlier in the season, with a 5.40 ERA in May and 5.55 ERA in June. But check out that 1.93 ERA in July. He has one nice matchup against the Braves at home but a not great but not necessarily terrible matchup against the Royals on the road.
Wacha's Home/Away splits are pretty severe: 2.67 ERA at home, 5.19 ERA on the road. So, that makes his road matchup against a Royals team that has been playing much better lately a little bit more concerning. Streamonator likes him for a $9 value at home against the Braves but a -$8.20 on the road against the Royals. He is owned in 95% of RCLs but just 70% of ESPN leagues, and I like the Braves matchup enough to roll the dice on the Royals matchup.
As it stands now, the pitcher Wacha would face in that Royals matchup is Trevor Cahill. Cahill has not been great since joining the Royals but does have two good matchups this week against the Cardinals and White Sox, both of whom are in the bottom eight in baseball in team wOBA over the last two weeks and has a K/9 of almost 10 this season. Unlike Godley and Wacha, Cahill should be available in most leagues. He is owned in just 21% of ESPN leagues and 32% of RCLs.
*Chris Flexen – As of this writing, it is still a little unclear who is going to start twice for the Mets. Some lists have Flexen while others are going with Rafael Montero. Double check this Saturday or Sunday morning to see if the Mets actually announce those projected starters. If it is Flexen, I'm staying away. If it ends up being Montero, though, he is someone Streamonator likes this week as a $4.70 value for his matchups.
Pitchers are listed in order by rank. Colors represent 8 toughest or 8 easiest opponents according to team wOBA for last 14 days.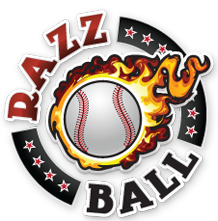 THE BEST
THE REPLICAS
THE STANDARDS
THE KNOCKOFFS
THE 
All pitchers are projected for two starts as of Friday night. 
If you would prefer to see the above tables as a color-coded graphic, we've got that too!
(Click to enlarge.)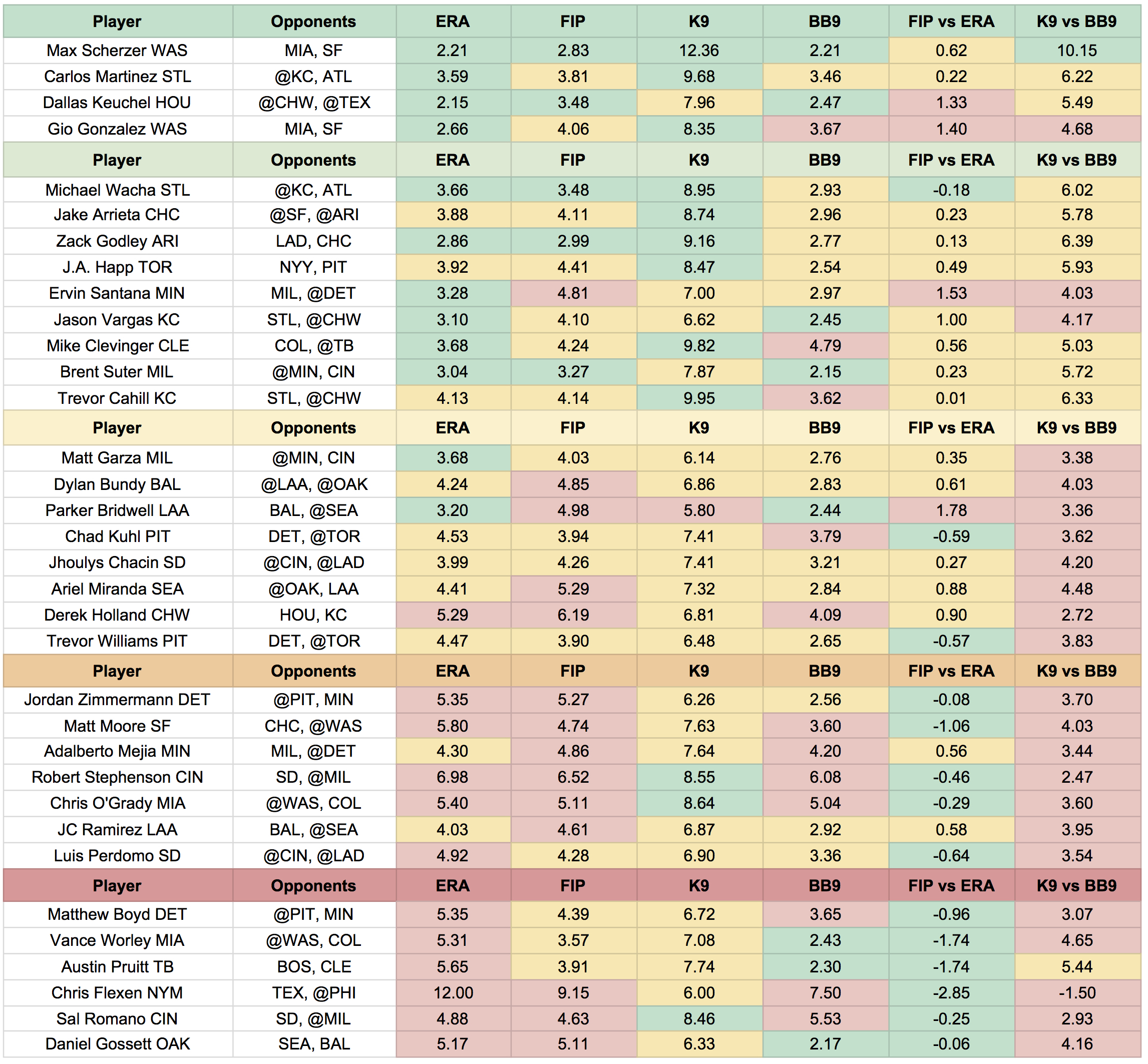 As always, disagree with anything here? Have any questions or comments? Want to tell Mike how great he is or how much you agree with him? Want relationship or investment advice?
DROP THOSE COMMENTS!
If you want to talk fantasy baseball or football or have players you want Mike to feature, hit him up on Twitter at @mikeMaher or post a comment below!