Sorry my loyal musicfiles, but this week I've moved on from our weekly music discussion mixed in with some fantasy baseball edu-ma-cation, to a weekly discussion of my favorite of all foods….the all-mighty fast food cheeseburger.  I'm guessing regular commenter Happy Vegans will have to talk about boca burgers or something made of grass.  Sorry homie, your avatar still has a rocking stache.  Take solace in that.  Either way we'll once again awkwardly navigate our way through the two-start pitching options for the week and mix in some auxiliary discussion of the delicious, greasy, delicacy we call the cheeseburger.  If you're kosher remove the cheese, cool?  Looking forward, we have some seriously tasty doubles piled up in the top tiers this week and some dollar menu values spread across the middle tiers where streamers are to be had in super-sized portions.  Some one and done guys that might be In N Out of your lineup depending on the matchup.  There's also a whole lot more garbage in a bag then there has been in previous weeks…. I know, I know, I'm so topical I should be an ointment!  Quite a few streamers I like this week, one in particular is Mariners Lefty Roenis Elias.  Over his last 15 starts dating back to last July Elias' ERA is 2.48 with a 7.78 k/9, 3.56 BB/9, and a .65 HR/9.  His pheriperals scream regression (3.71 FIP, 4.02 xFIP, 1.36 WHIP), but they don't scream awful either.  His control has improved this season and he's faced some solid lineups thus far in Minnesota, Baltimore, and Houston.  Roenis is slated to go against two clubs this week that are middle of the road when it comes to hitting lefties, in the Rays and Indians.  But I like his chances to continue his string of quality starts.  Now that's a tasty burger!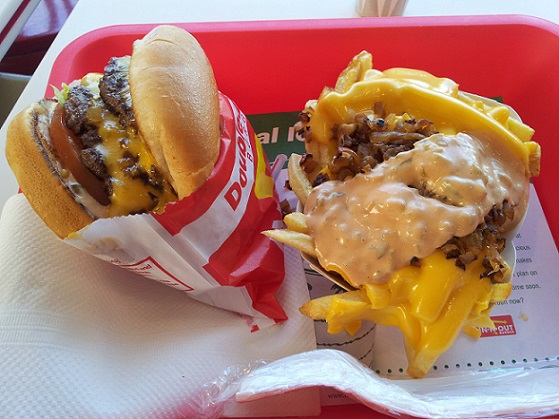 In N' Out (The Aces) – If you hail from the West Coast and come out here to the Beast Coast I believe it's actually obligatory that you tell us that A. The women are hotter in California (1A. The weather is too) and B. That In N' Out is the greatest thing since God made fake breasts and the designated hitter. Seriously do they make you guys sign a contract before boarding a plane that says "If dining at a fast food place with an East Coaster you will make at least three off the cuff remarks about eating at In N' Out and getting your burger "Animal Style"? We get it already In N' Out is far superior to 5 Guys and marginally better than Shake Shack. I've been to In N' Out on some of my West Coast adventures and I do agree that it's great, but I could do without your damn "Secret Menu" conversations every time we break bread capiche? Leading the top tier this week is none other than Mr. Wonderful, no not Action Bronson. It's the man that can pitch 270 innings like it ain't no thang, homer off Clayton Kershaw, and love every inch of a BBW. It's Madison Bumgarner! The man is the gas, just start him no further explainations….David Price is coming off back to back big K performances (12 and 9) but his ERA isn't where you want it. An 8 run diaper filler against the Yankees will do that. The Detroit ace is blessed with two good matchups this week as he faces an A's team that is dreadful against lefties and an Angels lineup that has just been dreadful altogether…. Here's where I'm sure I'll get some debate, I have Jordan Zimmermann ranked one spot ahead of Danny Salazar (GASP!).  Here's my logic, he faces two National League lineups, both of which have some strikeout issues (Cubs 25.8%, Reds 20.8%), and Salazar's two opponents (Texas and Seattle) have been hot of late. I like them both, hence their inclusion in the Ace tier, but I give Zimmermann the edge if just for one day. Oops I mean two, sorry Bowie…. I love Dallas Keuchel, I don't care about his 6.4 K/9, there's a lot to like with this guy. His 64.3% GB rate is amazing, he also gets deep into games (6 of his 9 starts have been 7 innings or more), and ratios are tough to manage. I watched his start against Oakland this week and was once again impressed. Diamond Dallas went 6 and didn't surrender an earned run.
Madison Bumgarner, SF: (@MIL, vs. ATL); David Price, DET: (@OAK, @LAA); Jordan Zimmermann, WAS: (@CHC, @CIN); Danny Salazar, CLE: (vs. TEX, @SEA); Dallas Keuchel, HOU: (@BAL, vs. CWS)
Shake Shack (Great Starts) – This is the class of the East Coast as far as fast food burgers go. They have locations up and down the eastern seaboard and a few spots internationally. It's a bit hipster, but the Shake burger is legit. Let's just say they get their meat from the world famous Pat LaFrieda Meat Purveyors located in Flushing Queens. If you know about LaFrieda's then you know what I'm talkin' about. Either way the Burgers are excellent and the shakes and other stuff aren't too shabby. Hitting leadoff in this tier is Jake Odorizzi, the man I affectionately call eggs.  So far in 2015 there's been some significant developments/improvements in Odorizzi's game. First he's cut his walk per 9 by more than half going from a 3.16 in 2014 to a 1.52 in 2015. Secondly, he's cut his HR/9 from 1.07 in 2014 to a minuscule .30. Those are two serious steps forward in areas that can kill a pitcher. This week he draws Seattle at the Trop, and Baltimore at Camden. I don't love the second start at the O's but Baltimore has struggled of late…. Next up is Clay Buchholz, one of the Red Sox many "Aces"… Right John Farrell? Seriously don't even get me stahted. Over the last three turns Buchholz has looked solid, maybe even like someone you'd actually want on your fantasy team. He gets two road starts this week, first against the Minnesota Twins and their .333 team wOBA in May, and later in the week travels to Arlington to take on the same Rangers that beat him on Thursday. Just to be clear Townies that's Arlington Texas. He's not going to be tosssin' pissa curves down by Spy Pond… Tyson Ross is an excellent buy low candidate at the moment. I mean I suppose he's not that low of a buy, but you may find someone who's frustrated by the walk numbers and might be willing to sell him. His BB/9 sits at an ugly 4.98 even though he's actually throwing more pitches in the zone this year. He's been a touch unlucky with his BABIP (.331) even for a groundball guy. His swinging strikes are up, as are his strikeouts. So I wouldn't be shocked if his ERA starts to edge closer to his FIP/xFIP (3.28/3.19). He faces the Angels in Anheim and the Pirates at home. Two starts in pitchers parks vs struggling offenses sounds good to me. I know that the Halos out up 12 on the Sox last night, but that's because my team sucks…. Yordano Ventura is pretty good when he's not throwing at people heads, he just hasn't shown it. Bit of a leap of faith here with Yordano but his last start against Cincy was great after having three very gross outings at Cleveland, Detroit, and Texas. The Yankees have struggled the last two weeks and the Cubs present K upside for a guy that averages 95-96 MPH on his fastballs. Yes, like most men he has two. Sorry Lance…. Chase Anderson is a player that I'm a little weary of but he's pitching well enough to be recommended for both his starts. He doesn't give you huge K upside, but he keeps the ball in the park and is usually a good bet for a quality start… Big Time Timmy Jim is making believers out of quite a few of us that had written him off. He's keeping the homers at bay at an unsustainable rate (.19), but even if that regresses to say .70. It's not what it 's been the previous three seasons (1.11) and that's helping Tim a great deal. The Brewers start could be a major test for the new and improved Lincecum as they're second in longballs to only the Nationals over the past two weeks…. Roenis Elias was mentioned in my opening and he's my streamer of the week…. The final double dipper on the menu is a surprising one in David Phelps. He's someone I considered as a potential streamer of the week candidate before I settled on Elias. The Marlins righty isn't the sexiest option out there but he's pitched well and gets two great opponents in the Mets and Pirates. Phelps is someone I would target this week if you have say a Mike Leake or another dropable option.
Jake Odorizzi, TB: (vs. SEA, @BAL); Clay Buchholz, BOS: (@MIN, @TEX); Tyson Ross, SD: (@LAA, vs. PIT); Yordano Ventura, KC: (@NYY, @CHC); Chase Anderson, ARI: (@STL, @MIL); Tim Lincecum, SF: (@MIL, vs. ATL); Roenis Elias, SEA: (@TB, vs. CLE); David Phelps, MIA: (@PIT, @NYM)
Five Guys (Good Start) – Five Guys is overrated. It should be better than it is. The fries are pretty good, but the burgers are meh, and the buns are subpar. [Jay's Note: Configuration counts for a lot, and with Five Guys, the world is your oyster. Perhaps you haven't found the proper combination yet?] Hey Jerry Murrell, it's time to step your bun game up like the hottie who lives at the squat rack. I don't mind their burgers but the buns piss me off…Hey did I mention the buns piss me off? This tier is full of guys that also piss me off. One of those guys is Bartolo Colon. Four of his last five starts have been atrocious, and of course he faces two of the four opponents from those atrocious starts this week. He gets two starts at Citi, the Phillies can't hit righties, and the Marlins haven't been much better. I like Colon this week. Wait what?….Julio Teheran has been up and down this year and his start three turns ago against Washington has skewed his numbers a bit. He's not the ace some people made him out to be the past two seasons but he's a guy you need to start each time out. The Dodgers and Giants starts can go either way for me…. Speaking of up and down, next up is Carlos Martinez. The walks and homers for Carlos are concerning, but the K's are nice, and he seems capable of giving you a gem at any given time. He faces a very tough opponent in the Dodgers. I failed to mention in the Teheran blurb, but the Blue Bloods crush RHP to the tune of a .359 wOBA. The Diamondbacks start is a goer but proceed with caution…. Am I crazy for sort of believing in Brett Anderson so far? He's solid across the board and the strikeouts have been there the last two times out. Neither the Cardinals or the Braves hit lefties very well, 18th and 25th in wOBA vs LHP respectively. They also both strikeout against southpaws at a rate of 22%. Anderson gets the green light from Uncle Ralph…. Last guy in this tier (get it 5 guys..) is Wei-Yin Chen and his 2.90 ERA. Of course a .234 BABIP will do that for ya. He faces the Astros wind farm and the surprising Rays both in Camden. I think he's worth a start for both turns, even if the Rays are hitting LHP pretty damn well so far. They also K 24.8% of the time against them, that's a number I can sing my teeth into.
Bartolo Colon, NYM: (vs. PHI, vs. MIA); Julio Teheran, ATL: ( @LAD, @SF); Carlos Martinez, STL: (vs. ARI, vs. LAD); Brett Anderson, LAD: (vs. ATL, @STL); Wei-Yin Chen, BAL, (vs. HOU, vs. TB)
Wendy's, Burger King, McDonalds (One Good Start, One Bad Start) – This is simple sometimes you get something ediable at these places other times it's just gross. These pitchers have one good start and one bad start. Some of them are aided by matchups (J.A. Happ, Jered Weaver, Shane Greene), others are the victims of circumstance (Jesse Chavez, Jesse Hahn).
Jesse Chavez, OAK: (vs. DET, vs. NYY), J.A. Happ, SEA: (@TB, vs. CLE); Jered Weaver, LAA: (vs. SD, vs. DET); Shane Greene, DET: (@OAK, @LAA); Jesse Hahn, OAK: (vs. DET, vs. NYY); Drew Hutchison, TOR: (vs. CWS, @MIN); Carlos Rodon, CWS: (@TOR, @HOU); Jeff Locke, PIT: (vs. MIA, @SD); Wandy Rodriguez, TEX: (@CLE, vs. BOS); Joe Kelly, BOS: (@MIN, @TEX); Adam Warren, NYY: (vs. KC, @Oak)
White Castle (Stay Away) – Once upon a time I fell under the spell of a magical herb that made me crave White Castle burgers whenever I traveled to the Kingdom of New Jersey. On one magically night I ate 22 of those little suckers paired with 11 ales. It was a rough few days in the Lifshitz garderobe. Most of these guys are crap, but some have crappy matchups.
Tsuyoshi Wada, CHC: (vs.WAS, vs. KC); Matt Shoemaker, LAA: (vs. SD, v. DET); Danny Duffy, KC: (@NYY, @CHC); Nathan Eovaldi, NYY: (vs. KC, @OAK); Chris Tillman, BAL: (vs. Hou, vs. TB); Kyle Loshe, MIL: (vs. SF, vs. ARI); Ricky Nolasco, MIN: (vs. BOS, vs. TOR); Jeremy Guthrie, KC: (@NYY, @CHC); Charlie Morton, PIT: (vs. MIA, @SD); John Danks, CWS: (@TOR, @HOU); Eddie Butler, COL: (@CIN, @PHI); Odrisamer Despaigne, SD: (@LAA, vs. PIT); Williams Perez, ATL: (@LAD, @SF); Phil Klein, TEX: (@CLE, vs. BOS); Severino Gonzalez, PHI: (@NYM, vs. COL); Jason Marquis, CIN: (vs. COL, vs. WAS)
Remember these starters are subject to change. If anyone was missed or gets pushed back/moved up drop me a line in the comments and I'll Rank 'Em.
Follow me on twitter @ralphlifshitzbb.