Another week of two-start pitchers and another music focused theme to guide you in your conquests. Wait that sounded sexual, you're not trying to sleep with two start pitchers right?  I mean it's fine if you do this is a judgement free zone, but I wanted to be clear about my usage of conquests.  I don't want to start showing up for searches based around jersey chasing.  Then my comments might be questions like "What's the best type of underwear to wear when trying to seduce Max Scherzer?".  Jesus, how did I get here?  I just want to talk a little 90's grunge and throw a few stats at you.  Stream of conscious writing isn't for everyone.  Let's put aside my ramblings for a moment and get into the meat of this sandwich shall we?  Anyone see the Kurt Cobain documentary "Montage of Heck"?  I watched it three times this week and was reminded of how much I loved Nirvana as a 10 year old Ralph.  For anyone that's a Nirvana fan it's a worthy take.  So thanks to the film and last week's spirited music debate in the comments I've been inspired to base this week's tiers on my favorite groups from the Seattle Grunge scene.  Hell it's probably the last good thing to come out of Seattle. I see you Tehol.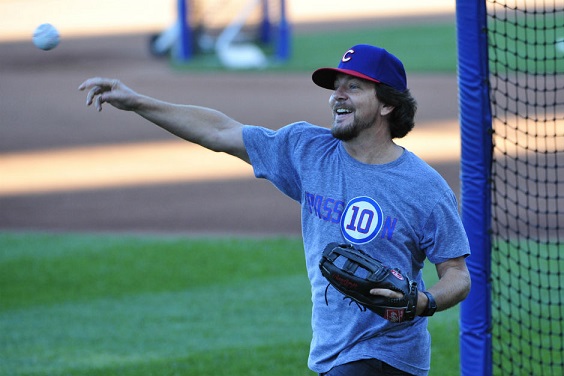 Nirvana (Aces) – I'm sure a few Pearl Jam fans will debate me on this one but for my money Nirvana is the crown jewel of the Seattle sound. They are the band by which all other post 1990 bands are judged and therefore our top tier. Max Scherzer is our top option this week, certainly his last turn vs Miami left something to be desired. The 10 k's made the 5 ER's allowed a bit easier to swallow but still not what you're looking for from your ace. Mad Max draws road starts at Arizona, and at San Diego, so his owners should be looking for big returns…. The next pitcher in our ace tier is the young based God Gerrit Cole. The Pirates righty, much like Scherzer, is coming off his worst start of the season against the Reds. On Wednesday he only lasted 5 innings, allowing 3 runs while striking out a yawn inspiring 4 batters. Prior to that Gerrit had been straight G$, firing on all cylinders his last four starts to the tune of a 10.17 K/9 and an ERA of 1.05. I like his matchups at Philly and at the Cubs. The strikeouts are rising for the young Cubbies and they're quickly sliding into the good matchup conversation….. I'm taking a leap of faith with Jon Lester here and ranking the lefty among the aces based on his last three starts. His first start against the Mets looks sort of middle of the road, Amazin's wOBA vs lefties of .318 ranking 14th in MLB. His second start vs the Pirates looks delicious, with the Buc's .266 wOBA vs LHP ranking 27th in all of baseball. That second start would be one I'd keep in mind for later in the week in daily leagues.
Max Scherzer, WAS: (@ARI, @SD); Gerrit Cole, PIT: (@PHI, @CHI); Jon Lester, CHC: (vs. NYM, vs. PIT)
Alice in Chains (Must Start) – In many ways the forgotten greats of this era, does any Seattle band have as many great songs as AiC? I mean come on now The Rooster, Man in the Box, No Excuses, Would, Down in a Hole, etc. etc. etc., and by way of Layne Staley the criminally underrated Mad Season. I think they're a good comparable to many of the pitchers in this tier. There's a few guys that could very well be listed in the ace category but miss the distinction due to perception. One such player is Jacob deGrom. Over his last 175+ innings the Mets righty has an ERA of 2.75 that's supported by a FIP of 2.86, and an xFIP of 3.15. Pair those numbers with a respectable K/9 of 8.95 and you have a case that deGrom could be one of the least talked about studs in the game. His one bad start came 4 turns ago against the Yankees at the stadium and should be forgiven. What I'm most excited about with deGrom is his improving control thus far this season. His BB/9, has dropped from a respectable 2.76 in 2014 to a very sexy 1.96 through 36 2/3 in 2015. Is the sample size small? Sure, but if he maintains it, big things could be in the works for 2014's ROY. deGrom starts the week at the Cubs and then faces the Brewers at home, both very winnable matchups… I don't know what to do with Stepehen Strasburg. Do I drop him down a tier? Will he even make both starts? How bad is the shoulder injury? Is Bounty really the thicker, quicker picker upper? All this and more in week 6 of Baseballlll!!!!!… I like Jake Arrieta to bounce back against the Mets and Pirates this week. He had a couple of mediocre starts, and that happens. A quick look at the numbers tells me it's all their for Jake. High K/9 (9.24), solid BB/9 (2.19), he's keeping the ball in the park (HR/9 of .49), but getting a little unlucky with his BABIP, which sits at .311. This would explain why his ERA is nearly a full run higher than his FIP of 2.54…. Chris Archer is coming back down to earth everyone. Back to back rough outings where he's given up 4 walks and allowed 4 and 5 runs. He did have 8 k's in 3 1/3 vs Texas but 5 earned runs isn't making many owners happy. It was a very Mike Fiersish performance from the Arch. He draws two of the hotter offenses in baseball at the moment in the Yanks, and the Twins. I for one am staying away this week. He's tough to bench in weekly leagues though, so you may just have to roll him out….. A.J. Burnett is dealing right now. Thanks Ray Searage! Seriously Searage is like the Pharrell of pitching coaches he can make anyone a hit. Only Searage is more mustachioed and less alien like, but I digress… Burnett's ERA sits at very unsustainable 1.66, which is nearly two runs lower than his xFIP suggests. He's aided by a silly LOB% of 90.3%, and a HR/9 of .47. Putting all these warning signs aside I like his two matchups this week with the Phillies, and Cubs.
Jacob deGrom, NYM: (@CHC, vs. MIL); Jake Arrieta, CHC: (vs. NYM, vs. PIT); Jeff Samardzija, CWS: (@MIL, @OAK); Carlos Carrasco, CLE: (vs. STL. @TEX); Chris Archer, TB: (vs. NYY, @MIN); A.J. Burnett, PIT: (@PHI, @CHC); Stephen Strasburg, WAS: (@ARI, @SD)
Pearl Jam (Good Starts) – Many Pearl jam fans will contest that they're the greatest band to come out of Seattle. I'll respond with a simple….meh. Not impressed, sure Ten was a great record but they got worse with every release. Don't get me wrong they have their moments, but the self righteousness, and obsession with just sort of making noise in their latter years had me off the bandwagon decades ago. This all reminds me of Bartolo Colon, who will not be making two starts this week and instead yeilding to Mets super prospect Noah Syndergaard. So far this year in AAA Las Vegas the big righty has been straight dirty. Putting up a 3-0 record to go along with a ERA of 1.82, a .94 WHIP, and a K/BB of 4.25. Vegas is not an easy place to pitch so those numbers mean something. I don't love Tuesday's start at Wrigley from a ratio standpoint, the Cubbies hit righties pretty well. On the other hand it provides good K potential. His second turn vs. the Brewers is tasty. Millie-Wau-kay or "The Good Land" has been awful against righties, posting the league's 6th worst wOBA  of .294. Pair that with a 23% K rate and you're looking at a potential big week from the kid…. Shelby Miller is another surprising stud thus far this year. After going the full monty against Philly on Wednesday I say get on-board…. Scott Kazmir was roughed up for the first time this season Thursday at Minnesota. He draws home starts against both colors of Sox, neither of them hit lefties very well, so they're plus matchups for the Kaz…. Josh Collmenter is pretty boring, he's totally vanilla yogurt. No one really hates it, but does anyone buy it to eat it by itself? Ahhhh no..Thing is with Collmenter is he doesn't walk anyone (.68) and he's notoriously strong at home (3.11 career ERA, .223 BAA) which should negate some of the fear surrounding the Nats matchup early in the week. Add in that he gets the Phillies with his second start and you're looking at a solid streamer.
Shelby Miller, ATL: (@CIN, @MIA); Scott Kazmir, OAK: (vs. BOS, vs. CWS); Ian Kennedy, SD: (@SEA, vs. WAS); Lance Lynn, STL: (@CLE, vs. DET); Josh Collmenter, ARI: (vs. WAS, @PHI); Anthony DeSclafani, Cin: (vs. ATL, vs. SF); Mike Leake, CIN: (vs. ATL, vs. SF); Rick Porcello, BOS: (@Oak, @SEA); Alfredo Simon, DET: (vs. Min, @STL), Noah Syndergaard, NYM: (@CHC, vs. MIL)
Soundgarden (One Good – One Bad) – Let's get this straight Soundgarden wasn't a terrible band, it's just Chris Cornell went very…ummmm…popish? None of the bands on here are bad, but I just don't love Soundgarden. To me they're sort of a one (maybe two) album band. So they get the dubious distinction of the one good start – one bad start tier. Funny thing is there are some guys I love in this tier. Chris Heston for example has been a god send for me in a few deeper leagues. For example in a 20 team dynasty I actually traded one of my better pitching prospects in Jake Thompson for Heston and so far I haven't regretted it. He had a rough third inning on Wednesday against the Padres surrendering all 5 runs on 6 hits and a walk. I think he rebounds this week at Houston and at Cincy. He induces a good amount of grounders (57.1%), and his K/9 isn't awful at 6.99. He's actually been a touch unlucky with a BABIP of .339. I say start him with some confidence at the Reds but be weary of the Astros start….. I like James Paxton versus the Red Sox later in the week, but his first turn against the Padres is not ideal. They're middle of the road when it comes to hitting lefties and I could see this being a rough one for Paxton, who can be very up or down. His last two starts have been encouraging though…. Edinson Volquez scares the shite out of me. The blister cut short his most recent start, and that may explain why he looked so off, but I feel like it's only a mater of time before he explodes. Looks like he avoids the DL, but I don't know where that leaves his two start status for the week….  Everyone else in this tier I've highlighted their good start in green, and their start to avoid in red.
Chris Heston, SF: (@HOU, @CIN); James Paxton, SEA: (vs. SD. vs. BOS); Edinson Volquez, KC (@TEX, vs. NYY); Nathan Eovaldi, NYY: (@TB, @KC); C.C. Sabathia, NYY (@TB, @KC); Nick Martinez, TEX: (vs. KC, vs. CLE); Ubaldo Jimenez, BAL; (vs. TOR, vs. LAA); Carlos Frias, LAD: (vs. MIA, vs. COL); Colby Lewis, TEX: (vs. KC, vs. CLE); Wily Peralta, MIL: (vs. CWS, @NYM)
Screaming Trees (Stay away) – The Screaming Trees were an awesome band, but their name involves screaming which is what these guys will make you do.
Alex Colome, TB: (vs. NYY, @MIN); Tom Koehler, FLA: (@LAD, vs. ATL); Tyler Matzek, COL: (@LAA, @LAD); Mark Buehrle, TOR: (@BAL, @HOU); Danny Duffy, KC: (@TEX, @NYY), Marco Estrada, TOR: (@BAL, @HOU); Justin Masterson, BOS: (@OAK, @SEA); Kyle Gibson, MIN; (@DET, vs. TB); Samuel Deduno, HOU: (vs. SF, vs. TOR); Jerome Williams, PHI: (vs. PIT, vs. ARI)
Remember these starters are subject to change. If anyone was missed or gets pushed back/moved up drop me a line in the comments and I'll Rank 'Em.
Follow me on twitter @ralphlifshitzbb.