Growing up everyone had their favorite school lunch. Didn't matter if your Mom packed you one or if you paid Bertha $1.25 for the crap they served on the foam divided plate. Everybody had a favorite. Maybe you were a lima beans and ravioli guy, a P,B, and J-er, did you crush fluffernutters like a boss? Or did you wait all week for pizza on Friday? I had several favorites and they evolved as I got older, I'm sure that's the same for you too. So this week we compare pitchers to some of my favorite brown bag meals. Excuse me while I go heat up some Dino-shaped chix nuggets. Yummmm weird chicken type meat smoothered in sweet baby rays….Yummmmmm. So anyway we're all starving for some fantasy baseball coming out of the break, and what better way to ring in the second half than a little elementary school nostalgia? Two Start Pitchers week 16 gentlemen and four LADIES.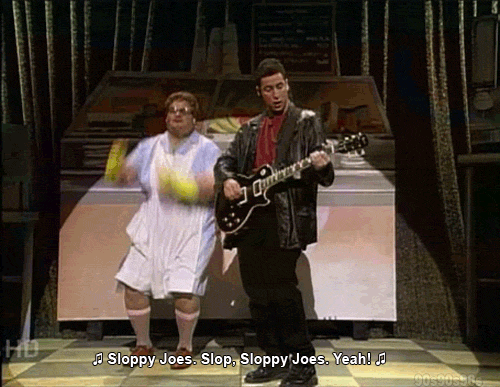 Meatloaf Sandwich (aces) – My mother's meatloaf is the best thing to ever be put between two pieces of bread. Yes even that. It's flavorful topped with a little bit of tomato sauce and filled with tiny onions and peppers and stuff. These guys are aces you start them, you don't ask questions you just do. Just like my meatloaf sandwich, ace types are few and far between.
Gerrit Cole, (@KC, vs. WAS); Jacob deGrom, (@WAS, vs. LAD).
Salami Sandwich (Good Starts) – When I was in first grade my lunch consisted of a salami sandwich with mustard, a Reese's peanut butter cup, and a box of O.J. How I don't have serious digestive issues I'll never know. These are the guys you're rolling this week for sure….. Carlos Martinez has been the goods of late, over his past three turns his ERA is .90, his xFIP/FIP doesn't support it (3.27/3.01), but do those peripheral friends ever support you when things are going well?…. Sorry Mets fans but Harvey at the moment is just a tic below ace level. Does this rank make me a bad guy?…. Whenever I think of A.J. Burnett the Elton John song "Still Standing" comes to mind. I hate that song but it seems appropriate. He is in fact still standing and is better than he ever did. I wonder if he feels like a little kid? Check out the most flamboyant video of the 80's.  Burnett's matchups aren't great this week as he faces the Royals and Nationals but neither start is one to avoid altogether…. With the exception of one bad start Gio Gonzalez has been dealing since the calendar hit June. The increased groundball rate is finally starting to pay off for Gio. His first start against the Mets is one of my favorites of the week, the second start against the Pirates is middle of the road. Not because Gio's a big Pretenders fan, it's because the Bucs sit squarely in the middle of the pack vs southpaws…. Ugh here I am trusting Danny Salazar again. He's like a crazy girlfriend with a body that don't quit. You know the sex is great (K's), but there's a 80% chance she starts a blowout fight (gives up 6 runs) over nothing. His matchups against Milwaukee and the Chi-Sox have me throwing caution to the wind and taking her out for a seafood dinner…. I always try and avoid the Reds at home, this is the main reason Jason Hammel isn't ranked higher. His second start against the Phillies is a must go…. I love Andrew Heaney, have since last year. Through his first four starts in 2015 he's looked excellent. Sporting an insane 23 k's to 4 walks and a batting average against of .198, he's a player I'm targeting everywhere in trades. This week he faces the Twins and Rangers at home neither matchup scares me, as each of them are in the bottom third of the league vs. LHP…. I've been off that Brett Anderson for awhile now Yo! He's not the most exciting option out there, but he's a guy you could've grabbed off of the wavier wire pretty recently and gotten a solid bottom of the rotation guy out of it. He gets two marvelous opponents this week as he travels to Atlanta and Metco to take on two of the weaker lefty hitting lineups in the NL.
Carlos Martinez, (@CWS, vs. ATL); Matt Harvey, (@WAS, vs. LAD); A.J. Burnett, (@KC, vs. WAS); Gio Gonzalez, (vs. NYM, @PIT); Danny Salazar, (@MIL, vs. CWS); Jason Hammel, (@CIN, vs. PHI); Andrew Heaney, (vs. MIN, vs. TEX); Brett Anderson, (@ATL, @NYM); Ian Kennedy, (vs. SF, @MIA).
Fluffernutter (Why Can't I Sit You) – I'm pretty sure this is a New England thing because I've never heard anyone not from Massachusetts, New Hampshire, or Rhode Island bring it up. For those that don't know it's a sandwich consisting of a marshmallow spread paired with peanut butter. Jelly is for suckers! Also there's only one brand of Fluff, it's the O.G. Fluff brand straight out of the mean streets of Lynn, Mass. The Fluffernutter is delicious but also awful for you. Sort of like these guys, not bad pitchers but you know this is a week to avoid them…. You know Alex Wood has a Dr. Jekyll and Mr. Hyde profile. Lately he's been all Edward Hyde, this is well illustrated by a 8.49 ERA in his past three starts. It doesn't look to be any better this week as he's set to face the Dodgers and Cardinals. This is a bit disingenuous on my part because the Cards rank 26th in the league in wOBA vs LHP. Just don't trust him…. Kyle Gibson has been the opposite of Wood lately, he's been stupendous. I love that word STUPENDOUS!!! I like to say it in a Wallace Shawn voice, is that just me? Either way Gibson has been excellent dropping a big dog Glenn Rob 4-1 record with a 1.65 ERA and a K/9 of 7.99 over his last 5 starts. This week he faces two of the top 10 lineups over the last 30 days in the Yankees and Angels. I'd probably avoid Gibson this week…. Yordano Ventura's matchups aren't bad in the one-six, but I still don't trust him as far as I can throw him. He's pretty scrawny pretty sure could toss him 50 meters. Dad strength!…. As a Red Sox fan I'm very excited to see Brian Johnson but his matchups this week are tough. The Stros in H-Town and the Tigers at Fenway are baseball's baptism by fire. Hopefully he doesn't end up with third degree burns….
Alex Wood, (vs. LAD, @STL); Kyle Gibson, (@LAA, vs. NYY); Brian Johnson, (@HOU, vs. DET).
Pizza Day (One Good Start/ One Bad Start) – My elementary school had Pizza day every Friday but it was strange. They had two types of pizza, the french bread pizza all the kids wanted and the square Elio's no one wanted. Depending on which table got called first you either won the lottery and got a delicious slice of garlicie french bread pizza or you lost and got a cardboard slice of square pizza. Well this tier is like going through line twice, you get the good and the bad, the gift and the curse, the virgin and the whore. Actually I'm not sure either of the last one is bad.
Kendall Graveman, (vs. TOR, @SF); Matt Moore, (@PHI, vs. BAL); Nathan Eovaldi, (vs. BAL, @MIN).
Cheese Sandwich (Avoid These Guys) – I'd avoid these starts for a multitude of reasons.
Matt Shoemaker, (vs. BOS, vs. TEX); Brandon Beachy, (@ATL, @NYM); Rubby De La Rosa, (vs. MIA, vs. MIL); Tim Hudson, (@SD, vs. OAK); Odrisamer Despaigne, (vs. SF, vs. MIA); Michael Lorenzen, (vs. CHC, @COL); Jeremy Hellickson, (vs. MIA, vs. MIL); Matt Garza, (vs. CLE, @ARI); Clayton Richard, (@CIN, vs. PHI)
As always these starters are subject to change due to rain, snow, Tommy John, strep throat, and pizza that's too hot to eat. There's sure to be players added to this list as the rotations are further set. If anyone is added drop a line in the comments and I'll rank'em.