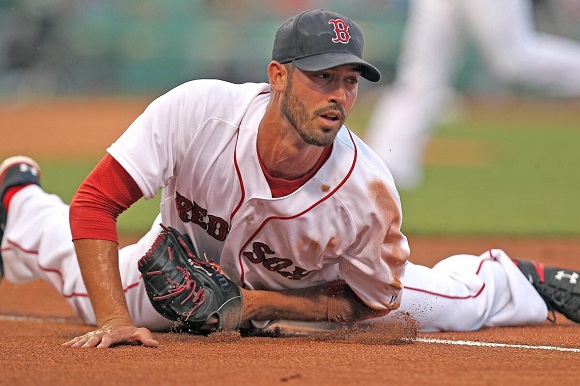 We're back with our second installment of this year's Roto category leaders.  Once again, listed is the current leaders, favorites in a group (if tied), and who is licking their chops to, meow mix meow mix please deliver, take over the lead, ready to run a train on them chicken fingers nom nom nom nom.  You know what, let's get right into it!
Note: Roto Leaders as of Sunday April 15th, 2018.
Wins
AL – BOS Rick Porcello/CLE Carlos Carrasco (3)
As we can see, the AL has already weeded out all relief pitchers for the lead in W's.
    Favorite in the Group –  CLE Carlos Carrasco
    Waiting in the Weeds –  TOR J.A. Happ
Next projected start is against the Royals, who are struggling against LHP this season.  Although the Royals BABIP is far above average vs. Lefties, they have been below average thus far creating runs.  If Happ's start versus Kansas City wasn't before Verlander's next start in Chicago South, this choice may have changed.
NL – WSH Max Scherzer/PIT Trevor Williams/COL Adam Ottavino (3)
I know y'all saw the boomerang pitch Ottavino threw on Sunday where if the catcher wasn't in the way, might have 360'd back to his glove.  How many pitchers do you know that can play catch with themselves?
    Favorite in the Group – PIT Trevor Williams
You might think I'm crazy going with Williams here.  He's been unbelievable so far, and going against the Rockies who have not fared well against RHP this season.  How about last in the majors with a wRC+ 47 and a wOBA of .263.  Pittsburgh has been one of the hottest teams in baseball to start the season.
    Waiting in the Weeds – STL Miles Mikolas
Facing a weak Reds team that rates in the bottom half of the league in xwOBA against RHP that feature 4-seam fastballs and sinkers.  He generates a lot of swing and misses with his fastball and the curve that dazzled fans of the Yomiuri Giants in Japan which led to taking his talents to St. Louis.
Saves
AL – SEA Edwin Diaz (6)
Compared to other AL relief pitchers in the thus far, Diaz is tied for the lead in K/9 at 18.00 with Aroldis Chapman and Zach Duke.  He has a FIP of 0.34 and a xFIP of 0.77
    Favorite in the Group – N/A
    Waiting in the Weeds – TOR Roberto Osuna
I like Toronto's chances of holding off Kansas City over Kimbrel and the Red Sox against those pesky Angels in the outfield in their next series.
NL – COL Wade Davis/NYM Jeurys Familia (7)
Familia, Wade, Familia, Wade, Familia.  That's the baseball version of bubble gum, bubble gum, in a shoe.  The velocity is there for Familia with his sinker (favorite pitch) at 95 and the 4-seam at 96.  He also mixes in a hard breaking slider.  Imagine trying to hit a 95 mph pitch that dips 3 inches as it reaches the plate.
    Favorite in the Group – NYM Jeurys Familia
Feels weird to write Jeurys without an apostrophe between the y and s, plus we'll always remember who's family it is…It's Jeurys!  The Mets are still hot, even in a Spring that feels and looks like Winter
    Waiting in the Weeds –  SD Brad Hand
Strikeouts
AL – HOU Gerrit Cole (36)
OK, so Cole has looked like the easy pick for early AL Cy Young, and it doesn't even seem to be close.  He sticks with the 97 mph 4-seam about 48% of the time, and I don't blame him until someone proves they can hit it.  Cole is averaging 15.43 K/9 and walking only one or two hitters a game.  He's produced a ton of swinging strikes, with a SwStr% nearly double league average (9.5) at 17.5, a contact% of 64.9 (league average is 80), and O-Swing at 34%
    Favorite in the Group – N/A
    Waiting in the Weeds – HOU Justin Verlander
NL – WSH Max Scherzer (38)
No surprise here, Scherzinator is right where he belongs.  Shaky start the other day giving up two quick runs on a walk and a home run in the first inning.  However, he was perfect the rest of the way through seven innings.  He finished by posting a season high 11 K's against the Rockies and earning the W.
    Favorite in the Group – N/A
    Waiting in the Weeds – NYM Noah Syndergaard
Thor is not far behind at 33 K's.
ERA
AL – TB Yonny Chirinos (0.00)
This came as a surprise to me, and likely many of you.  But Cheerios is quickly proving to be an effective pitcher.  He throws nothing straight, relying mostly on a sinker that tails off at about 94 mph and mixes in a hard slider and splitter.  Still can't expect the ERA to stay at three goose eggs for long, but he is a pitcher to keep an eye out for as he is only owned in 9.4% of ESPN leagues.
    Favorite in the Group – N/A
    Waiting in the Weeds – CWS Reynaldo Lopez
NL – PIT Jameson Taillon (0.89)
Taillon continued his hot pitching and probably deserved a W on Saturday with a 1-0 victory in the 9th.  With any run support, that would have been an easy win.  He went 6.0 IP yielding only four hits and a sub-par three walks, with no earned runs.
    Favorite in the Group – N/A
    Waiting in the Weeds – MIA Jarlin Garcia 
This is another pitcher to keep an eye on, although with caution because he's on that Derek Jeter let's get rid of everyone but Starlin Castro just to watch him suffer team.  He as an extreme ground ball pitcher that has produced a GB% of 57.5.  His best pitch is the change up that is getting a lot of swings 54.29% of the time and is responsible for that ground ball rate.  It helps being in a pitchers' park.
WHIP
AL – DET Matthew Boyd (0.62)
Matty B, although 0-1 so far, has not given up much through 13.0 IP.  He's looked solid only walking one hitter, but his swing and miss stuff is not almost non-existent.  With only five strike outs thus far, he'll be extremely reliant on producing soft contact, and great defense behind him, but we'll see how long that lasts.
    Favorite in the Group – N/A
    Waiting in the Weeds – MIN Jose Berrios
Really looked dominant against the White Sox going 7.0 innings with 11 K's and only three hits.
NL – WSH Max Scherzer (0.67)
Easy NL Cy Young candidate.  Extremely reliable, with electric "boogie woogie woogie" stuff.  Feels like every start is a quality start and a low run total against.
    Favorite in the Group – N/A
    Waiting in the Weeds –  MIA Jarlin Garcia
See NL ERA waiting in the weeds.
Runs
AL – BOS Mookie Betts (16)
This Boston team is superior to many teams offensively in 2018.  Betts as the leadoff hitter can really do it all as a five-tool athlete, rarely strikes out, steals bags, and has a ton of pop in his bat.  Surrounded by talented hitters, it is no surprise that he's in Mookie is in this position and is here to stay.  Top ten in wRC+ at 191.
    Favorite in the Group – N/A
    Waiting in the Weeds – LAA Mike Trout
If Trout isn't leading a category, he'll likely be waiting in the weeds like a creep.
NL – PIT Starling Marte/WSH Bryce Harper/STL Tommy Pham/ATL Ozzie Albies (15)
Really any of these guys can be at the top, especially after watching Marte go 5-5 and scoring four runs in Miami.  Even with the meltdown in Chicago for Atlanta blowing an eight run lead Albies remains the leadoff hitter and has a fantastic wOBA at .440 and wRC+ of 180 which are both top 10 in the NL and top 15 in all of baseball.
    Favorite in the Group – ATL Ozzie Albies
Although vertically challenged at around 5'8" he has shown pop in his bat similar to someone he should look up to, I mean probably sees eye to eye, Jose Altuve.
    Waiting in the Weeds – ARI Paul Goldschmidt
Homeruns
AL – LAA Mike Trout (6)
Trout has gutted AL pitching recently after a slow start.  It's really too bad he's not on the Marlins, as Trout is on the all time fish team, joining the likes of:  Catfish Hunter, Hooks Dauss, Preacher Roe, Ray Fisher, Arlie Pond, Marlin Stuart, Art Herring, Brandon Puffer, Harry Eells, George Caster, Chum Gray, Mickey Rivers, Tim Salmon, Mike Carp, Johnny Gill, Kevin Bass, and Lip Pike.  Feel free to add more if you've got 'em!
    Favorite in the Group – N/A
    Waiting in the Weeds – OAK Khris Davis
NL – WSH Bryce Harper (7)
Bam-Bam is a solid nickname for the NL leader in HR.  With his light-tower power, he does not need to make hard contact to leave the park.  He has an excellent HR/FB rate at 36.8% and makes hard/medium contact 92.9% of the time he makes contact.  His ability to takes walks may be the only thing hurting Harpers chances of holding the lead, as pitchers like to avoid his bat.
    Favorite in the Group – N/A
    Waiting in the Weeds – COL Charlie Blackmon
Will be back home at Coors Field on Friday April 20th after a trip to Pittsburgh.
RBIs
AL – BOS Hanley Ramirez/SEA Mitch Haniger (15)
Hanley's ability to hit it out of the park and following Mookie and Andrew Benintendi in the lineup gives him every opportunity to drive in runs.
    Favorite in the Group – BOS Hanley Ramirez
    Waiting in the Weeds – OAK Jed Lowrie
NL – STL Jose Martinez/PHI Maikel Franco/PIT Gregory Polanco (15)
This is a pretty imposing group to choose from with former 28 year old rookie and current 29 year old Jose Martinez at 6'6", is finally getting an opportunity in St. Louis with regular playing time.  6'5" Gregory Polanco started off hot, however has slowed down as his AVG has dipped to .218.
    Favorite in the Group – STL Jose Martinez
    Waiting in the Weeds – WSH Bryce Harper
Stolen Bases
AL – SEA Dee Gordon (7)
Sweet Dee feels at home on top of the AL in SB.  The guy makes a living on beating out ground balls, then stealing a bag or two.  For a guy with limited power, he has an excellent BABIP of .386 and wOBA of .340.
    Favorite in the Group – N/A
    Waiting in the Weeds – CWS Tim Anderson
Welp, that didn't last long for Anderson.  However, he has proven himself to be a speedster, and could easily remain in the top 10 in the AL throughout the grueling season.
NL – WSH Trea Turner (6)
Trea "Don't call me Michael A" Turner is right where he is expected to be.
    Favorite in the Group – N/A
    Waiting in the Weeds – STL Tommy Pham
It was between Pham and Michael "Don't call me Trea, it's A" Turner.  Just looking at their AVG and OBP alone is all we need to see to understand how many more chances Pham gets to steal a base compared to Turner.
Batting Average
AL – MIN Joe Mauer (.412)
Let's take this number with a grain of salt, as three out of the last four Minnesota games have been PPD due to weather.  So Mauer has played in less games than his counterparts, and won't be able to keep up this pace.  However, we know from watching Mauer early in his career that he is great hitter, even with regression in 2014.  The AVG made its way back above .300 last season and the bat has been scorching to start the season making hard contact 40.7% of the time.
    Favorite in the Group – N/A
    Waiting in the Weeds – SEA Robinson Cano
NL – ATL Ryan Flaherty (.366)
This is one of those that won't last long, however Flaherty's slash line has been ridiculous thus far at .366/.458/.463.  As the season plays out, we'll likely see the more usual suspects creep towards the top, with Keyser Soze leading the pack
    Favorite in the Group – N/A
    Waiting in the Weeds – STL Jose Martinez