"Wahhhhhh, Shane Greene doesn't strike anyone out, he's useless, wahhhhhh!"  That's Sky on the Podcast a few hours ago…  "The Fifth Element sucked!"  That's Grey before I socked him!
Since my initial ranks in February, I've been a Greene champion.  In my blurb, I mention a high K-rate finish to 2014 (52:16 K:BB his last 41.1 innings), along with an unlucky 2014 BABIP (.330).  The starts I saw from him last year had me encouraged with his stuff, plus the move to a much better pitcher's park in Comerica had me "thrilled".
But even with the rank looking spiffy and everything going right, the low K-rate does seem a little concerning.  He's turning into Rick Porcello, noooooooo!  While his ERA and WHIP (along with 3 wins) are all change-your-pants worthy, he's got a measly 11:5 K:BB in 23 innings.  Regression is screaming like Ruby Rhod after he counted ten!  I of course hope not since he's on all my teams, and watching him so far this year in my normal bouncing-around-through-all-the-games he looks like a strong strikeout capable guy.  So I decided to watch his start yesterday hosting the White Sox, and give it the ol' full attention and Pitcher Profile treatment.  Here's how he looked:
First Inning: Fresh off two fantastic outings, Greene starts Adam Eaton with a fastball way outside for ball one.  The wind is really whisping around, as you can see in everyone's uniforms.  Another fastball is outside, and man, Greene kinda does look like Rick Porcello out there!  Skinny, fairly tall and with similar mechanics.  Fastball again, this time at 92 MPH is inside, and it's a quick 3-0 count.  Greene fits a fastball in there, 91 MPH on the inside edge makes it full, fastball is fouled off, then 92 MPH almost perfectly on the inside black is taken, but it's ball four.  Very very close, but Greene dug himself that hole.  After only 2 walks his first 2 starts, leadoff walk in this one and up is Melky Cabrera who takes a fastball outside.  Ruh roh.  Change-up flutters outside, and now back-to-back 2-0 counts.  91 MPH fastball is grooved in there, change-up inside is ripped foul, then a fastball is popped up, but it has some good carry in that wind and is caught in fairly deep left center.  Wind is certainly a factor today.  Fastball at 92 MPH barely sinks low to the dangerous Jose Abreu, and Abreu has to call time with the wind kicking up some dirt in his face.  Crazy.  Then whew-ie!  There's that cutter/slider/whatever at 86 with great tight movement getting Abreu to flinch making it 1-1: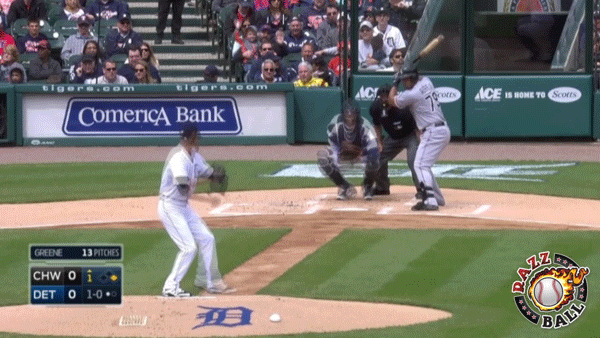 First of those we've seen, and that's the money maker right there.  Fastball is rolled over foul, another 92 MPH heater gets on Abreu's hands and is slashed foul, then a hanging change-up is flared to right, and J.D. Martinez catches it on the run and throws to first with nobody home for a double play.  No idea what Eaton was thinking about there, that wasn't even too hard a catch!  Maybe the wind kept the ball lofted more than he thought, I don't know…  Either way, inning is over, and after some control issues early, Greene is out of it.
Second Inning: Greene picks up a grand slam worth of support, and opens the second with a fastball hitting the outside corner on Adam LaRoche, 0-1.  Jose Quintana threw a whopping 42 pitches in the bottom of the first, so Greene's been sitting a while.  Change-up is outside, then a fastball on the outside corner is shot to left for a leadoff single.  Not a terrible pitch there, but was pretty hittable.  Back-to-back innings with the leadoff man on, and Avisail Garcia fouls off a fastball, 0-1.  Fastball again fouled down the third base line, slider is hug a bit in the middle of the zone but Garcia is late on it and fouls it off, then an even slower slider is rolled over it first, and Miguel Cabrera steps on the bag and gets the throw to second in time to tag out Laroche for the double play.  Nice fielding there, but a great pitch to induce the weak groundout.  First pitch to Conor Gillaspie is bunted foul third base side as he was hoping to beat the shift, but it's 0-1.  Fastball outside, then a great change-up on the outer half is rolled over to first weakly as well for another easy groundout, inning over.
Third Inning: Up 5-0 now, Greene starts Alexei Ramirez with a beautiful sinking fastball at 92 MPH, 0-1.  Then Greene works the top edge of the zone with a two-seamer, and Alexei tops it for an easy groundout.  Greene looking a lot more locked in now, helps to have that Tigers offense on your side!  Again pounding the zone with the fastball at 92, 0-1 to Tyler Flowers, slider is outside, then a ridiculous 92 MPH two-seamer zips into the outside corner, 1-2: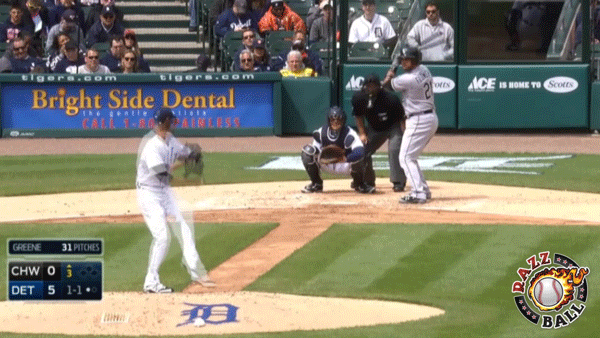 Along with that slider/cutter, that's some crazy movement left and right.  And he goes right to that slider, but it's a tad high and outside, fastball at 93 MPH is on the hands but fouled back, 93 again is just outside, full count.  And he sticks with the cutter at 86 MPH that gets Flowers way in front for an infield popup.  Great mix of speeds, hitting 93 twice and Flowers was expecting gas again.  First pitch to Micah Johnson is a fastball on the outside edge that he slaps to left for a single.  Lefties might be able to hit those easy fastballs.  Back to the top and Eaton takes ball one, slider is in there, two-seamer almost gets the inside edge on him 2-1, 92 MPH four-seamer is slashed foul, 2-2.  Greene takes a few checks on Johnson, then a hanging slider is high and Johnson steals second.  But it doesn't hurt him as a fastball on the outside corner is grounded to second, inning over.
Fourth Inning: The onslaught continues with the Tigers now up 7-0, and Greene gets a fastball in there to Melky, 0-1.  But another fastball is popped up to center and it drops quickly for a bloop single.  Lucky hit there, but as soon as it happens it's erased with a first-pitch tailor-made groundball from Jose Abreu to get two outs.  Nice two-seam action for the double play  LaRoche takes strike one, then another cutter/slider moves just enough to hit the outside edge at 86 MPH, 0-2: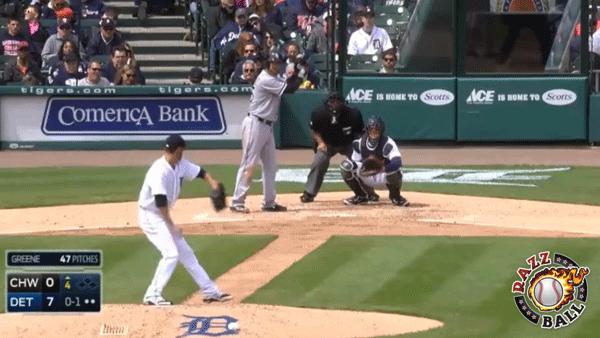 Then right after that beaut, Greene climbs the ladder with 93 MPH cheese and LaRoche swings right through it:
That sequence right there is why I think some Ks will start flooding in, given it's only his first strikeout on the day.
Fifth Inning: With his 50th pitch to open the inning, Garcia hacks at a slider that moved off the edge, then he fouls off another one a little lower to get Greene quickly ahead 0-2.  Greene tries that high fastball again but it's taken, fastball on the hands is fouled off, then he goes legit slider at 78 – that one looks like more of your standard slider – and it's swung through and missed for back-to-back Ks.  And now just unloading the full arsenal with a perfect first-pitch change-up to Gillaspie for strike one, fastball at 92 is fouled off – 40 strikes to 16 balls right now, and that includes a leadoff walk to start the game!  0-2 is a slider on the inside edge and it's grounded out weakly to second, two outs.  That same two seamer as the GIF above gets strike one on Alexei, slider breaks just off the outside, then a massive slider goes straight down at 87 MPH for a whiff, 1-2.  Man, the variants of the slider/cutter go from 78-87!  Perfect low and outside fastball at 93 is barely tipped foul, slider goes in the dirt, slider again breaks outside, and the payoff pitch is another slider that is too far outside for a walk.  Well, as soon as I got all giddy he threw three straight balls…  And keeping with the theme of the outing, the small mistake is very quickly erased with a first-pitch two-seamer hit to short by Flowers to end the inning on another groundout.
Sixth Inning: Sheesh, now up 9-0, Greene can cruise into a W and starts the 6th with a fastball in there to Micah, change-up flutters outside, same pitch fades well off the plate, two-seamer is slashed foul, then a hanging slider or change-up that stayed high in the zone is cut through and missed, 3rd K on the day gets the first out.  But that wasn't a quality K…  First pitch to Eaton is a slider at 83 and he pops it up foul on the third base side for the second out.  Mowing em down!  Greene tries what I think is his first curveball on the day and it's way outside, fastball is in there to Melky, slider outside, then a 92 MPH fastball on the outside edge is hit up the middle for a single.  Ya know, all 4 hits to this point have been lefties hitting fastballs on the outside half…  Interesting…  Anyway, great slider is in there for strike one on Abreu at 85 MPH, slider again is outside, high two-seamer is fouled back, 1-2 slider is in the dirt, then Abreu fouls a two-seamer breaking into the hands off his thigh, and it remains a painful 2-2.  Abreu walks it off and Greene gives him no breaks with another two-seamer and Abreu fouls it off his foot.  Damn, Abreu is gonna be sore…  Fastball again is hit foul first base side, then a 92 MPH four-seamer on the outside edge is hit well to right, and J.D. Martinez alligator-arms it and and just whiffs catching it and it rolls to the wall.  Man, where's the effort?!  I guess up 9-0, J.D. was like, "naw, not going all out for this one."  It's scored a triple for Abreu and Melky scores, breaking Shane Greene's 0 ER streak (21.2 IP) to start the year.  But that should really be a single and an error, J.D. at least should've played the hop instead of nonchalantly going for it and reaching out.  CAN YOU SENSE THE FRUSTRATION?!  Anyway, fastball low is sliced foul by LaRoche, slider breaks low, change-up floats outside, then a good sinking fastball is rolled over to second for an easy groundout to end the inning.  Lame, lame, lame ER on the board…
Seventh Inning: At 87 pitches, Greene comes out for likely his final inning and throws a slow slider at 76 MPH to get strike one on Garcia.  That's now a 76-87 MPH range on his sliders/cutters, pretty cool to see.  Slider is low, then a nasty two-seamer buries into the low and inside corner for a whiff, 1-2.  Greene misses low, slider off the outside edge is tapped foul, fastball on the hands almost ties Avisail up, but he's able to check it, 3-2.  Then fastball is too high and tight for a walk.  Blah.  And the first pitch to Gillaspie is a high fastball that's hit weakly to second and gets an easy double play.  Gillaspie definitely dropped a loud expletive when he hit that one!  That double-play just had the Tigers broadcasters comparing Greene to Porcello as well…  Me no likey!  Two down, and an 82 MPH change-up goes low, 1-0.  Hasn't found that pitch today.  Two-seamer goes too inside on Alexei, fastball is high, 3-0.  A little fatigued.  Two-seamer zips in there, but again a two-seamer breaks too far iniside for Greene's 4th walk.  Don't like seeing that.  Cutter at 88 MPH barely misses outside to Flowers, but that two-seamer has been working and breaks on Flowers' hands for yet another easy groundout to end the inning.  And that will end Greene's outing in a perfect microcosm inning – any time he had the slightest bit of trouble, he was able to induce an easy groundball.
Final Line:  W  7.0 IP  102 Pitches (65 Strikes)  1 ER  5 Hits  4 Walks  3 K  Gamescore: 62  Gamescore+: 61.8
Final Analysis: Hah, well a little interesting that the first two Pitcher Profiles this season had pitchers get game scores of 62…  Not surprisingly, Carlos Martinez outperformed Greene in the Gamescore+ calculation due to the higher strikeouts.  That said, Gamescore+ scores usually are much lower than the true Gamescore in low-K outings, and Greene kept pace.  The reason?  Tons of weakly hit outs, and all of his hits given up were singles.  Well Abreu got a triple, but it was due to garbage outfield play.  Greene didn't get hit hard at all the entire afternoon.
Greene starts it off with a four-seam/two-seam mix that topped out at 93 MPH like that high heat K to LaRoche.  The two-seamer had great run on it that he could use on both sides of the plate.  But the bread and butter is the slider and the variants.  When it was at 85-87 it looked more like a cutter, but he could throw them slower all the way to the 77-78 range for a little more break.  Fangraphs indeed has them broken down as separate pitches – cutter vs. slider – but they were similar enough in break that I didn't differentiate above.  The only pitch that was a disappointment to me in this start was the change-up.  It was floated out there he was developing the pitch in Spring, and through three starts he's used it 12% of the time.  In this one, it had ridiculous movement almost like a power knuckleball, yet lacking control.  If he can find that pitch and get it a little closer to the zone, he's going to be even harder to hit.
Nothing I saw Sunday afternoon has deterred me on my Greene love.  I know the low strikeouts might be concerning, but he struck out 9.27 per 9 last year with it at 4.30 this year.  There's going to be a happy medium.  While he's faced some garbage offenses, MIN, PIT and CWS rank 16, 11, and 28th in team strikeouts thus far on the young season.  It's not that telling of a stat, but enough of a reason not to panic at the anemic rate.  I think he's going to be more a 7-7.5 K/9 guy, and if he maintains his control and the ability to induce groundballs, a fantastic ERA and WHIP to follow.  He's been too good not to be a must-own already – I might not try to buy him in trades, the sell-high value makes it uneconomical, but I'm all-in.
JB's Updated Top 100 SP
(rankings based on 12-team Roto, green for risers, red for fallers)
| RANK | SP, Team |
| --- | --- |
| 1 | Clayton Kershaw, LAD |
| 2 | Chris Sale, CWS |
| 3 | Felix Hernandez, SEA |
| 4 | Max Scherzer, WAS |
| 5 | Corey Kluber, CLE |
| 6 | David Price, DET |
| 7 | Madison Bumgarner, SF |
| 8 | Stephen Strasburg, WAS |
| 9 | Matt Harvey, NYM |
| 10 | Johnny Cueto, CIN |
| 11 | Jake Arrieta, CHC |
| 12 | Zack Greinke, LAD |
| 13 | Jordan Zimmermann, WAS |
| 14 | Cole Hamels, PHI |
| 15 | Carlos Carrasco, CLE |
| 16 | Garrett Richards, LAA |
| 17 | Gerrit Cole, PIT |
| 18 | Jeff Samardzija, CWS |
| 19 | Alex Wood, ATL |
| 20 | Jacob deGrom, NYM |
| 21 | Collin McHugh, HOU |
| 22 | Julio Teheran, ATL |
| 23 | Tyson Ross, SD |
| 24 | Masahiro Tanaka, NYY |
| 25 | Dallas Keuchel, HOU |
| 26 | Adam Wainwright, STL |
| 27 | Yordano Ventura, KC |
| 28 | Sonny Gray, OAK |
| 29 | James Shields, SD |
| 30 | Jon Lester, CHC |
| 31 | Scott Kazmir, OAK |
| 32 | Michael Pineda, NYY |
| 33 | Alex Cobb, TB |
| 34 | Chris Archer, TB |
| 35 | Shane Greene, DET |
| 36 | James Paxton, SEA |
| 37 | Brandon McCarthy, LAD |
| 38 | Phil Hughes, MIN |
| 39 | Lance Lynn, STL |
| 40 | Matt Shoemaker, LAA |
| 41 | Anibal Sanchez, DET |
| 42 | Hisashi Iwakuma, SEA |
| 43 | Gio Gonzalez, WAS |
| 44 | Jake Odorizzi, TB |
| 45 | Homer Bailey, CIN |
| 46 | Danny Salazar, CLE |
| 47 | Michael Wacha, STL |
| 48 | Francisco Liriano, PIT |
| 49 | Drew Smyly, TB |
| 50 | Carlos Martinez, STL |
| 51 | Trevor Bauer, CLE |
| 52 | Doug Fister, WAS |
| 53 | Mike Fiers, MIL |
| 54 | Andrew Cashner, SD |
| 55 | Jered Weaver, LAA |
| 56 | Archie Bradley, ARI |
| 57 | Jimmy Nelson, MIL |
| 58 | Jason Hammel, CHC |
| 59 | Jose Quintana, CWS |
| 60 | J.A. Happ, SEA |
| 61 | Mike Leake, CIN |
| 62 | Drew Hutchison, TOR |
| 63 | Drew Pomeranz, OAK |
| 64 | Mat Latos, MIA |
| 65 | Kyle Hendricks, CHC |
| 66 | Anthony DeSclafani, CIN |
| 67 | Kyle Lohse, MIL |
| 68 | Chase Anderson, ARI |
| 69 | A.J. Burnett, PIT |
| 70 | Ian Kennedy, SD |
| 71 | Hyun-Jin Ryu, LAD |
| 72 | Edinson Volquez, KC |
| 73 | Wily Peralta, MIL |
| 74 | Chris Tillman, BAL |
| 75 | Jesse Hahn, OAK |
| 76 | Jake Peavy, SF |
| 77 | Mike Minor, ATL |
| 78 | Jose Fernandez, MIA |
| 79 | CC Sabathia, NYY |
| 80 | Noah Syndergaard, NYM |
| 81 | Shelby Miller, ATL |
| 82 | Danny Duffy, KC |
| 83 | John Lackey, STL |
| 84 | Daniel Norris, TOR |
| 85 | Justin Verlander, DET |
| 86 | Tim Hudson, SF |
| 87 | Aaron Sanchez, TOR |
| 88 | R.A. Dickey, TOR |
| 89 | Matt Garza, MIL |
| 90 | Taijuan Walker, SEA |
| 91 | Rick Porcello, BOS |
| 92 | Rubby De La Rosa, ARI |
| 93 | Kyle Gibson, MIN |
| 94 | Jon Niese, NYM |
| 95 | Nathan Eovaldi, NYY |
| 96 | Carlos Rodon, CWS |
| 97 | Kevin Gausman, BAL |
| 98 | Aaron Harang, PHI |
| 99 | Chris Heston, SF |
| 100 | Brandon Morrow, SD |
Dropped Out: Tom Koehler, MIA (meh), Zach McAllister, CLE (bullpen), Wei-Yin Chen, BAL (meh), Clay Buchholz, BOS (just so hard to suffer through the bad games), Kendall Graveman, OAK (might be able to get it back together tonight)
Am I too Super Greene?!  Or is Grey right to hate The Fifth Element…  I mean, Leeloo Dallas, multi-pass, amiright?!  Shoot your thoughts below, and may your ratios be thinner than Chris Tucker in drag clothes!