The season is here baby!  Well, that's kinda old news at this point, but I'm pumped for the first Pitcher Profile of 2015!
Every Monday this season, we'll be breaking down fringy mixed-league starters (usually) to get a better gauge on their value and if they're worthy of a valuable roster spot.  And I certainly like suggestions!  Add into the comments a pitcher that's projected to start next weekend and I very well might end up Profiling them.  Wait, not like that!
Now to our debut this year, and I've just never really known what to make of Carlos Martinez.  Power stuff, destroys righties, but left-handed batters have crushed him.  I had Martinez 74 in my original ranks amongst SP,  but dropped him out in my re-ranks as he was heading to the bullpen.  Then Jaime Garcia blew out his 5th or 6th shoulder – I've lost count – so it's back into the starting five, Carlos!  Made him as excited as I was when I stumbled upon his Twitter a few years ago…
So I decided to tune into his 2015 debut as a starter (he threw an inning of relief on opening night last Sunday), and break down how he looked against the Reds pitch-by-pitch:
First Inning: First pitch is a perfect fastball on the outside corner and on the knees to Billy Hamilton, who takes it for strike one.  Good test in this early season to see how C-Mart fares against a lot of good lefties, including the switch-hitting speedster.  94 MPH heat looks a tad outside, but gets the call and Hamilton isn't too happy.  Well, then he nods to be like, "OK, your zone is off, but OK."  Slider is in the dirt, change-up is nubbed foul, then a fastball on the inside edge is roped down the first base line for a leadoff double.  That 1-2 fastball was supposed to be at the knees and caught too much of the plate, that said it wasn't a gapper or anything.  Joey Votto takes a 96 MPH fastball low, then 87 MPH is low – I think that was a change-up but moved almost like a nasty cutter!  2-0 pitch is another change-up, and ohhhh-eeeee!  89 MPH on the knees and Votto swings over it: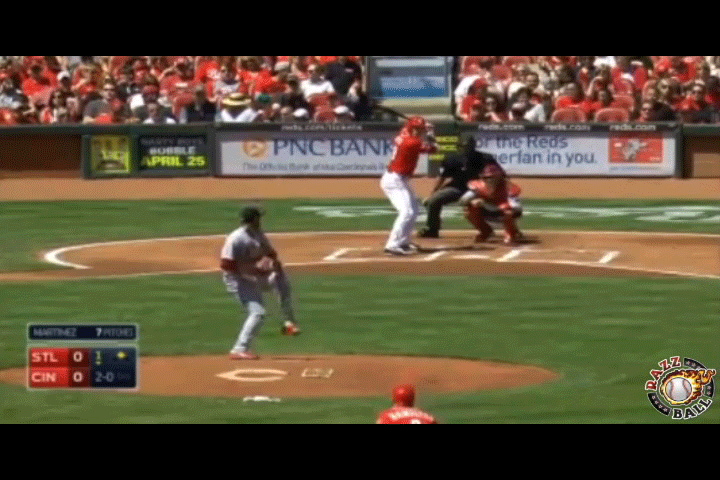 [note on the GIFs today – I know the quality is kinda poopy, but I'm getting a new computer this week (!!!!) to better handle multimedia work]
C-Mart then goes fastball that is outside, another change-up that was definitely low is tapped foul, then yet another change-up on a 3-2 count is swung on and missed, and Votto strikes out.  Ya know, they say for RHP the great equalizer vs. lefties is a good change-up, and man am I encouraged he might be able to get em out this year.  Last year he only threw change-ups 3% of the time (according to the broadcast – Fangraphs says 9.3%), so it's great to see him using them a lot right away.  96 MPH fastball is inside to Todd Frazier, 84 MPH slider is in there, then he pulls the slider out of the zone after getting one in there and Frazier swings way over top: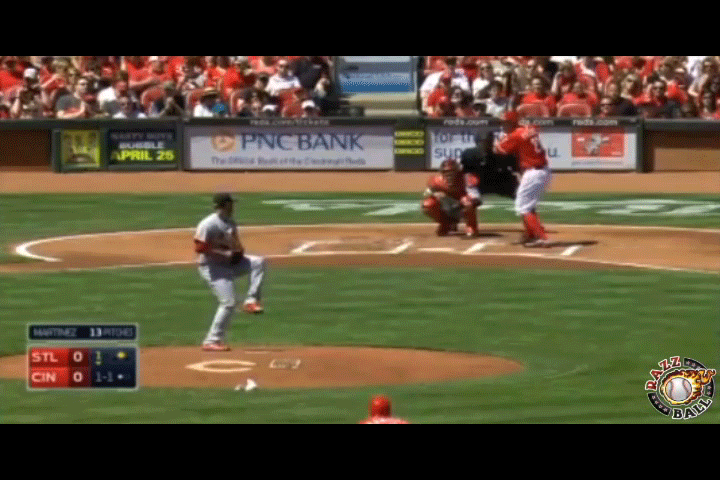 Man, I'm already itching to move C-Mart up in my rankings.  That's some great stuff with a plus fastball.  Then slider again gets him rolling over top of it for a routine grounder to short, two down.  Then the first pitch to Brandon Phillips is a 96 MPH heater crushed to left center, but Jon Jay makes a diving catch on the track to save a run for C-Mart.  Man, gotta avoid those first-pitch hacks!  Definitely a run saved by the D.
Second Inning: Opening the 2nd, C-Mart goes with a fastball low to Jay Bruce, very very close fastball is just low and outside, 95 MPH fastball again is just outside, 3-0 fastball is in there, then the 3-1 pitch is another fastball on the outer edge and high, and Bruce reached out for it and homers to dead center.  Wow, K-zone had it outside of the strike zone, Bruce is a strong, strong man.  Down 0-1 now, C-Mart hopes to bounce back with a change-up swung on and missed by Brennan Boesch (another lefty), 96 MPH is low, then a fastball is grounded hard down the third base line, and Matt Carpenter makes a diving web gem with a cannon throw to get him out by a millisecond.  So the D helps on that one too – that said, the Cards shifted the lefty and Carpenter was well off the line.  Normal positioning and it's likely an easy-ish play.  Beautiful sinking fastball at 96 MPH gets strike one on Brayan Pena, slider is hung a bit at 83 and fouled back, then an 85 MPH change-up that stays in the zone is fisted to right for a flare single.  Still want a better pitch there 0-2 though.  Martinez with another good first-pitch fastball gets strike one on Zack Cozart, fastball again fouled back, then the 0-2 slider is spiked way outside for a wild pitch moving Pena to second.  Young pitcher syndrome there – 0-2 change-up to Pena was too hittable, so he overthrew the slider to Cozart trying not to make the same mistake.  But C-Mart collects himself and gets a slider to sweep out of the zone for a swinging strike 3.  Nice pitch and recovery there.  Opposing pitcher Raisel Iglesias takes a fastball well inside, he fouls back the next fastball, then 95 MPH fastball is chopped to short for an easy out to end the inning.
Third Inning: Back to the top and Hamilton takes a fastball outside, change-up is outside, a great fastball (at only 92 MPH though) nips the outside corner, then he hits the inside black at the knees at 95 to make it 2-2.  Change-up is nipped foul, change again is outside, then change-up again at 85 MPH absolutely freezes Hamilton for strike 3 looking: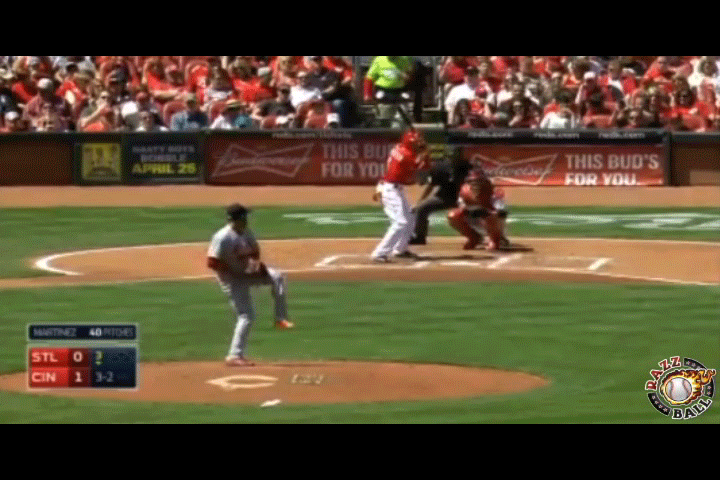 Change-up mowing through the lefties, gotta love it.  Martinez starts Votto with a slider surprisingly that stays high and outside, zips a fastball in there to make it 1-1, misses just low, then a 2-1 fastball at the knees is hit sharply to first for a hard groundout.  Votto definitely dropped an F-bomb right there mad he missed that one, and I caught a second one when he got into the dug out!  Haha.  Fastball is inside to Frazier, then a perfect slider gets the zone 1-1.  Then a great sinking heater at 95 gets a swing, then change-up at 88 in nearly the same spot gets Frazier out front for his 4th K.  Great inning.
Fourth Inning: Hoping to keep it rolling, Martinez starts Phillips off with a fastball again, but this time it was off the plate outside and Phillips is late and fouls it off.  You know Phillips wanted that one.  Then Martinez pours a great slider in there to make it 0-2, then slider again at only 81 MPH is way low, Phillips tries to golf it but it's flared to left for a sliding catch, but nothing too difficult.  Martinez gets ahead of Bruce 0-1, change-up is in the dirt, 95 MPH fastball pulled foul, change-up is way outside with Martinez stumbling a bit – maybe another overthrow – change-up is grounded foul, Martinez unafraid to mix in that slider but it bends low and inside, payoff pitch is a change pulled foul, then another change-up is way low in the dirt for a walk.  Bruce was just a tough out there, spoiled some pretty good ones.  Great 94 MPH fastball is in there to Boesch, fastball again is sliced foul, slider is inside, then change-up that started on the inside black just dies and hits the dirt at 87 MPH and Boesch is well over it and in front for another K.  Then Pena hits the first pitch fastball weakly to third to end the frame.
Fifth Inning: Finding himself with some support and a 3-1 lead, Martinez starts solid again with a fastball in there for strike one to Cozart, slider misses, another slider is nipped back foul, change-up on the inner half is pulled foul, then a slider well outside and low gets Cozart unable to hold his swing for Martinez's 6th K.  C-Mart continues to pound the zone with first-pitch fastballs and pinch hitter Skip Schumaker fouls it back, another fastball is taken for a strike 0-2, change-up gets Skip flailing but he gets a piece, then change again is a nubbed and Martinez fields his spot well for the out.  Nice non-panicky fielding.  84 MPH change-up is way inside and low with Hamilton hopping out of the way, fastball is outside to fall behind 2-0, whoa fastball again at 94 is way, way outside for a bad 3-0 count.  92 get-me-over fastball is in there, then fastball again at only 91 (!!!!) MPH is hit well for another home run.  Martinez has hit 95+ multiple times!  Don't like to see the aggression wane right there.  First pitch to Votto is a change-up that sails to the backstop, and Martinez is rattled, out comes Yadier Molina.  Needing to collect himself, Martinez's 1-0 is a change-up in the dirt, then a perfect one is in there at 86 to make it 2-1.  Fastball dribbled back, 87 MPH change is way inside and low, fastball is barely tipped foul still 3-2, and fastball again hitting 95 on the gun is chopped weakly right to Martinez, and he makes the easy toss to short to get out of the inning.
Sixth Inning: At 86 pitches, Martinez is back out there and hits 96 MPH on his first pitch and gets a foul back from Frazier, slider is taken for 0-2, then slider again at 83 MPH is a little bit hung and Martinez actually falls over.  Weird.  Oh, Frazier flies it out weakly to right, so I guess it works.  One out and slider is hung high to Phillips, great slider at 85 bending out of the zone is swung over, then a great 95 MPH fastball is tipped foul, 1-2: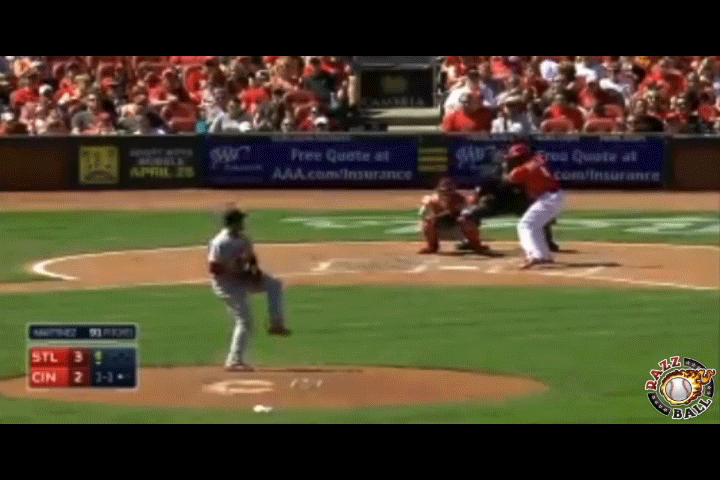 Then slider at 85 that didn't have a huge break but changed the speed gets a swing-and-miss for the second out.  Bruce takes low, change-up is then outside, change is way low in the dirt, 3-0.  That change-up has been filthy at times, but inconsistent like those last two pitches.  Then change-up again is outside for a four pitch walk.  Martinez wanted none of Bruce.  Boesch takes one of those great fastballs at 94 for strike one on the outside lower black, fastball again is grounded weakly foul, then a perfect 86 MPH change-up just dies in the bottom of the zone with Boesch swinging over it for a 3-pitch strikeout on Martinez's 100th pitch and ends his outing.  Poetic for sure!
Final Line:  ND  6.0 IP  100 Pitches (66 Strikes)  2 ER  4 Hits  2 Walks  8 K  Gamescore: 62  Gamescore+: 65.2
Final Analysis: Wow, huge improvement on those change-ups!  Making me a buyer-roosky!  Wait, does that mean I'm a Russian buyer?  Anyway, it was a big enough change to his arsenal to have me move him all the way to #55 in my rankings.  The Gamescore+ ended up being a few higher than his Gamescore mainly due to the strong Ks (if you're new, a breakdown of this stat I created can be found here) rather than unfortunate hits (hard to be unlucky when 50% of your hits given up are homers!).
The title says it all – Martinez has (for the most part) found that change-up and gives me a ton of confidence he can get lefties out.  The Reds' line-up is lefty heavy with the switch-hitting Hamilton along with Bruce and Votto; sure Martinez gave up homers to two of them (so maybe this isn't the next argument!), but he kept them neutralized most of the game.  And really impressively, he had at least one strikeout every inning.
Martinez obviously flashes a plus fastball, as his calling card is triple-digits capable heat.  He didn't get it that fast as a starter (nor does he need to), but it was located extremely well usually at 94-95.  But that get-me-over ish ain't gonna fly (well, it will have opposing hits fly!).  No reason he should've given up that homer to B-Ham on a please-hit-me 91 MPH fastball.  We've previously seen Martinez rely on that slider (26.5% usage last year), but C-Mart only threw 10 of them out of his 100 pitches.  Instead, it was a huge reliance on that change-up, and Martinez spoon fed the Reds lefties a steady diet with 25 thrown on the afternoon.  That's about as many as he threw all of last year (well, not really, but it's gone from 9.3% in 2014, up to 25% in a one-game sample).  The change-up usage is my #1 reasoning for moving him so far up.
C-Mart is probably owned in all weekly H2H Pts leagues where his SP/RP eligibility is a huge boon to his value, but he's right there for mixed-league ownership in all leagues.  He still showed a little inconsistency, but not enough to deter me in a solid ranking ROS.  Plus it always helps having Yadi as your signal caller.
JB's Updated Top 100 SP
(rankings based on 12-team Roto, green for risers, red for fallers)
| RANK | SP, Team |
| --- | --- |
| 1 | Clayton Kershaw, LAD |
| 2 | Chris Sale, CWS |
| 3 | Felix Hernandez, SEA |
| 4 | Max Scherzer, WAS |
| 5 | Corey Kluber, CLE |
| 6 | Madison Bumgarner, SF |
| 7 | David Price, DET |
| 8 | Stephen Strasburg, WAS |
| 9 | Matt Harvey, NYM |
| 10 | Johnny Cueto, CIN |
| 11 | Jake Arrieta, CHC |
| 12 | Zack Greinke, LAD |
| 13 | Jordan Zimmermann, WAS |
| 14 | Cole Hamels, PHI |
| 15 | Carlos Carrasco, CLE |
| 16 | Jon Lester, CHC |
| 17 | Garrett Richards, LAA |
| 18 | Gerrit Cole, PIT |
| 19 | Alex Wood, ATL |
| 20 | Jeff Samardzija, CWS |
| 21 | Julio Teheran, ATL |
| 22 | Jacob deGrom, NYM |
| 23 | James Paxton, SEA |
| 24 | Tyson Ross, SD |
| 25 | Collin McHugh, HOU |
| 26 | Masahiro Tanaka, NYY |
| 27 | Yordano Ventura, KC |
| 28 | Dallas Keuchel, HOU |
| 29 | Sonny Gray, OAK |
| 30 | James Shields, SD |
| 31 | Michael Pineda, NYY |
| 32 | Adam Wainwright, STL |
| 33 | Alex Cobb, TB |
| 34 | Shane Greene, DET |
| 35 | Scott Kazmir, OAK |
| 36 | Brandon McCarthy, LAD |
| 37 | Phil Hughes, MIN |
| 38 | Lance Lynn, STL |
| 39 | Matt Shoemaker, LAA |
| 40 | Anibal Sanchez, DET |
| 41 | Hisashi Iwakuma, SEA |
| 42 | Gio Gonzalez, WAS |
| 43 | Jake Odorizzi, TB |
| 44 | Homer Bailey, CIN |
| 45 | Chris Archer, TB |
| 46 | Michael Wacha, STL |
| 47 | Francisco Liriano, PIT |
| 48 | Drew Smyly, TB |
| 49 | Doug Fister, WAS |
| 50 | Jose Quintana, CWS |
| 51 | Mike Fiers, MIL |
| 52 | Mat Latos, MIA |
| 53 | Andrew Cashner, SD |
| 54 | Trevor Bauer, CLE |
| 55 | Carlos Martinez, STL |
| 56 | Jered Weaver, LAA |
| 57 | J.A. Happ, SEA |
| 58 | Kyle Hendricks, CHC |
| 59 | Jason Hammel, CHC |
| 60 | Mike Leake, CIN |
| 61 | Justin Verlander, DET |
| 62 | Jake Peavy, SF |
| 63 | Drew Hutchison, TOR |
| 64 | Drew Pomeranz, OAK |
| 65 | Jimmy Nelson, MIL |
| 66 | Kyle Lohse, MIL |
| 67 | Chase Anderson, ARI |
| 68 | A.J. Burnett, PIT |
| 69 | Ian Kennedy, SD |
| 70 | Hyun-Jin Ryu, LAD |
| 71 | Wily Peralta, MIL |
| 72 | Chris Tillman, BAL |
| 73 | Jesse Hahn, OAK |
| 74 | Daniel Norris, TOR |
| 75 | Carlos Rodon, CWS |
| 76 | Mike Minor, ATL |
| 77 | Jose Fernandez, MIA |
| 78 | CC Sabathia, NYY |
| 79 | Noah Syndergaard, NYM |
| 80 | Shelby Miller, ATL |
| 81 | Danny Duffy, KC |
| 82 | John Lackey, STL |
| 83 | Tim Hudson, SF |
| 84 | Aaron Sanchez, TOR |
| 85 | R.A. Dickey, TOR |
| 86 | Matt Garza, MIL |
| 87 | Wei-Yin Chen, BAL |
| 88 | Taijuan Walker, SEA |
| 89 | Edinson Volquez, KC |
| 90 | Rick Porcello, BOS |
| 91 | Rubby De La Rosa, ARI |
| 92 | Kyle Gibson, MIN |
| 93 | Jon Niese, NYM |
| 94 | Tom Koehler, MIA |
| 95 | Nathan Eovaldi, NYY |
| 96 | Clay Buchholz, BOS |
| 97 | Kendall Graveman, OAK |
| 98 | Kevin Gausman, BAL |
| 99 | Aaron Harang, PHI |
| 100 | Zach McAllister, CLE |
Dropped Out: Ervin Santana, MIN (PEDs), Derek Holland, TEX (shoulder issues – 60-day DL), Matt Cain, SF (DL and not throwing), Henderson Alvarez, MIA (headed for an MRI on his elbow, and I only had him 90s anyway…)
I think it's still a little too early to add wear down and innings limit notations like I did last year, but what do you think?
Ugh, King Felix, nooooooo!  Doesn't sound like his quad tightness is serious, and as long as it's not a muscle in that golden arm, we all good.
We all loved Lester heading to the NL, but man, his inability to hold base runners gives me the heebie jeebies in the small-ball-emphasized division.
I sure was worried about Paxton through that shortened and rocky Spring, but man he dialed it up now that it's the regular season.
McHugh had the good start, but I watched a good bit of it and he didn't look like the same pitcher as last year.  Not as crisp, very marginally slower velo on the fastball, and there was this one 3-0 count where he threw a fastball to the backstop…  Very odd, and on top of all of that, Choo and Rua (not that he was playing well anyway) both left early.  And even more, reportedly pitched through allergies and a small blister on his finger – the same one that landed him on the DL last year – even though he said he wasn't worried.  All of that combined and I'm still likely higher than where most rankers have him, but knocking him down a few.
Dallas Keuchel looked absolutely unreal.  I think he can up the Ks even more to be a Roto-breakout, even though he only had a 3:3 K:BB yesterday (but still has a QS).
Look at all this buzz for Shane Greene!  All I gotta say is – ancient history to me!
Same with Kazmir, both ended up on a ton of my teams.  If only the MLB season was a week long!
A lot of panic and dread for Latos, who I had below consensus, but even with another slight drop in my ranks he's still going to be a usable pitcher this year.
Well, that Taijuan Walker buzz sure died out!  I still think he can be OK, but even off that Spring I wasn't a big buyer.
Flip side for Bauer, who off the hot Spring threw those 6 no-hit innings.  11 Ks to 5 BB is quite the antithesis to efficient pitching, but it's Wild Thing-esque for sure!
Final thought – Daniel Norris' circle change was filthy, but he had some major troubles after the first time through the order against the Yankees.  In the streamer class.
Thoughts on C-Mart or the re-ranks?  Any mistakes, which I'm sertanly apt to make?  Shoot your thoughts below, and happy 2015 and happy pitching!