I've just never been a Matt Moore guy…
Uber-talented Moore has always gotten praise for his clean mechanics and smooth delivery, plus fastball, and solid slider, but it never materialized into good control and solid numbers.  Those horrible, horrible walks…  Moore's K zone looks like a star chart!
After never ranking him favorably the past few years because of a 4.5 walk rate, yes 4.5, I thought the buzz for him off the DL from TJ recovery was too… buzzy.  I'm at a loss for words I'm so confused!  But I hadn't seen him pitch since hitting the DL after two starts last year, and maybe a reconstructed elbow can help.  "He's more machine now, than man!"  Well let's hope it helps the horrific walk rate!  Here's how he looked yesterday hosting the Astros, along with ranks for pitchers for the second half:
First Inning: Moore's first pitch is a down and in 92 MPH fastball fouled back by Jose Altuve for strike one.  Moore hangs a change-up, then a 93 MPH fastball right down the middle is hit pretty hard to center, but Kevin Kiermaier drifting back has it for the first out.  Pretty hard hit to start it off.  92 MPH hits the inside corner on Marwin Gonzalez, 0-1 is 92 MPH just a tad low, 91 is inside, 83 MPH change-up flutters outside, and all the way down to 3-1.  Then a 3-1 92 MPH fastball is skipped to the catcher for a walk.  Yeesh, here we go.  Change-up stays high and outside to Carlos Correa, and that pitch hasn't been close yet.  1-0 is a 89 MPH fastball in there, took some off just to get a strike, then whoa a 91 MPH fastball has catcher Curt Casali jumping to grab it, 2-1.  Control is all over the place.  Then a 2-1 fastball right down the middle towards the lower part of the letters is ripped to left for a double.  Gonzalez gets to third, and it hasn't looked good at all.  Moore throws 89 MPH outside and Evan Gattis waves through it, then his first slider is a 79 MPH beauty that bends into the zone for strike two: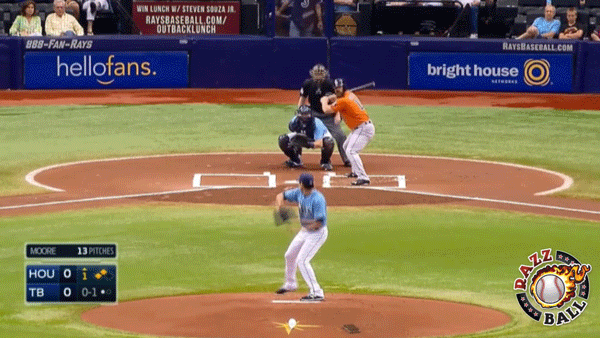 I'm not sure why those haven't been mixed in yet, maybe there's fear for throwing those off TJ?  Then the 0-2 is another good slider, Gattis barely taps it towards third, Gonzalez is able to score, Gattis out at first, and Correa gets to third.  A little unlucky there – very weak contact, but runner at third went on contact to score the first run.  Fastball outside to Colby Rasmus, then even further outside, 2-0. Inside fastball ripped foul, fastball at only 89 is high and tight, then a nicely located fastball at 91 is popped up, it was in foul territory but gets lost in the Trop roof.  Crazy.  3-2 is popped back but gets out of play, then 3-2 again is an 89 MPH fastball too high to put runners at the corners.  Rough first inning – but in Moore's defense of that walk, it would've been an out in any other stadium.  Chris Carter takes a 79 MPH slider that drops in there for strike one, and all 3 of his sliders thrown today have been his best pitches. Then a fastball at the knees is popped weakly to center, and Moore is mercifully out of the inning only giving up one run.
Second Inning: Hoping to get moore efficient (hah – I typoed that but didn't want to change it), fastball is high to L.J. Hoes, heater again slashed foul, then his first change-up in the zone gets a routine grounder to short for the first out.  Finally locating the change!  Fastball way inside to Jake Marisnick, fastball on the outside edge is flared foul, and James Loney going into the stands barely misses it for a loud foul.  Loney made a kid cry in the stands jumping in there!  Then that sick slider with fantastic life gets a tap foul, 1-2.  That pitch has been located fantastic today!  Then Moore goes right back down there but with a 91 MPH fastball to get his first strikeout: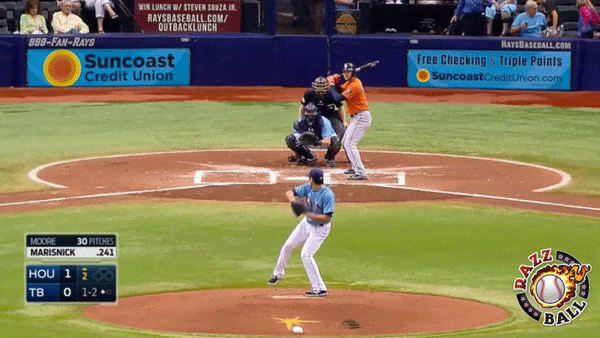 Very impressive bounce back inning thus far.  Slider stays barely high to Jason Castro for strike one.  Still had movement and looked good.  Fastball barely outside, then a heater on the hands jams the hell out of Castro, but it flares to left for a tough-luck single.  Fastball is perfect on the outside edge to Altuve as we go the second time through, then high heat gets Altuve to tomahawk under it for an easy fly to center to end the inning.
Third Inning: Now up 2-1, Moore starts Gonzalez with a fastball in there, huge bending slider breaks down and in, slider again is again down and in, 2-1.  Fastball is outside, yet another 3-1 count, but Moore gets a heater in there, 3-2 fastball inside is ripped foul, then a nice sinking fastball at 91 is cut over and missed for Moore's second K.  What looked like a perfect slider is somehow called a ball to Correa, fastball inside, tough luck 2-0 count.  Fastball is then in there, change-up drops low, fastball tipped back fall, and another full count.  A lot of those today.  Then the 3-2 is a change-up, and Moore bounces it in.  Yikes, that's two 3-2 walks on pitches in the dirt.  First-pitch fastball is popped up by Gattis, it might've stayed in play but hits a rafter and drops in the infield but when that happens it's a ball.  That's now two outs taken away by the Trop.  Yikes.  Slider skips in low, and now he's lost the consistency with that pitch as well.  1-1 is a change-up, Gattis absolutely torches it to third, and Evan Longoria is able to save it from a double and knock it down to keep it a single.  Hard contact hit, but again it could've been an out that AB if not for the Trop's terrible design.  There's that good hook in there to Rasmus, fastball inside, fastball high, fastball up at 92 absolutely blows a swinging Rasmus away, then 91 on the outside edge gets Rasmus to wave through it for Moore's third K.  So a chance to get out of it and Carter first-pitch swings at a fastball in the zone and hits a towering out to center to get Moore out of the inning.
Fourth Inning: At 58 pitches, Moore is in there at the knees with the heater to Hoes, then blows him away with heat again 0-2, then a great slider gets a weak chop on the third base line, Moore gets to it and makes a decent throw, but it hits Hoes in the butt for an infield single.  Right off the Hoes' buttcheek!  I've said that phrase a few times…  And the Rays have a good case that Hoes was out of the running lane.  Anyway, Marisnick bunts one foul, fastball low, then Moore's best change-up on the day dropping out of the zone at 82 gets a swing and miss, 1-2: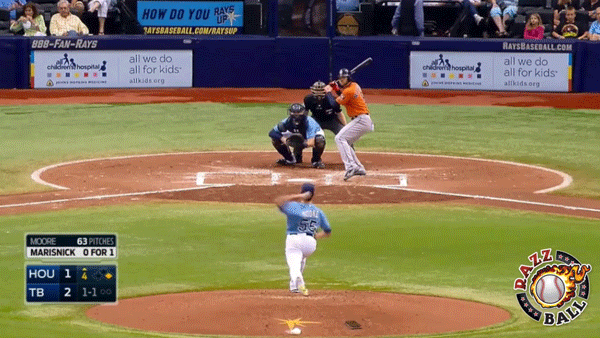 93 MPH is way outside as Moore tried to amp it up, fastball down the middle fouled back, a nice slider pulled foul, 2-2 again is another good slider bending into the zone and gets a lazy fly to right.  Fastball way outside to Castro, fastball in there, another good slider gets a groundball into the shift, but Jake Elmore makes a nice play to run to second to get the lead runner.  That was a tailor-made double-play ball, but Elmore was playing like a second baseman so they could only get the one.  Perfect slider drops in to Altuve, slider again tipped foul, then a high fastball at 92 is ripped to left for a two run shot.  Wow, why a fastball?!?!  Two great sliders, then a fastball hittable in the zone on an 0-2 count.  Terrible.  So now down 3-2, Moore is down and in to Gonzalez, then a fastball on the hands is hit to third to end the inning.
Fifth Inning: At 76 pitches, Moore starts Correa with a fastball way high, again high fastball but close to the zone is fouled back, change-up way inside, then fastball again is a lazy fly to right for an easy first out.  Fastball popped foul by Gattis, fastball low, then the 1-1 is that absolutely wicked slider at 79 MPH that got Gattis fishing: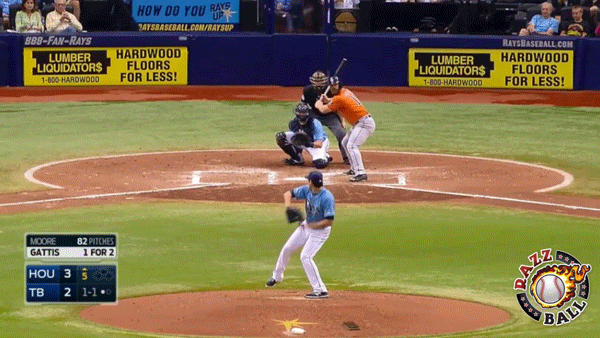 Slider again tipped foul, and slider one more time is pulled to third for an easy groundout.  Two down, and fastball is outside to Rasmus, 91 outside as well, then 91 again in the zone is hit pretty hard to center, but Kiermaier has it on the edge of the track to end the inning.  And that will do it for Moore who ends on a high note, and also picks up the W as the Rays took the lead in the bottom of the frame.
Final Line:  W  5.0 IP  88 Pitches (54 Strikes)  3 ER  5 Hits  3 Walks  3 K  Gamescore: 45   Gamescore+: 48.0
Final Analysis: Location, location, location…  Moore's still as wild as ever, but even with the poor control, the line should've been a lot better.  He had two outs taken away by foul balls hitting/getting lost in the Trop roof, and right before the Altuve HR he had a perfect double play ball that the shift took away due to placement.  As usual with shorter outings, his Gamescore+ ended up a tad higher than his true Gamescore.
Moore's fastball is at a career-worst 91.3 MPH.  According to Fangraphs, he also utilizes a cutter averaging 88.7 MPH, so a few of the fastballs I mention above were technically cutters, but they didn't really do too much.  Moore struggled to locate either pitch, and even though he got a few Ks with heaters, the fastball is down a full 3 MPH since his first full season in 2012.  His off-speed stuff features a change-up that, well, didn't look great.  The change-up GIF above was by far his best one, as he struggled to locate the pitch and keep it down.  But there was one major positive – the slider.  Fangraphs calls it a curveball, but it had sharp movement in the high 70s and was pretty consistent all afternoon.  He was dropping them in for strikes and able to bury them for whiffs.
You have to wonder if Moore is still a little concerned to throw too many of those great breaking balls.  It was his best pitch yesterday, and yet he wouldn't go to it a third time to Altuve on 0-2, instead throwing a very hittable fastball that was crushed.  In the first inning, he hesitated going to them as well.  I'm worried this is going to be a lost season for Moore as he battles control and slowlly builds up confidence for the breaking ball.  That said, he could be a really interesting deep-league sleeper next year.  The stuff is there, but he still has the abhorrent control issues.  I couldn't rely on him at all in standard leagues, but he remains in the bottom of the ranks for his smidge of upside in the second half.
JB's Updated Top 100 SP
(rankings for ROS based on 12-team Roto, green for risers, red for fallers)
| RANK | SP, Team |
| --- | --- |
| 1 | Clayton Kershaw, LAD |
| 2 | Max Scherzer, WAS |
| 3 | Chris Sale, CWS |
| 4 | Felix Hernandez, SEA |
| 5 | Corey Kluber, CLE |
| 6 | Madison Bumgarner, SF |
| 7 | David Price, DET |
| 8 | Gerrit Cole, PIT |
| 9 | Zack Greinke, LAD |
| 10 | Chris Archer, TB |
| 11 | Jake Arrieta, CHC |
| 12 | Matt Harvey, NYM |
| 13 | Cole Hamels, PHI |
| 14 | Jacob deGrom, NYM |
| 15 | Sonny Gray, OAK |
| 16 | Johnny Cueto, CIN |
| 17 | Carlos Carrasco, CLE |
| 18 | Francisco Liriano, PIT |
| 19 | Jose Fernandez, MIA |
| 20 | Dallas Keuchel, HOU |
| 21 | Carlos Martinez, STL |
| 22 | Michael Wacha, STL |
| 23 | Michael Pineda, NYY |
| 24 | Jon Lester, CHC |
| 25 | Masahiro Tanaka, NYY |
| 26 | Danny Salazar, CLE |
| 27 | Jeff Samardzija, CWS |
| 28 | Jason Hammel, CHC |
| 29 | James Shields, SD |
| 30 | Jordan Zimmermann, WAS |
| 31 | Tyson Ross, SD |
| 32 | Alex Wood, ATL |
| 33 | Garrett Richards, LAA |
| 34 | Noah Syndergaard, NYM |
| 35 | A.J. Burnett, PIT |
| 36 | Shelby Miller, ATL |
| 37 | Trevor Bauer, CLE |
| 38 | Gio Gonzalez, WAS |
| 39 | Taijuan Walker, SEA |
| 40 | Lance McCullers, HOU |
| 41 | Jose Quintana, CWS |
| 42 | Jake Odorizzi, TB |
| 43 | Stephen Strasburg, WAS |
| 44 | John Lackey, STL |
| 45 | Collin McHugh, HOU |
| 46 | Scott Kazmir, OAK |
| 47 | Julio Teheran, ATL |
| 48 | Lance Lynn, STL |
| 49 | Mat Latos, MIA |
| 50 | Andrew Cashner, SD |
| 51 | Kyle Hendricks, CHC |
| 52 | Ubaldo Jimenez, BAL |
| 53 | Mike Fiers, MIL |
| 54 | Vincent Velasquez, HOU |
| 55 | Carlos Rodon, CWS |
| 56 | Yordano Ventura, KC |
| 57 | Patrick Corbin, ARI |
| 58 | Phil Hughes, MIN |
| 59 | Eduardo Rodriguez, BOS |
| 60 | Rubby De La Rosa, ARI |
| 61 | Jimmy Nelson, MIL |
| 62 | Nate Karns, TB |
| 63 | Erasmo Ramirez, TB |
| 64 | Wei-Yin Chen, BAL |
| 65 | Kendall Graveman, OAK |
| 66 | Kyle Gibson, MIN |
| 67 | Andrew Heaney, LAA |
| 68 | Cody Anderson, CLE |
| 69 | Anibal Sanchez, DET |
| 70 | Jesse Chavez, OAK |
| 71 | Chris Heston, SF |
| 72 | Marco Estrada, TOR |
| 73 | Hisashi Iwakuma, SEA |
| 74 | Hector Santiago, LAA |
| 75 | Robbie Ray, ARI |
| 76 | Kevin Gausman, BAL |
| 77 | Dan Haren, MIA |
| 78 | Matt Cain, SF |
| 79 | Aaron Nola, PHI |
| 80 | Chase Anderson, ARI |
| 81 | Edinson Volquez, KC |
| 82 | J.A. Happ, SEA |
| 83 | Ian Kennedy, SD |
| 84 | Ervin Santana, MIN |
| 85 | Mike Leake, CIN |
| 86 | Jake Peavy, SF |
| 87 | Doug Fister, WAS |
| 88 | Michael Montgomery, SEA |
| 89 | Drew Hutchison, TOR |
| 90 | Justin Verlander, DET |
| 91 | Matt Moore, TB |
| 92 | C.J. Wilson, LAA |
| 93 | Jaime Garcia, STL |
| 94 | Nathan Eovaldi, NYY |
| 95 | Bartolo Colon, NYM |
| 96 | Yovani Gallardo, TEX |
| 97 | Danny Duffy, KC |
| 98 | Mike Bolsinger, LAD |
| 99 | Taylor Jungmann, MIL |
| 100 | Mark Buehrle, TOR |
Dropped Out: Steven Matz, NYM (yup, torn lat scares me that much, he might only have 5 more starts this year – if that), Clay Buchholz, BOS (same deal – partially torn flexor, it could be a while), Jesse Hahn, OAK (rough couple weeks for injuries!), Joe Blanton, KC (Eesh, my bad.  In my defense, his velo through 7 relief appearance and one start was about 91.5, then it fell to 90.7 when I made my call to 89.7 when it collapsed in Houston.  And never the same again.  Lost it.), Alfredo Simon, DET (talk about losing it!), Trevor May, MIN (bullpen, although they said it wasn't a season-long decision, but I think it could be), Aaron Sanchez, TOR (seems more and more likely he's going to the bullpen as well), Matt Shoemaker, LAA (read Sanchez, Aaron), Joe Ross, WAS (the fact he didn't immediately get the call to fill in for Strasburg tells you they hate him), Aaron Harang, PHI (we knew it'd fall apart, but not like this!)
It's great to be back!  Am I still too anti-Moore?  And a lot of shake-ups in the ranks; be sure to let me know if I missed anyone big!  Rick Porcello doesn't count…  Thanks for dropping by, and catch ya after the All-Star break Razzball Nation!