(NOTE: THIS POST WAS RELEASED EARLY YESTERDAY ON OUR PATREON. IT'S $5/MONTH.)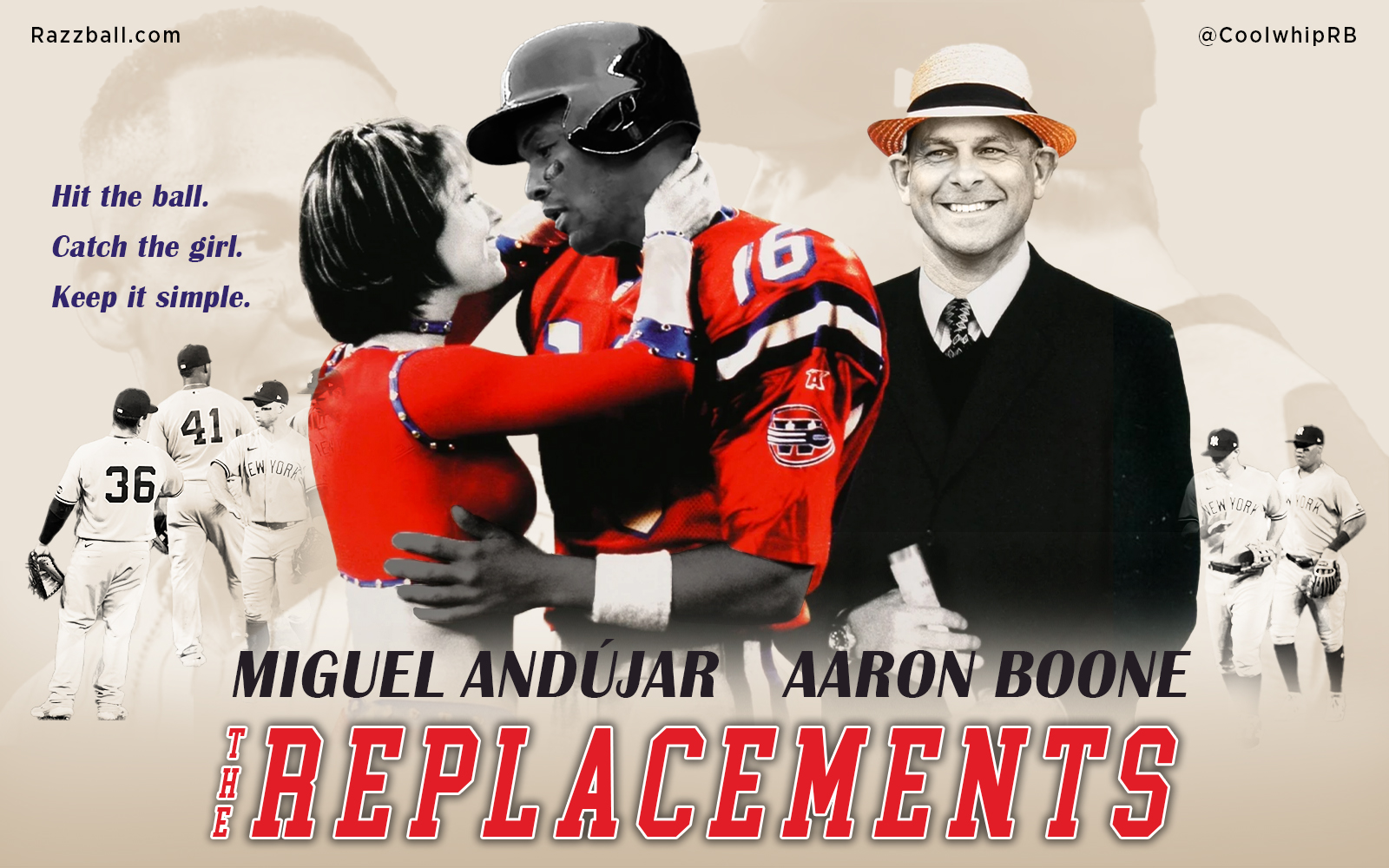 Andujar could be used to describe the entire Yankees team this year. Not Miguel Andujar, but just walking around, looking at the team and saying, "Andujar?…Andujar?…Andujar?" It's like a family reunion that you don't want to be at.
"I'm Tyler Wade…Andujar?"
"That's right, I'm Miguel Andujar."
"I just said, I'm Tyler Wade."
Their bullpen is especially, "And…u…jar?"
"I'm Adam Ottavino."
"You sure don't seem like ujar."
If anyone were asking Miguel Andujar, "Andujar?" He could say a 2018 breakout, who had his 2019 cut short to only 12 plate appearances, so should be totally thrown out. How he went from a 2018 breakout to completely ignored by the Yankees in a Year of "Andujar?" is surprising, but likely has to do with his inability to play defense. Since the Yankees are all "Andujar?", they don't have many options to not Andujar, and he could be a solid bet for power. In a small sample — that's what she said! — he has a ~43% Hard Hit%. His swing is kinda flat, bordering on ground ball-heavy, but well worth the flyer that he can hit more flyers. So, stop asking "Andujar?" and starting stating, "Andujar." Anyway, here's some more players to Buy or Sell this week in fantasy baseball:
BUY
Daulton Varsho – Could do a modern-day Abbott & Costello with Varsho and Andujar. "Andujar?" "Varsho!" "No, I was asking your name." "Varsho!" "Tell me already." "Varsho! Andujar?" "Yes!" Any hoo! Varsho is about the only interesting hitter in Arizona in one gee-dee awful offensive year for the DBacks. Wasn't the year to draft Ketel Marte and Albombso, huh? Haha *drinks poison* Varsho's minor league numbers are gorgeous too:  18/21/.300 in Double-A last year. Varsho? Varsho!
Jeimer Candelario – He has a BABIP that's downright Tim Andersonian. Or Moncadian. Or what Adalberto wishes was Mondesque. Or–Okay, it's high. But the Tigers don't really have anyone else to play, and Jeimer has been hitting.
Ty France – "I see London, I see Ty France, I see a corner man who is slightly better than doodie in the underpants." — An anonymous classic poet.
Bobby Dalbec – Just gave you my Bobby Dalbec fantasy. It was written as a B. Doerr, not a B. Don'ter.
Garrett Cooper – This guy falls into the category of "Guys I want in theory but if you ask me if you should pick them up, I'll likely pass on him." Ya know, your standard GIWITBIYAMIYSPTUILPOH guy.
Gavin Lux – He should've been the starting 2nd baseman all year, but just as the Dodgers have Dodgeritis with their pitchers, sending them to the IL with fake injuries because they have so many guys, they also artificially held down Gavin Lux because they could. Just bad Lux for Gavin.
Vidal Brujan – Before we start asking for each other to start dancing in a circle like at a May Day celebration, this is more of an AL-Only pickup. I don't buy for one single solitary second that Kevin Cash is just going to call up Brujan and play him every day. But, if he does, that's an exciting deep-league flyer.
Willi Castro – I look to give you at least one guy from every position, and this week's shortstops were a real struggle. Dylan Moore looks great, but he's owned in more than 50% of leagues, so that leaves us just looking at Willi Castro like we're in a parade in San Francisco.
Andres Gimenez – And-Gim, And-Gim number nine hitter! On the New York lineup card! If my shortstop comes off the tracks, pick him up! Pick him up!–Is this catching on? It's not, is it? It's Black Sheep! No? Okay.
Jazz Chisholm – *to the tune of a famous theme song* It's the Jazzball Buy blurb! The Jazzball Buy blurb! Jazzball! Jazzball!
Rio Ruiz – I'm gonna blown your mind right now, are you ready? Of course, you're not ready! No one is ever ready for their mind to be blown. On our 7-Day Player Rater, Ruiz has been about as good as Machado, who has been very good, therefore, ergo, vis-a-vis, Ruiz has been good. Gather your brain custard, it's been blown!
Victor Reyes – He's a pick up for speed and average. Beyond that however, I think Reyes is breaking out, and could be a 2021 sleeper. Been watching him very closely. He looks like a .300 hitter with 20 steals and won't put up a zero in power.
Randy Arozarena – Just gave you my Randy Arozarena fantasy. It was written while grimacing after hearing my mom say she liked Rihanna's S&M song.
Adam Duvall – Don't even look at how high Duvall is on the Player Rater, or how he's been better than Aaron Judge, Alex Bregman and Giancarlo combined, and has been better than Acuña, who hasn't been bad. What's that I'm feeling? Oh, yeah, pain.
Alex Dickerson – He's in a platoon for San Fran, but has been smoking hot like…Hmm, I can't think of anything else that's been smoking hot in Northern California.
Luke Weaver – I have no confidence in Weaver, but this is a Streamonator call, like the call it makes to the Hormel chili factory.
Vince Velasquez – This is also a Streamonator call. "I counted 239 beans in this can of chili. Thankfully, because one more would be two-farty. Haha, be my friend!" Streamonator sounding desperate.
Daniel Bard – To quote The Bard, "Good night, good night! Parting is such sweet sorrow, and that's 'nother save for lil' ol' me." I'm quoting Daniel Bard, not Shakespeare. Was that clear?
Andrew Miller – Well, we all know how this will turn out. Andrew Miller will get ten of ten saves and be hoisted on his teammates' shoulders as they win the pennant on the last day of the season. Or he'll get one save; Gant will get one; Helsley will get one, and we'll have no idea who the closer is the rest of the season. Hmm, those two scenarios are entirely different so saying 'we know how this will turn out' seems misleading. Nevertheless, it's as clear as day.
Rafael Dolis – Don't you want some kind of answer for what Rafael Dolis? Please, finish your sentence. Rafael Dolis…? Say Rafael DoliscloserforJays, you cowards.
Kevin Ginkel – Hadn't been paying too close attention to Ginkel, other than he was getting saves for the Diamondbacks. Just looked at his stats, and he has close to a walk per appearance. Throw some Brooks on his feet, and let him do a lap around the mall with the seniors in the AM to get some of the walks out of his system.
SELL
Josh Bell – This is a Sell as in drop all Pirates. What an absolutely atrocious looking team. Does the Pirates' front office know what sport the Pirates play? I'm like 50/50 they don't know what baseball is.
Austin Meadows – Something that maybe they're talking about in exposés at The Athletic or some woke publications covering real baseball news and not this fantasy shizz that gets my chortles chortling, but are guys coming back from Covid at like 70%? Thinking about Meadows, Moncada, Martinez–Oh my God, all guys with M last names! Though, Yadier Molina got Covid, but returned fine, because he's a robot who will be catching games when he's 80 years old. "STRIKE?!" That's an 80-year-old Molina not arguing a call, but not hearing the umpire. Any hoo! I think Meadows will be fine in the big picture in keepers (I hope), so you can look at the Fantasy Baseball Trade Analyzer if you're in a dynasty league, but otherwise, I think you have to look elsewhere.