Man, what a week for starting pitcher callups!  Thankfully we're seeing Major League clubs unshy of bringing up their future aces instead of being little scaredy-cats and using the Super 2 as a crutch.  "Stop wasting some of your better pitched innings in the Minors, ya bums!"  That was me two years ago.  I was also skinnier and not married yet, so not everything has gotten better…
Right on the heels of the Jose Berrios callup, the A's promoted Sean Manaea after an absolutely meteoric rise after being traded by the Royals in the Ben Zobrist deal.  Manaea always had power stuff and great K-rates, but never quite harnessed the command to get himself atop prospect lists.  But when you have awesome pure stuff, sometimes one minor tweak can take you from "meh" to "mania"!  After a 21:4 K:BB in Triple A over 18 innings this year, it certainly came with a lot of fanfare that Manaea was getting called up, and he's surely scooped up in almost all leagues at this point.  Is he worth all the hype?  Here's how he looked on Friday night in his MLB debut against the Astros:
First Inning: Manaea's first big league pitch is a 93 MPH fastball taken by Jose Altuve for a high strike one.  Then 93 down and on the hands is popped to center, and it's an easy two-pitch first out against the red hot Altuve.  Nice!  Then another fastball on the outside edge to George Springer is grounded to short, Marcus Semien drops to a leg to field and throw it, but it's late by a microsecond.  Infield single for the quick Springer, and Manaea is in the stretch.  Slide step fastball at 93 MPH is zipped in to Carlos Correa for a strike, nice to see Manaea able to pitch out of the stretch.  First off-speed is a slider that stays outside off the plate, 1-1 fastball it a bit high, Springer takes off and he's caught stealing at second.  Way to help out the rook!  Fastball nips the high inside black 2-2, slider again stays too far outside, but a nasty slider 3-2 bouncing in the dirt gets a horrible swing from Correa for Manaea's first career K.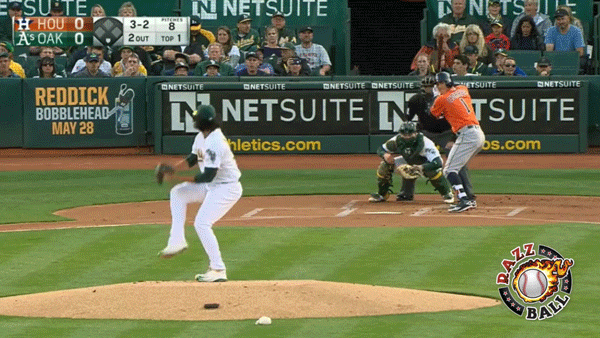 Second Inning: 91 MPH fastball is in there to Evan Gattis to open the 2nd, change-up flutters low and inside, then a fastball in the lower third right in a power-hitter's wheelhouse is crushed to left center for a homer.  Stephen Vogt was setting up low in the middle, and the fastball missed high and a little inside…  So hoping to collect himself, slider is inside to Colby Rasmus, fastball hits the inside corner, 93 on the outside edge is swung through and missed, then Manaea hits 95 for the first time out there again, but Rasmus was sitting on it and lines it left, thankfully with Coco Crisp there for the out.  Manaea feeling that slider a little better bends it over for strike one to Tyler White, slider goes low and inside, then a 92 MPH fastball on the outer third is another hard liner, but right to Billy Burns to center for the second out.  Three straight hard hits.  Change-up barely misses outside to Carlos Gomez, 92 is flared foul, then fastball again is hit fairly hard up the gap for a two-out single.  Jed Lowrie should've made a better stab at that one though… 91 is in there for strike one to Marwin Gonzalez, 93 on the outside corner fouled away, then a high 93 MPH fastball is a high lazy fly to right and Manaea is out of the inning.
Third Inning: The A's pick up 2 runs to give Manaea a 2-1 lead, and Erik Kratz rips a foul off a first pitch fastball, 0-1.  Fastball again is low, slider sweeps well low and inside, slider again is low again, then a 91 MPH fastball is wayyyy inside for a pretty brutal walk.  So runner on first with Altuve up and a fastball is in there, then fastball again at 93 is grounded right to short, and it's a tailor-made double-play with Altuve slipping a bit out of the box to make it even easier. Then that backdoor slider rolls into the zone, with Springer tapping it right back to the mound for an easy play for Manaea to end the inning.

Fourth Inning: Manaea starts the 4th with that same backdoor slider but it's low to Correa, 92 barely missed the outside corner 2-0, 93 MPH is well outside, then 91 is well inside for a 4-pitch leadoff walk.  Ugh.  92 MPH barely hits the outside black to Gattis, 92 zips across the zone and barely hits the inside black, pretty fortunate 0-2 count.  Then that devastating 79 MPH slider almost gets Gattis swinging after two fastball takes, nasty stuff here.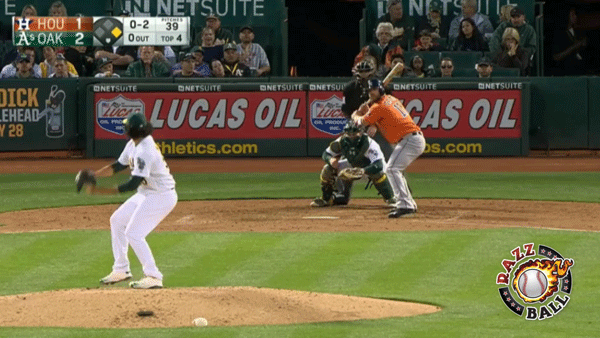 Back to the fastball that hits 94 is bareeeeely low, then 93 is inside, and 0-2 becomes 3-2.  Manaea then gets Correa running on a pickoff, but the throw from first to second is dropped by Lowrie for a steal.  They actually give it a CS and E 3, but he's at second either way and shouldn't be.  Then Manaea challenges Gattis with one of his best fastballs at 93 for a swinging strike and his second K on the day.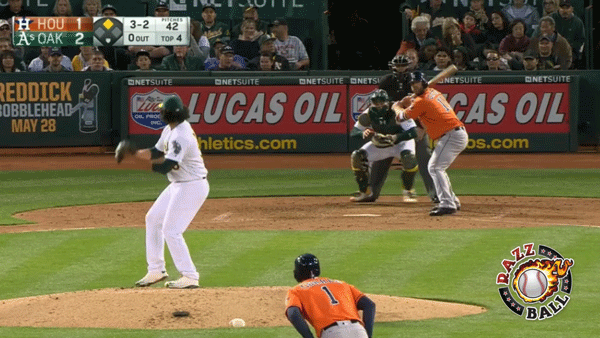 First pitch change-up to Rasmus is absolutely golfed to right, but thankfully it's about 15 feet foul of a home run.  That was a rain maker right there!  Fastball is inside, 91 MPH just outside, 93 is low, then 94 is outside for another walk.  Fiddlesticks.  Change-up or hanging slider is wayyyy outside to White for a near wild pitch 1-0, 93 MPH is zipped in there 1-1, hanging change-up way high at 81, 93 stays outside, and man the command just hasn't been there today.  But a 3-1 fastball is popped sky high and it's caught in foul territory by third for the second out.  94 is a smidge outside 1-0 to Gomez, 94 again out there is fouled off, 94 again outside is fouled off, and nice to see some consistent velo on the higher side.  94 yet again is again fouled away, then a slider in the dirt gets Gomez to swing over it and gets Manaea out of the inning.  Gomez is just swinging at everything right now, thank God haha…
Fifth Inning: Even though it hasn't felt like a "great" outing, Manaea is at 58 pitches through 4 and a first-pitch fastball is fouled off by Gonzalez, 92 MPH fastball ripped foul, slider goes way inside and low, and Manaea needs to make those a little closer to get big K numbers.  Instead he goes lower and insider, and it bounces behind Marwin's feet.  Eesh.  High fastball flied foul, then a rolling slider is off the end of the bat for a weak grounder to second for the first out.  Then a first-pitch fastball to Kratz on the outer black is grounded to short for a routine groundout, two down.  Fastball outside to Altuve, fastball inside at 93 tipped back foul off the ump's shoulder, then a huge slider at 76 rolls into the zone for strike two.
If Manaea can get some of those over for strikes, that would be a huge weapon.  Then 1-2 fastball is flied routinely to right, and Manaea is out of the inning.
Sixth Inning: The game remains 2-1 A's, and a fastball is in there to Springer, slider is fouled back, 94 is overthrown and way outside, and then ugggghhhh 92 is overthrown again and hits Springer square in the back.  Had a range of about 6 feet between those two fastballs.  So runner on first, and Correa fouls off a fastball, 93 MPH is inside, 93 on the outside edge laced foul, slider skips in the dirt, 2-2 is a fastball that was outside but hit foul, 93 on the hands fouled off, slider dips low, and hard-fought full count.  And Manaea is outside with a fastball at 92 MPH for another walk.  Out comes pitching coach Curt Young for a chat, and Manaea responds with a great fastball at the knees of Gattis for strike one.  Change-up stays outside, Manaea tries that backdoor slider but it stays outside, 93 MPH fastball gets a whiff, fastball again outside is fouled back, but a 2-2 fastball again outside at 94 is pounded between short and third for an RBI single.  The location wasn't too bad there, just some good hitting.  And that will end Manaea's debut, and unfortunately both runners left on would score to mar his early-season ERA.
Final Line:  ND  5.0 IP  87 Pitches (50 Strikes)  4 ER  4 Hits  4 Walks  3 K  Gamescore: 42  Gamescore+: 44

Final Analysis: Even though the Gamescore+ came out a little higher than the Gamescore, I still wasn't all that impressed with this debut start.  Now, how much of Manaea's control/command issues could be attributed to nerves?  We'll never know.  But as I mentioned in the open, command issues has been one of the bigger knocks on Manaea coming through the Minors, even though the walk totals have stayed pretty low.
This initial outing featured a heavy diet of fastballs, usually sitting 91-94.  I thought we'd see a few more in the mid-90s, but I'm pretty sure we had only one 95 MPH fastball.  Fangraphs had the average at 92.7, and I think we were expecting a little more gas than that.  And while he had pretty good movement on them, it looks like he kind of "slings" them in the zone, so it's easy to see why he might have command issues. Manaea's main off-speed offering is his slider, but he had trouble making it look hittable when breaking low in the zone trying to get Ks, and usually couldn't get a feel for it for called strikes.  That final GIF to Altuve was nice though.  He also mixed in a few change-ups, but also didn't have a great feel for them.
I didn't have Manaea in my original ranks due to a leg issue he had in Spring and I thought the A's would bring him along much more slowly.  I certainly would've said April was uber-aggressive, but after his minor injury didn't turn out to be a big deal and fantastic numbers in AAA, it makes sense he got an early call.  While he gets a good boost in my ROS ranks, it's more about him being called up and in the rotation, rather than what I saw in the debut.  I think he'll struggle at times with command issues and I don't know if we see a stellar K-rate that many were expecting.  If you nabbed him in a 10-team or 12-team league, I don't know if I saw nearly enough to call him a "must-hold" but there's a lot of raw stuff there to see what he does Wednesday against the Mariners.  I'll be keeping a keen eye out for that start and hopefully see a little more consistency with the fastball velo and overall control/command.
Updated Top 100 SP
(rankings for ROS based on 12-team Roto, green for risers, red for fallers)
| RANK | SP, TEAM |
| --- | --- |
| 1 | Clayton Kershaw, LAD |
| 2 | Jake Arrieta, CHC |
| 3 | Chris Sale, CWS |
| 4 | Max Scherzer, WAS |
| 5 | Noah Syndergaard, NYM |
| 6 | Stephen Strasburg, WAS |
| 7 | Jose Fernandez, MIA |
| 8 | David Price, BOS |
| 9 | Madison Bumgarner, SF |
| 10 | Corey Kluber, CLE |
| 11 | Gerrit Cole, PIT |
| 12 | Matt Harvey, NYM |
| 13 | Chris Archer, TB |
| 14 | Jon Lester, CHC |
| 15 | Jacob deGrom, NYM |
| 16 | Zack Greinke, ARI |
| 17 | Carlos Martinez, STL |
| 18 | Danny Salazar, CLE |
| 19 | Felix Hernandez, SEA |
| 20 | Carlos Rodon, CWS |
| 21 | Cole Hamels, TEX |
| 22 | Joe Ross, WAS |
| 23 | Drew Smyly, TB |
| 24 | Dallas Keuchel, HOU |
| 25 | Carlos Carrasco, CLE |
| 26 | Johnny Cueto, SF |
| 27 | Taijuan Walker, SEA |
| 28 | Masahiro Tanaka, NYY |
| 29 | Jeff Samardzija, SF |
| 30 | Sonny Gray, OAK |
| 31 | Vincent Velasquez, PHI |
| 32 | Francisco Liriano, PIT |
| 33 | Jason Hammel, CHC |
| 34 | Ian Kennedy, KC |
| 35 | Steven Matz, NYM |
| 36 | Jose Quintana, CWS |
| 37 | Garrett Richards, LAA |
| 38 | Yu Darvish, TEX |
| 39 | Patrick Corbin, ARI |
| 40 | Marcus Stroman, TOR |
| 41 | Michael Wacha, STL |
| 42 | Justin Verlander, DET |
| 43 | Hisashi Iwakuma, SEA |
| 44 | Yordano Ventura, KC |
| 45 | Jordan Zimmermann, DET |
| 46 | Wei-Yin Chen, MIA |
| 47 | Michael Pineda, NYY |
| 48 | Jake Odorizzi, TB |
| 49 | Kenta Maeda, LAD |
| 50 | Gio Gonzalez, WAS |
| 51 | Kevin Gausman, BAL |
| 52 | Juan Nicasio, PIT |
| 53 | Kyle Hendricks, CHC |
| 54 | John Lackey, STL |
| 55 | Adam Wainwright, STL |
| 56 | Mike Fiers, HOU |
| 57 | James Shields, SD |
| 58 | Luis Severino, NYY |
| 59 | Aaron Nola, PHI |
| 60 | Anthony DeSclafani, CIN |
| 61 | Aaron Sanchez, TOR |
| 62 | Jimmy Nelson, MIL |
| 63 | Jaime Garcia, STL |
| 64 | Jerad Eickhoff, PHI |
| 65 | Matt Moore, TB |
| 66 | Rich Hill, OAK |
| 67 | Adam Conley, MIA |
| 68 | Tyler Glasnow, PIT |
| 69 | Jose Berrios, MIN |
| 70 | Tanner Roark, WAS |
| 71 | Drew Pomeranz, SD |
| 72 | Sean Manaea, OAK |
| 73 | Lance McCullers, HOU |
| 74 | Julio Teheran, ATL |
| 75 | Robbie Ray, ARI |
| 76 | Collin McHugh, HOU |
| 77 | Raisel Iglesias, CIN |
| 78 | Andrew Cashner, SD |
| 79 | Edinson Volquez, KC |
| 80 | Tyson Ross, SD |
| 81 | Nate Karns, SEA |
| 82 | Rick Porcello, BOS |
| 83 | Scott Kazmir, LAD |
| 84 | Blake Snell, TB |
| 85 | Shelby Miller, ARI |
| 86 | Nathan Eovaldi, NYY |
| 87 | J.A. Happ, TOR |
| 88 | Mike Leake, STL |
| 89 | Derek Holland, TEX |
| 90 | Jon Niese, PIT |
| 91 | Hector Santiago, LAA |
| 92 | Eduardo Rodriguez, BOS |
| 93 | Josh Tomlin, CLE |
| 94 | Mat Latos, CWS |
| 95 | Marco Estrada, TOR |
| 96 | Lucas Giolito, WAS |
| 97 | Chris Tillman, BAL |
| 98 | Rubby De La Rosa, ARI |
| 99 | A.J. Griffin, TEX |
| 100 | Junior Guerra, MIL |
Dropped Out: Shane Greene, DET (Supergreene!  Superblister!  Should be the minimum 15-day DL stint, but he was barely in anyway), Jake Peavy, SF (yikes), Ervin Santana, MIN (DL-back)
I'm reallllly worried about Raisel Iglesias's shoulder…  Tough, tough blow there for a sleeper for a lot of teams.  Hopefully it ends up being a shorter DL stint, but anything with the shoulder in general, and him him having shoulder fatigue last year…  Yikes.
This lengthy knee stuff for Eduardo Rodriguez is starting to really GRIND MY GEARS!  Eschewing my inner loud-mouthed Northerner right there!
So I decided to go bold and be a homer with my #100 spot and recommend Junior Guerra for all NL-only leagues.  While he's old (31), he was signed at 16 as a catcher and converted to a pitcher down the road.  After bouncing around some international leagues, he signed in 2015 with the White Sox, who oddly let him go after showing some great K numbers (105 K in 83.1 AA/AAA innings).  A lot of his production came in relief appearances, but he did make 11 starts last year and the Brewers then fully converted him into a starter after picking him up this ofseason.  He started hot in AAA, and while his last two AAA starts haven't been that good, one was at home in the notoriously tough-to-pitch-in Colorado Springs park and the other a cold, cold night in Omaha.  He's been clocked as high as 98 and should have solid velo, and has a devastating split-finger change-up out-pitch.  Ok, homerism rant over, but deeper leagues should take a look.
Do you have Manaea mania?!  And what does everyone think on this week's rankings update?  As always, shoot your thoughts below, and happy May pitching!