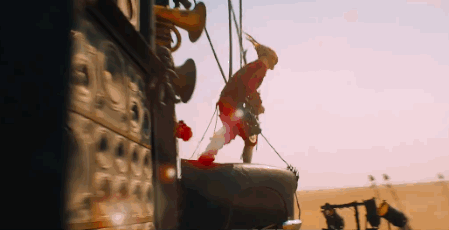 My name is Didi. My world is fire and blood. I also have some pop in my bat, and play excellent defense. I wear this metal mask on my face so I can field grounders with my teeth. I wear one shoulder pad so I can lean into the batters box, and I rescue the most beautiful virgins in my Dystopian future because I have nothing better to do. I also play for the New York Yankees, drive giant spiked vehicles and enjoy blowing things up. Didi Gregorius stayed hot Friday night going 2-for-4 with his ninth home run and 4 RBI. After struggling most of the season, the Gregorius D.I.D. has been Born Again late in the season. In the past two weeks, he's batting .408 with 11 runs, 3 homers, 16 RBI and a .463 OBP. Grey told you to BUY Didi last week, but he's still less than 30% owned in most leagues, so I'm telling you again. I could blame Yasiel Puig for my season's struggles. I could blame Stephen Strasburg. I mean, I have so many people to blame! But there's no time for that. Like Mad Max, now's the time for balls to the wall action. Now's the time for silver spray paint on the lips and shouts of "Witness me!" You're trying to win this fantasy thing, right? Well, now's the time to grab the hot bats like Didi Gregorius or the guitar-flame guy, and ride them to your championship.
Here's what else I saw in fantasy baseball Friday night:
Ben Revere – 2-for-4, run, SB (4). Now that he's actually leading off for the best offense in Canada (and all of baseball, I guess) and actually stealing bases again, Revere needs to be owned everywhere, from every Middlesex village and farm.
Josh Donaldson – 2-for-5, run, HR (38), 2 RBI. If Josh Donaldson isn't the MVP I am just going to snap. This is just your weekly reminder that I drafted Yasiel Puig over Josh Donaldson, and that life is only pain. Edwin Encarnacion was 2-for-4 with 3 runs, a HR (31), and 2 RBI, as the Blue Jays continue to hit more home runs. No big whoop.
Luis Severino – 2.1 IP, 6 hits, 6 ER. OK. Don't start anyone against Toronto. Noted. Still, starts like this makes my odds of being able to draft Severino next year that much better.
David Price – 5.0 IP, 6 hits, 2 ER, BB, 7 K, 15th win. Cha-ching! Worth every cent. Price has been outstanding with his new team. The six wins in eight starts are nice but the 65/13 K/BB ratio with Toronto is what really sticks out to me. I really like strikeouts, you guys.
Russell Martin – 3-for-5, 2 HR (19), 4 RBI. Did I mention the Blue Jays hit lots of home runs?
Jesse Chavez – 6.0 IP, 6 hits, 3 ER, BB, 6 K. "JESSE!" That's my Walter White impression. Chavez likes to do an impression of a good fantasy pitcher every now and again, but his inconsistency makes me think he should generally be avoided.
Colby Lewis – 9.0 IP, 2 hits 0 ER, 4 K and his 15th win. Colby had a perfect game through seven innings before Danny Valencia ruined everything in the top of the 8th inning. This start came after giving up 15 earned runs and 17 hits in his previous three starts. I know Oakland is real bad, but if you were starting him you have Texas sized cajones, so you earned this one.
Xander Bogaerts – 3-for-5, 2 runs. Oh hai, Xander. My friend. I don't care that you only have five homers, if I can't win a fantasy championship with Xander as my shortstop I don't want to win at all. (Lie.) You are my favorite and you're slashing .321/.351/.416 with 71 RBI. The best part of Xander's lack of power is that I'll be able to own him again on all my team's next year. Yay me!
Travis Shaw – 2-for-4, run, RBI. Shaw's got a four game hitting streak with two home runs in that stretch. Shaws also has great deals on fresh produce, and their store-brand items are just as good as the real thing!
Steven Souza, Jr. – 2-for-4, run, RBI, SB (11). Returned from the DL. Souza was a top rookie of the year pick for all those people who had never heard of Carlos Correa. He has 15 homers and 11 SB on the year, so he could be useful if you need that kind of thing.
Chris Archer – 5.0 IP, 5 hits, 3 ER, 2 BB, 8 K. Archer was my Cy Young pick, but unfortunately he has been underwhelming since August. Hey, that sounds like the majority of my fantasy teams!
Yoenis Cespedes – 3-for-5, HR (15), 3 RBI. That's 15 homers in 38 games with the Mets! Wowza, Yoenis must really love New York City. The Big Apple! You really made it, Yoenis. The Big Apple. Yep, NYC Life, is the life for him indeed. Cespedes especially loves hanging with the locals in Times Square, and treating himself post game to an authentic New York slice at Pizza Hut. Check out Planet Hollywood, Yoenis, I hear that's where all the movie stars have lunch.
Steven Matz – 5.0 IP, 6 hits, ER, 2 BB, 2 K and his 3rd win. Is it bad that I like the Mets pitchers more than any pitchers I own on any of my fantasy teams? Steven has been sharp in his two starts since being recalled, and if he's still out there on waivers I'd definitely grab him for your playoff push.
Nolan Reimold – 1-for-3, Grand Slam (4). Nolan has hit safely in four of the five games he's played since being recalled and has 2 homers, 5 RBI and 7 runs. He's also leading off for a stacked O's line up. He's available everywhere, so maybe you should pick him up.
Manny Machado – 1-for-3, 2 runs, HR (28). Macho Man, Manny Machado! Oh yeeeeah! Need a little excitement!? You should have drafted Machado. He's batting .273 with 2 homers in the past week and is the number two third baseman on the player rater. Loving his signature move, the flying baseball jack.
Danny Duffy – 5.0 IP, 3 hits, 2 ER, 3 BB, 8 K. Great start from Duffy, but the usually terrific Royals bullpen blew this one for Danny Boy in epic fashion. He is reasonably upset. If you need him he'll be in his hotel room blasting "Bad Blood" on repeat. The remix, obviously, the original is garbage.
Lorenzo Cain – 3-for-4, 4 runs, 2 HR (16), 2 RBI. In the land of hot potatoes, the Cain…Sugar! is king. He's batting .357 in the past two weeks with 15 runs, 4 homers, 11 RBI and 3 SB. Cain is in the Lorenzone right now. If he can take another step forward in the power department next year, dude is a first round pick! Who knew?
Alex Rios – 1-for-2, HR (3). "Well, as long as he performs in the playoffs. That's why I drafted him." (<—-Things fantasy baseballers never say).
Trevor Plouffe – 3-for-5, 2 HR (20). Could this be my very last "Plouffe Goes the Dynamite!" of the season?! Better do it twice just in case. "Plouffe Goes the Dynamite!" Ahh yes, I feel better now.
Ervin Santana – 7.0 IP, 6 hits, 2 ER, 2 BB, 6 K and his 5th win. Big Erv has been on a roll, winning his past three starts, giving up just 3 ER (22 IP) with a 27/4 K/BB rate. He gets Detroit next week and I might roll the dice here if I was feeling real lucky. Unfortunately, I never feel real lucky.
Adam Eaton – 1-for-4, 2-run HR (13). In the past two weeks, he's got 3 homers, 12 RBI, 8 runs and 2 SB. If this is the healthy Adam Eaton I've been waiting for all this time, I've got to be honest, I'm a bit underwhelmed.
Corey Seager – 1-for-1, 3 BB. Reached base four times! Are you kidding me!? This kid's gonna be a star! Ha-cha-cha! He's got a .500 OBP at the moment, so the fantasy stats should roll in any second now right? Right?! Regardless, Grey told you to BUY, and I would own Seager.
Robbie Ray – 5.0 IP, 2 hits, 0 ER, 3 BB, 2 K. It is hilarious to me that he is basically the D-Backs ace, but hey, credit where credit is due Rob Ray has been fairly solid. He gets the Giants next week and you could do a lot worse.
Nick Ahmed – 4-for-4, 2 runs, HR (9), 3 RBI. Slick Nick has been on fire in September batting .435 with two homers 6 RBI and 5 runs. It's hard to recommend him since he isn't playing everyday but I'm watching him closer than the True Detective season 2 finale. (I have to watch it really closely or else I have no idea what's going on. To be honest, I still have no idea what's going on).
Carlos Gomez – 1-for-4, 2-run HR (12). His fourth homer as an Astro. Has now homered in back-to-back games and is batting .333 in the past week. I like Gomez and I love the Houston Astro, but I'm still not sure if I like Carlos Gomez as a Houston Astros. He's got that diva personality that I'm not sure matches the youthful energy of the rest of the players. But what do I know, maybe they're all divas. I don't know these people!
Kyle Seager – 1-for-4, 2-run HR (24). Batting .455 with 6 homers and 17 RBI in the past two weeks. Seriously, stop it. The teams I own you on have been out of contention for over a month now and you're starting to make me very upset.
Justin Upton – 2-for-3, HR (25). Now that that pesky ingrown toenail is gone, back to mashing dingers! Perhaps I should consider getting my own ingrown toenails removed?
Kelty Tomlinson – 1-for-5, 3 runs, RBI, 2 SB (4). Joe Panik is set to return, which means Tomlinson's playing time is set to decrease but dude is hitting baseballs and stealing bases (3 SB in the past week) so ride him while you still can.
Jake Arrieta – 8.0 IP, 6 hits, ER, 2 BB, 7 K and his 19th win. Aaaand he's the best pitcher in baseball. Who saw that coming? No, admittedly, not even me, and I'm an OT Level 5 in the Church of Scientology. That means I can control pin sized objects with my mind's eye and blackmail other members of the church. It's kind of a big deal. Jake Arrieta has 19 wins. He won his 8th straight start last night and hasn't lost since July 25th. He's given up just 3 ER during his winning streak (57.4 IP), with a 57/12 K/BB rate. You probably drafted him in the 10th round or later. That is how you fantasy, folks.
Kris Bryant – 5-for-10, run, HR (24), 3 RBI. THE POWER OF KRIS COMPELS ME! If I owned Kris Bryant on any of my fantasy teams, I probably wouldn't be so depressed all the time. A little Xanax will put out that fire! Ahh, excuse me while I spend the next three hours sighing calmly.
Javier Baez – 2-for-9, run. Javy went 2-for-4 in the first game of the double header and I was all psyched that my lede from last week's post was doing so well. Then he went 0-for-5 in game 2 and I was much less psyched. But if that ain't Javy Baez for you, I don't know what is, amiright!? By the way, did you see Grey's kind words about me in his BUY column. That's high praise, Nic Cage! What an honor! I'm just a person, you guys! Well, technically I'm Operating Thetan Level 5, but let's not go there. No need for flattery,I'm just happy to be here and hope I can help the ball club. As for Baez, he's still got 3 multi-hit games in his past four, bats in a stacked line up and has crazy power potential. Would own.
Kyle Schwarber– 2-for-4, 3 runs, 2 HR (15), 3 RBI. I am never one to toot my own horn, but those who don't will end up with a horn that goes untooted. Which is a waste of a perfectly good horn. I told you to BUY Schwarber back in mid-July. I said "…there is some serious upside here and Kyle Schwarber could be the biggest and smartest pick up you make all season." Well, he is certainly the biggest and smartest recommendation I made all season. I hope you listened! OK, enough tooting I swears, next week I'm back to being self deprecating.
Thanks for reading! Questions? Problems? Complaints to management? Advice, small gifts or large bribes? Please leave it in the comments below. Join us next Saturday for another Friday recap as fantasy baseball continues next week, all week long!