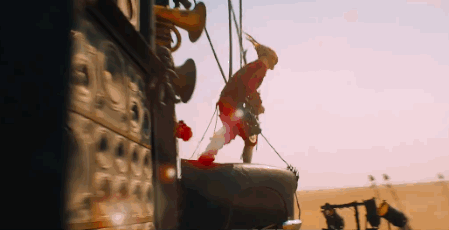 My name is Didi. My world is fire and blood. I also have some pop in my bat, and play excellent defense. I wear this metal mask on my face so I can field grounders with my teeth. I wear one shoulder pad so I can lean into the batters box, and I rescue the most beautiful virgins in my Dystopian future because I have nothing better to do. I also play for the New York Yankees, drive giant spiked vehicles and enjoy blowing things up. Didi Gregorius stayed hot Friday night going 2-for-4 with his ninth home run and 4 RBI. After struggling most of the season, the Gregorius D.I.D. has been Born Again late in the season. In the past two weeks, he's batting .408 with 11 runs, 3 homers, 16 RBI and a .463 OBP. Grey told you to BUY Didi last week, but he's still less than 30% owned in most leagues, so I'm telling you again. I could blame Yasiel Puig for my season's struggles. I could blame Stephen Strasburg. I mean, I have so many people to blame! But there's no time for that. Like Mad Max, now's the time for balls to the wall action. Now's the time for silver spray paint on the lips and shouts of "Witness me!" You're trying to win this fantasy thing, right? Well, now's the time to grab the hot bats like Didi Gregorius or the guitar-flame guy, and ride them to your championship.
Here's what else I saw in fantasy baseball Friday night:
Please, blog, may I have some more?