I've been sitting on a title like that for months!
I still can't believe Grey shat on The Fifth Element a few months ago on the Podcast, then followed it up with he hadn't seen it…  Well ya know what?!  War and Peace is an awful book!
Patrick Corbin was an absolute G for me in 2013, as I streamed him in several leagues for a Padres start and decided to never look back.  Although looking at his game log again, that certainly seemed like a no-brainer!  He came out of absolutely nowhere and was shrugged off, but turned out to be a top-10 pitcher for most of the season.  Then he really fell off in his final 7 starts before tearing up his elbow in 2014's Spring Training.
Now back in the rotation, the consensus seems to be pretty low on Corbin doing much this year, treating him like he's a meat popsicle.  Maybe my 2013 love for Corbin has biased me, but I was excited to bring him in the ranks over a month before his debut.  So with middling numbers thus far despite good velocity, I decided to break down his third start off the DL to see how he's looking pitch-by-pitch:
First Inning: Corbin's first pitch is a 92 MPH fastball right at the knees to Angel Pagan, which opens his 26th birthday outing.  Happy 26th my man!  92 a little higher on the hands is fouled back, back-foot slider is well inside – great to see his bread and butter right away – then right back to that slider at 83 MPH just explodes through the zone and ends up low to get a K to start the day: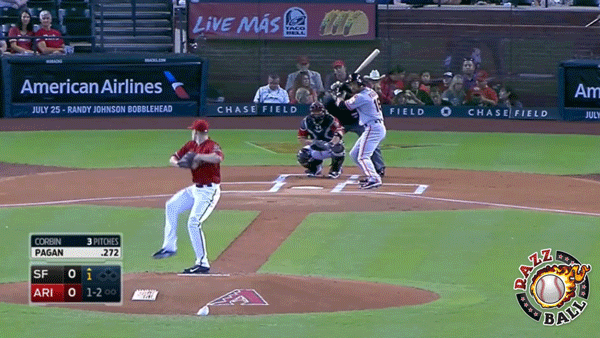 Fastball outside to Joe Panik, heater again misses, then a high fastball at the letters at 93 MPH is pounded right to second for an easy second out.  Matt Duffy takes 94 MPH low – nice to see Corbin getting into the mid-90s – a perfect 94 MPH hits the knees, and man that's such a solid location, 1-1: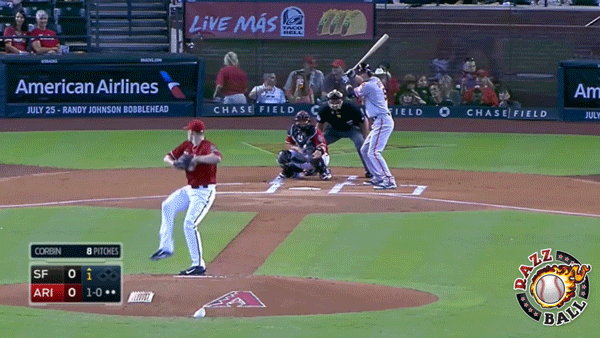 94 is high, 94 on the outside edge is slashed way foul, 95 on the outside edge is cut on way foul, still 2-2.  95 is definitely up there for him!  The Corbin after sitting outside tries to come in at 94 and plunks Duffy on his elbow guard.  So runner at first, and Buster Posey takes 93 inside, then 93 a little off the outside edge of the plate is inside-outed through the gap for a single to right.  Not exactly huge contact, but man Posey can hit, finding the hole with a good swing.  Runners at the corners, and Hunter Pence takes a great slider bending into the zone 0-1, slider again dips lower and is golfed foul, slider one more time is well inside, 1-2, slider yet again has Pence barely holding his swing as it skips in, 2-2 is a 93 MPH fastball very well placed on the hands and blooped foul – nice to see Corbin unafraid to go back inside after hitting someone, then another slider is chopped down the third base line and is mere inches foul, 2-2 again.  Probably an infield RBI single if that's fair.  Then finally Corbin gets Pence to ground out to second on a 2-2 low fastball, and a fairly long 22 pitch inning is over.
Second Inning: Brandon Crawford takes a letter-high strike to open the second, slider is popped back foul, a great slider starting inside and bending into the zone is dribbled foul, 0-2 again is a fastball at 93 MPH just off the outside edge and Crawford is late on it in protect mode for Corbin's 2nd K.  Lefty-killer (I may have known this would happen before hand, shhhhh!) Justin Maxell takes a fastball way high, then the 0-1 is a 92 MPH fastball on the outside edge and Maxell hits it high oppo field for a HR.  The fastball was supposed to be more down, it ended up being middle outside, and everything carries in the desert air.  So now down 0-1, Corbin misses outside to Brandon Belt, then Corbin's first change-up wasn't the worst pitch at 78 MPH but Belt golfs it to left and it's barely out of Ender Inciarte's reach for a double to left.  Ya know, neither of those XBH looked like they were crushed – the ball is carrying like crazy right now in a desert afternoon game.  So Belt is at second, Corbin hoping to turn this back around, and he drops in a perfect slider on the first pitch to Madison Bumgarner for strike one.  Respecting maybe the best hitting pitcher in baseball!  Corbin throws a high 91 MPH fastball that blows him away – velo is down a tad – then a fantastic slider at 81 gets Bumgarner barely holding to make it 1-2.  I thought he went.  92 is inside, then the 2-2 is a slider starting outside and bending into the zone for strike three called.  Two down, and back to the top with Pagan weakly topping a slider foul, fastball inside, slider drops in low, fastball fouled back, high 91 MPH fastball is cut on late and slashed foul, 2-2 again is a 91 MPH fastball on the hands and Pagan grounds it weakly to first to end the inning.
Third Inning: Needing some quick innings, Corbin finds himself tied 1-1 and starts Panik with a high fastball, 1-0.  Fantastic slider drops in there for strike one, and I cannot rave about his slider enough – looks just as good as 2013.  Slider again stays high, slider drops low, and of course as soon as I mention it he loses the feel a bit.  Then fastball stays high for a 3-1 walk.  92 on the hands gets Duffy to foul it back, then 92 again on the outside edge gets a deep fly to right, but Yasmany Tomas nabs it on the warning track for the first out.  That's a routine fly ball in SF.  Then on the first pitch, a letter-high 91 MPH fastball is crushed to center, but A.J. Pollock grabs that one on the run in deep center for the second out.  That one was much louder.  Not loving this hard contact on top of decreased velocity.  Pence takes 92 on the outside edge for strike one, Pence fouls the next one back, 92 again is fouled off, slider stays low and Wellington Castillo can't field it and Panik moves to second on a wild pitch.  That wasn't too wild though…  Perfect slider at 81 tried to backdoor him but Pence spoils it, 91 high out of the zone is fouled off, and Pence is swinging at everything.  1-2 again is a slider way hung high, overthrew that one, 93 gives him some chin music, and all the sudden the count is full.  Then the 3-2 slider is hung a tad in the zone at 76 MPH and Pence rips it to left for an RBI double.  Just a ridiculous AB there from Pence.  That said, Corbin hasn't looked the same since the first inning.  Still two outs and runner at second, and 91 blows Crawford away 0-1, 92 cuts outside, 93 stays outside, 92 paints the outside corner to make it 2-2, then 92 high and on the outside edge blows Crawford away for Corbin's 4th K to get out of the inning.
Fourth Inning: At 63 pitches, Corbin has labored a bit and starts Maxell with a fastball outside, and then there's that extra pitch I wanted to see – fantastic 81 MPH change-up to the lefty-killing Maxwell gets him way out in front to make it 1-1: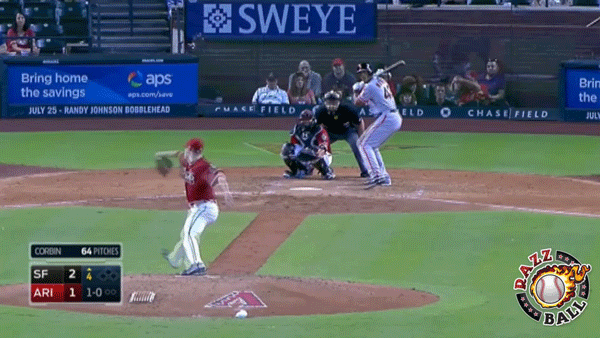 If that change-up can get mixed in, Corbin can be so so good.  Corbin misses outside, fastball again out there fouled off, slider barely gets nicked for a foul, then slider again at 82 gets Maxwell to strike out for his 5th K:
That might be the biggest AB I've seen for Corbin today – Maxwell kills lefties and Corbin made the adjustment against him to strike him out.  Fastball is in there to Belt, fastball again that looked like a tad off the outside edge is called strike two (thanks ump!), then 93 barely off the outside edge is indeed called a ball, 1-2.  Slider bends outside, then 92 on the hands obliterates Belt's bat as it shatters everywhere for a weak grounder to second, two down.  Then a 90 MPH fastball on the outside corner gets a routine grounder to short from Bumgarner for a quick – and sorely needed- 4th inning.
Fifth Inning: And picking right back up, Corbin gets a first-pitch grounder to short from Pagan to get an easy first out to start the fifth.  Corbin misses to Panik, 92 paints the outside corner 1-1, fastball again a tad outside, 92 way outside, then 91 on the outside edge is popped foul to third, and another quickie.  Change-up skips in to Duffy, fastball on the outside edge fouled back, fastball on the inner half fouled off, 93 stays high – nice to see Corbin approaching those mid-90s late in the outing – then a slider just off the outside edge is flied to right, and Tomas makes the grab for another quick inning, but it will end Corbin's afternoon.
Final Line:  L  5.0 IP  86 Pitches (54 Strikes)  2 ER  4 Hits  1 Walk  5 K  Gamescore: 55   Gamescore+: 60.8
Final Analysis: Man, such a mixed bag!  After the first inning I was ready to pull the trigger and have him shoot much higher in my ranks, but he labored through the 2nd and 3rd to give me pause.  Then mowed through the 4th and 5th…  If Gamescore+ can really tell us anything, this was one of the widest Gamescore/Gamescore+ calculations on the season as Corbin got Ks and only had a few hard-contact outs.  That said, shorter outings with decent Ks will cause a gap like that.
I really wish Corbin's fastball was a little more consistent, as it sat 93-94 in the first inning even hitting 95, but fell to more the 91-93 range the rest of the game.  He was locating pretty well and it still gets on top of hitters pretty quick, but if it could stay mid-90s for a full outing, it would be dominant.  That said, overall it's at 92.6 MPH on the year, high than 92.1 in 2013.  No matter how you slice it, that slider is still dominant.  Ranging from 76-82 or 83, it continues to have ridiculous life and he can throw them for strikes.   That was my main concern with Corbin coming off the DL – could he continue to rely on those sliders for success?  How do I feel about answering that question after yesterday?  "Thrilled!"  Then his final pitch – the change-up – was only utilized a handful of times, but looked really good.  I think the more Corbin gets extended, he will throw more of those.
So how does Corbin rank ROS?  Well it wasn't great to see a slight velo dropoff, and he struggled at times putting hitters away.  That said, Hunter Pence took like, 18 pitches to get through his two ABs, so the high-ish pitch count through 5 innings is a little misleading.  While Corbin does appear to have some rust, he's only allowed two Leeloo Dallas Multi-Passes on the season, with a 13:2 K:BB through his first 3 starts in 15 innings.  He's got all the pieces there to go on a hot stretch at some point in the second half, but he maintains in the mid-50s for me.  It'll be a few more starts until he's fully stretched out – along with that TJ rust to shake off – but man is he going to be a huge sleeper for me in 2016.
JB's Updated Top 100 SP
(rankings for ROS based on 12-team Roto, green for risers, red for fallers)
| RANK | SP, Team |
| --- | --- |
| 1 | Clayton Kershaw, LAD |
| 2 | Max Scherzer, WAS |
| 3 | Chris Sale, CWS |
| 4 | Felix Hernandez, SEA |
| 5 | Corey Kluber, CLE |
| 6 | Madison Bumgarner, SF |
| 7 | David Price, DET |
| 8 | Gerrit Cole, PIT |
| 9 | Zack Greinke, LAD |
| 10 | Jake Arrieta, CHC |
| 11 | Chris Archer, TB |
| 12 | Jacob deGrom, NYM |
| 13 | Jose Fernandez, MIA |
| 14 | Dallas Keuchel, HOU |
| 15 | Sonny Gray, OAK |
| 16 | Matt Harvey, NYM |
| 17 | Cole Hamels, PHI |
| 18 | Carlos Carrasco, CLE |
| 19 | Johnny Cueto, CIN |
| 20 | Carlos Martinez, STL |
| 21 | Francisco Liriano, PIT |
| 22 | Michael Wacha, STL |
| 23 | Michael Pineda, NYY |
| 24 | Jon Lester, CHC |
| 25 | Masahiro Tanaka, NYY |
| 26 | Danny Salazar, CLE |
| 27 | Jeff Samardzija, CWS |
| 28 | Jason Hammel, CHC |
| 29 | Garrett Richards, LAA |
| 30 | James Shields, SD |
| 31 | Jordan Zimmermann, WAS |
| 32 | Tyson Ross, SD |
| 33 | Alex Wood, ATL |
| 34 | Noah Syndergaard, NYM |
| 35 | A.J. Burnett, PIT |
| 36 | Shelby Miller, ATL |
| 37 | Lance Lynn, STL |
| 38 | Trevor Bauer, CLE |
| 39 | Gio Gonzalez, WAS |
| 40 | Taijuan Walker, SEA |
| 41 | Lance McCullers, HOU |
| 42 | Stephen Strasburg, WAS |
| 43 | Jose Quintana, CWS |
| 44 | Jake Odorizzi, TB |
| 45 | John Lackey, STL |
| 46 | Collin McHugh, HOU |
| 47 | Scott Kazmir, OAK |
| 48 | Julio Teheran, ATL |
| 49 | Mat Latos, MIA |
| 50 | Andrew Cashner, SD |
| 51 | Kyle Hendricks, CHC |
| 52 | Hector Santiago, LAA |
| 53 | Mike Fiers, MIL |
| 54 | Phil Hughes, MIN |
| 55 | Vincent Velasquez, HOU |
| 56 | Patrick Corbin, ARI |
| 57 | Yordano Ventura, KC |
| 58 | Ubaldo Jimenez, BAL |
| 59 | Carlos Rodon, CWS |
| 60 | Eduardo Rodriguez, BOS |
| 61 | Jimmy Nelson, MIL |
| 62 | Andrew Heaney, LAA |
| 63 | Hisashi Iwakuma, SEA |
| 64 | Erasmo Ramirez, TB |
| 65 | Tony Cingrani, CIN |
| 66 | Wei-Yin Chen, BAL |
| 67 | Kendall Graveman, OAK |
| 68 | Kyle Gibson, MIN |
| 69 | Nate Karns, TB |
| 70 | Cody Anderson, CLE |
| 71 | Anibal Sanchez, DET |
| 72 | Jesse Chavez, OAK |
| 73 | Chris Heston, SF |
| 74 | Marco Estrada, TOR |
| 75 | Aaron Nola, PHI |
| 76 | Rubby De La Rosa, ARI |
| 77 | Robbie Ray, ARI |
| 78 | Kevin Gausman, BAL |
| 79 | Taylor Jungmann, MIL |
| 80 | Dan Haren, MIA |
| 81 | Matt Cain, SF |
| 82 | Edinson Volquez, KC |
| 83 | Ian Kennedy, SD |
| 84 | Ervin Santana, MIN |
| 85 | Mike Leake, CIN |
| 86 | Jake Peavy, SF |
| 87 | Doug Fister, WAS |
| 88 | Michael Montgomery, SEA |
| 89 | Jon Niese, NYM |
| 90 | J.A. Happ, SEA |
| 91 | Drew Hutchison, TOR |
| 92 | Justin Verlander, DET |
| 93 | Matt Moore, TB |
| 94 | C.J. Wilson, LAA |
| 95 | Jaime Garcia, STL |
| 96 | Nathan Eovaldi, NYY |
| 97 | Danny Duffy, KC |
| 98 | Mike Bolsinger, LAD |
| 99 | Mark Buehrle, TOR |
| 100 | Brett Anderson, LAD |
Dropped Out: Bartolo Colon, NYM (rough start last time out, hasn't moved off a 4.80 ERA the past 10 starts), Yovani Gallardo, TEX (21 walks to his last 21 Ks across his last 7 starts, 3 Ks and 3 BB a game?!  Eesh.), Chase Anderson, ARI (DL – triceps/sucking)
Am I sipping too much of the Corbin Dallas juice?!  I might only have 5 points left on my license!  And any other thoughts on the ranks?  Shoot your comments below, and happy 2nd half pitching Razzball Nation!