It's funny how drastic and immediate changes can be from the Minors to the Majors.  Thinking back on Trevor May who was profiled a few weeks back – the guy was walking everyone in the Minors and in his short stint in the Majors last year, to become top-25 in K:BB ratio.
But that took some seasoning.  We're seeing something even drastic-er and immediate-er with what's going on with the Astros younguns.  Lance McCullers went from being old Trevor May with better Ks to having an 18:0 K:BB stretch before getting a tad wilder these past few…  But he was supposed to struggle through control issues, not Vincent Velasquez!  Vinny V went from a 4.11 K:BB mowing through AA this year to 1.70 so far this year in the show with 17 Ks and 10 BB through his first three starts.
I was pretty high on Velasquez when he was called up, but maybe it was a tad too early for the 23 year old to find immediate success.  So I decided to break down his start yesterday, that should've been a cakewalk at the Mariners, to see how he's looking:
First Inning: Vinny V picks up an early run of support in the top of the first, and starts Logan Morrison with a 93 MPH fastball in there for strike one.  Last few profiles have had issues with the broadcast not showing velocities, glad Houston ROOT is on their game!  95 MPH fastball fouled off, sailing heater too high, 1-2.  He will ramp it up to 95-96, but the broadcast said he hit 100 a few times in the Minors, so that'd be sick to see!  94 is fouled off, first breaking ball is dribbled foul, curveball again is bounced in low, gooooooood fastball at 95 painting the outside edge is slashed foul, still 2-2 with Lomo giving a tough at bat.  Again heater fouled back, Lomo is less "missing pitches to hit" and is more "fighting them off", 96 MPH heater is just outside, full count – 9 pitches already.  Fastball on the outer edge fouled again, then Vinny's first change at 88 MPH drops low, and it's an 11-pitch leadoff walk.  Ouch.  But it's nice to see him able to bounce back and get a quality pitch in there, with this painting 95 MPH fastball to get strike one on Mark Trumbo: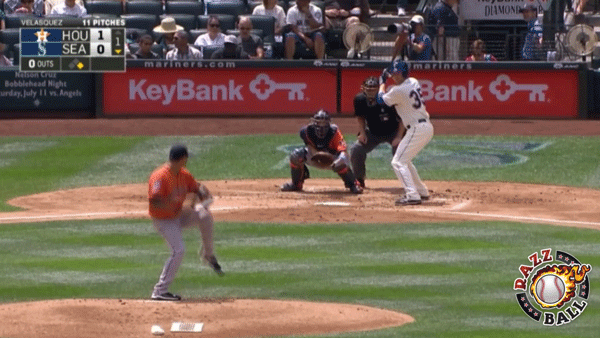 Vinny then follows it up with a rolling curve that is able to get into the zone, 0-2: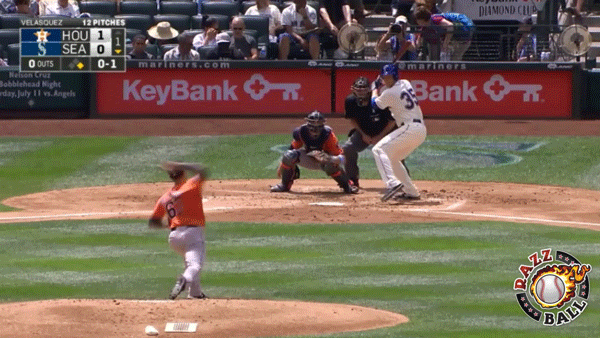 That's how Vinny should have success – heater in a tough to hit spot then locate the breaking stuff.  Curveball again goes an extra 6 inches inside compared to that last GIF, 1-2 is a heater off the plate, then a 93 MPH fastball looked like it might've clipped the lower black but is just low, then a curve is turned on and popped foul and out of play, still 3-2.  17 pitches and no outs.  95 perfectly paints the outside edge and gets tipped foul, 94 low on the black is fouled off AGAIN, then finally a high 95 MPH fastball is popped foul in the infield for the first out 20 pitches in.  Robinson Cano takes 95 low, takes outside again, then outside one more time at 94 gets Vinny down 3-0.  Fastball barely gets in there, then 95 is outside for another walk.  Out comes Brent Strom, Astros pitching coach, for a few words before Nelson Cruz takes a first-pitch curveball that drops in the zone, 0-1.  Nice start there, but Velasquez goes curveball again, this one hung a bit and stayed in the middle of the zone for an RBI single.  I don't like the back-to-back curveball call.  So now a tie 1-1 game, and a fastball on the hands of Kyle Seager eats him up for a foul back, change-up dips low, change again flutters low and outside, 93 on the hands gets a mammoth shot but well foul, then a curve gets Seager to fly out lazily to center – two outs.  Seth Smith takes that curve in there for strike one, curve drops low and in, 96 MPH fastball is outside, Vinny V behind again 2-1.  94 is just inside, 3-1 high heater blows Smith away, the 94 is too high for yet another walk.  Man, just derailed through those first two hitters and not finding his groove, 38 pitches in!  Bases loaded, and Brad Miller takes a fastball low, heater again tipped back foul, 95 is way high and outside, 93 on the hands flared foul, and the 2-2 fastball gets up to 97 as Vinny V knows this could be his last hitter, and just blows it by him to stand the bases loaded with a K: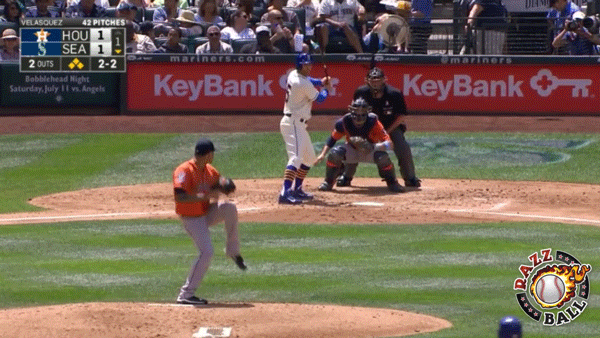 And the long, grinding 43 pitch inning is mercifully over.
Second Inning: Velasquez gets another run of support finding himself up 2-1 and gets a fastball in there to James Jones, 0-1.  Fastball low, change-up way outside, 95 perfectly paints 2-2, fastball at 96 high, yet another full count.  Velasquez goes high heat at 94, and Jones cuts under it for a K.  That was probably high, so Jones helped him out.  High 94 MPH fastball on the hands of Jesus Sucre is popped foul, 96 is low and outside, 95 is in there, then Vinny drops the hammer at 82 MPH for one of his best curves on the day to get another strikeout.  Three in a row now.  Already back to the top with Lomo who takes 94 outside, 95 fouled back, change flutters outside – haven't seen good control of that pitch today – 2-1 is bunted foul, I don't get that decision with Vinny so wild, 2-2 curveball is dribbled foul, and Lomo just gobbling up pitches again.  But Vinny decides to stop messing around and ramps up a 97 MPH fastball on the outside black that is cut through and missed, and back-to-back innings with Vinny's hardest pitch ending in a K – and four straight strikeouts!
Third Inning: 95 outside to Trumbo, 94 pounds the zone, 95 flared foul, nice to see Vinny up 1-2.  Curveball I think at 84 MPH is bounced at 56 feet, 95 tipped back foul, curveball dips low, and yet again it's a full count.  Hating the inefficiency.  96 on the hands fouled off, 96 yet again high and tight fouled back, and this is some ridiculous shizz going on with foul balls.  But 96 on the low inside black is golfed into the air and caught for an infield pop.  95 gets strike one on Cano, 95 outside fouled off, curveball at 86 bounces on the inside part of the plate, 1-2.  97 MPH heat is lined opposite field but goes just foul – almost caught by Domingo Santana – then Velasquez blows Cano away with a high fastball at 96 for his 5th K.  Then a badly needed first-pitch out is made with a fastball popped out to second by Cruz to get Vinny another fairly quick inning.
Fourth Inning: And stop me if you've heard this one, but the 4th inning starts with Kyle Seager fouling off the first-pitch fastball…  0-1…  Then Vinny's best change-up on the day at 86 MPH is cued foul, 0-2: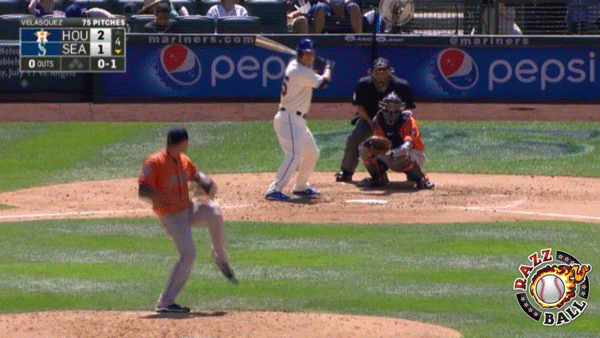 Maybe not having that pitch has been a big factor on the inefficiency.  Then the 0-2 pitch is a curveball that gets a lazy fly to center, nice quick out.  Smith slices back foul the first pitch fastball, perfect 94 MPH fastball paints the low black 0-2, curve is low, 88 MPH change is barely nipped foul, a good curveball at 85 MPH is taken all the way, 2-2.  Smith almost knew that one was coming.  97 is low and outside, and YET AGAIN a full count.  And the 3-2 is a high 95 MPH fastball ripped into the shift, yet it finds a gap for a 1-out double.  It was hit fairly hard, but it was a glorified ground ball that somehow gets the hole in a shift, a little lucky.  Miller shows bunt but takes outside, 95 on the hands fouled back, change-up is well inside, Miller chases high and outside on the 96 MPH fastball, slashes a 97 MPH fastball foul, 96 again fouled back, 97 on the inside edge fouled back, and this is ridiculous haha.  2-2 again is a high fastball at 94 that the broadcast wanted the call on, but umps never call strikes barely in the zone high a strike, then another fastball is high and it's another walk.  And that'll do it for Vinny V, who really wasn't awful or wild but had one of the craziest foul ball fests I've ever seen.
Final Line:  ND  3.1 IP  93 Pitches (57 Strikes)  1 ER  2 Hits  4 Walks  5 K  Gamescore: 53  Gamescore+: 58.4
Final Analysis: Geez, just how much can the first two hitters jack up a game!  20 pitches until the first out, yet it was just a walk then a pop out.  I don't think there's a way to look it up, but the percent of pitches fouled off had to have been one of the highest I've ever seen in a Major League game…  This was an interesting test case for the Gamescore+ calculation, because I think this is by far the shortest outing I've broken down.  Velasquez barely had any outs or hits to weigh in on hit grade, but the brief outing with high Ks makes sense for a higher Gamescore+.
It all starts with a powerful fastball that topped out at 97 MPH, usually sitting at 94-95.  I can't call it "overpowering" since so many Mariners were able to fight them off.  Velasquez showed good control and command with it actually; the walks were more of a result of just so many good pitches spoiled.  The main off-speed is the curveball, that went anywhere from 80-86 MPH.  The one I GIFfed wasn't the best one, as he was able to get them a little sharper for strikes and drop them out of the zone.  I really wished I had seen better results with the change-up.  The Houston broadcast brought up that "you hear the change-up is really good", but Vinny V struggled with it yesterday.  Really only that final GIF was a good one, and I think only about 2 or 3 of the 10 or so he threw were for strikes, and none got a swing-and-miss.
A lot of Dr. Jekyll, Mr. Hyde with this start.  On the good side, Velasquez faught valiantly through all the foul balls, and didn't crack with frustration like you'd see from a lot of young guns.  Plus the command and control really weren't that bad – a lot of spoiled pitches on the good ones working the edges.  But on the bad side, even though he had a 4 K stretch, Mariners hitters were able to see the ball well enough to fight so many off, and it really concerns my with how deep Vinny can go.  In any sort of favorable matchup against an opposing team with a lot of righties, I wouldn't hesitate to roll him back out there.  Against the Yankees next time up doesn't seem like a good one though.  And I also caution him as a play with starts limits – like the RCLs – since he doesn't go deep.  But in IP leagues, I think he can get enough Ks and keep from imploding to trust a little more.  I dropped him a little bit in my ranks, but he still remains a high-class streamer in my book.
JB's Updated Top 100 SP
(rankings for ROS based on 12-team Roto, green for risers, red for fallers)
| RANK | SP, Team |
| --- | --- |
| 1 | Clayton Kershaw, LAD |
| 2 | Max Scherzer, WAS |
| 3 | Chris Sale, CWS |
| 4 | Felix Hernandez, SEA |
| 5 | Corey Kluber, CLE |
| 6 | Madison Bumgarner, SF |
| 7 | David Price, DET |
| 8 | Johnny Cueto, CIN |
| 9 | Gerrit Cole, PIT |
| 10 | Zack Greinke, LAD |
| 11 | Cole Hamels, PHI |
| 12 | Matt Harvey, NYM |
| 13 | Chris Archer, TB |
| 14 | Jake Arrieta, CHC |
| 15 | Sonny Gray, OAK |
| 16 | Jacob deGrom, NYM |
| 17 | Carlos Carrasco, CLE |
| 18 | Jon Lester, CHC |
| 19 | James Shields, SD |
| 20 | Francisco Liriano, PIT |
| 21 | Michael Pineda, NYY |
| 22 | Garrett Richards, LAA |
| 23 | Danny Salazar, CLE |
| 24 | Michael Wacha, STL |
| 25 | Dallas Keuchel, HOU |
| 26 | Jose Fernandez, MIA |
| 27 | Masahiro Tanaka, NYY |
| 28 | Stephen Strasburg, WAS |
| 29 | Jeff Samardzija, CWS |
| 30 | Jason Hammel, CHC |
| 31 | Carlos Martinez, STL |
| 32 | Jordan Zimmermann, WAS |
| 33 | Tyson Ross, SD |
| 34 | Alex Wood, ATL |
| 35 | Trevor Bauer, CLE |
| 36 | Taijuan Walker, SEA |
| 37 | Scott Kazmir, OAK |
| 38 | Gio Gonzalez, WAS |
| 39 | A.J. Burnett, PIT |
| 40 | Lance McCullers, HOU |
| 41 | Jose Quintana, CWS |
| 42 | Shelby Miller, ATL |
| 43 | Jesse Chavez, OAK |
| 44 | Noah Syndergaard, NYM |
| 45 | John Lackey, STL |
| 46 | Carlos Rodon, CWS |
| 47 | Julio Teheran, ATL |
| 48 | Mat Latos, MIA |
| 49 | Lance Lynn, STL |
| 50 | Collin McHugh, HOU |
| 51 | Andrew Cashner, SD |
| 52 | Mike Fiers, MIL |
| 53 | Vincent Velasquez, HOU |
| 54 | Clay Buchholz, BOS |
| 55 | Kyle Hendricks, CHC |
| 56 | Jake Odorizzi, TB |
| 57 | Jesse Hahn, OAK |
| 58 | Yordano Ventura, KC |
| 59 | Trevor May, MIN |
| 60 | Chase Anderson, ARI |
| 61 | Drew Hutchison, TOR |
| 62 | Justin Verlander, DET |
| 63 | Rubby De La Rosa, ARI |
| 64 | Anibal Sanchez, DET |
| 65 | Eduardo Rodriguez, BOS |
| 66 | Joe Ross, WAS |
| 67 | Patrick Corbin, ARI |
| 68 | Jimmy Nelson, MIL |
| 69 | Aaron Harang, PHI |
| 70 | Edinson Volquez, KC |
| 71 | Phil Hughes, MIN |
| 72 | J.A. Happ, SEA |
| 73 | Kevin Gausman, BAL |
| 74 | Ian Kennedy, SD |
| 75 | Wei-Yin Chen, BAL |
| 76 | Ubaldo Jimenez, BAL |
| 77 | Chris Heston, SF |
| 78 | Jaime Garcia, STL |
| 79 | Ervin Santana, MIN |
| 80 | Alfredo Simon, DET |
| 81 | Matt Moore, TB |
| 82 | Nate Karns, TB |
| 83 | Dan Haren, MIA |
| 84 | Jake Peavy, SF |
| 85 | Hector Santiago, LAA |
| 86 | C.J. Wilson, LAA |
| 87 | Nathan Eovaldi, NYY |
| 88 | Rick Porcello, BOS |
| 89 | Tim Lincecum, SF |
| 90 | Bartolo Colon, NYM |
| 91 | Mike Leake, CIN |
| 92 | Hisashi Iwakuma, SEA |
| 93 | Aaron Sanchez, TOR |
| 94 | Matt Shoemaker, LAA |
| 95 | Mike Foltynewicz, ATL |
| 96 | Danny Duffy, KC |
| 97 | Mike Bolsinger, LAD |
| 98 | Kyle Gibson, MIN |
| 99 | Chi Chi Gonzalez, TEX |
| 100 | Kendall Graveman, OAK |
Dropped Out: Charlie Morton, PIT (before you scream "too reactionary!" I only had him #100 anyway…), Michael Montgomery, SEA (had him in at #99, but no improvement in Ks), Jered Weaver, LAA (DL – hip)
Vinny V scare you guys off with this inefficient outing?  And what make you of the ranks?  Shoot your thoughts below, and happy pitching Razzball Nation!