I've used a similar open before, so rounding to the point – there's a ton of players in baseball…  It's why fantasy baseball rules the land – there's no end to how deep it goes (that's what she said!).  You can play 10 team, 12 team RCL, AL and NL only, and I'm hoping to start up a 30 teamer next year.  The possibilities are endless!
And even within the abyss of players that will contribute to an MLB season, I'm only looking at starting pitchers and even then I miss tons of things!  It's not like I scan every starter's game log and peripherals every single week, so guys will occasionally fall through the cracks.  One such example is Trevor May, who I thought was still having egregious control problems.  I looked at his ERA and WHIP in passing on the wire, and gave it an ol' shrug-a-roosky.  But then I started digging into the numbers after his huge 7-inning two-hitter, and realized he was much more than a butterface.  Kinda like realizing you could hop on board of that!  "It's not the sweater, but what's underneath that counts!"  I was then on the verge of picking up May after seeing his 50:9 K:BB in 56.1 innings this year, remembering he was a pretty hot prospect despite walking everyone in his limited time last season.  I watched an early 2014 start and it was something like that uber-fail Tyler Matzek debacle (58 pitches, 20 strikes?!).  So I decided that May would be a perfect pitcher to Profile (and Peter Piper picked peppers!) to see just how dominant his start was last Wednesday at the Red Sox.  I know I usually pick a pitcher who started over the weekend, but I'm selfish and I'm using this week's post for my own add/drop evaluation needs!  Here's how May looked:
First Inning: Opening up the second game of the double-header, and May starts Dustin Pedroia with a high and tight fastball fouled back, 0-1.  Fastball in the same spot is taken for a ball, fastball right over is in there, 1-2.  No radar gun yet on the broadcast…  Annoying…  Next pitch is what looked like a slider or cutter and gets grounded weakly to short, one down.  Fastball right over the plate is lined hard by Brock Holt first-pitch hacking, but it's right to left for a lineout.  Relatively hard hit, but right to Eduardo Escobar.  David Ortiz takes low, fastball right over is slashed foul, fastball sails way high and outside, fastball on the outer edge is cut on late and foul, 2-2.  Then another liner is hit to left, but Escobar is there on the track to nab the out.  Two straight hit fairly hard, a little discouraging for my hopeful May-fandom.
Second Inning: May picks up two runs of support and I pick up the Red Sox broadcast to get radar gun readings, and May starts Mike Napoli with a 91 MPH fastball barely low, 1-0.  Fastball is then high – only one non-fastball so far – 2-0 91 MPH fastball is in there, big slider at 85 sweeps across the zone but too far outside 3-1, fastball is fouled back, then a 93 MPH fastball perfectly placed on the outside edge is hacked through and missed for May's first K.  Pablo Sandoval takes a 76 MPH curveball into the zone, and man if May can locate those on the first pitch, it'll be a weapon: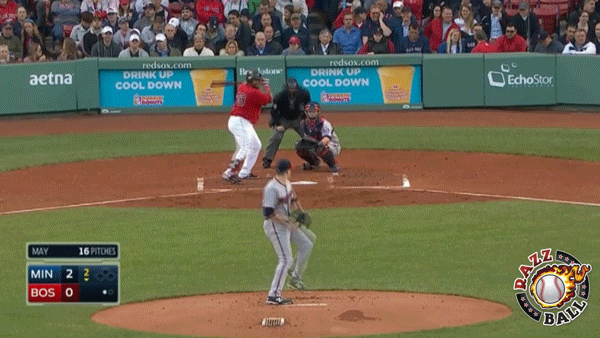 Perfect fastball on the low outside corner is hit back foul, 77 MPH curve is in the dirt, fastball almost takes off Panda's buttons inside 2-2, then Sandoval is made a fool with a high 85 MPH change-up that he swings though for back-to-back Ks.  Not where he wanted the change at all, but it works.  Then May again starts with a fantastic slider that dips low and gets Xander Bogaerts swinging over it at 84 MPH, strike one: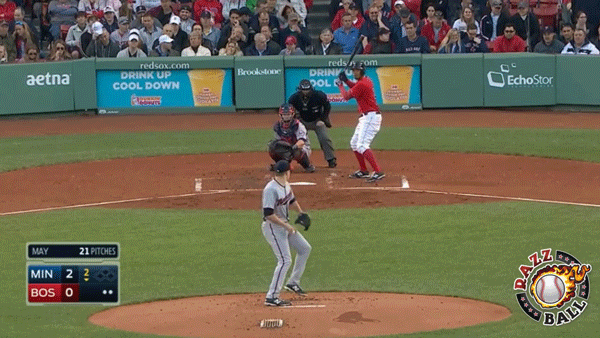 Pretty combo of first-pitch sliders to the last two hitters!  92 MPH fastball is just outside, nice two-seamer runs too far inside but got a flinch 2-1, blew him away with a 92 MPH fastball on the outside edge swung through and missed, 93 right down the middle is fouled back, 76 MPH curve that would've been a nasty pitch in the zone if taken is tipped foul, then 2-2 again is a fastball painting the outside corner and gets the call for strike 3 looking.  I dunno, it looked a little off the plate and the pitch tracker had it off – but officially May strikes out the side…  But I'm still not jaw droppin' it…
Third Inning: Zeroes on the board for May who gets a fastball in there to Mookie Betts 0-1, another fastball on the outside edge is taken 0-2, then May brings it inside at 91 MPH in a perfect spot on the low black for a strikeout swinging and 4 in a row.  All about command there, and it's working!  May is right back in the zone with a curveball for strike one on Blake Swihart, again sweeps the curve in the backdoor 0-2, then comes right back inside at 93 MPH on the hands to get Swihart to foul-tip it into the mitt for 5 straight Ks:
Sheesh, while I'm not blown away with the pure stuff, he's got complete control on both sides of the plate to lefties and righties.  Impressive.  Hard to believe he had control issues last year.  Carlos Peguero fouls back a first-pitch fastball, then May goes right back to the same spot and Peguero is able to make the adjustment and pound it into center for a single.  Looked like a two-seamer following a four-seamer and it didn't get the run he hoped for.  So back to the top and Pedroia takes a fastball painting the outside black 0-1, then a fastball on the low inside black is turned around down the third base line for a double.  As opposed to the Peguero single, that one was really well located on the other side of the zone, just tip your hat to Pedroia there.  May remains fearless with runners at second and third with a fastball taken by Holt, fastball high in the zone at 92 is taken for strike two, big sweeping curveball is in the dirt inside – great block by Chris Hermann to save a run – fastball is high and tight, then the 2-2 fastball is high and on the hands – Holt tries to turn it around but it breaks his bat for a soft grounder to short and they get him by a half step, inning over.
Fourth Inning: Still up 2-0 on the scoreboard and May gets Ortiz to foul back a fastball, fastball on the hands gets Ortiz to hit it a mile high but just foul into right, May tops out the velo at 95 on the hands and Ortiz barely catches his bat up to it to foul it off, 0-2 again is a curve in the dirt – great shot by the Red Sox broadcast showing his back knuckle coming off it making it technically a knuckle-curve – 94 up in the zone is fouled back, change-up at 85 stays a tad outside, now 2-2.  Slider is slung a bit too hard at 87 inside – looks like he overthrew it a tad – payoff pitch is a fastball Ortiz fouls off his foot, fastball again in the zone is fouled off to left, and finally the 10th pitch of the AB is a 94 MPH fastball an inch or two higher than right down the middle and it gets Ortiz to swing just enough underneath it to fly out to center.  Slider at 85 breaks off the plate from Napoli, 1-0 fastball is taken and gets a called strike high in the zone (I thought it was too far up, but got the call), 92 MPH fastball is right down the middle but Napoli fouls it off, 95 MPH fastball is a heater overthrown as it's in the dirt, then the 2-2 heater at 94 paints the outside corner to get Napoli looking.  Perfect pitch there – hit the black majestically, nice stuff.  Slider breaks inside to Sandoval, 91 MPH two-seamer tails outside, fastball low is tipped back foul and catches Hermann right in the lovehandle where there's no padding, 2-1 as trainers come out to check on him.  Luckily he's OK and the 2-1 hanging curveball is fouled off – easily a ball but Sandoval hacks at anything – high fastball at 93 is fouled back, then 2-2 again is a 93 MPH heater on the hands that eats Panda up for an easy flare popup to short, 3 up 3 down.
Fifth Inning: At pitches 64 through four, May starts Bogaerts with a fastball in there for a strike, then heater again in the lower inside half gets an easy routine grounder to short, one down.  Fastball is in there to Betts who pulls back a halfhearted bunt show, takes a curve in the dirt, high 92 MPH fastball is fouled back, climbs the ladder even higher with a fastball way out of the zone, then the 2-2 fastball perfectly paints the low black at 92 for a K looking.  Command is insane right now!  Outside fastball is laced foul by Swihart, 93 is just inside, May throws an elevated change-up that Swihart is just in front of hitting it deep foul (another change that wasn't low like you want it), pounds the zone at 94 on the hands gets another foul back, then a 1-2 curveball at 77 skips into the dirt, Swihart tries to hold up but barely breaks the plane for May's 8th K.
Sixth Inning: Still a 2-0 game and May starts Peguero with a backdoor curveball breaking into the zone 0-1, then a fastball on the hands eats him up just enough for a routine fly to right, quick out.  Peguero had a nice swing, but May is locating so good I've now got my O face.  Fastball in there to Pedroia, fastball outside, fastball just low, 92 right down the middle is laced foul, 2-2.  I mean, 92 MPH fastball right down the middle had Pedroia very late – hitters very off-balance.  Fastball at 93 barely misses the outside black, then the payoff pitch is another 93 MPH fastball low that is hit pretty hard to second, but the play is made for the second out.  High fastball gets the call at 92 on Holt (it was in the zone, but high pitches don't always get the call), curveball skips in low, change-up at 84 is low, then 92 on the hands is popped up in the infield and caught for an easy third out.
Seventh Inning: Now at 88 pitches, May gets Ortiz swinging on the first-pitch fastball and it's topped to first for an easy groundout, one down.  May paints the outside black to Napoli at 90 MPH for strike one, and Napoli starts jawing with the ump.  And here's an underrated aspect to being so spot-on with your command – if you miss by maybe half an inch after pounding the zone all night, human nature will give you the call even if you're a rook.  Fastball again is fouled back, high heat at 93 is fouled back again, then the 0-2 is the first off-speed of the AB with an 82 MPH slider dipping low and with Napoli trying to keep his bat speed up for the fastball can't hold it up for May's 9th K: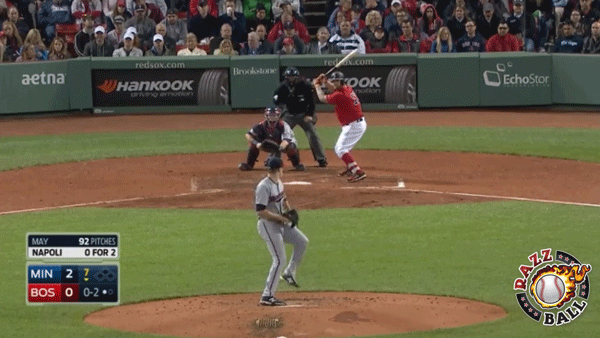 Panda fouls off the first-pitch fastball, again May stays out there but perfectly on the black and gets a late swing foul, high heat 93 is fouled back, curveball dips low, then another high fastball is skied to shallow right with Brian Dozier ranging over for it, and another quick inning will do it for May at 98 pitches, ending a fantastic outing.
Final Line:  W  7.0 IP  98 Pitches (70 Strikes)  0 ER  2 Hits  0 Walks  9 K  Gamescore: 82  Gamescore+: 81.6
Final Analysis: Location, location, location!  One of the best commanded games I've broken down since doing the Pitcher Profiles in 2013.  May was in and out of the zone, hitting inside and outside corners, putting the ball high and low.  As I mentioned above, it's hard to believe I had the perception he had no control after struggling so bad with the walks last year.  Then again, his walk numbers weren't great in the Minors…  Maybe (May-B!) he's just found something this year…  His Gamescore+ came out about even with the Gamescore with those first few outs a little hard hit and both hits well struck.  After those first two innings though, nothing was lucky.
May's fastball isn't overpowering as a raw pitch, but sitting at 92-94 and topping at 95 with great location, it's a strong offering.  It's a tick faster than last year, but I guess increased confidence with the command has him pitching better.  In fact, his spread across all 4 pitches hasn't changed all that much.  His slider is probably the primary off-speed with good downward sink at 82-85, then the knuckle-curve is almost as utilized in the 77-78 MPH range with more a 10-8 break.  It's good the curveball has a little bit more of a sweeping motion to differentiate from the slider.  He didn't throw many change-ups in this start, as they were mostly elevated and he didn't have a great feel for that pitch.  Luckily the other 3 were working more than well enough to get him through.  And as mentioned in the 7th inning, an underrated aspect of pinpoint control on the corners is you might get a strike or two called just a fraction of an inch out of the zone.
While a pitcher with great location is tough for any team to hit, there is a little cold water from me to throw on here.  Mid-week last week the Red Sox were still in an offensive funk (plus no Hanley Ramirez this game) and it was the second game of a double-header.  I don't know if there's any pure evidence that suggests a second game of a double-header has less offense with hitters a tad more fatigued, but wanted to mention it.
So back to the whole point of picking May for this Profile – am I picking him up yet?  Looking at his seasonal numbers, May is sporting a bit of an unlucky .329 BABIP, but the biggie is a 2.80 FIP compared to the 4.45 ERA on top of that fantastic 50:9 K:BB.  However, looking at his next start, it's a doozy going against the Royals.  I think I'll be watching this one from afar and keep him on the wire.  With that 4.45 ERA and 1.24 WHIP, I don't think owners are clamoring to scoop him up for that start.  I want to see how he does against a team that never strikes out with great vision of the zone.  If he comes through with minimal damage and looks good again at the eye level, I'll be adding him in several leagues.
JB's Updated Top 100 SP
(rankings for ROS based on 12-team Roto, green for risers, red for fallers)
| RANK | SP, Team |
| --- | --- |
| 1 | Clayton Kershaw, LAD |
| 2 | Felix Hernandez, SEA |
| 3 | Max Scherzer, WAS |
| 4 | Corey Kluber, CLE |
| 5 | Chris Sale, CWS |
| 6 | Madison Bumgarner, SF |
| 7 | David Price, DET |
| 8 | Johnny Cueto, CIN |
| 9 | Gerrit Cole, PIT |
| 10 | Zack Greinke, LAD |
| 11 | Cole Hamels, PHI |
| 12 | Matt Harvey, NYM |
| 13 | Chris Archer, TB |
| 14 | Jake Arrieta, CHC |
| 15 | Sonny Gray, OAK |
| 16 | Jacob deGrom, NYM |
| 17 | Carlos Carrasco, CLE |
| 18 | Jon Lester, CHC |
| 19 | James Shields, SD |
| 20 | Michael Pineda, NYY |
| 21 | Garrett Richards, LAA |
| 22 | Danny Salazar, CLE |
| 23 | Dallas Keuchel, HOU |
| 24 | Jordan Zimmermann, WAS |
| 25 | Francisco Liriano, PIT |
| 26 | Michael Wacha, STL |
| 27 | Jeff Samardzija, CWS |
| 28 | Stephen Strasburg, WAS |
| 29 | Masahiro Tanaka, NYY |
| 30 | Jose Fernandez, MIA |
| 31 | Tyson Ross, SD |
| 32 | Trevor Bauer, CLE |
| 33 | Jason Hammel, CHC |
| 34 | Andrew Cashner, SD |
| 35 | Lance Lynn, STL |
| 36 | Carlos Martinez, STL |
| 37 | Alex Wood, ATL |
| 38 | Collin McHugh, HOU |
| 39 | Gio Gonzalez, WAS |
| 40 | A.J. Burnett, PIT |
| 41 | Clay Buchholz, BOS |
| 42 | Yordano Ventura, KC |
| 43 | Jesse Chavez, OAK |
| 44 | Jose Quintana, CWS |
| 45 | Shelby Miller, ATL |
| 46 | Noah Syndergaard, NYM |
| 47 | Mike Foltynewicz, ATL |
| 48 | Mike Fiers, MIL |
| 49 | John Lackey, STL |
| 50 | Taijuan Walker, SEA |
| 51 | Lance McCullers, HOU |
| 52 | Eduardo Rodriguez, BOS |
| 53 | Jimmy Nelson, MIL |
| 54 | Aaron Harang, PHI |
| 55 | Carlos Rodon, CWS |
| 56 | Scott Kazmir, OAK |
| 57 | Julio Teheran, ATL |
| 58 | Jake Odorizzi, TB |
| 59 | Drew Hutchison, TOR |
| 60 | Kyle Hendricks, CHC |
| 61 | Chase Anderson, ARI |
| 62 | Jesse Hahn, OAK |
| 63 | Trevor May, MIN |
| 64 | Justin Verlander, DET |
| 65 | Rubby De La Rosa, ARI |
| 66 | Jered Weaver, LAA |
| 67 | Rick Porcello, BOS |
| 68 | Edinson Volquez, KC |
| 69 | Phil Hughes, MIN |
| 70 | J.A. Happ, SEA |
| 71 | Patrick Corbin, ARI |
| 72 | Ian Kennedy, SD |
| 73 | Wei-Yin Chen, BAL |
| 74 | Alfredo Simon, DET |
| 75 | Ubaldo Jimenez, BAL |
| 76 | Matt Shoemaker, LAA |
| 77 | Bartolo Colon, NYM |
| 78 | Nate Karns, TB |
| 79 | Mat Latos, MIA |
| 80 | James Paxton, SEA |
| 81 | Miguel Gonzalez, BAL |
| 82 | Anibal Sanchez, DET |
| 83 | Nathan Eovaldi, NYY |
| 84 | Aaron Sanchez, TOR |
| 85 | Tim Lincecum, SF |
| 86 | Chris Heston, SF |
| 87 | Hector Santiago, LAA |
| 88 | Mike Leake, CIN |
| 89 | Jake Peavy, SF |
| 90 | Kevin Gausman, BAL |
| 91 | Hisashi Iwakuma, SEA |
| 92 | Tim Hudson, SF |
| 93 | C.J. Wilson, LAA |
| 94 | Matt Moore, TB |
| 95 | Danny Duffy, KC |
| 96 | Mike Bolsinger, LAD |
| 97 | Kyle Gibson, MIN |
| 98 | Dan Haren, MIA |
| 99 | Chi Chi Gonzalez, TEX |
| 100 | CC Sabathia, NYY |
Dropped Out: Jon Niese, NYM (struggling mightily even though he's off an OK start), Nick Martinez, TEX (I knew regression was coming and he was barely in anyway), Archie Bradley, ARI (DL shoulder, but needs a mental break anyway – you have to wonder if getting hit in the face by the liner is causing some mental issues), Shane Greene, DET (ummmm, yeahhhhh…)
Are you ready to call him May-B?  And what ranks have a craw in your britches?  As always, shoot your thoughts below and happy pitching, Razzball Nation!