You: Pete Nice, did you say we should start Marcus Stroman this week at Boston and at Houston?
Jay(Wrong): You DON'T have to answer that question!
Me: I'll answer the question! You want advice?
You: I think I'm entitled to…
Me: YOU WANT ADVICE?
You: I WANT THE TRUTH!
Me: YOU CAN'T HANDLE THE TRUTH!
[Jay's Note: My mother always wanted me to be a lawyer…] Guys, we live in a fantasy baseball world that has risky matchups, and those risky matchups have to be taken on by writers who have to suggest two-starting inexperienced young pitchers with 95 mph-plus fastballs. Who's gonna do it? You? You, Guru? You, Sky? I have a greater responsibility than you could possibly imagine. You worry about Marcus Stroman, and you curse the Blue Jays. You have that luxury. You have the luxury of not knowing what I know. That Stroman's road performance, while thus far in 2014 has been kind of crappy – 17 hits in 16 IP with a 4.41 ERA and a 1.47 WHIP – will improve with time. And Stroman's existence, while excitingly intriguing but also slightly scary, can help your fantasy team. You don't want this advice because deep down in places you don't talk about at baseball games and fantasy drafts, you want Stroman on that hill. You need Stroman on that hill. We use words like FIP and K/BB ratios. We use these words as the backbone of a fantasy team trying to win something: Stroman's 3.11 FIP places him in the Top 20 of all MLB pitchers and his K/BB per 9 ratio of close to 6.00 makes him an ownable pitcher, not a streamer, according to Dr. Grey Albright PhD. You use these things as a punchline. I have neither the time nor the inclination to explain myself to readers who rise and sleep under the blanket of the very information that I provide, and then questions the manner in which I provide it. I would rather you just said thank you, and went on your way. Otherwise, I suggest you pick up Stroman, and set your lineup. Either way, I don't give a damn who you grab off the wire for two starts this week.
You: Did you order the two-starts for Marcus Stroman?
Me: I did the job…
You: DID YOU ORDER THE TWO-STARTS FOR MARCUS STROMAN?
Me: YOU'RE GODDAMN RIGHT I DID! AND HERE'S SOME MORE TWO-START PITCHERS FOR NEXT WEEK!
Must-Start
Yu Darvish (NYY, @CLE), Cole Hamels (@NYM, @WAS)
This week this tier doesn't have the same meaning as a typical week of Two-Startapalooza. This is more "You must start these guys because they're your aces, not because you're guaranteed an ace-like performance." Both pitch for crap teams and can't guarantee one let alone two wins. Darvish has not been his dominant self of late, but his numbers are still outstanding. Hamels has been more on than he's been all year, which is impressive given the fact that the Phillies resemble a season-defining episode of "Mama's Family." You know, the one where Vinton gets his hand stuck in a bowling ball outside a male strip club next to a bowling alley, and Naomi finds him while out with Aunt Fran (actually visiting the male strip club), and accuses him of being there when he really wasn't, and then Mama shows up and beats up a striper with her granny purse. Oh that's not really an episode? My bad.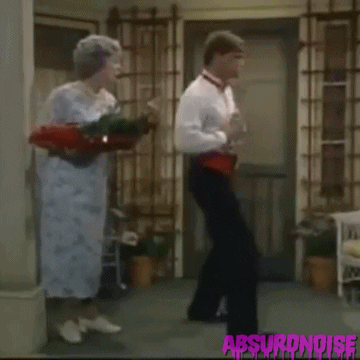 First Tier
Madison Bumgarner (PIT, @NYM), Stephen Strasburg (@MIA, PHI), Hisashi Iwakuma (@CLE, @BAL), James Shields (MIN, @OAK), Ervin Santana (SD, @SD), Tyson Ross (STL, ATL), Marcus Stroman (@BOS, @HOU)
I'd start these guys and wouldn't think twice about it. Apparently, when Bumgarner goes beyond the 7th inning, his hairline magically recedes and he yells "Hey! Mr. Umpire Wendelstedt. I like your hair!" Also, everyone's sky-high on Santana this week because he has two with the Pads, but we know that this year, when you think something's guaranteed (closer situations, playing time for hot hitters), it's not. Except when you have two games against the Pads.
Second Tier
Jesse Chavez (@HOU, KC), Lance Lynn (@SD, MIL), Jered Weaver (@BAL, @TB), Homer Bailey (ARI, @MIA), Jake Odorizzi (MIL, LAA), Anibal Sanchez (CHW, COL), Bartolo Colon (PHI, SF), Chris Tillman (LAA, SEA), Jordan Zimmermann (@MIA, PHI), Jose Quintana (@DET, MIN), Ian Kennedy (@ATL, ATL), Kyle Lohse (@TB, @STL)
Look who's back, Bailey's back. And those are some pretty nice matchups. Kennedy is going to get you a ton of Ks with two dates with the Braves, but most likely not a pair of Ws.
Third Tier
A.J. Burnett (@NYM, @WAS), R.A. Dickey (@BOS, @HOU), Josh Beckett (ATL, CHC), Trevor Bauer (SEA, TEX), Aaron Harang (@LAD, @SD), Mike Leake (ARI, @MIA), Clay Buchholz (TOR, NYY), Henderson Alvarez (WAS, CIN), Francisco Liriano (@SF, @ARI)
This is the pack of cigs of starters. You can pick 'em up or start 'em if you got 'em, they're a good time and all, but read the warning label. They might kill you.
Fourth Tier
Scott Feldman (OAK, TOR), Edwin Jackson (COL, @LAD), Jorge De La Rosa (@CHC, @DET), Chase Anderson (@CIN, PIT), Tsuyoshi Wada (COL, @LAD), Vance Worley (@SF, @ARI), Nathan Eovaldi (WAS, CIN), Phil Hughes (@KC, @CHW)
When the De La Rosa's away (from Coors), he's worth a play. Well, if you're in a really, really deep league or really, really desperate. Jorge is the poster boy for this tier.
Don't Start
Trevor Cahill (@CIN, PIT), Anthony Swarzak (@KC, @CWS), Yohan Flande (@CHC, @DET), Brad Peacock (OAK, TOR), David Phelps (@TEX, @BOS)
Don't start, you know what I'm saying, I'll just stop explaining, don't start them cause they'll hurt.